Batman & Robin actress Uma Thurman continues to turn heads wherever she goes. It was no different when the then 45-year-old showed off her big feet while attending Ralph & Russo's fashion show during Paris Fashion Week in January 2016.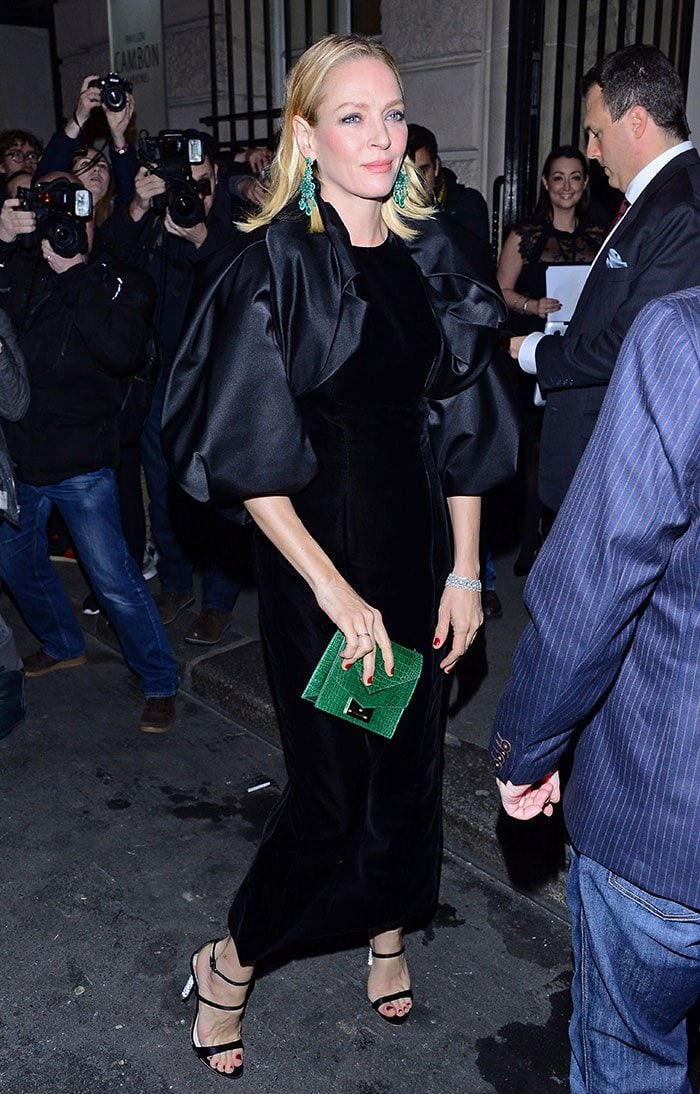 Uma Thurman wears her hair down at Paris Fashion Week on January 25, 2016
19 years earlier, she starred as Dr. Pamela Isley / Poison Ivy in the 1997 American superhero film Batman & Robin.
Considered one of the worst films ever made, Uma was one of the only actors in the movie who was praised by some critics for her performance. However, she was also nominated for a Golden Raspberry Award for Worst Actress.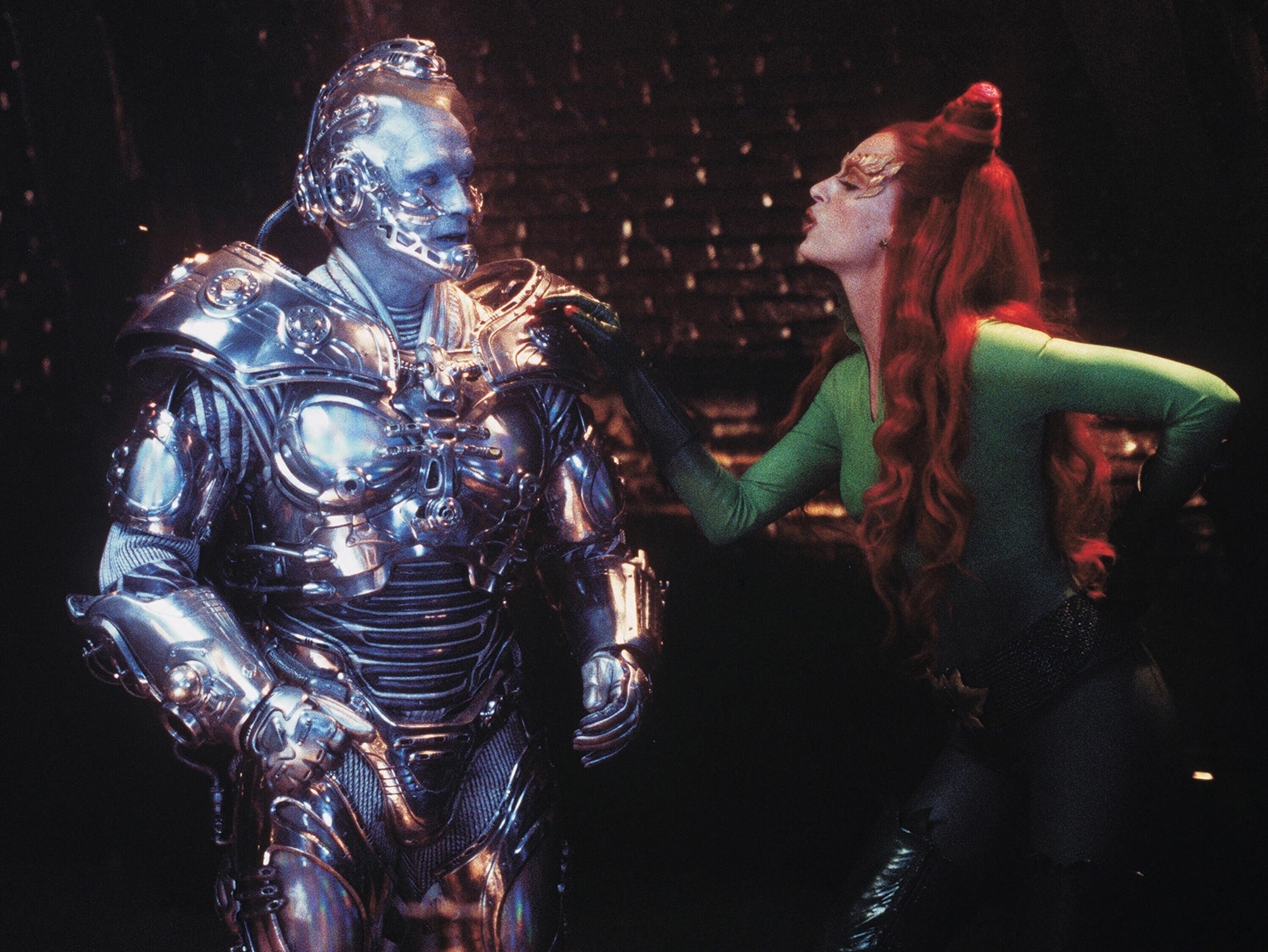 Arnold Schwarzenegger as Dr. Victor Fries / Mr. Freeze and Uma Thurman as Dr. Pamela Isley / Poison Ivy in Batman & Robin
Starting filming on September 12, 1996, the shooting wrapped in late January 1997 at Warner Bros. Studios in Burbank, California.
Born on April 29, 1970, in Boston, Uma was 26 while filming and turned 27 on April 29, 1997. She was cast after director Joel Schumacher saw her on the cover of Vanity Fair while he was flying back from Mississippi after shooting the 1996 American courtroom crime drama film A Time to Kill.
Uma Thurman was 26 when filming Batman & Robin as Poison Ivy
"Well," Uma said about her role in an interview with HuffPost in March 2014, "it came out in a different time when people were still being bitchy about campy. Humor being campy and campy being a code word for gay has changed. I think one of the most beautiful things I will get to say I've witnessed in my lifetime is to have lived through part of the major movement of trying to quell persecution of human beings who have a different sexual orientation."
"I think at the time the idea of taking a male superhero and having fun with it and someone using the c-word [campy] on it caused people to be very nasty. And that kind of nastiness was acceptable on those terms. And I think that's the reason some people were particularly annoyed. They didn't like seeing that tone applied to their heterosexual male icon," she added.
Many film critics consider Batman & Robin to be one of the worst movies of all time
The "Pulp Fiction" star looked classy in a black velvet dress, most likely from the British Haute Couture fashion house's latest collection.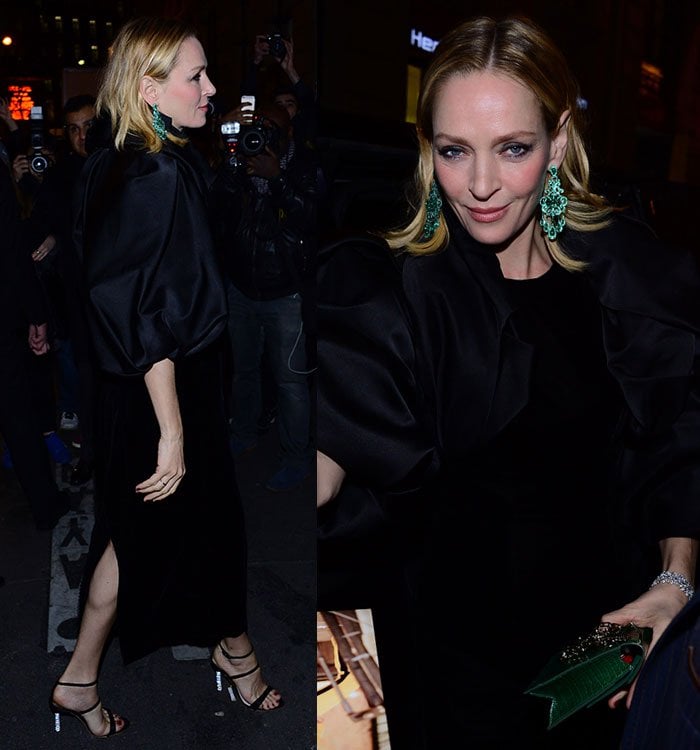 Uma Thurman wears a black velvet dress at Paris Fashion Week
Uma paired the sleeveless frock with a voluminous black jacket, featuring billowing puffed sleeves, to give the look some regal vibe.
Uma Thurman wears a pair of oversized Chopard emerald chandelier earrings
Maya Ray Thurman Hawke's mother proved she doesn't age. Fans even mistook her for Jennifer Lawrence as she arrived at the venue!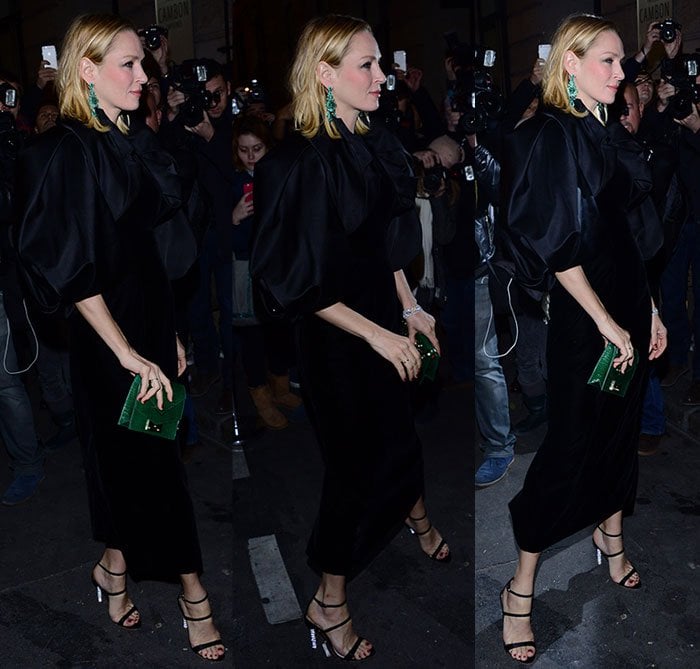 Uma Thurman wears an all-black ensemble to the Ralph and Russo show held during Paris Fashion Week
Uma further glammed up her look with a pair of oversized Chopard emerald chandelier earrings, which perfectly matched her clutch. She wore her blonde hair down and sported soft pink makeup with smoky eyeshadow.
Uma Thurman's feet in crystal-heeled Sophia Webster sandals
Sophia Webster's "Rosalind" sandals feature triple satin straps, adjustable ankle straps, open toes, and about four-inch crystal heels.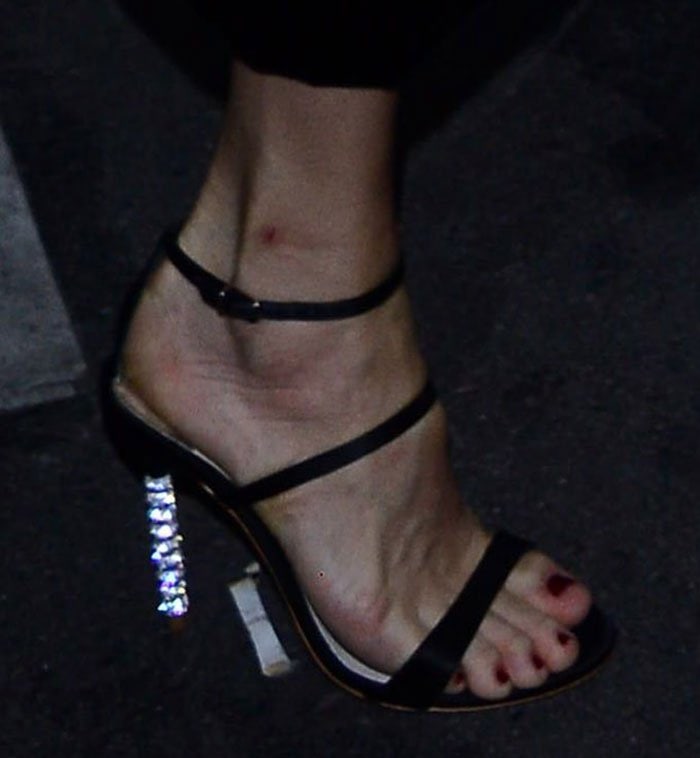 Uma Thurman's feet in strappy "Rosalind" sandals
You can get these Sophia Webster sandals at Saks Fifth Avenue and Farfetch.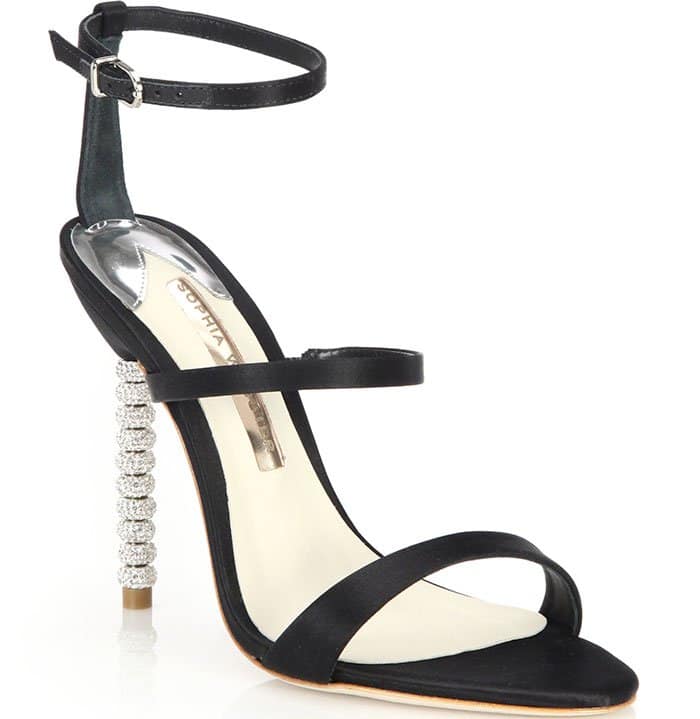 Sophia Webster "Rosalind" Crystal Heel Sandals, $495
Credit: Radoslaw Nawrocki / WENN