Sienna Miller made her acting breakthrough in 2003 with her role in 2004's Layer Cake. She has had an illustrious acting career spanning 20 decades' worth of movies and television work.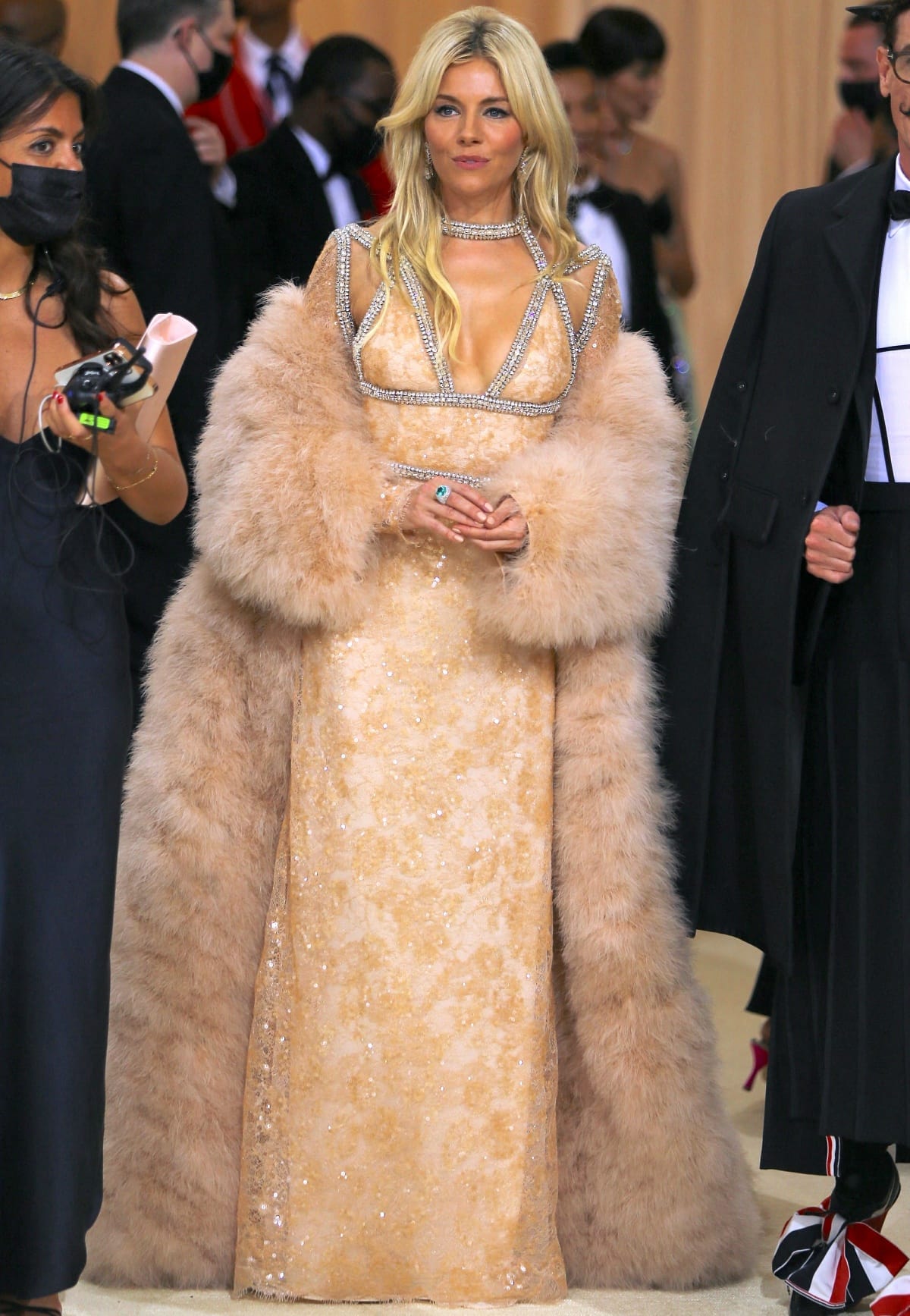 Sienna Miller looking glamorous in a shimmery Gucci embroidered lace gown with a faux fur coat and platform heels at the 2021 Met Gala (Credit: Guerin Charles / ABACA USA / INSTARimages)
The actress-and-model was born in New York on December 28, 1981, and raised in London. She began her career as a photography model, appearing in Italian Vogue and the 2003 Pirelli calendar.
Her illustrious film career includes 35 roles, so let's look at her top 10 most successful films from numbers 10 to 1 (according to Rotten Tomatoes).
10. High-Rise (2015) – 60% Critics / 35% Audience Score
High-Rise stars Tom Hiddleston as a doctor in the 1970s. He moves into a London skyscraper, which is the setting of rising tensions and class warfare, leading to anarchy.
Sienna plays the role of Charlotte Melville. She stars alongside prominent names in the film industry such as Jeremy Irons, Luke Evans, and Elisabeth Moss.
High-Rise was released in theaters on March 18, 2016, when Sienna was 34 years old.
Sienna Miller as Charlotte Melville in the 2015 British film High-Rise (Credit: StudioCanal)
The dystopian drama is based on a novel of the same name by British writer J.G. Ballard. It received mixed responses from audiences and critics, with some calling it a "masterpiece" and others stating that it lacked plot.
9. The Girl (2012) – 70% Critics / 41% Audience Score
Released on October 26, 2012, The Girl depicts director Alfred Hitchcock's alleged obsession with actress Tippi Hedren.
Toby Jones plays Hitchcock, while Sienna plays Hedren. She was 31 at the time of filming.
Hitchcock brought Hedren from obscurity into fame with a role in his 1963 film The Birds. When Hedren rejects the director's advances, he subjects her to a series of traumatic experiences while filming it.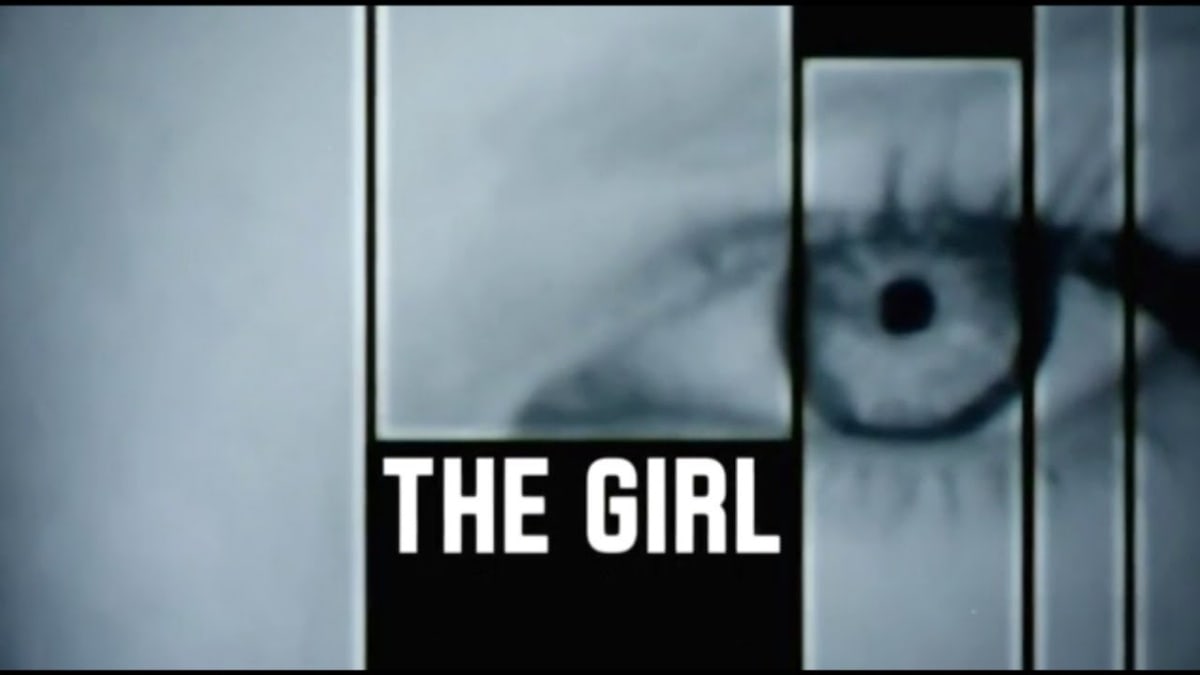 Sienna Miller stars as Tippi Hedren in the 2012 British television film The Girl (Credit: YouTube)
The Girl was criticized for portraying Hitchcock as a sexual predator. However, the real-life Tippi Hedren stated that the portrayal of the legendary director was entirely accurate.
Both leading actors were nominated for awards despite the production receiving very mixed reviews from critics and audiences. Their performances were acknowledged by the 2013 Golden Globes and the British Academy Television Awards.
8. American Sniper (2014) – 72% Critics / 84% Audience Score
American Sniper was released on December 25, 2014, and stars Bradley Cooper in the leading role.
He plays U.S. Navy SEAL Chris Kyle as he becomes one of the world's most lethal snipers, who is also trying to be a good husband and father to his family back home in the States.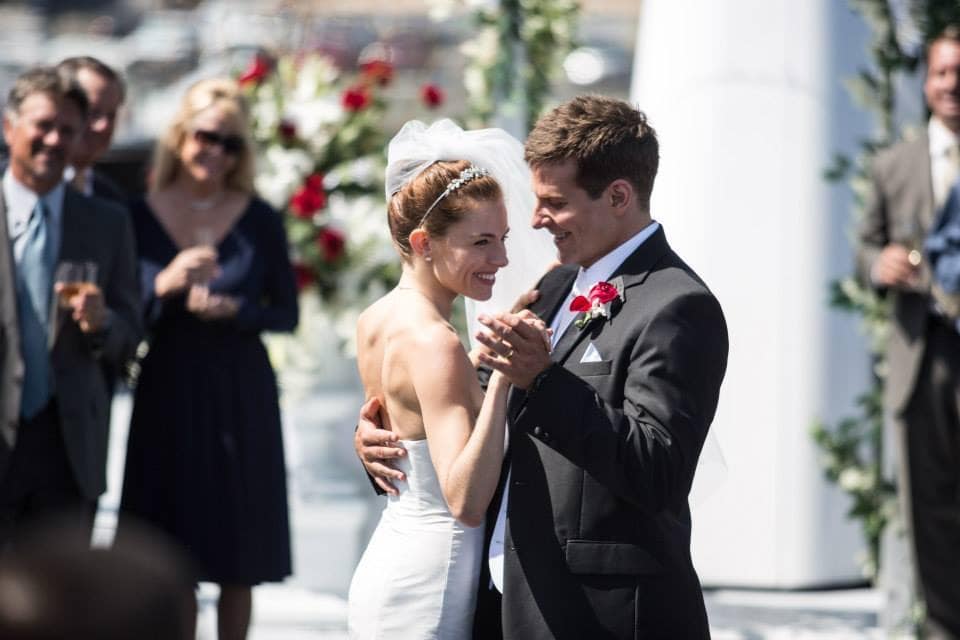 Sienna Miller as Taya Renae Kyle and Bradley Cooper as Chris Kyle in the 2014 biographical war drama film American Sniper (Credit: Warner Bros. Pictures)
His pinpoint accuracy makes him a prime target of insurgents. Once he has served four tours, he finds it difficult to leave the war behind.
Sienna plays his wife, Taya Renae Kyle, and she was 31 at the time of the film's release.
Bradley was applauded for his accurate portrayal of Kyle, who had been tragically murdered at a shooting range in 2013.
Clint Eastwood directed the film, which loosely follows the events detailed in Chris Kyle's 2012 autobiography entitled American Sniper: The Autobiography of the Most Lethal Sniper in U.S. Military History.
The Chris Kyle Memorial Highway in Texas is a tribute to one of the most lethal snipers in American history (Credit: W. Scott McGill / Shutterstock)
The film was enjoyed by audiences, with some firmer reviews from critics averaging 72%.
7. Wander Darkly (2020) – 75% Critics / 72% Audience Score
Wander Darkly stars Sienna as Adrienne and Diego Luna as Matteo. Their characters experience a traumatic event that leads them to reexamine their life as a couple and new parents.
Sienna Miller as Adrienne in the 2020 American drama film Wander Darkly (Credit: Lionsgate)
The film was released on December 11, 2020, when Sienna was 38 years old. It also stars Beth Grant, Aimee Carrero, Tory Kittles, and Vanessa Bayer.
Wander Darkly received mixed or average reviews from critics and audiences alike, with an average of 6.4/10.
Despite the unfavorable ratings, both Sienna and Diego earned praise for their strong work that "helps this romance remain consistently alluring" throughout the film.
6. Stardust (2007) – 77% Critics / 86% Audience Score
Released on August 10, 2007, Stardust follows the adventures of Tristan (Charlie Cox) as he ventures into the fairy realm.
He aims to retrieve a fallen star to woo his beloved, Victoria, played by Sienna. She was 26 at the time of the film's release.
Sienna Miller as Victoria Forester in the 2007 romantic fantasy adventure film Stardust (Credit: Paramount Pictures)
Stardust crosses several genres and is highly enjoyed by audiences, with a score of 86%. Critics rated it with a score of 77%.
A thrilling combination of adventure, romance, and fantasy, the film enchanted its viewers with a cast that included Michelle Pfeiffer and Robert De Niro.
Stardust is based on a novel of the same name by Neil Gaiman, who began writing the epic tale in 1994.
5. Layer Cake (2004) – 80% Critics / 84% Audience Score
This British crime film was released on October 1, 2004. It stars Daniel Craig as an unnamed mid-level cocaine dealer, who plans to step away from his criminal life.
Sienna plays the role of Tammy in the film and was 23 years old at the time of its release.
Daniel's performance in Layer Cake made him a convincing candidate to be the next James Bond.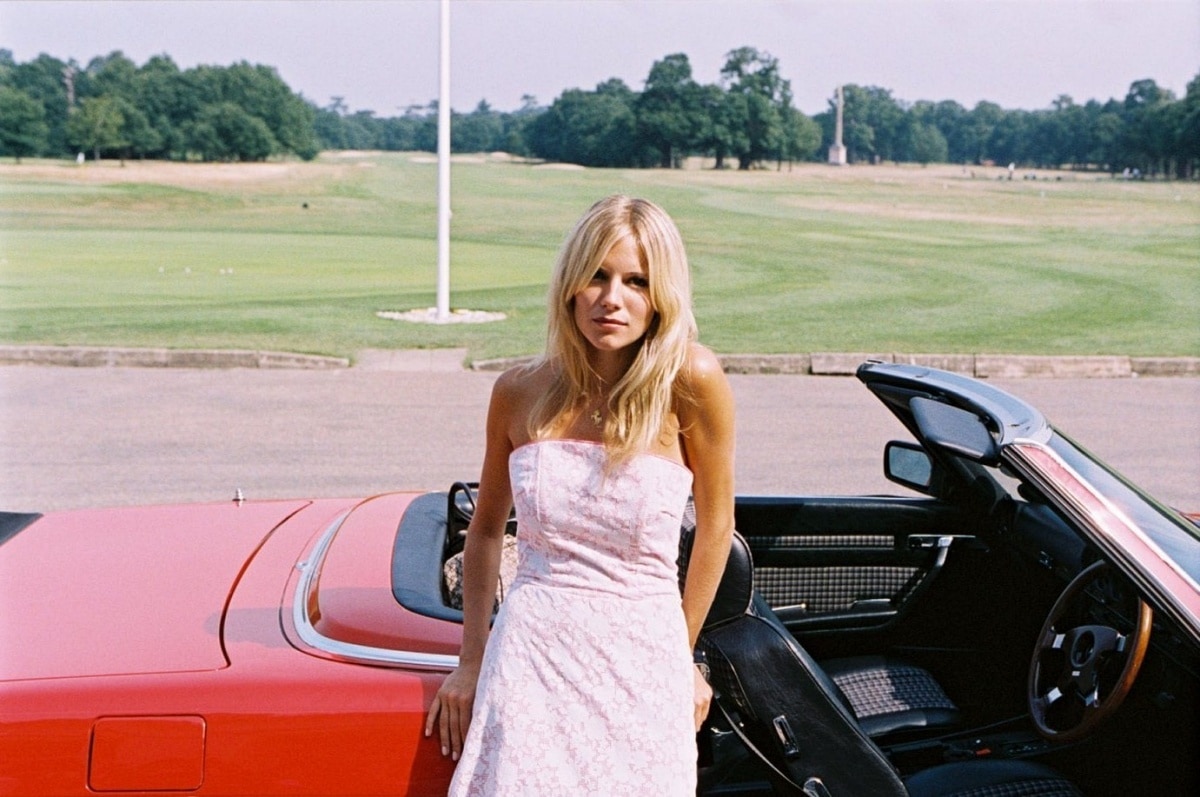 Sienna Miller as Tammy in the 2004 British crime film Layer Cake (Credit: Columbia Pictures)
The film is a stylized and electric British crime thriller. Critics and audiences lapped it up with glee, leaving it with a high ranking.
4. The Lost City of Z (2016) – 86% Critics / 57% Audience Score
Set at the dawn of the 20th century, The Lost City of Z stars Charlie Hunnam as British explorer Percy Fawcett. It follows him as he journeys down the Amazon to find the remnants of a lost and advanced civilization.
Sienna plays his wife Nina Fawcett and was 35 at the time of filming.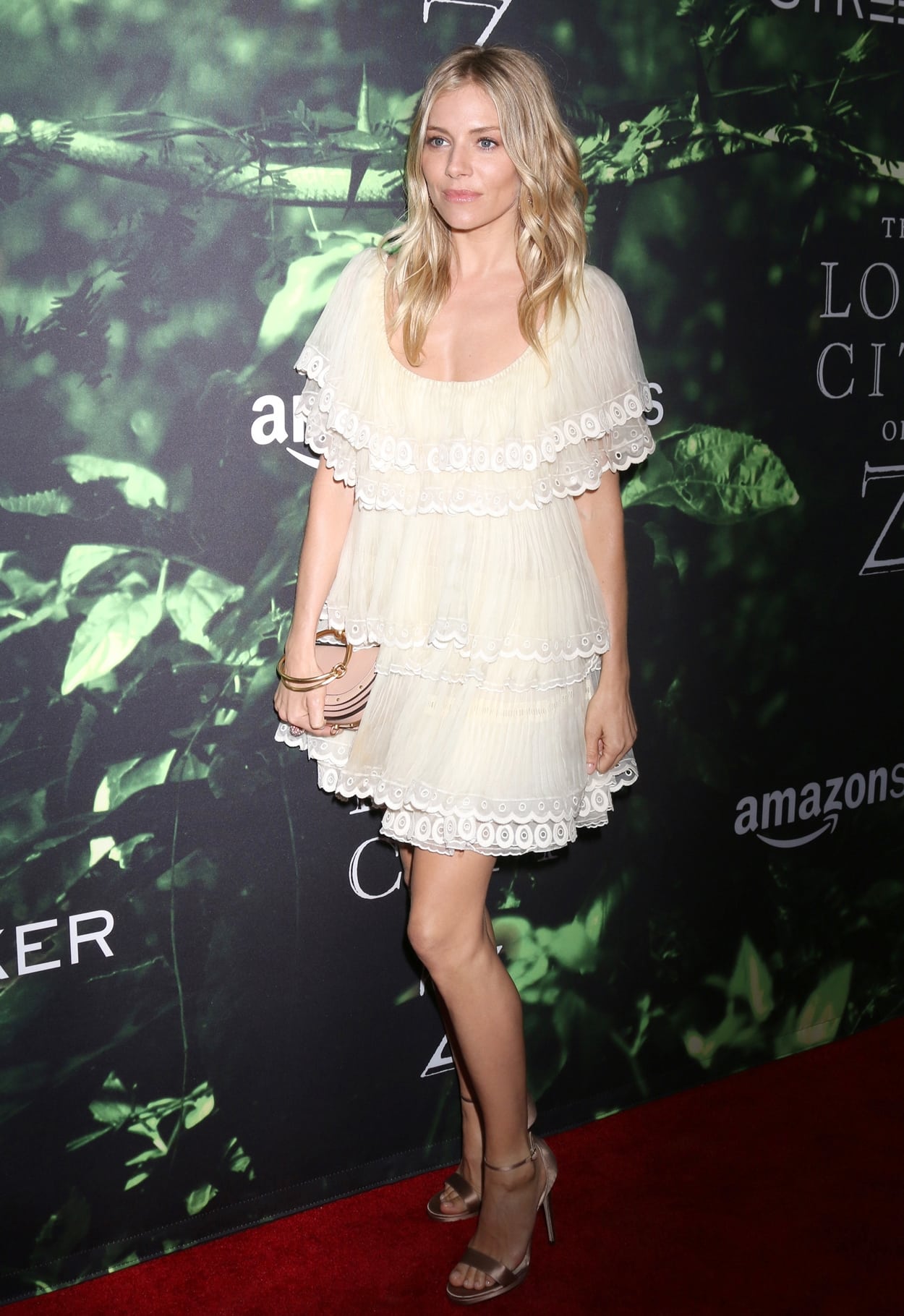 Showing off her feminine allure and romantic flair, Sienna Miller wore a Chloe dress and Jimmy Choo Kaylee sandals at the Los Angeles premiere of The Lost City of Z on April 5, 2017 (Credit: Kathy Hutchins / Shutterstock)
The Lost City of Z is a true-to-life drama based on the real British Explorer, Major Percival Fawcett, who disappeared while searching for the mysterious city in the 1920s.
Based on the book of the same name, the film had its world premiere on April 14, 2017. Critics positively rated the movie, while general audiences gave it a lower score.
3. Foxcatcher (2014) – 87% Critics / 66% Audience Score
This American biographical sports drama and thriller film stars Steve Carell as a wealthy John du Pont.
His character invites Mark Schultz (Channing Tatum) to move to his estate to help form a wrestling team for the 1988 Olympics.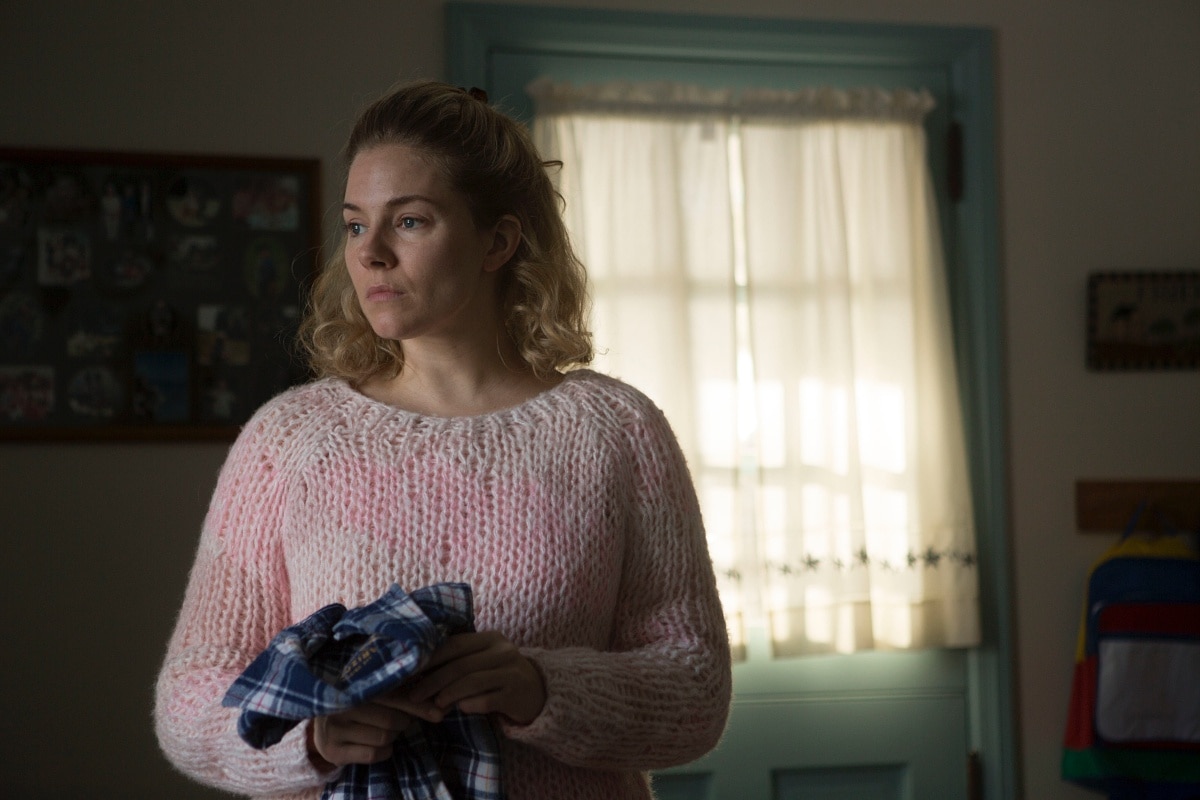 Sienna Miller as Nancy Schultz in the 2014 biographical sports drama Foxcatcher (Credit: Sony Pictures Classics)
Mark Ruffalo also stars as Mark's brother Dave, while Sienna plays the role of his wife Nancy.
The tragic film was released in theaters on November 14, 2014, when Sienna was 32 years old.
2. American Woman – 88% Critics / 81% Audience Score
Sienna was applauded for her performance in the film as a 38-year-old mother, Deborah, whose daughter goes missing in a small town in Pennsylvania.
The film follows Deborah for eleven years as she raises her grandson alone and tries to give him the best life possible.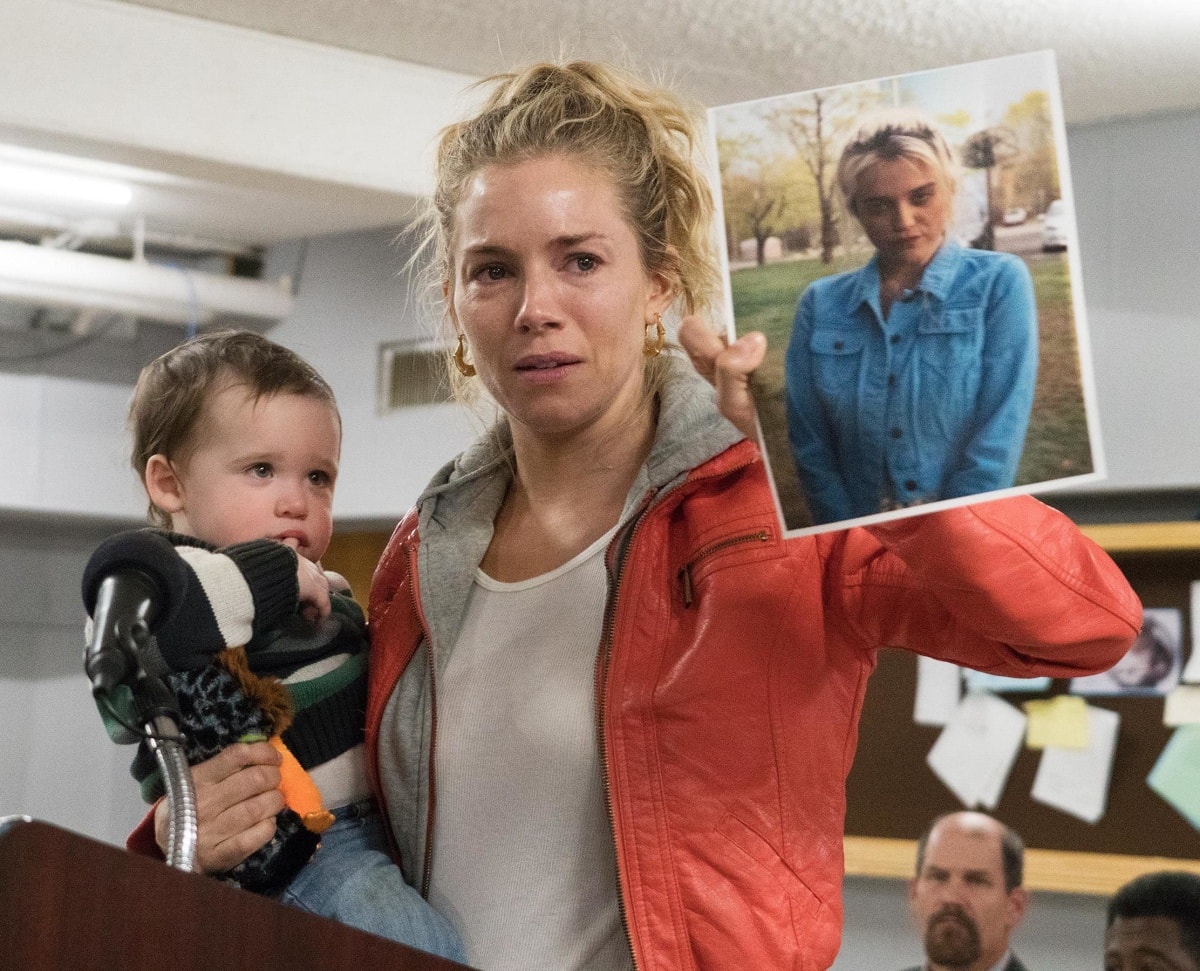 Sienna Miller as Deborah Callahan in the 2018 drama film American Woman (Credit: Roadside Attractions / Vertical Entertainment)
Released on September 9, 2018, the movie also stars Aaron Paul and Christina Hendricks. Sienna was 36 years old at the time.
American Woman was met with raving reviews from critics and audiences alike. Critics called it a masterpiece, largely thanks to Sienna's performance.
Rex Reed from The New York Observer said, "You can't take your eyes off her because she has the extraordinary pace and timing to make you feel what she's doing while she's doing it, and you can't wait for her to do more."
1. Mississippi Grind (2015) – 91% Critics / 55% Audience Score
Sienna was 33 when Mississippi Grind was released on September 25, 2015. In the film, she plays the role of a prostitute named Simone.
The plot follows gambler Gerry (Ben Mendelssohn) and real estate agent Curtis (Ryan Reynolds), who is also a younger gambler.
Mississippi Grind involves lucky charms and a road trip to New Orleans. It is loosely based on the plot of the Robert Altman-directed 1974 film California Split.
Ryan Reynolds as Curtis and Sienna Miller as Simone in the 2015 American drama film Mississippi Grind (Credit: A24)
Critics enjoyed the film, scoring it an impressive 91%. Reviews stated that it is a "road movie and addiction drama that transcends each of its well-worn genres."
Meanwhile, audiences didn't enjoy the film with as much vigor because the ending lost the plot.
Sienna Miller has had an incredible career spanning two decades with many acclaimed filming credits. She has continued to explore her acting prowess and make waves in the industry.
Such is the case for her recent role as Sophie Whitehouse in the Netflix miniseries Anatomy of a Scandal.
Based on the novel of the same name by Sarah Vaughan, the series follows Sophie as she deals with her husband's affair while it gets played out in the British press.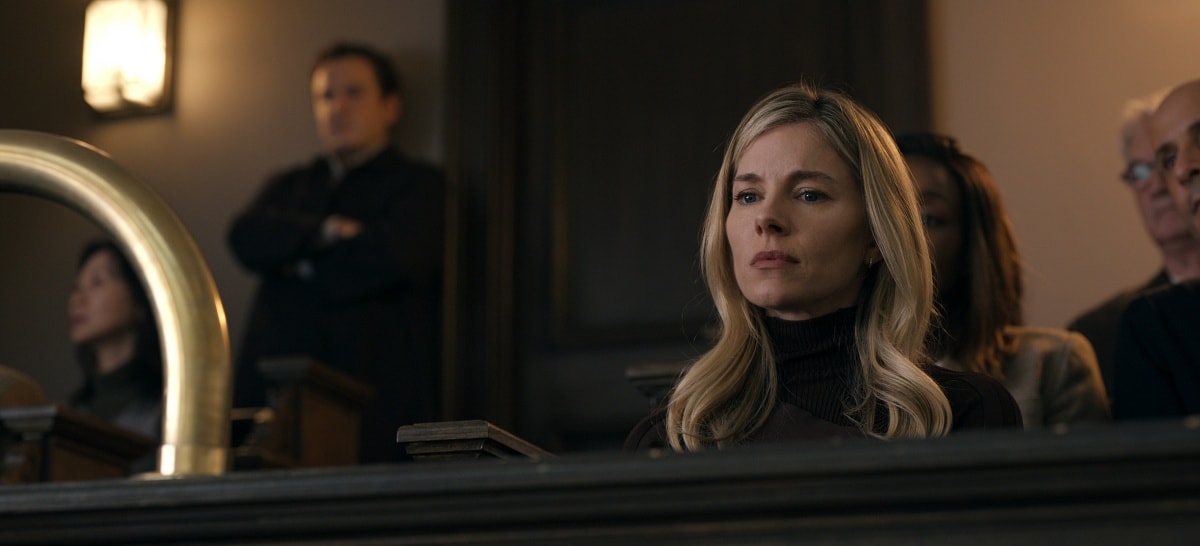 Sienna Miller as Sophie Whitehouse in the 2022 thriller drama miniseries Anatomy of a Scandal (Credit: Netflix)
Her husband James (Rupert Friend) is a parliamentary minister, whose affair with a co-worker becomes a hot topic in the news. It evolves into a bigger story that results in a courtroom drama, making Sophie watch helplessly as her life falls to pieces.
This topic hits close to home for Sienna, whose life was in shambles after learning of her ex-fiancé Jude Law's affair with his children's nanny.
Jude Law and Sienna Miller met on the set of their film Alfie in 2003 and were engaged a year later (Credit: Featureflash Photo Agency / Shutterstock)
She was hesitant to take on the role because of the parallels to her past, but seeing the same situation from a different perspective made her accept it.
"There's catharsis in all of it," Sienna told The New York Times. "Anytime you get to go to work and cry, it sort of feels weirdly good."
Author Sarah Vaughan also shared that she noticed "a contained anger" in Sienna's performance.
When asked about it, Sienna replied that "I have had experiences that I've internalized and can use – betrayal and a frustration at how much I just accepted and did not push back on how little self-esteem I had."
Her life experiences clearly informed her acting choices and resulted in a compelling performance.
Now, at 40 years old, Sienna still continues to captivate audiences. We are likely to see more brilliant performances from her in the coming years.
In April 2022, Sienna made a triumphant red carpet return at the world premiere of Anatomy of a Scandal in London.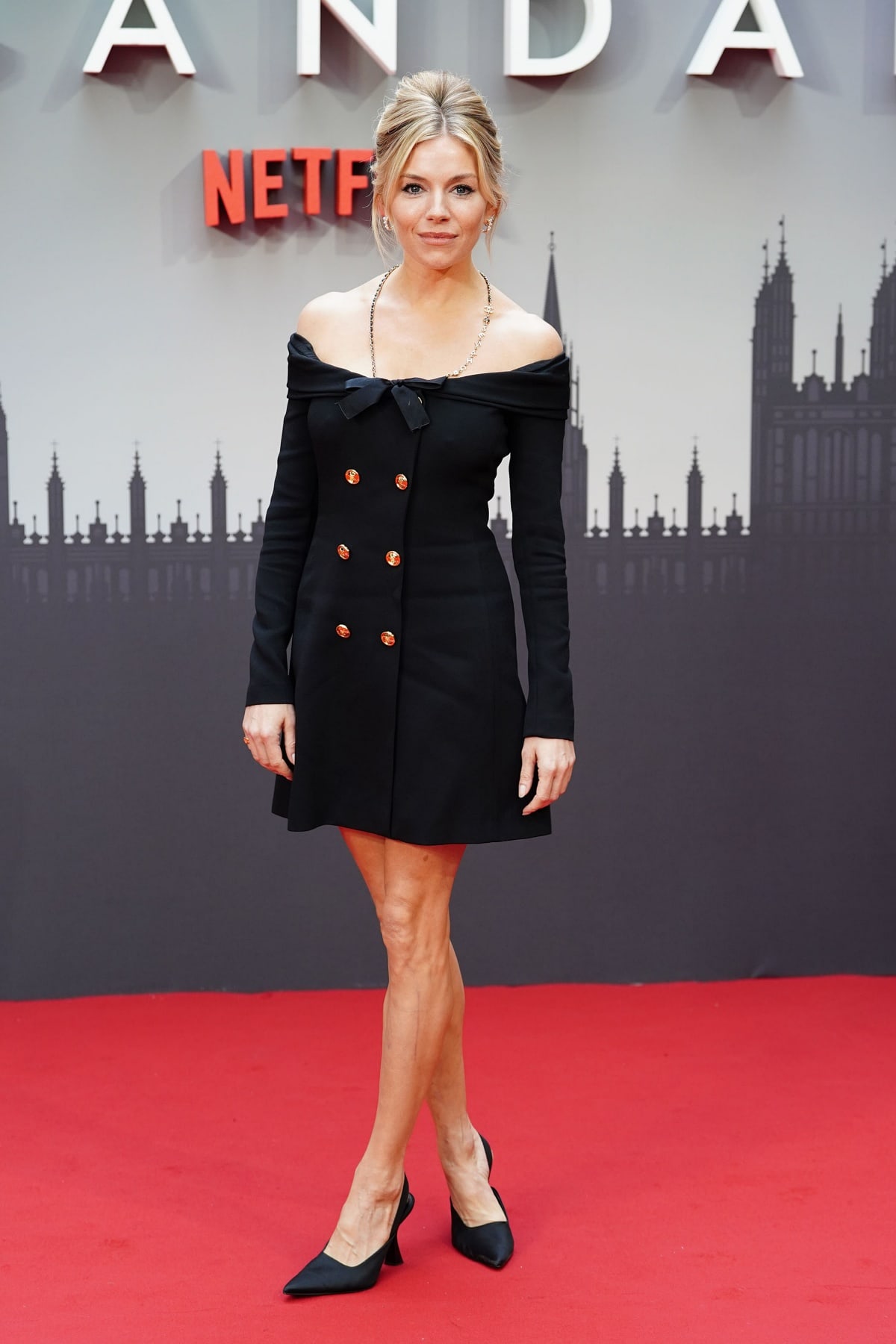 Sienna Miller in a Giambattista Valli LBD and Anny Nord slingback pumps at the world premiere of Anatomy of a Scandal on April 14, 2022, in London, England (Credit: Ian West / PA Images / INSTARimages)
She stepped out in a charming little black dress from Giambattista Valli's Pre-Fall 2022 collection. Her styling was kept simple, opting for an elegant updo and a Chanel necklace.
The English rose also wore the Maniac slingback pumps from Anny Nord. These shoes feature a pointy-toe silhouette and striking curved heels.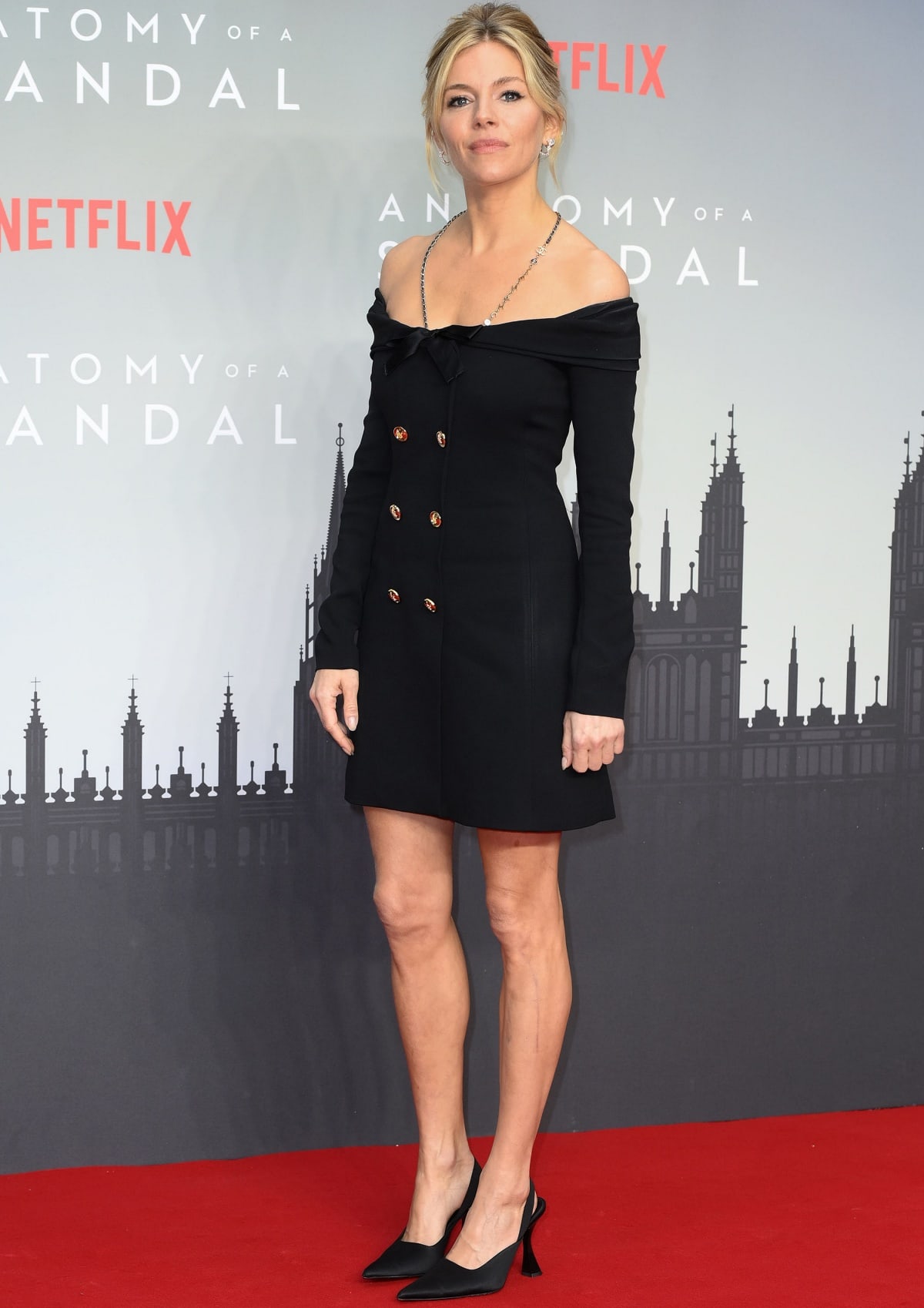 Sienna Miller posing in her Anny Nord Maniac slingback pumps (Credit: Matt Crossick / PA Images / INSTARimages)
Crafted from recycled polyester satin, these pumps also have elastic heel straps and leather lining. You can find the latest shoe releases from the Swedish high-end shoe brand at Farfetch.