While it was panned by film critics, the 2009 American military science fiction action film G.I. Joe: The Rise of Cobra opened at the top of the box office and grossed over $302 million worldwide by the end of its run.
Sienna Miller starred as Anastasia "Ana" DeCobray / Baroness, a villainess associated with G.I. Joe's nemesis, Cobra.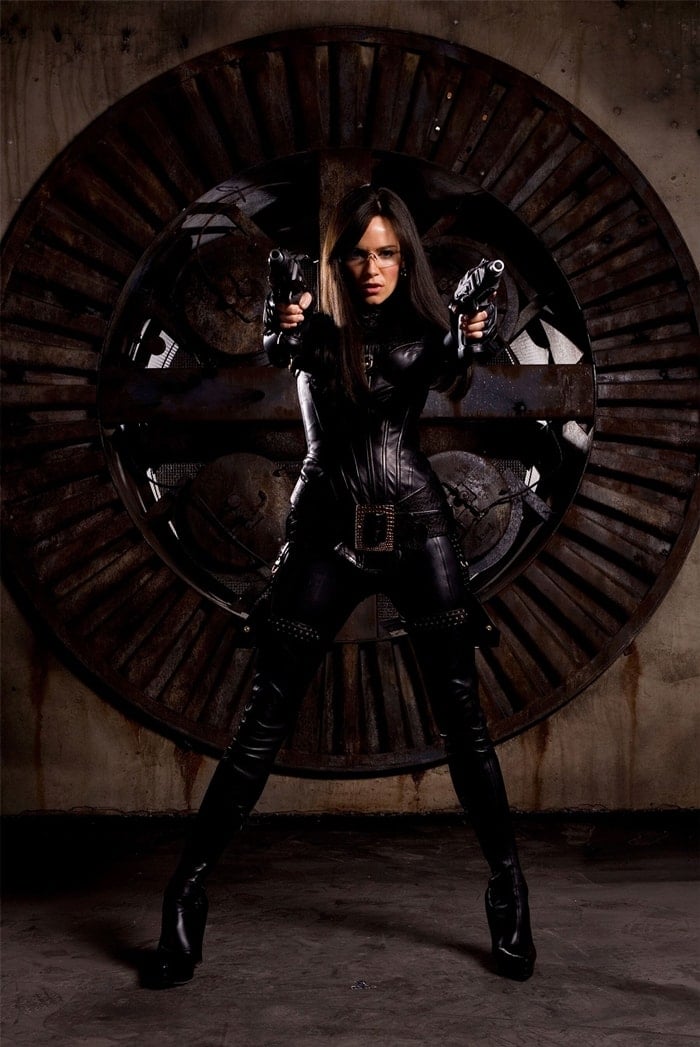 Sienna Miller made her action blockbuster debut starring as a butt-kicking raven-haired baroness, who wears a sexy tight-fitting leather ensemble to fight in G.I. Joe: The Rise of Cobra
How old was Sienna Miller as the Baroness in G.I. Joe?
Based on the toy franchise created by Hasbro, the film was released on August 6, 2009, when she was 27-years-old.
Born on December 28, 1981, in New York, Sienna Miller turned 28 on December 28, 2009. Filming began on February 11, 2008, when she was 26.
Jude Law's ex-wife was not hired to star in the 2013 sequel, G.I. Joe: Retaliation. Her Baroness character did not appear in the movie.
In Snake Eyes, the third installment of the G.I. Joe film series that is due for release on October 22, 2021, Spanish actress Úrsula Corberó Delgado will play the role of Anastasia "Ana" DeCobray / Baroness.
When interviewed by Forbes in 2019, Sienna seemed unaware of the sequels.
"I'm sorry," she responded when journalist Simon Thompson told her he'd seen both movies. "You saw both of them? Wait, there was a second one? Well, they didn't bring me back."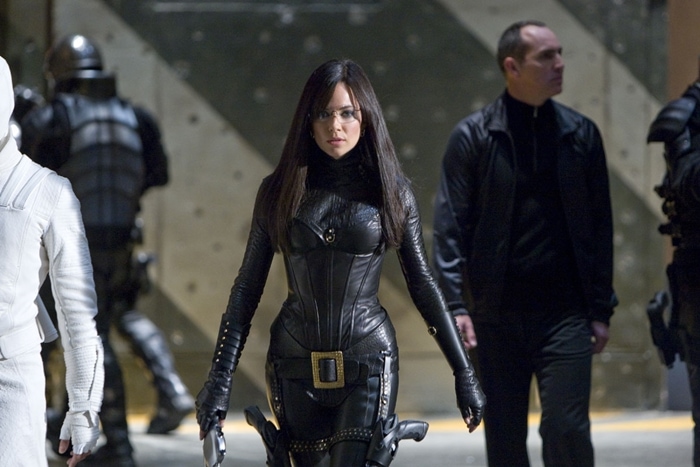 Sienna Miller burned her boobs starring as Baroness in G.I. Joe: The Rise of Cobra
"There are roles in those kinds of things that would be fun and things that I think my kid would like. I just haven't been offered that yet. I would be open to it. I know what I can do now, and I know what I can't do," she said.
"I shouldn't have played a villain in a comic book because I'm just not that villainous or tall or strong. I am internally, of course, but I couldn't fire a gun without blinking. I'm not a particularly physically threatening presence. The whole thing was a bit of a disaster from start to finish."
Karolina Kurkova (Courtney A. Krieger / Cover Girl), Sienna Miller (Anastasia "Ana" DeCobray / Baroness), and Rachel Nichols (Shana M. O'Hara / Scarlett) attend a photocall to launch G.I. Joe: The Rise of Cobra held at HMS Belfast on July 22, 2009, in London, England
In August 2009, Sienna told Conan O'Brien that she almost destroyed her breasts while filming the movie: "I burnt my boobs in an explosion that went wrong."
"Channing Tatum was carrying me down an exploding corridor and a spark went down my rather large cleavage at the time. But they're fine now, no lasting damage."
Sienna Miller first burst onto the public scene as a socialite with incredible London style and an even more impressive dating repertoire, but the actress has come a long way since her partying days and has blossomed into her own.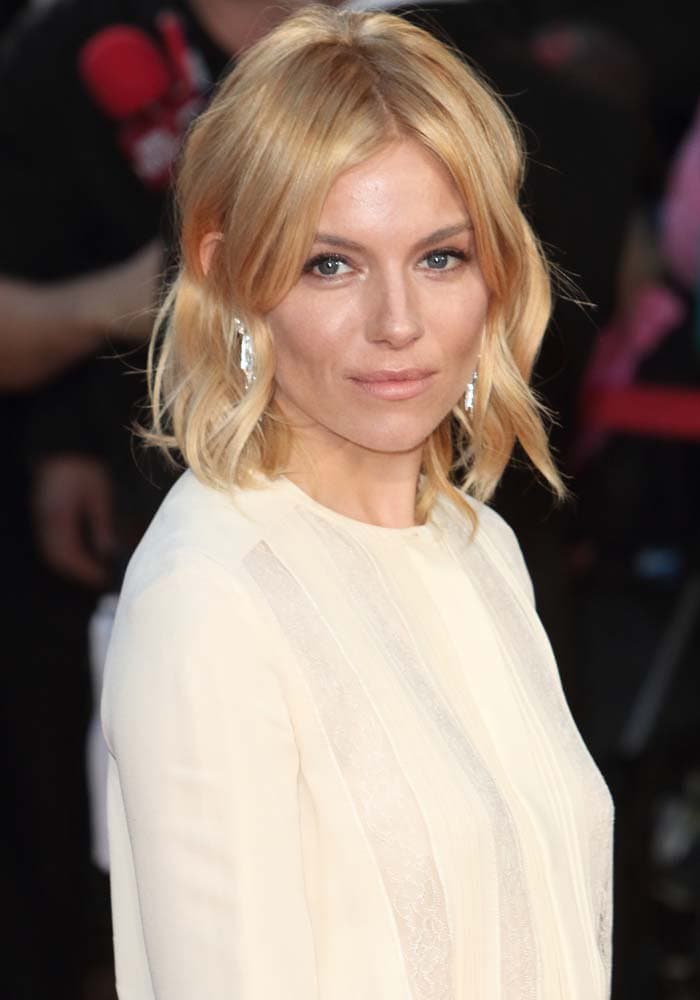 Sienna Miller attends Eva Cavalli's VIP birthday party after hitting the red carpet for the BFI London Film Festival on October 9, 2015
After landing several movie roles, Sienna has become more secure in who she is — to a point that she even wore the same outfit to two different events on the same day.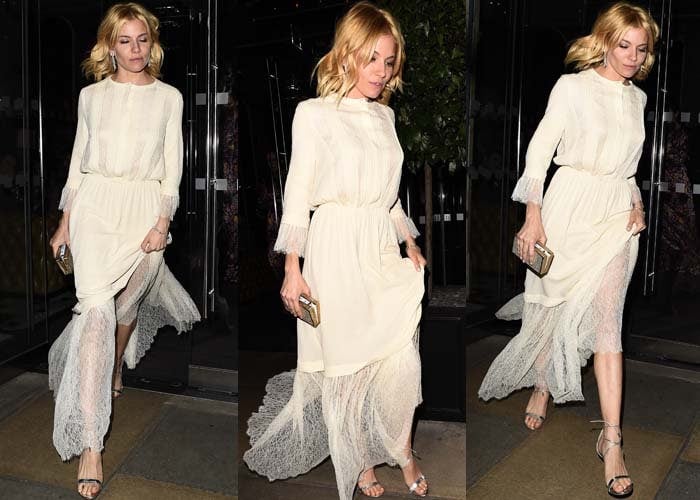 Sienna Miller wears a Michael Kors dress as she moves from event to event
In October 2015, the American-British actress was photographed on the red carpet of the BFI London Film Festival for her film "High Rise."
Sienna Miller shows off her sexy feet in Aquazzura heels
Sienna later arrived at the VIP party of Eva Cavalli, wife of fashion designer Roberto Cavalli, in the same outfit she was photographed in at the film festival.
Sienna Miller awkwardly poses on the red carpet for the BFI London Film Festival
She wore a dress from the Michael Kors Spring 2016 collection and showed off her feet in silver "Linda" heels from Aquazzura.
At the festival, Sienna discussed her character in the film, describing her as "selfish." She later joined the VIP party, where other big fashion names such as Kendall Jenner at Cara Delevingne were also present.
Sienna Miller talks about her character as well as what it's like to work with the cast of High Rise
To get Sienna's heels from Aquazzura, just visit Farfetch or Nordstrom. You may also check out the other sophisticated versions of the "Linda" below.
Aquazzura "Linda" Sandal in Silver, $675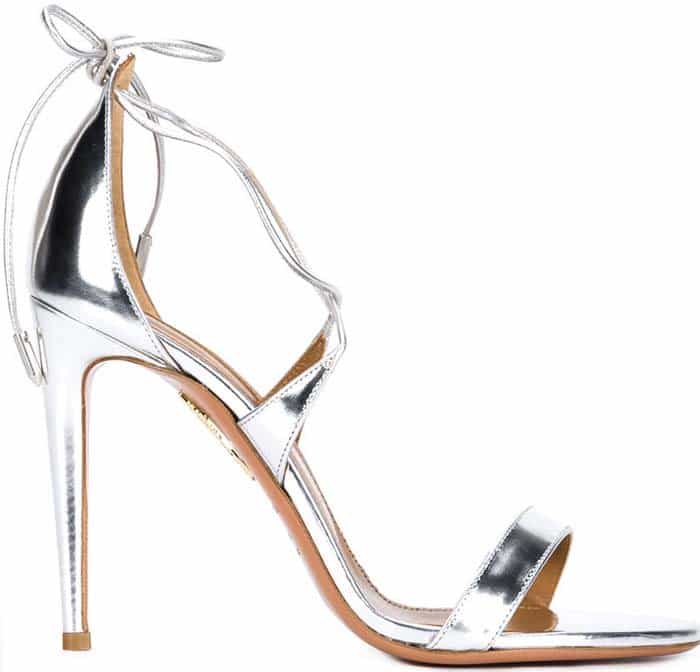 Aquazzura "Linda" Sandal in Gold, $675
Aquazzura "Linda" Crystal-Embellished Sandal in Silver, $995
Credit: WENN