2002 was a spectacular year for movies spanning various genres and concepts. There was an immense amount of quality on the big screen, from big blockbusters and massively popular sequels to underrated indie films and award-winning pieces.
As these fan-favorite flicks celebrate their 20th anniversary, we thought it would be an opportune time to look back and shine a spotlight on the top 20 movies of 2002.
For this list, we'll be ranking the top 20 movies of 2002 based on critical reception. These movies are in ascending order according to percentage, as gauged by each film's critics' score on Rotten Tomatoes.
Additionally, we're limiting our selections to only live-action feature films. As such, any animated movies or documentaries have not been included.
With that said, let's take a trip back to the early 2000s and celebrate the top 20 movies of 2002!
20. Austin Powers in Goldmember – 53% Score
While it might not be the most critically favored, few movies wrap up the comedic vibe that was rampant in 2002.
As the third installment in the franchise, Goldmember sees the return of touchy-feely spy guy Austin Powers (Mike Myers), who must travel through time to the 1970s to prevent the villainous Dr. Evil (also played by Mike Myers) from achieving world domination.
Beyonce Knowles as Foxxy Cleopatra and Mike Myers as Austin Powers in the spy comedy film Austin Powers in Goldmember (Credit: New Line Cinema)
This was also the film debut of the exceptionally talented superstar Beyonce Knowles, who at the time was just 2o years old. Her role as Foxxy Cleopatra marks her leap into the film industry to expand her impressive career.
When "Austin Powers in Goldmember" premiered on July 26, 2002, Mike Myers, who played Austin Powers, was 48 years old, Michael Caine, who played Nigel Powers, was 69 years old, Seth Green, who played Scott Evil, was 28 years old, and Verne Troyer, who played Mini-Me, was 33 years old.
The movie was a fan favorite with endlessly quotable lines that resulted in numerous impersonations of Austin Powers. It's no wonder why Goldmember is Mike Myers' favorite film in the franchise.
19. Star Wars: Episode II – Attack of the Clones – 65% Score
The year 2002 also saw the release of the second "prequel" film in the Star Wars franchise. It continued the sprawling sci-fi story that combined action, drama, and politics.
This film centers around Anakin Skywalker (Hayden Christensen) as he continues his training as a Jedi, while an army of clones awaits their time to strike.
While the action and lightsaber fights were fun enough, many fans recall the onscreen relationship between Anakin Skywalker and Padme Amidala (Natalie Portman), who both showcased the bliss of youthful love at age 21.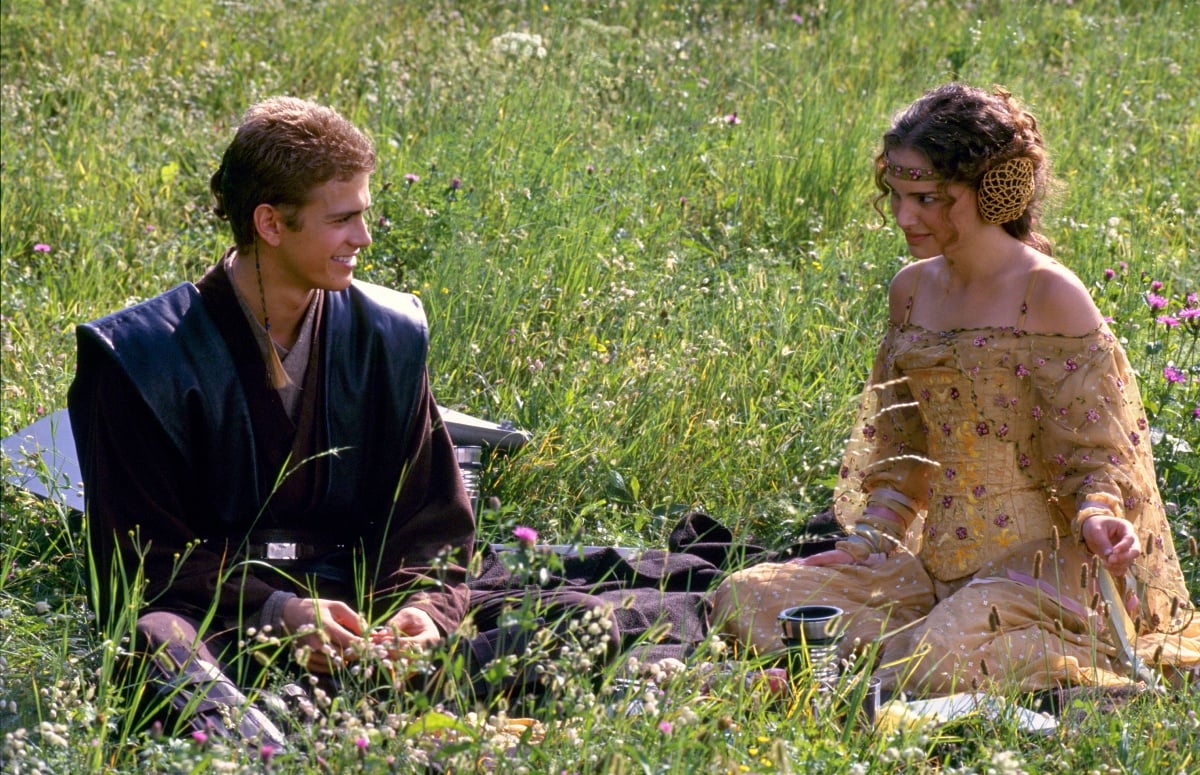 Hayden Christensen as Anakin Skywalker and Natalie Portman as Padme Amidala in the epic space opera Star Wars: Episode II – Attack of the Clones (Credit: 20th Century Fox)
Between the epic battles and unraveling romance, Attack of the Clones was the longest Star Wars film until 2017's The Last Jedi. It clocks in at two hours and twenty minutes.
This movie was also the most expensive to make (until the modern series, at least), with a mammoth budget of $120 million.
18. The Ring – 71% Score
Plenty of excellent horror films were released in 2002, but The Ring is one of the few that made the cut on our list.
As an American remake of the 1998 Japanese film Ringu, The Ring shocked audiences around the globe that had never experienced the supernatural frights of Japanese horror.
The story follows a young woman named Rachel Keller (Naomi Watts), who encounters a cursed videotape that causes the death of anyone who watches it.
Naomi Watts as Rachel Keller in the American supernatural horror film The Ring (Credit: DreamWorks Pictures)
At 34 years old, Naomi Watts puts on a refined and nuanced performance – a cut above what you would expect from a horror film.
Interestingly enough, director Gore Verbinski attempted to cast relatively unknown or less popular actors to make things seem more real.
Luckily, Watts beat out several other actresses for the role, including Gwyneth Paltrow, Jennifer Love Hewitt, and Kate Beckinsale.
The Ring also stayed relevant for quite a while after its initial release, holding the title for the most profitable horror remake for nearly 15 years.
17. Gangs of New York – 73% Score
Directed by highly respected filmmaker Martin Scorsese, Gangs of New York was one of the most celebrated films of 2002. It earned multiple Academy Award nominations and an onslaught of praise.
This period piece is set in 1862 and follows Amsterdam Vallon (Leonardo DiCaprio), who returns to New York City to avenge his father's death by killing the leader of a local gang named Bill the Butcher (Daniel Day-Lewis).
Like most Scorsese films, Gangs of New York offers historical accuracy, a killer script, and brilliant acting performances.
Daniel Day-Lewis as William "Bill the Butcher" Cutting and Leonardo DiCaprio as Amsterdam Vallon in the historical drama film Gangs of New York (Credit: Miramax Films / Touchstone Pictures)
At 28 years old, this was the first movie that Leonardo DiCaprio worked on with the world-renowned director. It led to some of the most popular and well-regarded projects in the actor's career.
Co-star Cameron Diaz, who was 30 years old at the time, also learned the woes of working with major directors, as her original six-week contract was extended to six months.
Despite the difficulties during production, Gangs of New York is still remembered as one of Martin Scorsese's best movies and a fantastic film released in 2002.
16. Signs – 74% Score
Movies about alien invasions are either massive hits or disappointing misses in cinematic history. Luckily for director M. Night Shyamalan, Signs firmly fits in the former category.
Starring Mel Gibson, with support from a young cast including 28-year-old Joaquin Phoenix and 13-year-old Rory Culkin, this creepy sci-fi flick is often regarded as one of the scariest films of all time.
Set in rural Pennsylvania, the story follows widower Graham Hess (Mel Gibson), who begins to notice odd crop circles in the nearby fields.
The subsequent discoveries lead to some chilling revelations, showcasing M. Night Shyamalan's signature twist of psychological horror.
Joaquin Phoenix as Merrill Hess and Mel Gibson as Graham Hess in the science-fiction thriller film Signs (Credit: Touchstone Pictures)
According to the director, this was the easiest film he made in his career despite the fact that crop circles and other special effects were all achieved without CGI.
Even with its notably tame levels of violence, Signs gave a whole generation of nightmares, earning its spot on the list of the top 20 movies of 2002.
15. 8 Mile – 75% Score
In 2002, rapper Eminem was on his way to becoming an international sensation due to his unique rhyming cadence and controversial lyricism.
With his growing number of fans, Hollywood felt it was the right time to adapt his real-life story into a fictional rags-to-riches tale.
The movie was set for success with the 30-year-old rapper in the lead role of Jimmy Smith and 25-year-old Brittany Murphy as Alex, his love interest.
Eminem as Jimmy B. "Rabbit" Smith in the American hip-hop drama film 8 Mile (Credit: Universal Pictures)
In addition to the amazing performances and emotional story of triumph over adversity, 8 Mile was praised for its memorable characters and catchy soundtrack.
It even won the Academy Award for Best Original Song, thanks to the climactic track "Lose Yourself."
Funnily enough, Eminem was so convinced he wouldn't win the award that he stayed home and watched cartoons on the night of the ceremony. This goes to show that even the most talented and creative minds in show business are often their own toughest critics.
14. Panic Room – 76% Score
Directed by David Fincher and written by David Koepp, Panic Room is an anxiety-inducing psychological thriller that wowed audiences and critics alike upon release.
Presented with passionate performances that led to several award nominations, the movie bolstered the fame of 35-year-old actress Jodie Foster while simultaneously launching the career of 12-year-old Kristen Stewart.
Kristen Stewart as Sarah Altman and Jodie Foster as Meg Altman in the psychological thriller Panic Room (Credit: Sony Pictures Releasing)
Panic Room excels with its simple premise. It tells the story of a divorced mother named Meg Altman (Jodie Foster) and her daughter Sarah (Kristen Stewart), who seek shelter in their expensive panic room when their home is invaded by three masked men.
Interestingly, Jodie Foster replaced Nicole Kidman in the lead role after the latter's injury forced her to leave the production. Coincidentally, Foster became pregnant during filming and required the production to take a break.
Either way, the result was one of the most-watched movies of the year and an easy contender for the top 20 movies of 2002.
13. The Hours – 79% Score
Although The Hours was one of the more depressing films to release in 2002, critics and audiences alike had high praise for this intense drama.
Based on the book by Michael Cunningham and directed by Stephen Daldry, the movie follows three women across multiple generations who have remarkable experiences while reading the 1925 novel, "Mrs. Dalloway."
Set on a single day between three decades, the movie shows how great literature can withstand time and help those struggling to come to terms with their problems.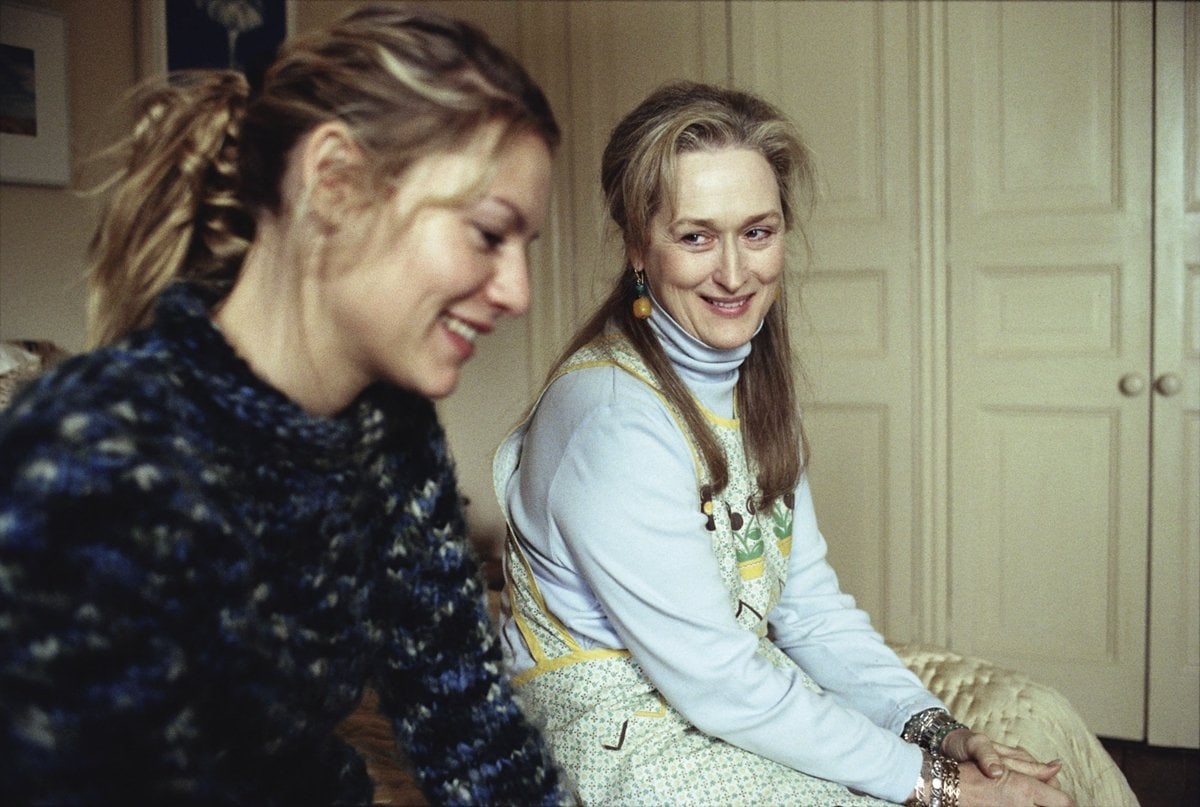 Claire Danes as Julia Vaughan and Meryl Streep as Clarissa Vaughan in the 2002 American psychological drama film The Hours (Credit: Paramount Pictures)
The Hours was also one of the biggest critical successes of the year, earning nine Academy Award nominations, with 35-year-old Nicole Kidman winning the prize for Best Actress in a Leading Role.
Much buzz was made about the prosthetic nose Kidman wore during the film, which she eventually used off-set to avoid the paparazzi.
Nicole Kidman won the Best Actress award at the 75th Academy Awards for her performance as Virginia Woolf in The Hours (Credit: Paramount Pictures)
At age 53 and 42, respectively, Meryl Streep and Julianne Moore also put in fantastic performances, further adding to the quality of the drama in this exceptional 2002 film.
12. Punch-Drunk Love – 79% Score
Punch-Drunk Love is a romantic comedy and drama film with an exceptionally interesting premise that gained plenty of attention when it hit theaters.
The film follows lonely bachelor Barry Egan (Adam Sandler), who becomes the victim of a scam when he calls a sex hotline, putting his dating prospects with new friend Lena (Emily Watson) in serious trouble.
Emily Watson as Lena Leonard and Adam Sandler as Barry Egan in the eccentric romantic comedy-drama film Punch-Drunk Love (Credit: Sony Pictures Releasing)
With both lead actors in their 30s, Punch-Drunk Love perfectly encapsulates the wild and tumultuous world of mid-life dating. The combination of suspense, comedy, and romance made it a knockout choice for a date night, leading to significant success at the box office.
The film also saw renewed respect for Adam Sandler as an actor, leading to some of his first positive reviews from renowned critics.
11. One Hour Photo – 81% Score
At 51 years old, Robin Williams had already achieved major success in the world of stand-up comedy and film, boasting an illustrious career with dozens of popular projects in his repertoire.
Looking to extend his talents into more dramatic projects, he took on the lead role of Seymour Parrish in One Hour Photo. The film follows a disturbed photo developer who starts to have a voyeuristic obsession with the family of one of his customers.
Robin Williams as Seymour Parrish in the psychological thriller film One Hour Photo (Credit: Fox Searchlight Pictures)
Plain and simple, Williams is magnificently twisted in his portrayal of this remarkable role, disappearing into his character and embodying a true menace of the middle-class.
Even with the heavy subject matter, Williams was reportedly a goofball on set, cracking jokes between takes. Now, after the actor's death, One Hour Photo is remembered as one of his most unnerving and shockingly serious performances showcasing his versatility.
10. Harry Potter and the Chamber of Secrets – 82% Score
Adapted from the enormously popular book series, Harry Potter and the Chamber of Secrets was one of the biggest movies of 2002. It captivated the attention and imaginations of global audiences regardless of age or general interest.
As a direct sequel to the previous film, Harry Potter and the Sorcerer's Stone, the movie catches up with boy-wizard Harry Potter as he attends his second year at the Hogwarts School of Witchcraft and Wizardry.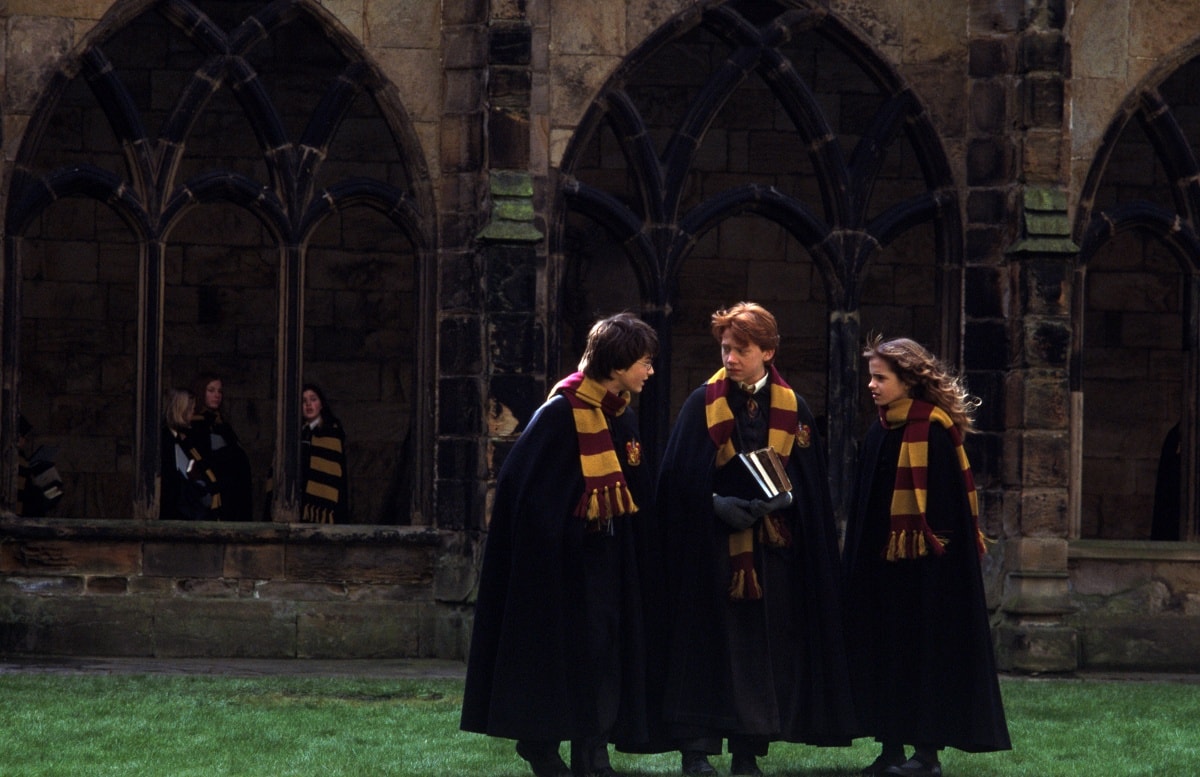 Daniel Radcliffe as Harry Potter, Rupert Grint as Ron Weasley, and Emma Watson as Hermione Granger in the popular fantasy film Harry Potter and the Chamber of Secrets (Credit: Warner Bros. Pictures)
While the movie features many world-renowned actors, most of the cast was outshone by the lead trio of talented child actors – Daniel Radcliffe as Harry Potter, Emma Watson as Hermione Granger, and Rupert Grint as Ron Weasley.
At ages 13, 12, and 14, respectively, the movie marked the beginning of storied careers for all three stars.
The Harry Potter franchise became the fourth highest-grossing film series of all time, making its popularity undeniable.
9. The Bourne Identity – 84% Score
Based on the 1980 novel of the same name by Robert Ludlum, The Bourne Identity is an espionage thriller starring Matt Damon, Franka Potente, and Chris Cooper.
The film follows protagonist Jason Bourne (Matt Damon), a deadly spy who awakens with amnesia and must figure out his true identity before he is killed by ruthless assassins.
Matt Damon as Jason Bourne and Franka Potente as Marie Helena Kreutz in the action-thriller movie The Bourne Identity (Credit: Universal Pictures)
It's packed with awesome action sequences, including brutal fights and thrilling chase scenes. Additionally, at age 32, Matt Damon offered one of the best performances of his career, with great support from his 28-year-old co-star Franka Potente.
The movie was a big enough hit to warrant two sequels, a reboot, and even a video game adaptation, making it one of the defining thrillers of the decade.
8. Chicago – 86% Score
Set in the bustling mid-western city circa 1924 and based on the musical of the same name, Chicago is an arresting story of fame, fortune, and corruption during a time of cultural change.
Directed by Rob Marshall, the movie was a major hit and is regarded as one of the most successful musical adaptations of all time.
The story follows the exploits of chorus girl Roxie Hart (Renée Zellweger) as she chases her dreams of becoming a star after watching nightclub singer Velma Kelly (Catherine Zeta-Jones) perform on stage.
Catherine Zeta-Jones as Velma Kelly and Renee Zellweger as Roxie Hart in the black comedy musical film Chicago (Credit: Miramax Films)
Both at the top of their game at age 33, Zellweger and Zeta-Jones both won Academy Awards for their stellar performances, with another four awards going to other cast and crew members.
With classic songs like "Cell Block Tango," "All That Jazz," and "When You're Good to Mama," Chicago offers catchy music and a healthy serving of risqué vaudeville.
7. 28 Days Later – 87% Score
By 2002, the zombie genre had been a bit overplayed with mostly B-movie schlock to look forward to.
Enter 28 Days Later, a post-apocalyptic film where zombies have overrun the planet. This movie reminded movie-goers why the zombie genre was so beloved in the first place.
Filmed with an intimate sensibility that lends itself well to startling scares, 28 Days Later follows a man named Jim (Cillian Murphy), who wakes up in a hospital four weeks after a terrible virus has taken over Europe.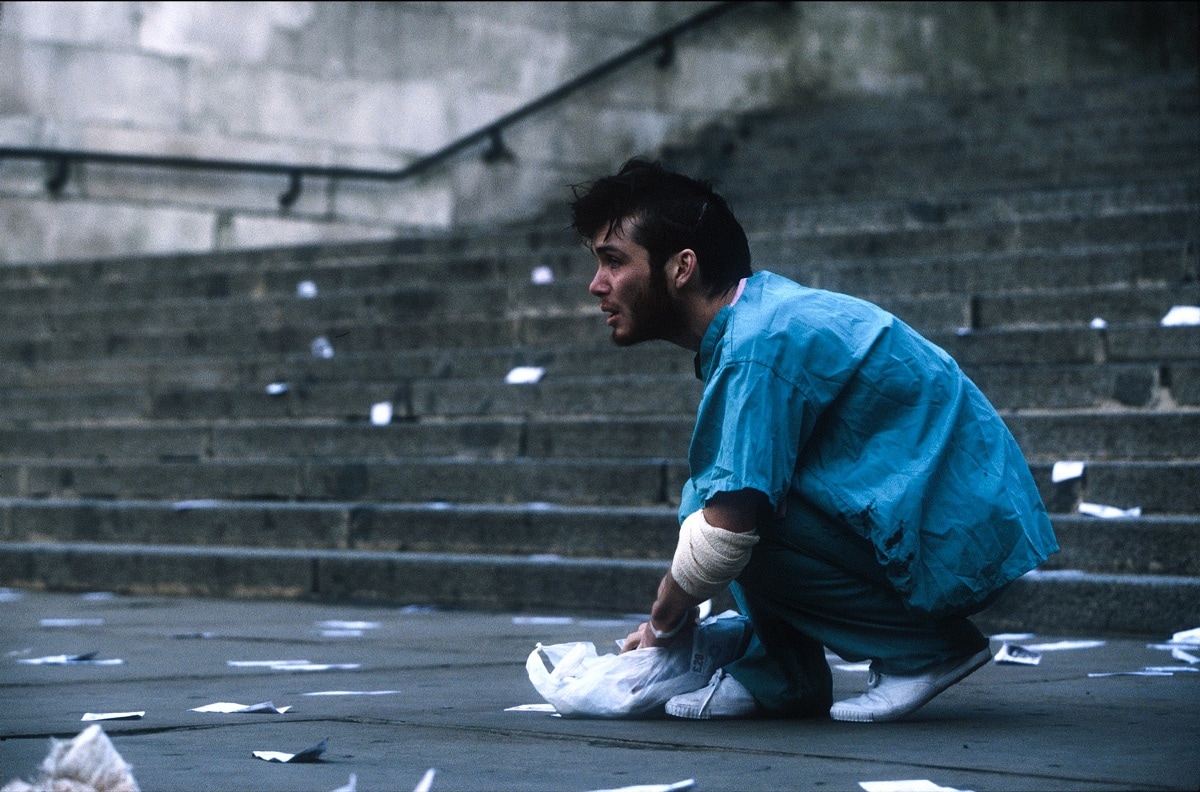 Cillian Murphy as Jim in the British post-apocalyptic horror film 28 Days Later (Credit: Fox Searchlight Pictures)
With its raw and disturbing violence, gritty atmosphere, and deceptively fast zombies, 28 Days Later marked a major return for the genre and gripped audiences with fear and anxiety.
The movie also helped propel the career of 26-year-old Cillian Murphy, as the actor had mostly done theater work before the film's release.
Simply put, 28 Days Later is one of the most influential horror movies ever created and a front-runner on our list of the top 20 movies of 2002.
6. Minority Report – 90% Score
When you combine the talent of director Steven Spielberg with the movie-star vigor of actor Tom Cruise, you're bound to see success. That's what happened with Minority Report, a futuristic crime movie based on Philip K. Dick's classic 1956 short story.
In the movie, police chief John Anderton (Tom Cruise) is accused of murder by an advanced computer program that can predict crime before it happens.
With John on the run and desperate to clear his name, Minority Report has plenty of wild action, a great mystery, and some lofty philosophical ideas.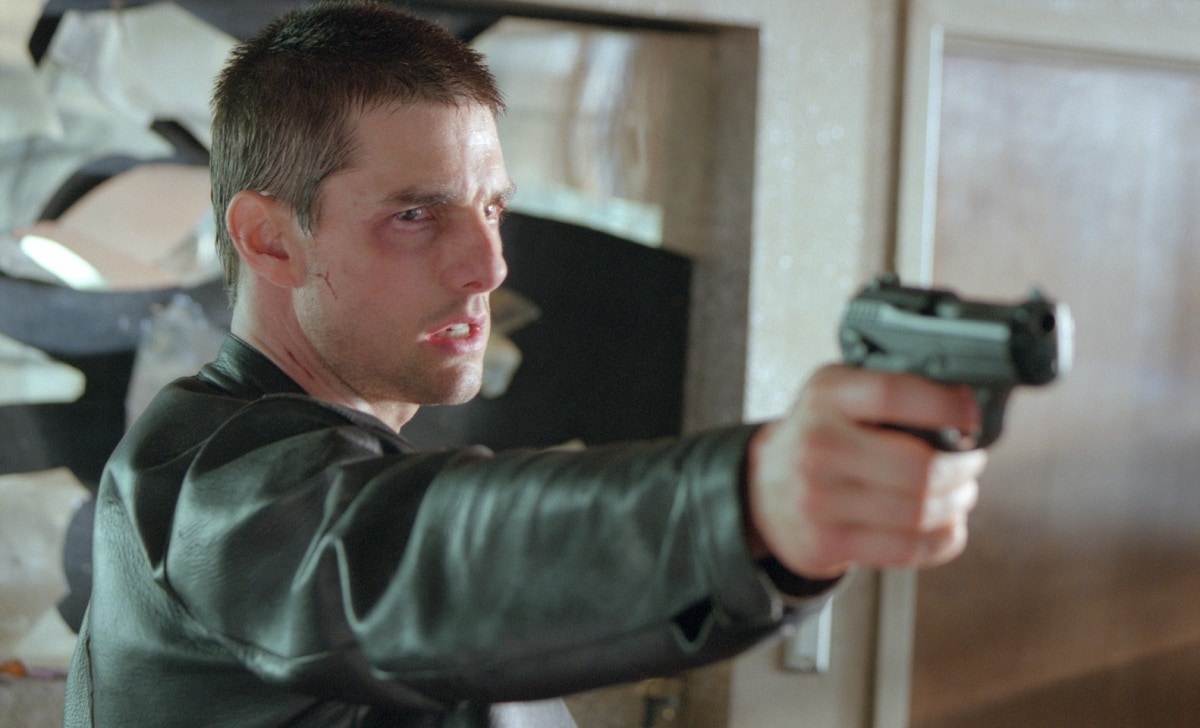 Tom Cruise as Chief John Anderton in the science fiction film Minority Report (Credit: 20th Century Fox / DreamWorks Pictures)
At 40 years old, Tom Cruise continued to deliver some of the best acting in the business, committing himself fully to the role.
In addition to being a great film, it was also oddly prescient, showcasing futuristic technology that would eventually become common in everyday life.
Minority Report is a consistently celebrated film that continues to offer an unflinching look at our reliance on technology and is well worth a spot on our list.
5. Spider-Man – 90% Score
Although movies based on Marvel comics are incredibly popular and well-made in the modern market, there was a time when most superhero films were pretty lackluster. That all changed with the release of Spider-Man.
Directed by Sam Raimi, the film featured a stellar cast including Tobey Maguire, Kirsten Dunst, James Franco, and Willem Dafoe.
With its mixture of goofy antics, hard-hitting fight scenes, and attention to detail, the feature film debut of the web-slinging hero would become one of the most popular films of all time.
Tobey Maguire as Peter Parker / Spider-Man and Kirsten Dunst as Mary Jane Watson in the American superhero film Spider-Man (Credit: Sony Pictures Releasing)
Based on the classic comics created by Stan Lee and Steve Ditko, the movie follows student Peter Parker (Tobey Maguire), who is bitten by a genetically-modified spider during a school field trip and gains superhuman abilities.
Interestingly, while Maguire was 27 years old and Dunst was 20 while filming, the pair still managed to pass as high school students.
Despite this distracting age gap, Spider-Man was a smash hit. It was loved by comic fans and casual movie-goers alike, effectively changing the landscape of pop culture forever.
4. Adaptation – 91% Score
Before he began starring in a slew of B-movies and self-referential comedies, Nicolas Cage swept the cinema world with award-winning performances.
The actor's skill was further affirmed by his turn as writer Charlie Kaufman in the intense and mind-bending drama, Adaptation.
The film was based on the real-world writer's struggles to adapt the book "The Orchid Thief" into a screenplay.
Nicolas Cage as Charlie Kaufman and Meryl Streep as Susan Orlean in the meta comedy-drama film Adaptation (Credit: Sony Pictures Releasing)
After its release, critics couldn't stop praising Cage's performance. His brilliant portrayal led the 38-year-old actor to his second Academy Award nomination.
Support also came from the beloved 53-year-old actress Meryl Streep, who played Susan Orlean, the author of the book in question.
With the combination of heartfelt performances and surreal sequences, Adaptation is one of Cage's best films and a clear choice for our list of the top 20 movies of 2002.
3. Insomnia – 92% Score
With another amazing performance from Robin Williams and matched by celebrated actor Al Pacino, Insomnia was a step above most other movies in 2002.
Crafted by acclaimed director Christopher Nolan, Insomnia follows two detectives who travel to a small fishing town in Alaska to investigate the murder of a teenage girl.
Al Pacino as Will Dormer and Robin Williams as Walter Finch in the psychological thriller film Insomnia (Credit: Warner Bros. Pictures)
In the film, Al Pacino and Martin Donovan knock it out of the park as the detectives, while Robin Williams oozes creepiness in the role of crime author Walter Finch.
As the clues begin to mount and suspicion grows, the murderer continues to outsmart the detectives at every turn. The resulting story is a tragic and gripping tale of crime in small-town USA, with an unsettling tone that will make you double-check your locks the next time you go to sleep.
When "Insomnia" premiered on May 24, 2002, Al Pacino, who played Detective Will Dormer, was 62 years old, Robin Williams, who played Walter Finch, was 50 years old, Hilary Swank, who played Detective Ellie Burr, was 27 years old, and Maura Tierney, who played Rachel Clement, was 37 years old.
2. The Lord of the Rings: The Two Towers – 95% Score
In the vast world of successful movie franchises, there are a few series as large in scope as The Lord of the Rings.
Based on the quintessential fantasy novel by J.R.R. Tolkien, this second installment in the franchise continues the story of Frodo Baggins (Elijah Wood), who must embark on a lengthy journey to destroy a powerful ring.
With exceptionally advanced CGI, an all-star ensemble cast, and some unforgettable sequences, The Two Towers is essential viewing for any fan of cinema.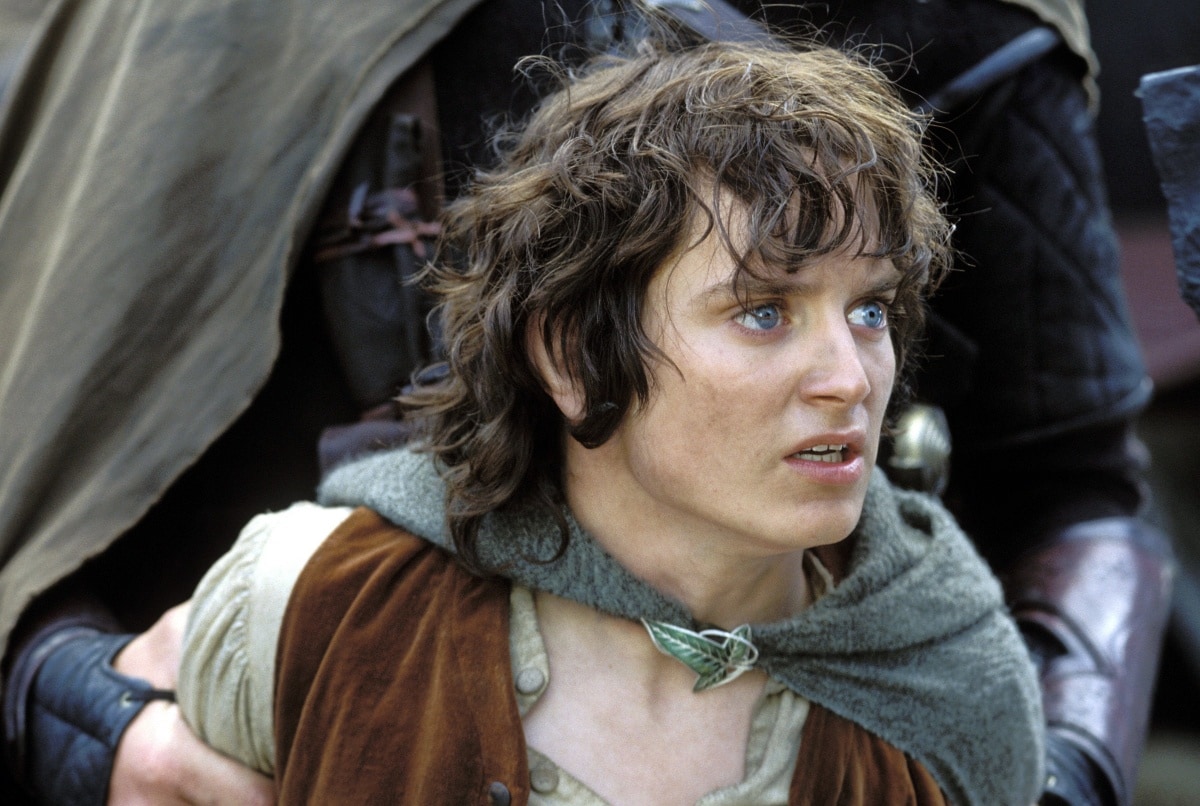 Elijah Wood as Frodo Baggins in the epic fantasy adventure film The Lord of the Rings: The Two Towers (Credit: New Line Cinema)
While it only occupies the second-highest spot on our list, the influence of The Two Towers had a further reach than any other film on the list. This should encourage most modern filmmakers to push their limits.
Director Peter Jackson delivered one of the best cinematic experiences of all time, arguing with studios over the budget and ensuring the casting of the very best actors.
When "The Lord of the Rings: The Two Towers" premiered on December 5, 2002, Elijah Wood, who played Frodo Baggins, was 21 years old, Ian McKellen, who played Gandalf, was 63 years old, Viggo Mortensen, who played Aragorn, was 44 years old, Orlando Bloom, who played Legolas, was 25 years old, and Miranda Otto, who played Eowyn, was 35 years old.
Even now, decades after the film's release, The Lord of the Rings: The Two Towers stands as cinematic perfection that has never been duplicated.
1. Catch Me If You Can – 96% Score
Based on the real-life story of con artist Frank Abagnale Jr. and directed by Steven Spielberg, Catch Me If You Can was the most critically-acclaimed film of 2002.
It might be surprising to see it at the top spot compared to the rest of the movies on the list, but the combined talents of Leonardo DiCaprio and Tom Hanks were more than enough to cause a stir in the early 2000s.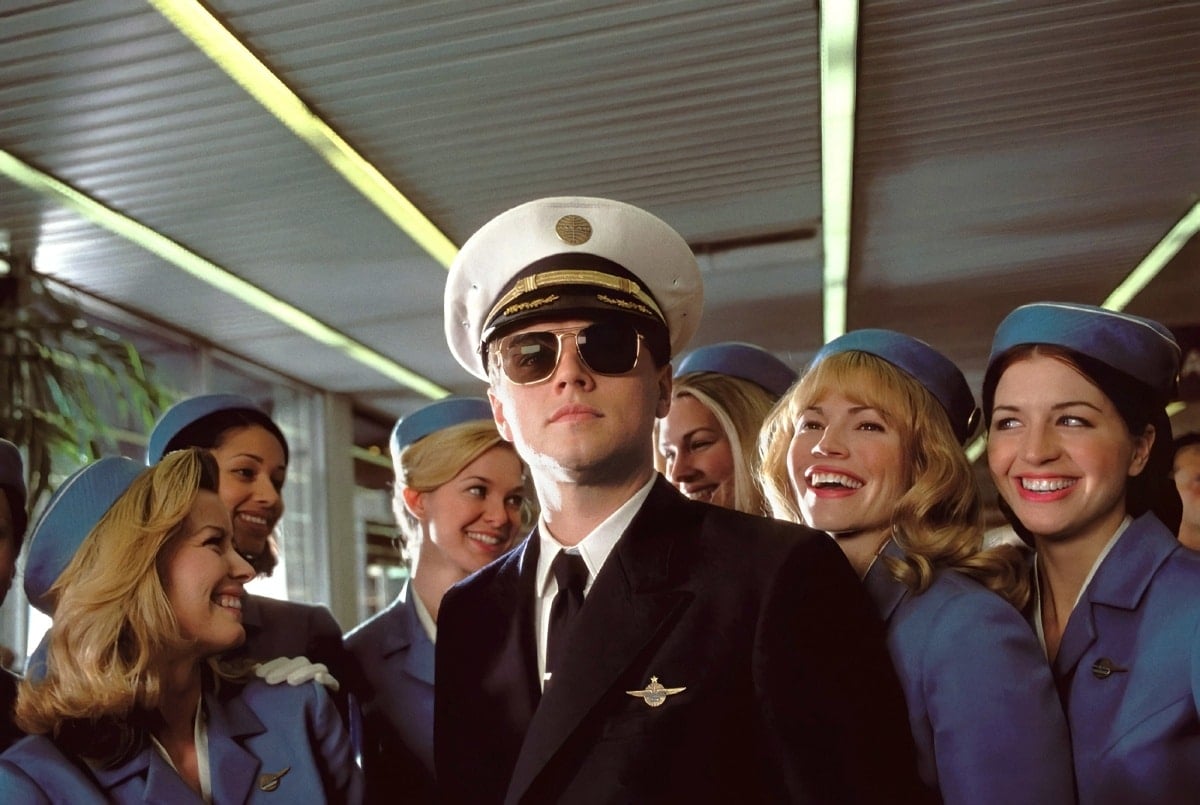 Leonardo DiCaprio as Frank Abagnale Jr. in the biographical crime film Catch Me If You Can (Credit: DreamWorks Pictures)
The film follows Frank Abagnale, Jr. (Leonardo DiCaprio) as he pulls off million-dollar scams to earn money before catching the attention of FBI agent Carl Hanratty (Tom Hanks). As the chase begins, Frank must continuously find ways to outsmart Carl or face the consequences of his crimes.
Catch Me If You Can is a globe-trotting adventure filmed in over 150 locations around North America, making the production process lengthy and complicated.
When "Catch Me If You Can" premiered on December 16, 2002, Leonardo DiCaprio, who played Frank Abagnale Jr., was 28 years old, Tom Hanks, who played Carl Hanratty, was 46 years old, Christopher Walken, who played Frank Abagnale Sr., was 59 years old, Martin Sheen, who played Roger Strong, was 62 years old, and Amy Adams, who played Brenda Strong, was 28 years old.
However, the efforts all paid off as Catch Me If You Can earns the top spot on our list of the top 20 movies of 2002.