Johnny Depp is an actor that we have known and loved since the '80s. His eclectic style, suave demeanor, subtly commanding presence and incredible acting skills are what make him Johnny Depp.
And, the apple doesn't fall far from the tree. Johnny's daughter, Lily-Rose Depp, has also made her Hollywood debut.
Johnny Depp plays an artificial humanoid in the 1990 American fantasy romance film Edward Scissorhands (Credit: 20th Century Fox)
So, let's take a closer look at this family, and see what traits Lily-Rose got from her father and what makes her unique.
Johnny Depp: His Height, Age and Personality
Chances are high that you've seen at least one of Johnny's films. The actor has carved a niche for himself in Hollywood and often takes on dark, ominous, and idiosyncratic roles.
He's a favorite of director Tim Burton and has played prominent roles in both the "Pirates of the Caribbean" series as well as the "Fantastic Beasts" series.
Many fans believe Johnny Depp is much taller than his actual height of around 5′ 10″ (178 cm) (Credit: INSTARimages)
Johnny's presence in his films comes off as so towering that you'd assume he's one of Hollywood's tallest actors.
However, that's not the case. While his actual height is unknown — it's been estimated somewhere between 5'7″ and 5'10" — the actor's height hasn't affected his career or presence at all.
"It's strange because although Johnny Depp is actually only about 5' 7", he gives the illusion of being really tall," an interviewer said in 1993.
Johnny Depp looks short standing next to Armie Hammer, who measures 6′ 5″ (196 cm) (Credit: INFphoto)
"He says hello and shakes my hand. He has a very firm handshake for someone who's got such incredibly small hands — they're almost like a child's. But he maintains eye contact all the time and when he looks at you, you pay attention."
Regardless of his height, the actor is a hit with the American public. In 2004, People Magazine named Johnny Depp as its "Sexiest Man Alive."
Johnny was flattered — yet unfazed — by the title.
Even when wearing high heels, Amber Heard is shorter than her ex-husband Johnny Depp (Credit: Dara Kushner / INFphoto)
"As soon as you think 30, you go: 'Oh no! 40's next!," he said in an interview. "But by the time you reach 40, you think, 'This isn't so bad'."
Johnny Depp's Start in Film
Johnny took up acting at the age of 25. His role in "21 Jump Street" as a young cop working undercover as a teenager skyrocketed the phenom into stardom.
At the time, Johnny didn't think the role would amount to much. However, the iconic series ended up launching his career. Shortly after undertaking the role in "21 Jump Street," Johnny met Tim Burton. The rest is history.
Johnny Depp as Officer Thomas "Tom" Hanson, Peter DeLuise as Officer Douglas "Doug" Penhall, and Dustin Nguyen as Sergeant Harry Truman "H.T" Ioki/Vinh Van Tran in the American police procedural television series 21 Jump Street (Credit: 20th Century Fox Television)
There are many different aspects and attribute to Depp, his character, his career, and how people perceive him. But one thing is for sure, he doesn't go unnoticed.
Johnny Depp's Daughter: Lily-Rose Depp
Johnny has two children, a daughter named Lily-Rose and a son named Jack. Both children are in their early 20s and now grown but in their younger years, the actor was always around.
Johnny has said his children gave him, "a real foundation, a real strong place to stand in life, in work, in everything."
Johnny Depp and Vanessa Paradis dated for 14 years from 1998 to 2012 (Credit: INFGoff)
"It's not enough to say, becoming a father is the best thing that ever happened to me," he said during an interview.
"I've never been that good at finding words, but this time they really do fail me. When I saw my daughter being born, it was the first really totally selfless moment I'd had."
Johnny was the youngest of four kids, so it looks like his family is very important to this Hollywood powerhouse.
Lily-Rose Depp's Style
Lily-Rose Depp wears her hair down at a photocall for her film "The Dancer" (La Danseuse) during the 69th annual Cannes Film Festival, in Cannes, France, on May 13, 2016 (Credit: WENN / Lavinia Fontana / Future Image)
The daughter of actor Johnny Depp and singer Vanessa Paradis looked chic in a matching top and shorts from Chanel while at a photocall for her 2016 French biographical historical drama film "The Dancer" (in French: La Danseuse), held during the 2016 Cannes Film Festival in France.
Lily-Rose Depp wears a blue, red, and white hooded top with denim panels (Credit: WENN / Lavinia Fontana / Future Image)
The then-16-year-old actress sported a tweed Chanel hooded top and matching shorts.
Lily-Rose Depp parades her legs in Chanel shorts styled with red high heel sandals (Credit: WENN / Lavinia Fontana / Future Image)
She wore her brunette locks in loose curls and completed the ensemble with a pair of flower embellished red sandals from the same French luxury fashion house.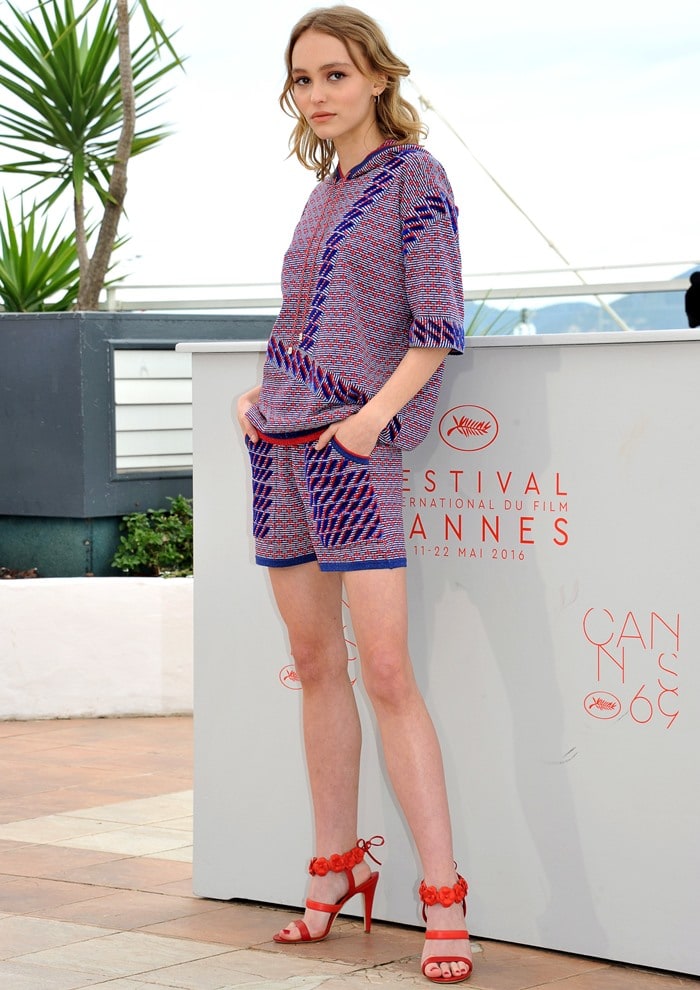 Lily-Rose Depp pairs a Chanel hoodie-and-shorts combo with red flower-embellished heels (Credit: WENN / Lavinia Fontana / Future Image)
Lily's bright red Chanel heels feature three thick straps, red floral embellishments, and ties at the heels.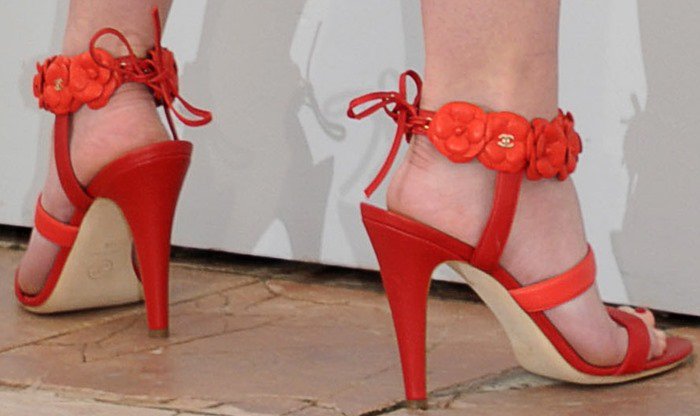 Lily-Rose Depp's feet in red Chanel heels (Credit: WENN / Lavinia Fontana / Future Image)
She painted her toenails red to match.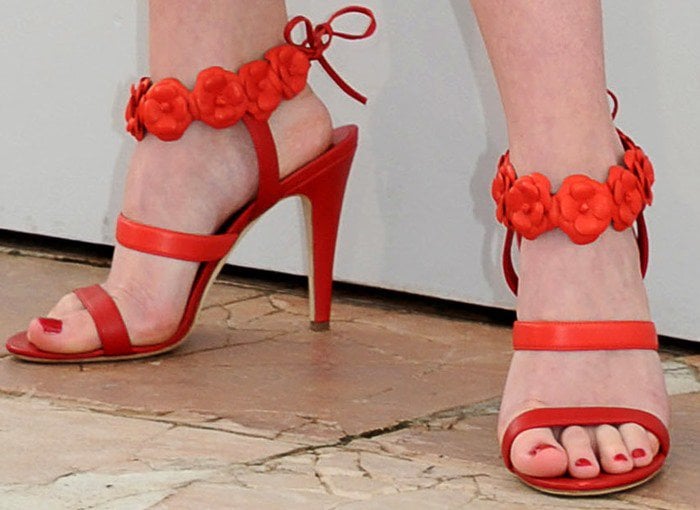 Lily-Rose Depp's feet in red Chanel sandals (Credit: WENN / Lavinia Fontana / Future Image)
New VIP members at ShoeDazzle can buy the following single-sole minimalist heel featuring a removable oversized flower for just $10!
Red Kyla Flower-Embellished Sandals, $10 at ShoeDazzle