If you've ever had the wonderful opportunity of seeing Marion Cotillard onscreen once, it's an experience you won't soon forget. This French beauty has quickly made her stamp on both the French and American film industries, and for good reason.
She has a winning combination of stunning looks and serious talent that has caused her to propel herself to superstardom, becoming one of the most in-demand actresses of her generation. But how did she reach such a coveted position?
James Gray and Marion Cotillard in a Chanel dress at the 19th Marrakech International Film Festival – Day Two on November 12, 2022, in Marrakech, Morocco (Credit: Aurore Marechal / ABACA / INSTARimag / Cover Images)
In this article, we're going to be looking at how Marion Cotillard got started as an actress, as well as ranking some of her best American films. Let's dive in.
How Marion Cotillard Became an Actress and Her Start in French Cinema
Marion Cotillard was born in September 1975 in Paris, France. She grew up in an artistic environment, being the daughter of two parents that were involved in performing arts.
Her father was an actor and theatre director, and her mother was an actress and drama teacher.
Cotillard's acting experiences began with small roles in theatrical productions before she began appearing in movies in the mid-1990s when she was in her early 20s.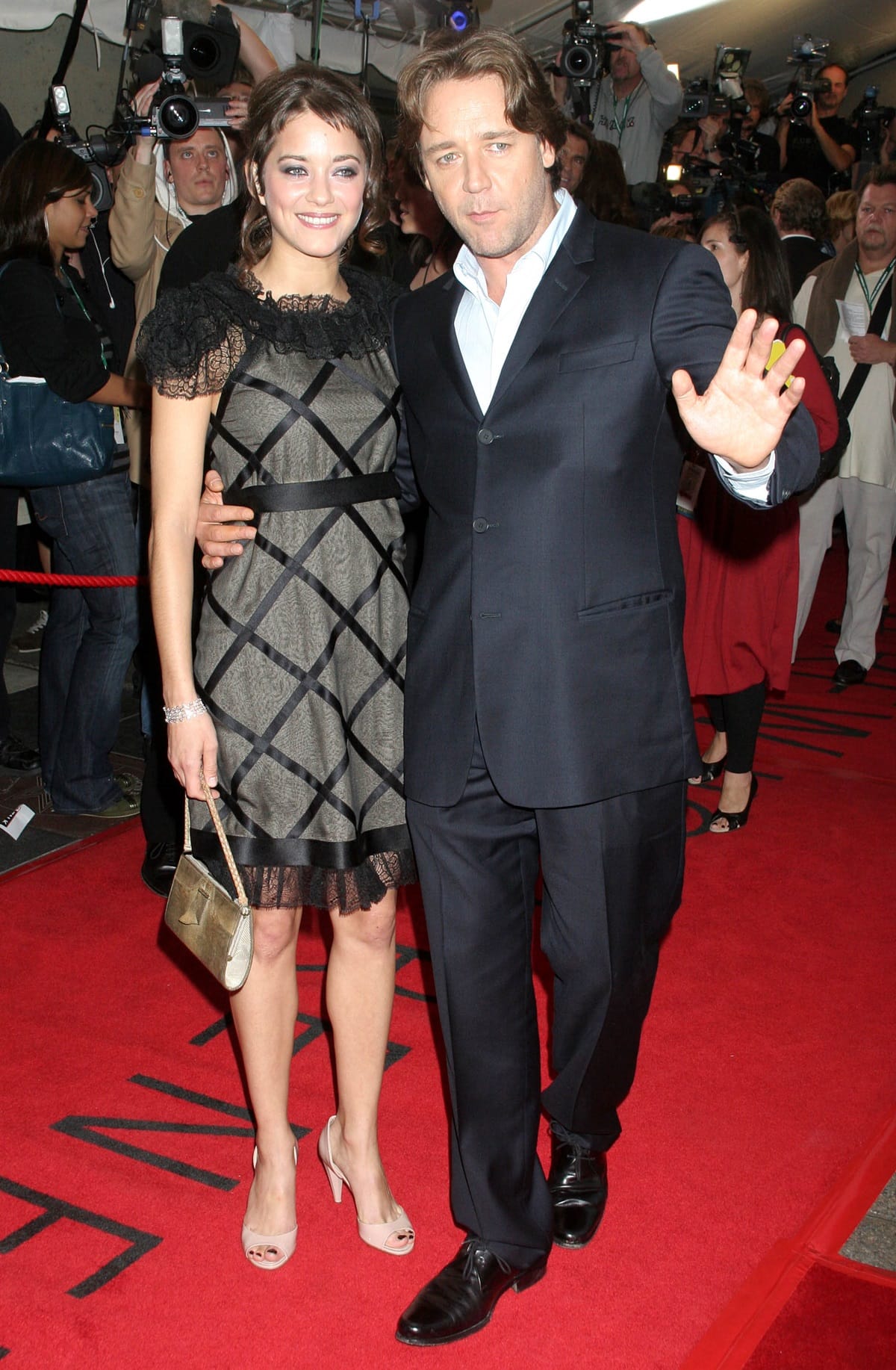 Actress Marion Cotillard and actor Russell Crowe attend the Toronto International Film Festival premiere screening of "The Good Year" held at The Roy Thompson Hall on September 9, 2006, in Toronto, Canada (Credit: Dara Kushner / INFGoff)
Her film debut came with a small role in The Story of a Boy Who Wanted to Be Kissed (1994), which was filmed when she was only 18 years old.
After appearing as the titular lead in the 1996 film Chloe, Cotillard enjoyed her first breakthrough role with her role as Lily Bertineau in Luc Besson's Taxi (1998), which went on to spawn a successful French film franchise with five installments.
Marion Cotillard as Lilly Bertineau in the 1998 French action comedy film Taxi (Credit: ARP / TF1 Films Productions / Le Studio Canal+)
By the early 2000s, Cotillard had begun to transition to her career in Hollywood by accepting her first role in an English-language film, Tim Burton's Big Fish (2003).
The film went on to be both commercially and critically successful, propelling Cotillard into an established Hollywood career.
6. Big Fish (2003)
Although Marion Cotillard may be a big name in America now, this was her debut role in an English-language film. Cotillard plays the role of Josephine, the wife of protagonist Will Bloom (played by Billy Crudup).
The film is about Will Bloom and the relationship between him and his father, Edward (played by Ewan McGregor in flashbacks and Albert Finney as an old man).
Edward Bloom is a man who has a penchant for fantastical tales regarding his life in the past, which Will treats with some disdain. Edward is diagnosed with cancer, which causes Will to reminisce on all the stories his father used to tell him.
Marion Cotillard as Joséphine in Tim Burton's 2003 American fantasy comedy-drama film Big Fish (Credit: Sony Pictures Releasing)
The film is a heartfelt tale of the blurred lines between fact and fiction, as well as the touching relationship between a father and his son.
Directed by Edward Scissorhands director Tim Burton and adapted from a 1998 novel by Daniel Wallace that you can buy on Amazon, Big Fish was a hit with both audiences and critics alike, and the cast received particular praise for their performances.
Cotillard definitely managed to catch the eye of some American casting directors, considering she began starring in many more English-language films following her appearance in Big Fish.
5. The Immigrant (2013)
Directed by James Gray and featuring a star-studded cast including Joaquin Phoenix and Jeremy Renner, The Immigrant tells the story of Ewa Cybulska (Marion Cotillard), a Polish immigrant arriving in New York City following the devastating effects of World War II.
Facing deportation, Ewa is rescued by a man named Bruno (Joaquin Phoenix), who quickly begins to be interested in her romantically.
However, Bruno's cousin, an enigmatic stage magician by the name of Emil (Jeremy Renner), also desires her affection, causing friction between the two family members.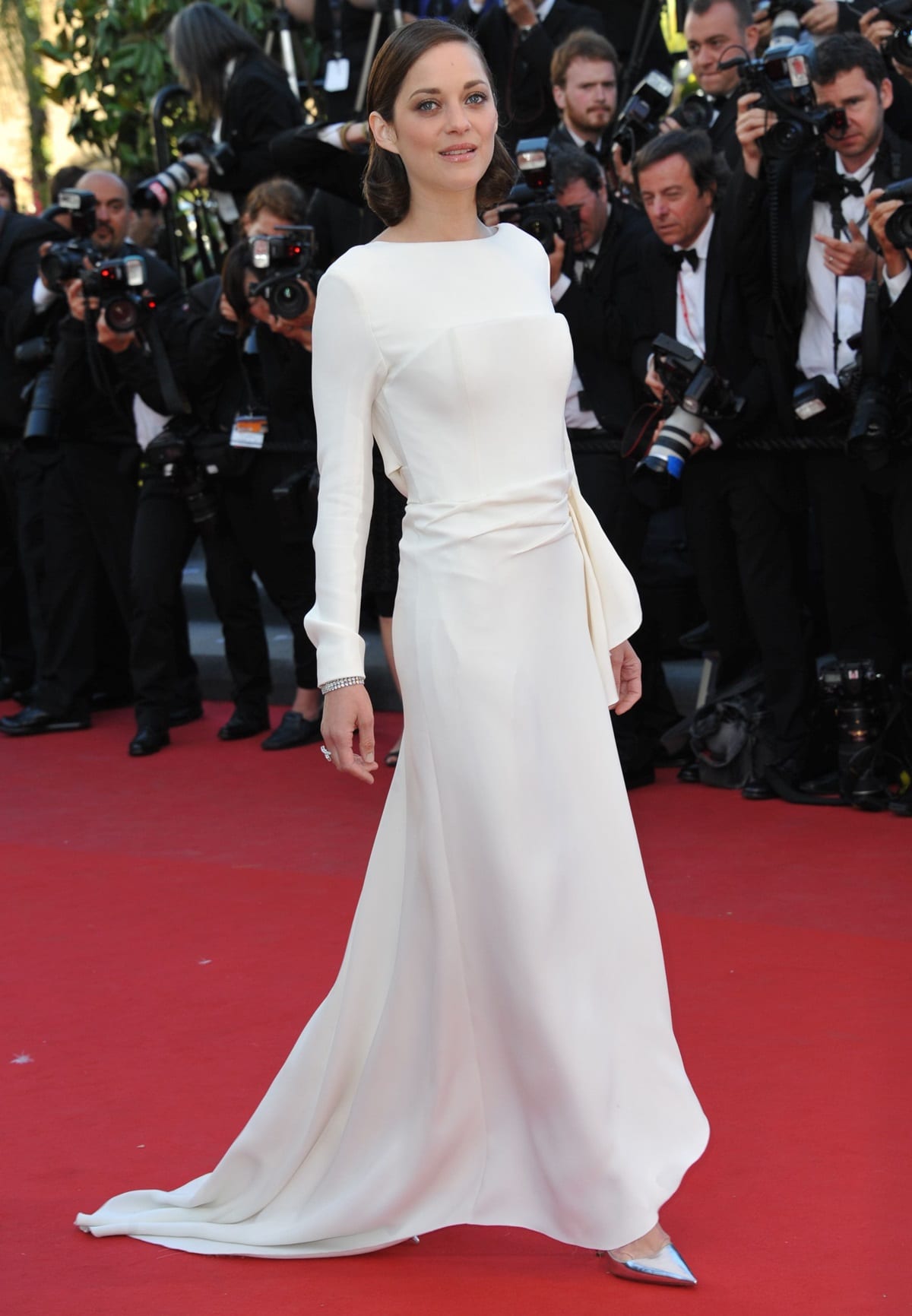 Marion Cotillard in a white Dior dress and metallic shoes with Chopard jewelry at 'The Immigrant' Premiere during the 66th Annual Cannes Film Festival at Grand Theatre Lumiere on May 24, 2013, in Cannes, France (Credit: INFphoto)
Bruno is revealed to be somewhat of a shady character who harbors "doves" (desperate women who he prostitutes for money) in order to make a living.
Ewa runs into some trouble with Bruno, and the plot is a classic story of the common struggles that new immigrants faced when attempting to immigrate to America following the end of the second world war.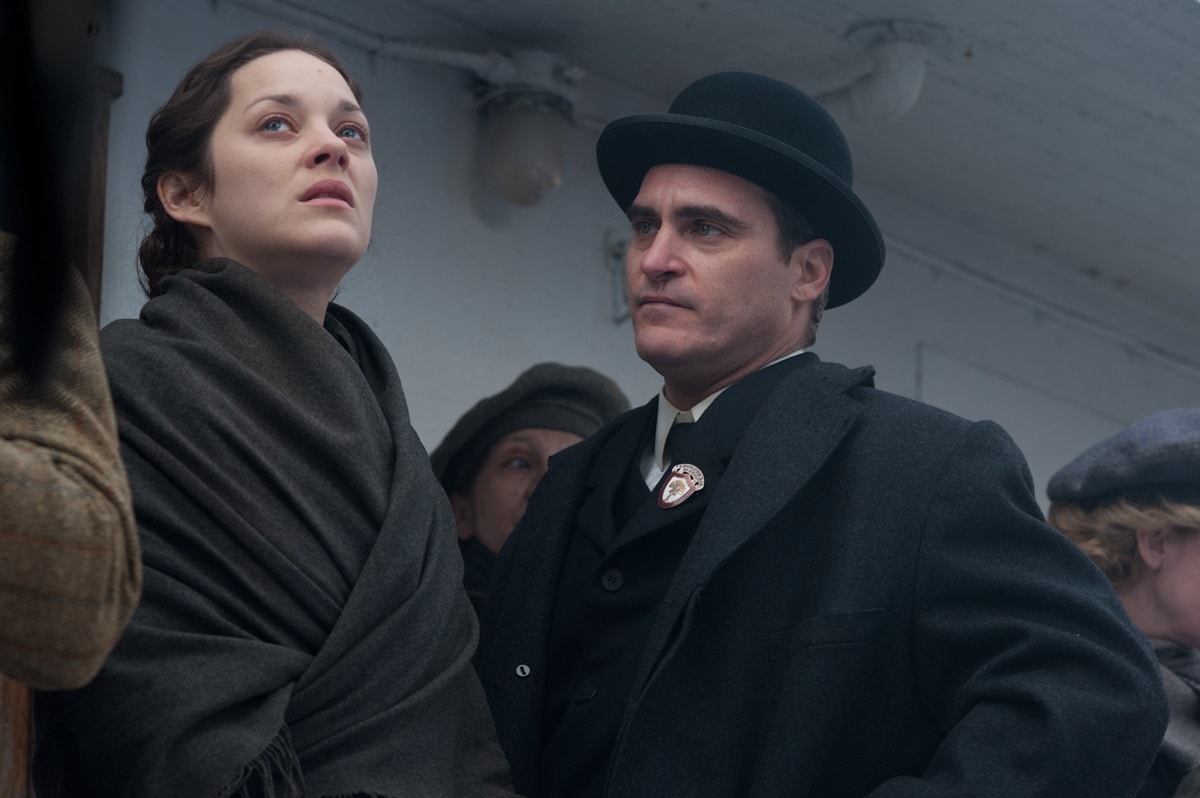 Marion Cotillard as Ewa Cybulska and Joaquin Phoenix as Bruno Weiss in the 2013 American drama film The Immigrant (Credit: The Weinstein Company)
James Gray wrote the screenplay for the film (alongside Richard Menello) and wrote the roles of Ewa and Bruno specifically for Cotillard and Phoenix.
The film was a hit with critics but was a failure at the box office. James Gray has since gone on to say that Cotillard was the best actress he has ever worked with.
4. Contagion (2011)
Featuring an ensemble cast including names like Matt Damon, Laurence Fishburne, Jude Law, and Gwyneth Paltrow (in addition to Cotillard), Contagion was directed by Out of Sight director Steven Soderbergh and features a network narrative where multiple different characters' stories intertwine within an overarching plot involving the spread of a deadly and highly contagious respiratory illness.
Director Steven Soderbergh, actress Marion Cotillard in a dress and shoes by Christian Dior, and actor Matt Damon in a Calvin Klein Collection suit at the "Contagion" premiere at the Rose Theater, Jazz at Lincoln Center on September 7, 2011, in New York City (Credit: INFevents)
In the film, Cotillard plays the character of Dr. Leonora Orantes, who works as an epidemiologist for the World Health Organization.
Cotillard was apparently attracted to the role due to her admiration for Soderbergh's work, in addition to having a natural fear of germs, stating "I've always been…scared, in a way, by all of those disease[s]. So… It was really something, I was really interested."
Marion Cotillard as epidemiologist Dr. Leonora Orantes and Chin Han as Sun Feng in the 2011 American medical thriller film Contagion (Credit: Warner Bros. Pictures)
The film was a massive success at the time and made a whopping $136.5 million against its budget of $60 million. The film also gained a second life in response to the COVID-19 pandemic, as the plot parallels a lot of the real-life events that occurred during the pandemic.
3. The Dark Knight Rises (2012)
The third and final installment in the Christopher Nolan Batman trilogy, The Dark Knight Rises, was released to much fanfare following the massive success of the second film in the trilogy, 2008's The Dark Knight.
In The Dark Knight Rises, Marion Cotillard steps in as Miranda Tate, the CEO of Bruce Wayne's (Batman, played by Christian Bale) company, Wayne Enterprises.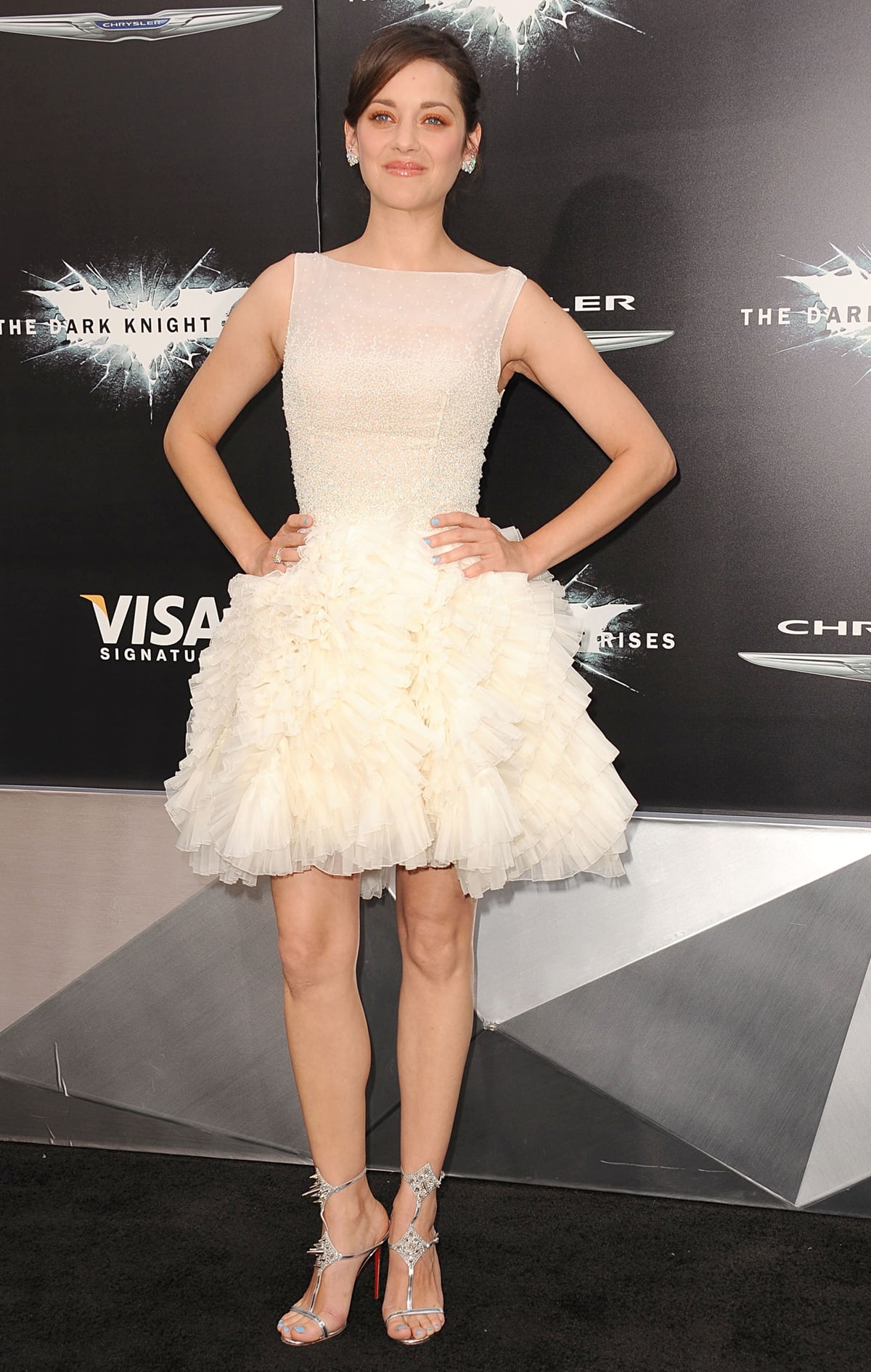 Marion Cotillard flaunts her legs in a Christian Dior Couture dress paired with Christian Louboutin shoes and Chopard jewelry at the "The Dark Knight Rises" world premiere at AMC Lincoln Square Theater on July 16, 2012, in New York City (Credit: ACE / INFphoto)
Later on in the film, it is revealed that Miranda Tate is actually Talia Al Ghul, the daughter of Ra's Al Ghul, who was the antagonist of the first film in the trilogy (Ra's Al Ghul was played by Liam Neeson in Batman Begins).
While Cotillard's performance was mainly praised, there was some backlash from fans of the Batman trilogy regarding how her character's death was carried out in the film, particularly in the character's last moments on screen.
Marion Cotillard as Miranda Tate / Talia al Ghul filming the Batman movie "The Dark Knight Rises" at the Mellon Institute building in the Oakland neighborhood of Pittsburgh, Pennsylvania on July 31, 2011 (Credit: Chris Watts / INFphoto)
Cotillard mostly agreed with the fans' perceptions of the much-maligned scene, relaying, "Sometimes there are failures, and when you see this on screen, you're thinking: 'Why? Why did they keep that take?'"
2. Inception (2010)
Marion Cotillard was certainly on a roll in the early 2010s, although it helps when you're able to continually work with one of the most talented directors in Hollywood.
2010's Inception sent shockwaves through Hollywood when it was released, raking in a colossal sum of $836.8 million against a budget of $160 million.
Cotillard plays the role of Mal Cobb in the film, the deceased wife of the protagonist, Dom Cobb (played by Leonardo DiCaprio).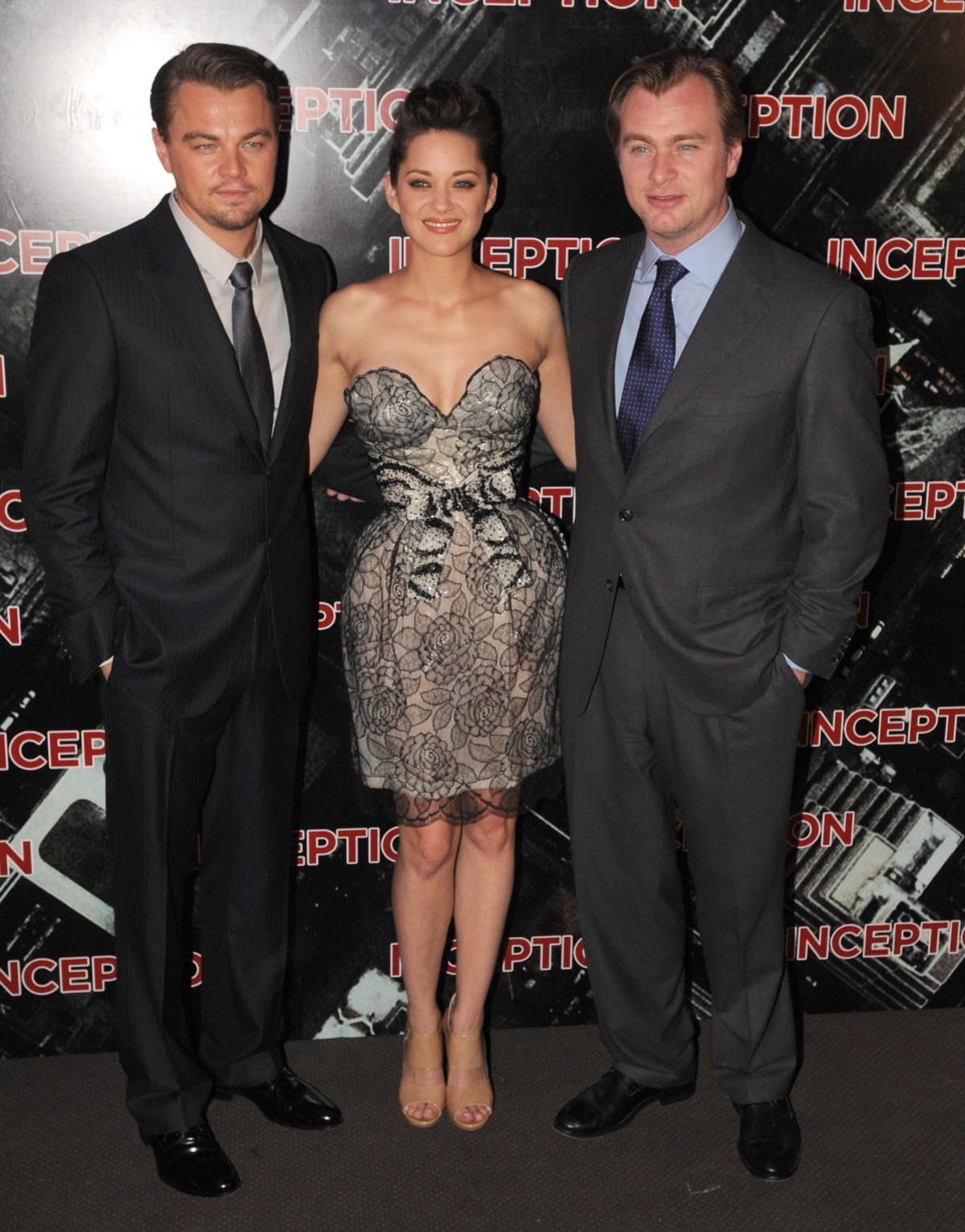 Leonardo Di Caprio, Marion Cotillard in a Christian Dior dress paired with Jimmy Choo shoes and Chopard jewelry, and director Christopher Nolan attend the Paris Premiere for the film "Inception" at Gaumont Champs Elysees on July 10, 2010, in Paris, France (Credit: INFphoto)
In reality, Mal commits suicide due to the effects that continuous dream sharing had on her mental health, and, believing she was in a dream, she jumped off the balcony of a tall building.
Throughout the film, Mal acts as a foil to Dom, as her very presence affects him to the point of being unable to perform his very difficult tasks while dream sharing.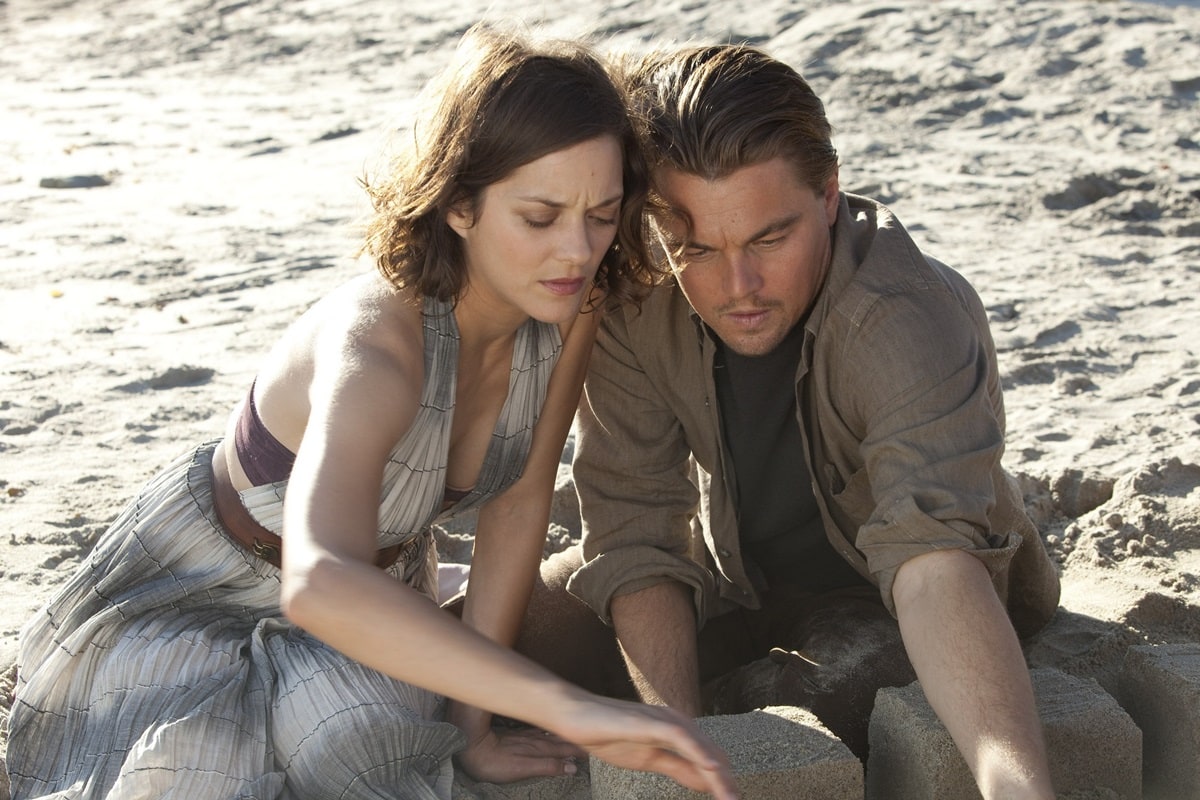 Leonardo DiCaprio as Dom Cobb and Marion Cotillard as Mal Cobb in the 2010 science fiction action film Inception (Credit: Warner Bros. Pictures)
This role has been described as somewhat of a "femme fatale" role, and we couldn't agree more. Cotillard plays the role extremely well, flipping between Mal in reality and the antagonistic Mal that exists within Dom's psyche.
1. Midnight in Paris (2011)
It's hard not to envy the career of Marion Cotillard, especially when she gets to work with a director as talented as Woody Allen. Starring alongside Owen Wilson and Rachel McAdams, Cotillard plays the role of Adriana, a woman living in 1920s Paris.
The film follows Gil Pender, an American screenwriter who is attempting to write his debut novel but is stuck in a case of writer's block.
He has a fondness for the Lost Generation of the 1920s and, through the magic of a mysterious 1920s car, is transported back to Paris in the 1920s.
Owen Wilson and co-star Marion Cotillard shoot scenes for Woody Allen's movie Midnight in Paris on July 30, 2010, in Paris, France (Credit: INFphoto)
There he meets Adriana and immediately is smitten with the beautiful woman, who boasts of being a mistress of Pablo Picasso, Amedeo Modigliani, and Georges Braque.
The film instantly became a modern classic in the filmography of Woody Allen and remains one of his most popular films. Fellow director Quentin Tarantino even named it his favorite film of 2011. Cotillard's performance was also met with critical praise.
Owen Wilson as Gil Pender and Marion Cotillard as Picasso's fictionalized mistress Adriana in Woody Allen's 2011 fantasy comedy film Midnight in Paris (Credit: Sony Pictures Classics)
Those are some of Marion Cotillard's best American films. The French actress has managed to build quite a career for herself thus far, and we're excited to see what the future holds for this talented star.