Legendary actor Owen Wilson is widely known for many things, whether it be pulling his underwear out of his pants in the iconic movie Zoolander or becoming a viral meme for the way he says "wow."
However, this master of both comedic timing and dramatic flair is most commonly recognized for a distinctive physical feature: His unique nose.
Ben Stiller as Derek Zoolander and Owen Wilson as Hansel McDonald in the 2001 American spy comedy film Zoolander (Credit: Paramount Pictures)
Owen Wilson's nose appears crooked and dented, as if (spoiler alert) it's been broken one too many times. Though the unusual feature doesn't diminish his dashing good looks or hinder his impressive acting career, it has raised questions and concerns among his adoring fans.
How did his nose become so crooked? Did he have a botched nose job? Was he born with it?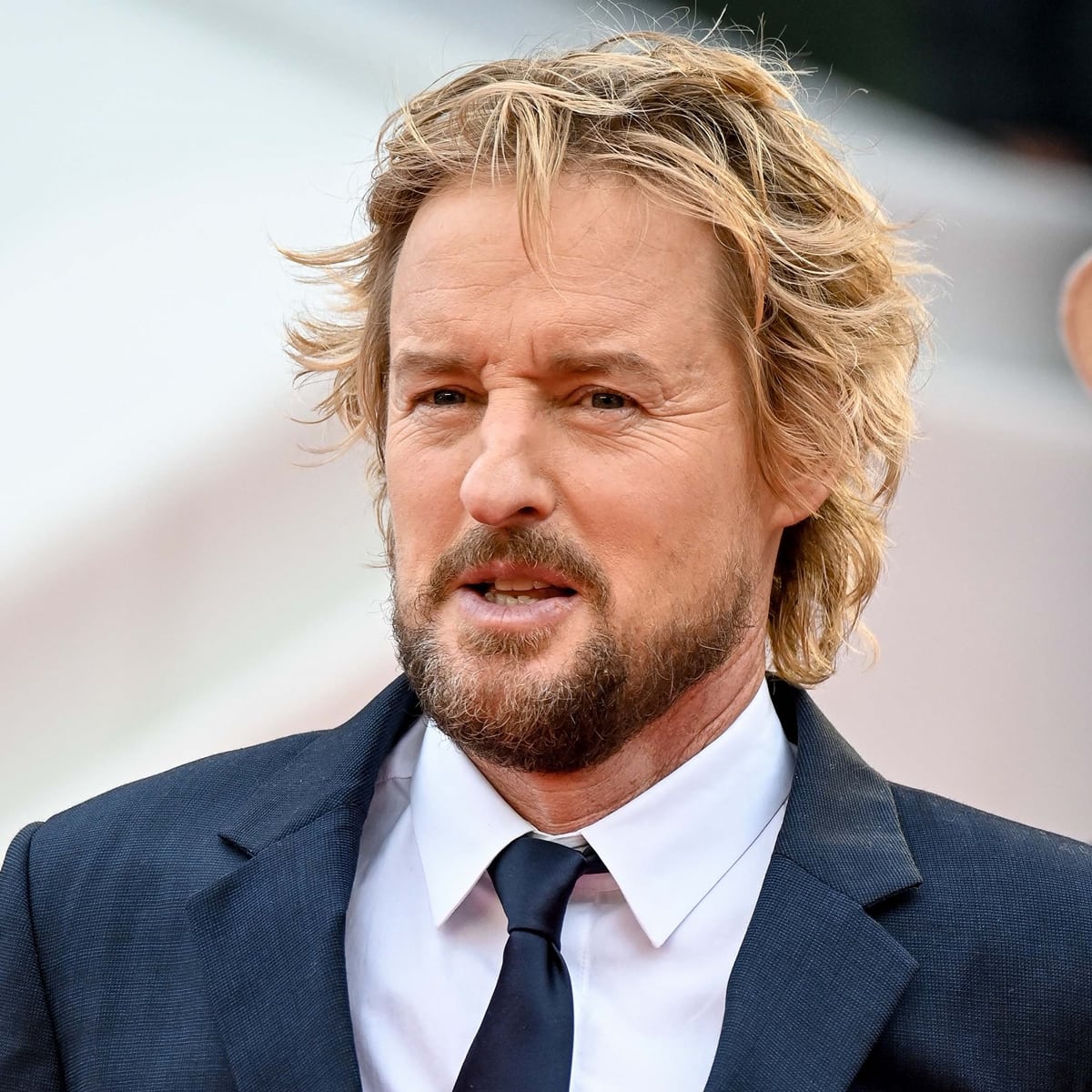 Owen Wilson displays his oddly shaped nose at the screening of "The French Dispatch" during the 74th annual Cannes Film Festival on July 12, 2021, in Cannes, France (Credit: Medias / ABACA / INSTARimages)
For many years, the star avoided discussing the topic of his schnoz, which only enhanced the mystery behind it.
So… What Really Happened to Owen Wilson's Crooked Nose?
The reality of how Owen Wilson's nose became so characteristic isn't quite as remarkable as we all hoped. The celebrity, like so many young men, had a habit of roughhousing in his youth, leading to a broken nose…twice.
The first injury occurred when the actor found himself in a physical fight at St. Mark's High School in Dallas, Texas. The second is the result of a head-on collision during football practice.
Owen Wilson injured his nose during a high school fight and broke it again during a collision on a football field (Credit: Carlos Diaz / INFGoff)
Wilson was actually expelled from St. Mark's for fighting and finished his high school years at New Mexico Military Institute, where he learned to be the upstanding young gentleman that he still embodies today.
How Does Owen Wilson Feel About His Nose?
The celebrity seems to pay little mind to his distinguishing feature. In 2001, The Los Angeles Times reported that Wilson seemed unbothered by his nose even though people often tell him it looks "kind of odd, disfigured."
He is quoted saying, "my nose wouldn't have been that great even if it hadn't been broken."
Owen Wilson used to have a perfectly straight nose but doesn't mind the way it looks now (Credit: INFevents)
According to photos of Wilson as a young teen, his nose was very straight before the two injuries occurred.
Owen Wilson's attractiveness is undeniable, despite his interesting-looking nose. In fact, we think that his honker perfectly matches his quirky, cute personality, making him only more loveable (if that's possible!).
What Is Owen Wilson Up to These Days?
Owen Wilson recently dazzled Marvel fans in the role of Mobius M. Mobius in the Disney+ series Loki and is slated to return for season two.
He also appeared as Herbsaint Sazerac in The French Dispatch, released in October 2021, in his seventh collaboration with his former college roommate, friend, and critically acclaimed director and filmmaker, Wes Anderson.
Jennifer Lopez as Katarina "Kat" Valdez and Owen Wilson as Charlie Gilbert in the 2022 American romantic comedy-drama film Marry Me (Credit: Universal Pictures)
In 2022, we saw Wilson as Charlie in Marry Me, opposite Jennifer Lopez, in February. This year the star is also set to appear in the TV series Cars on the Road and the movies Paint and Secret Headquarters.
Lastly, Wilson recently finished filming for the new Haunted Mansion movie, where he played the role of Priest. Talk about staying busy!
We commend Wilson for owning his crooked nose and not feeling forced into society's typical standards for what is "beautiful." If this handsome guy can have a massively successful career with his crooked conk, there's still hope for the rest of us!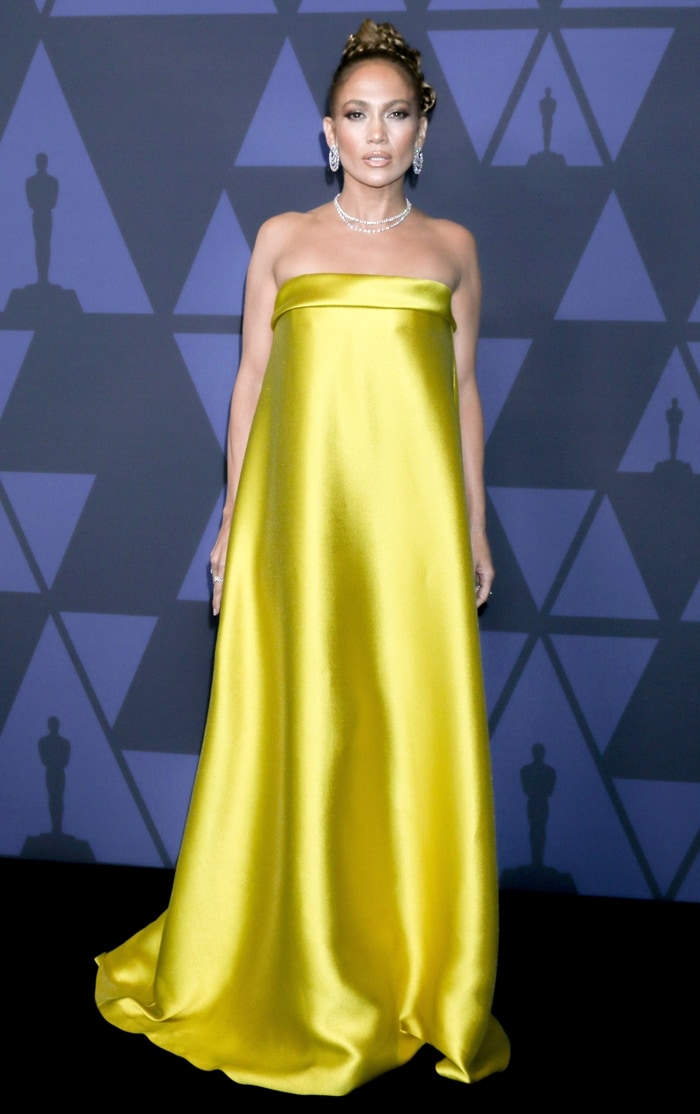 Jennifer Lopez in a strapless yellow gown on the black carpet as she arrives at the 2019 Governors Awards at the Ray Dolby Ballroom at Hollywood & Highland Center in Hollywood on October 27, 2019 (Credit: Avalon / WENN / Nicky Nelson)
Jennifer Lopez, whom many think should have been nominated for an Oscar for her performance in Hustlers, looked amazing on the black carpet as she arrived at the 2019 Governors Awards at the Ray Dolby Ballroom at Hollywood & Highland Center in Hollywood.
Styled by Rob Zangardi and Mariel Haenn, the then-50-year-old entertainer finally looked her age in a golden wrapping paper dress from Reem Acra's Spring/Summer 2020 Paradise collection.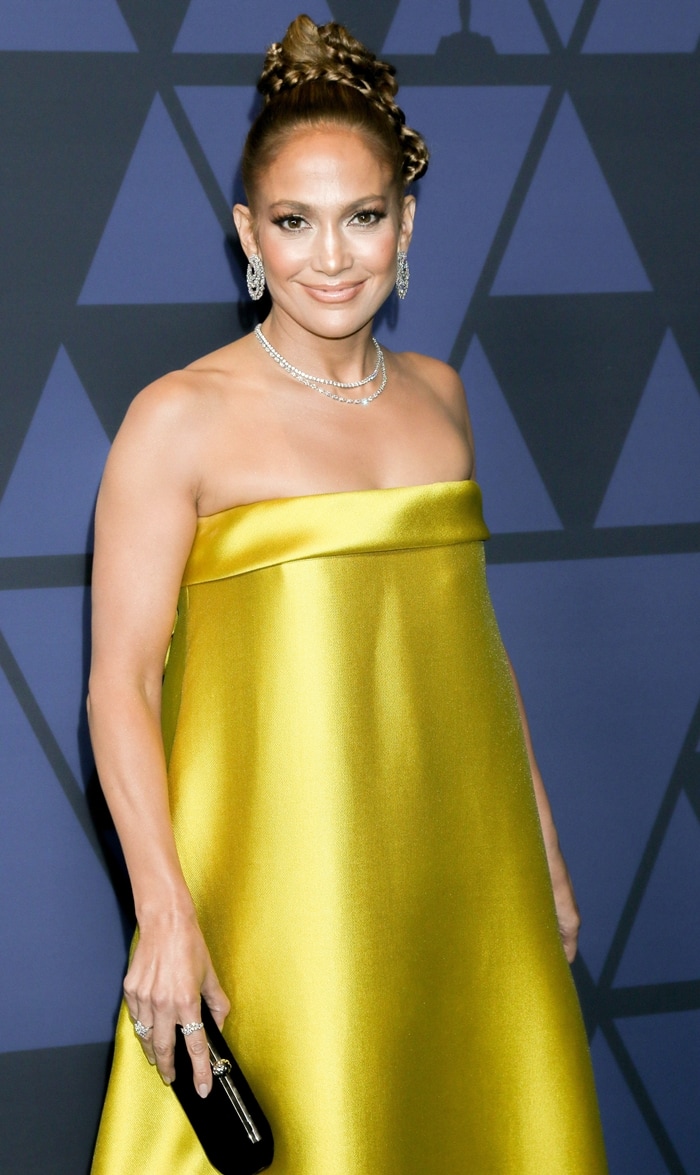 Jennifer Lopez's braided updo by New York-based hairstylist Danielle Priano (Credit: WENN)
Wearing her hair in a braided updo, she accessorized with Harry Winston jewelry, toted a black-and-gold Tyler Ellis clutch, and completed her look with velvet sandals with crystal-embellished trim from American fashion designer Tom Ford.
Jennifer Lopez rocked a Reem Acra strapless gown with bow detailing (Credit: WENN)
How do you like her yellow, strapless gown featuring a festive yellow oversized bow in the back?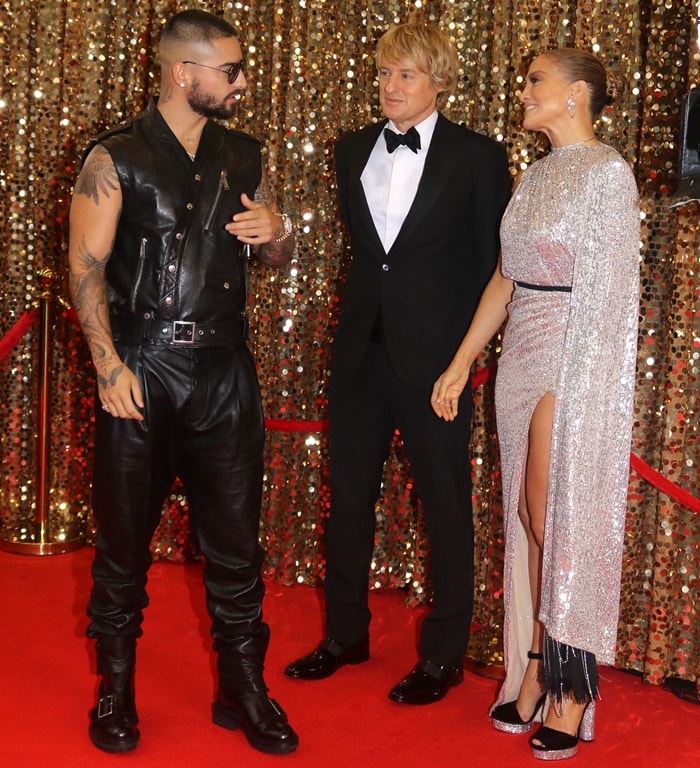 Maluma, Owen Wilson, Jennifer Lopez filming a red carpet scene on the set of Marry Me outside the Manhattan Center in Uptown, Manhattan, New York City, on October 22, 2019 (Credit: Avalon / WENN / Nicky Nelson)
A few days earlier, Jennifer Lopez wore the same shoes while filming a scene alongside Owen Wilson and Maluma for her movie Marry Me in New York City. She donned a custom Michael Costello gown.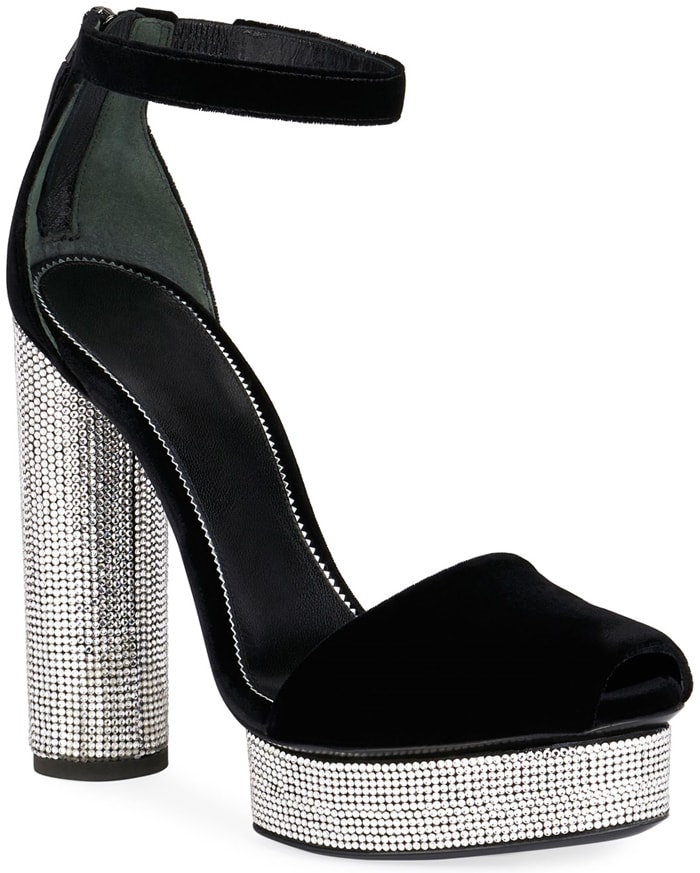 Tom Ford Crystal-Embellished Velvet Platform Sandals, $3,290