Selena Gomez was stunningly dressed in a romantic emerald mini dress when she arrived on set to tape for Jimmy Kimmel Live!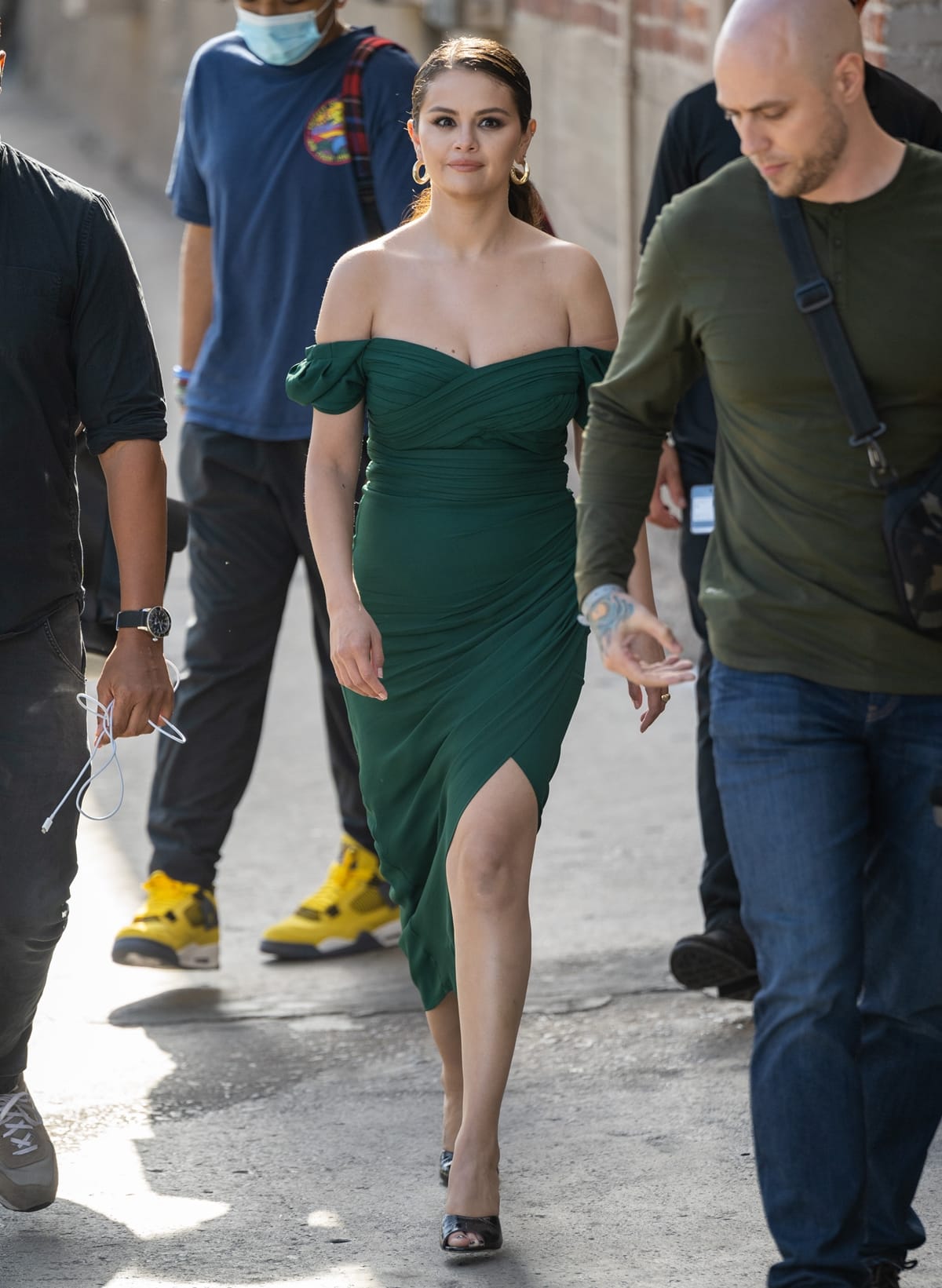 Selena Gomez flaunts her legs in a green sweetheart neck gathered dress and Paris Texas croc-embossed stiletto mules before her appearance on Jimmy Kimmel Live in Los Angeles on June 16, 2022 (Credit: Bauergriffin / Instarimages)
The star appeared on the talk show to promote the second season of Only Murders in the Building. She appeared on the show with her co-stars Martin Short and Steve Martin.
Selena's Thoughts on Her Co-stars
Gomez opened up about her co-stars during a round table interview with THR, saying how they have leveled up her expectations for a new man in her life.
"Being around two adult gentlemen—because that's what they are, they are very sweet and kind and hilarious and inappropriate sometimes and it's the best—I just learned so much."
Selena Gomez shows off her Melinda Maria 1.5 Athena hoops earrings (Credit: Bauergriffin / Instarimages)
The star continued to gush about the famous actors, saying, "My expectation for a man, to be honest, or any human is to be as decent as these two human beings are. They have been doing this longer than I've been alive, and they are the kindest people."
During her interview with Jimmy Kimmel, the star dished about attending Britney Spears' wedding to Sam Asghari.
She was amongst many other celebrity guests who attended the wedding, including Drew Barrymore and Paris Hilton. The star said, "I am really happy for her, it was beautiful."
The Stunning Emerald Outfit
The star appeared happy and confident as she smiled and waved to fans while walking on set. Gomez has always been candid about her struggles with anxiety and depression, and her smile was a welcoming sight for her fans.
She wore an off-the-shoulder green emerald green dress by Self-Portrait with a thigh-high slit in a stretchy crepe material.
Selena Gomez wears a green Self-Portrait puff-sleeved gathered dress (Credit: Bauergriffin / Instarimages)
The puffed sleeves, gathered bodice, and draped skirt were accentuated by a low and elegant ponytail hairstyle.
Gomez accessorized her outfit with chunky gold hoop Melinda Maria 1.5 Athena earrings and a Mejuri Dome ring. Hooped earrings are a signature look for the star.
The star completed the eye-catching ensemble with a pair of black patent leather Paris Texas croc-embossed mules (available at Farfetch) with a peep-toe, evoking style icon Marilyn Monroe.
How Selena Gomez Became Mabel Mora
In a recent episode of the Awards Chatter podcast, Selena talked about how her role in Hulu's Only Murders in the Building wasn't planned.
"My understanding is that Steve said he wouldn't be in it unless Marty was in it," she explained.
"So we got Marty and that was the beginning before I was involved. Steve met with John Hoffman and they spoke and it was actually some of the producers' collective idea of having a female but not only a female, someone completely generations off. And Steve said he loved the idea and thought it was really fun."
"Then the next part was them hoping I wasn't going to be annoying," she added.
"That's honestly the truth. They didn't know. They tell people all the time, 'I guess we didn't really know what to expect, someone coming in who's younger.' But I couldn't have been luckier because they called me. I talked to everyone for a while and I just told them all my fascination behind true crime. It happened and I can't picture the show with three men."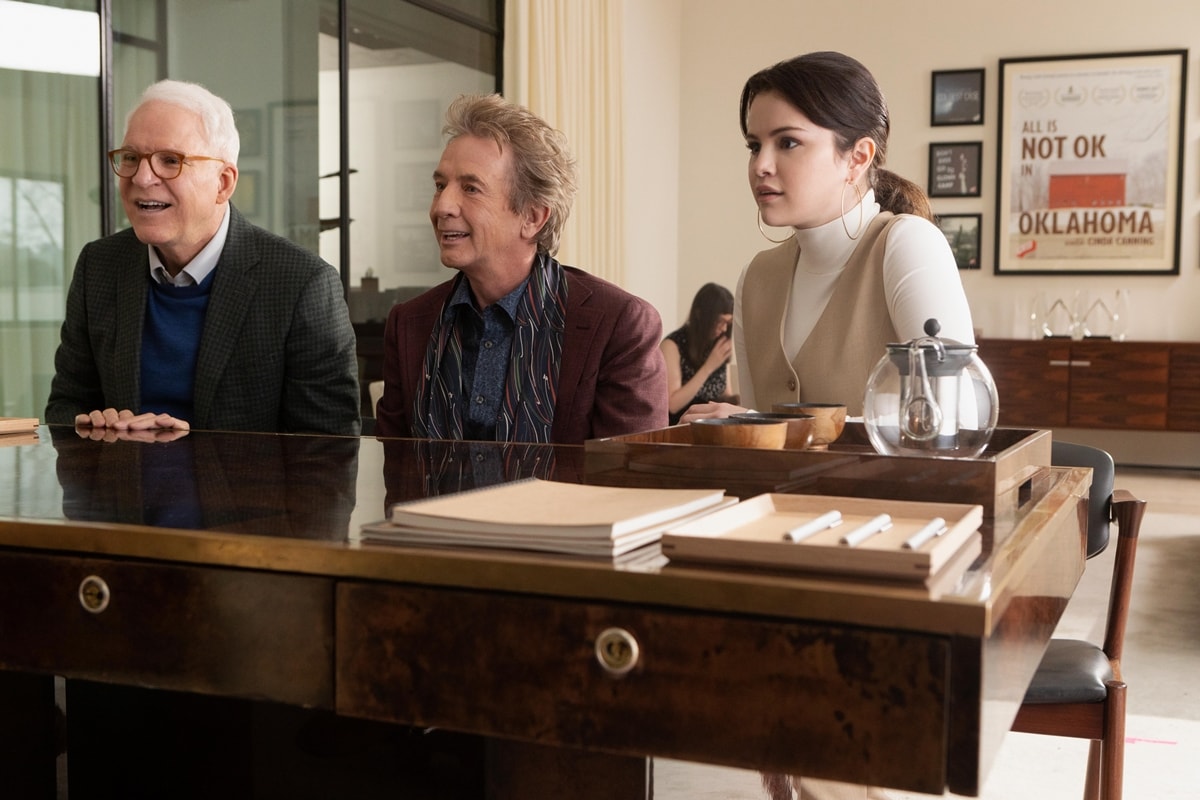 Selena Gomez as Mabel Mora, Steve Martin as Charles-Haden Savage, and Martin Short as Oliver Putnam in the American mystery-comedy streaming television series Only Murders (Credit: WENN)
"So I think Steve and Marty knew of me," she revealed. "I don't know if they necessarily knew any of my work. Not necessarily the same, because I watched all the classics with my mom growing up but it had been a while and I had not seen nearly enough because they had both done a lot. Jiminy Glick was one of my favorite characters so I knew Marty from that and then obviously Steve from multiple different things I watched growing up. So I knew."
"Then once I started working with them, I started watching Plains, Trains and Automobiles and started watching all the other little ones," Selena continued.
"I'd come on set the next day and be asking him questions about the movie. He would just get a kick out of it because it's so fun to see what they've done. They are the original gangsters."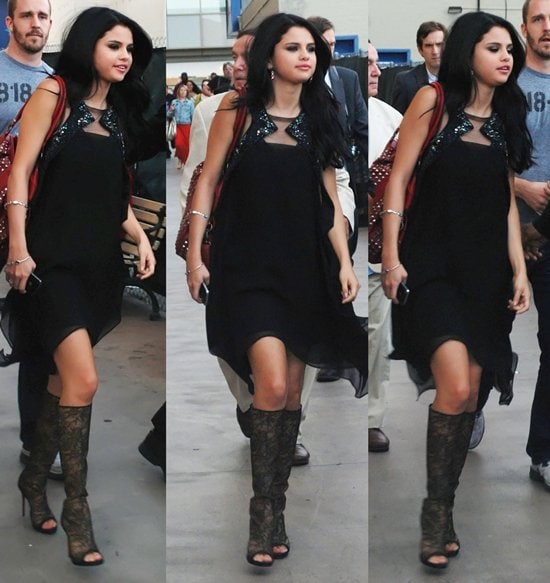 Selena Gomez wears an Amen dress outside El Capitan Theatre in Los Angeles on April 18, 2012, following a surprise performance (Credit: DD / TC / WENN)
What's better than a new music video premiere? A new music video premiere coupled with a surprise live performance.
In April 2012, Selena Gomez premiered the music video for her new single "Hit the Lights" at the El Capitan Theatre before surprising her fans with a live rendition.
So sweet of Selena and yadda yadda, but let's get on to those BOOTS. How hot are they, and how much do you want them on your feet right NOW?
Selena Gomez flaunts her thigh-high lace boots from Christian Louboutin (Credit: DD / TC / WENN)
Selena Gomez gave us serious shoe envy with Christian Louboutin's "Alta Dentelle" open-toe knee-high boots.
You can find the latest shoes from the popular shoe designer at Nordstrom, SSENSE, and Mytheresa.
Black floral lace Christian Louboutin Alta Dentelle peep-toe knee-high boots with beige mesh underlay, satin trim, tonal stitching throughout, and zip closure at the shaft
"Dentelle" is French for "lace," which is obviously what these beautiful boots are made of.
Released in 2012, the boots are part of a Christian Louboutin capsule collection celebrating his 20th anniversary in fashion. He opened his first store in Paris in 1992