The temperatures are dropping, and there's a chill in the air. That means only one thing. It's UGG season. These comfortable boots became a cultural staple during the late 2000s and are experiencing a resurgence in popularity in the age of athleisure.
While UGG might be the designer of these infamous winter boots, the name has become so synonymous with the design that most of us call these shoes UGGs, even when they're made by another brand.
Four sheepskin slipper alternatives to UGGs from L.L.Bean, Birkenstock, Minnetonka, and OluKai
Not everyone wants to splurge on UGGs or to be wearing the same boots as all their friends.
The good news is that there are dozens of cheaper alternatives to UGGs at Zappos and Nordstrom that aren't fake shoes sold by Chinese scam retailers.
Whether you're looking for a more budget-friendly option or want something different, you're at the right place. We're rounding up the best alternatives to UGGs to help you find your new signature shoes for winter.
1. Bearpaw Elle Winter Boots
One of the most comparable brands to UGG is Bearpaw. If you're not a key fashion observer, you can easily mistake both brands' shoes for being the same.
Available on Amazon, Bearpaw's Elle short boots are the most comparable to the classic UGG style and retail for just under $100.
Bearpaw's casual Elle winter boots throw it back to the 70s, 80s, and 90s
You get the same variety of color options and different boot styles with Bearpaw that you find with UGG.
Their product ranges are also similar and include slippers. Are you looking for a vegan alternative to Uggs? Bearpaw has a dedicated vegan range.
2. Costco Shearling Slippers
An expected place where you can find high-quality alternatives for Uggs is Costco. Their Kirkland Signature ladies' shearling slipper is a budget-friendly dupe for the famous Ugg slippers and has a sticker price of just $25.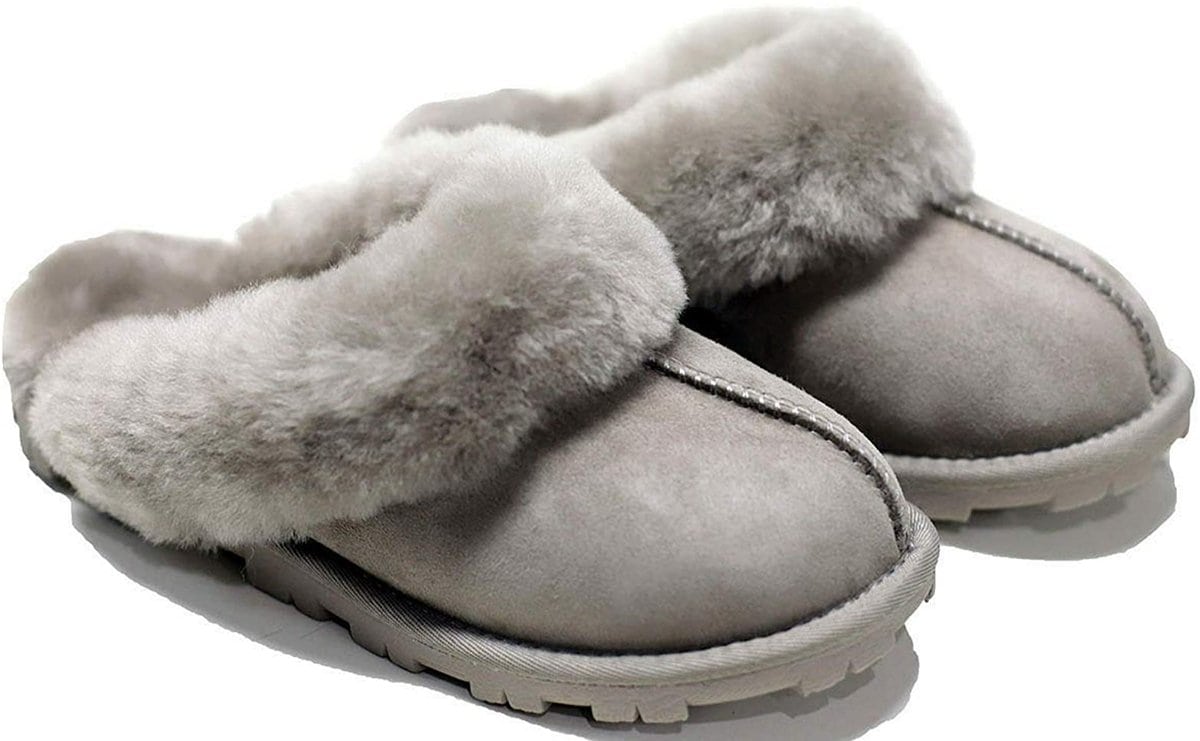 You can buy real sheepskin slippers for just $25 at Costco
They're the perfect stocking stuffer for the holidays if you don't want to splurge on the UGG version. You never know which styles might pop up at Costco, so it's worth being on the lookout for new arrivals to their footwear range.
3. Muk Luks
If you love to grab a bargain, Muk Luks is the brand for you. Established in 1972, the brand is a must-try for fans of UGG boots. You'll fall head over heels for their lounge and over-the-knee socks.
Muk Luks is a family-owned company famous for their comfortable winter footwear
Available on Amazon, their Alyx boot is an elevated basic for your winter wardrobe and puts a streetwear twist on the classic UGG style.
With a $60 price tag, these boots are destined for our winter closet. As a water-resistant style, these boots will work in almost any weather.
4. Unisa
Have you been putting off buying Uggs because they're too casual for you? Some of us just can't get away from heels. If that sounds like you, then you need the Chester wedge boots by Unisa that you can buy at DSW.
Show off warm weather vibes with the black and cognac Chester wedge bootie from Unisa
You get the same comfort of slip-on shoes but with the elevated feel of a wedge heel. They're the perfect dupe for the UGG 'Seyline' boots and are a must-have for the city girl who needs to switch their stilettoes out to a winter-appropriate alternative.
5. Skechers
While we love UGG boots, they're not always the most suitable shoes for the coldest climates – especially if you need to go hiking.
Skechers is a go-to brand to check out when you want shoes that are equal parts practical and stylish.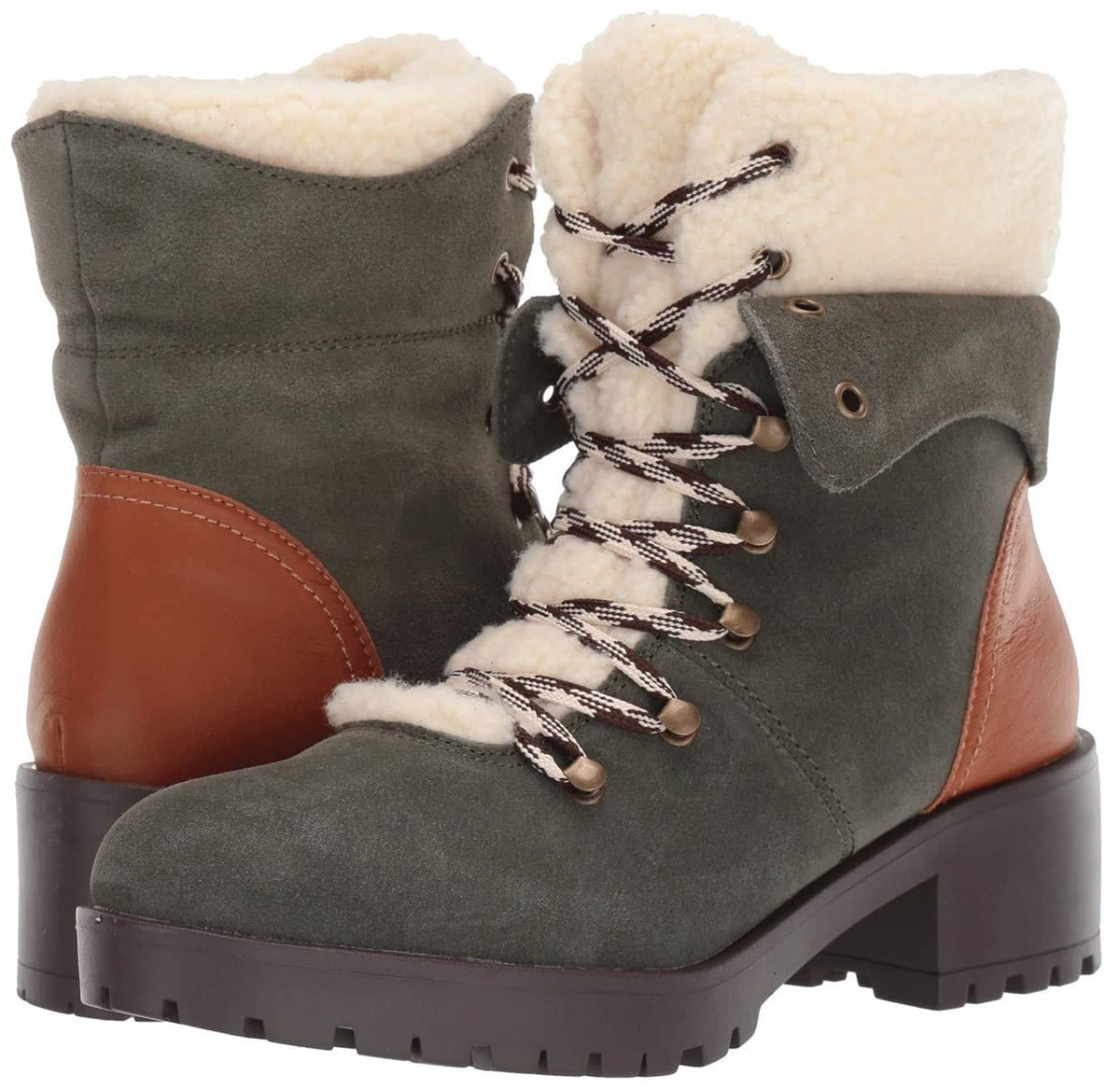 The Skechers mid-sherpa tongue hiker boots are perfect for the cold-weather season
While UGG has its own version of the style, Skechers' Trail Troop sherpa tongue mid-hiker boot has contrasting textures and is a versatile style that you can wear with everything from jeans to leather pants.
6. PAWJ California
Although UGG is a popular shoe brand, one of the main criticisms they face is that they're not vegan.
If you want cruelty-free alternatives to UGGs that are faux-fur lined, check out PAWJ California. Their boots are 100% vegan and made with high-quality synthetic suede.
PAWJ California is a luxury cruelty-free brand that offers great alternatives to UGG sheepskin boots
You'll find alternatives to UGGs in a variety of neutral hues such as black, grey, brown, and chestnut.
This earth-friendly brand offers UGG alternatives for both men and women. The Pawj Minis boots are perhaps the most similar dupe to UGGs.
7. Celtic & Co.
Celtic & Co is the UK's answer to UGG and specializes in sheepskin boots and slippers with an extensive range of footwear for men, women, and kids.
The brand prides itself on using the finest natural fibers that are sustainable and renewable. Their sheepskin boots are made in Cornwall and hand-crafted for a high-quality finish.
Celtic & Co. is a British luxury brand famous for shearling boots and slippers that are crafted by hand in their workshop in Cornwall
Although these boots sit at a similar price point to UGG, they stick to a more timeless silhouette that makes them the perfect investment.
Their regular-height classic sheepskin boots are their signature style and are available in three colors, blending comfort with luxury.
8. Birkenstock
Birkenstocks are to sandals what Uggs are to winter boots. While we think Birkenstocks are the king of sandals, it's worth looking at their boots range.
Birkenstock's comfortable Melrose slip-on boot can be mixed and matched with all sorts of outfits
Their 'Melrose' shearling bootie is the perfect alternative to a short UGG style and features Birkenstock's signature rubber sole.
What we love about the Birkenstock alternatives is that they offer everything that we enjoy in UGG shoes but provide extra versatility and wearability.
9. EMU Australia
Meet the Australian alternative to UGG. EMU Australia is a footwear brand inspired by innovating with sustainable and natural materials and has been creating high-quality footwear for over 25 years.
The brand is synonymous with its Australian sheepskin and Merino wool that offs next-to-skin softness while being biodegradable, 100% natural, and renewable.
If you want UGG alternatives that are kind to you and the world around us, EMU Australia should be top of your list.
View this post on Instagram
EMU Australia's 'Gravelly' sheepskin boots are one of their most unique. Available on Amazon, these waterproof suede mid-calf boots feature a side zipper and natural Australian sheepskin for a luxury streetwear look.
With their grippy outsoles and waterproof fabric, these boots will see you from fall through to winter and spring.
If you love the look of shearling boots, these nine brands are UGG alternatives that you should check out. What brand is your favorite alternative to UGG?