Costco has always been the one-stop-shop for anything and everything bulk. Nowadays, the conglomerate sells nearly everything — from books to designer shoes — all at a fraction of the price.
Recently, Costco delighted shoppers by selling sandals by the fan-favorite brand, Birkenstock (also known as Birks), for the low price of $60.
Considering this is roughly half the price that Birkenstocks are usually sold for at Zappos and other authorized retailers, this is a steal.
Costco has been selling Birkenstock sandals for one-third of the retail price (Credit: WENN)
On average, Birkenstocks retail anywhere from $90 to $150 depending on the style. While the price may seem steep for those committed to getting a deal — one of the reasons that the price-cut Costco Birkenstocks was so exciting for shoppers — the price reflects the 250-year history of the brand and the durable, high-quality nature of the shoes, as one pair of Birkenstocks can potentially last the wearer for decades.
This is why it was so surprising that Costco has sold Birkenstock sandals for as low as $30 for a pair of shoes that retails for $135 on the brand's website.
So what's the deal? Are Birkenstock sandals really not worth the cost or is Costco just offering them at criminally low prices?
According to Birkenstock Americas CEO David Kahan, Costco's discount Birkenstock sandals are a reason for concern because Costco is not an authorized Birkenstock retailer.
The brand has not given Costco permission to sell their shoes so it does not have to follow the strict standard Birkenstock sets for its retailers, meaning that the Costco "Birks" may not be obtained ethically or may not be authentic Birkenstocks at all.
Birkenstocks normally retail for about $100-$150 but are selling for much less at Costco
"We do not sell to Costco," Kahan stated to Business Insider. "While we can't comment on whether the product is real or counterfeit, be assured we take any unauthorized selling very seriously and all steps are in place to control our distribution and take legal action if necessary to protect our brand."
In an interview with the footwear podcast Shoe-In in April 2020, Kahan said Costco had taken advantage of the pandemic and stabbed Birkenstock in the back.
It is likely that Costco is obtaining their so-called Birkenstock shoes by way of something called "gray markets". Gray market is a term that describes the buying and selling of (usually) authentic goods without authorization from the manufacturer.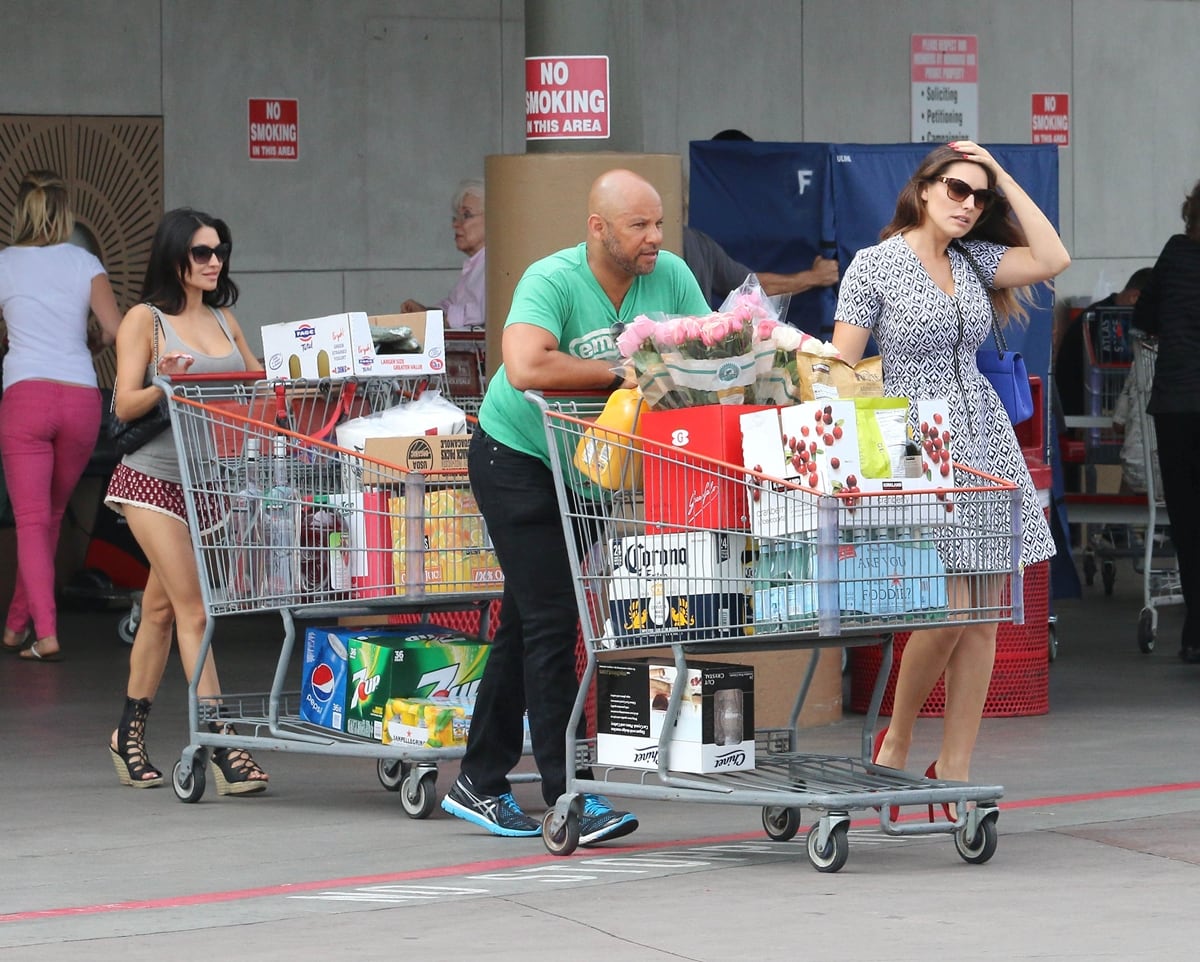 Birkenstock America's CEO David Kahan is not sure if the Birkenstock sandals sold at Costco are "real or counterfeit" (Credit: WENN)
Because the goods being sold are not regulated by the original manufacturer, there is no way to know if the product is up to snuff or even authentic at all. Manufacturers hate gray markets because the reputation of their brand can potentially be damaged due to infective material.
Unlike black markets, which sell illegal goods, gray markets are not illegal, but the practice is suspect at best.
Even after the public denouncement from Birkenstock Americas CEO David Kahan, Costco has continued to sell discount Birkenstocks and show no signs of stopping.
Perhaps "criminal" is not the correct word for what Costco is doing by selling discounted Birks — but it isn't exactly commendable, either. At the risk of making a pun, it's a gray area.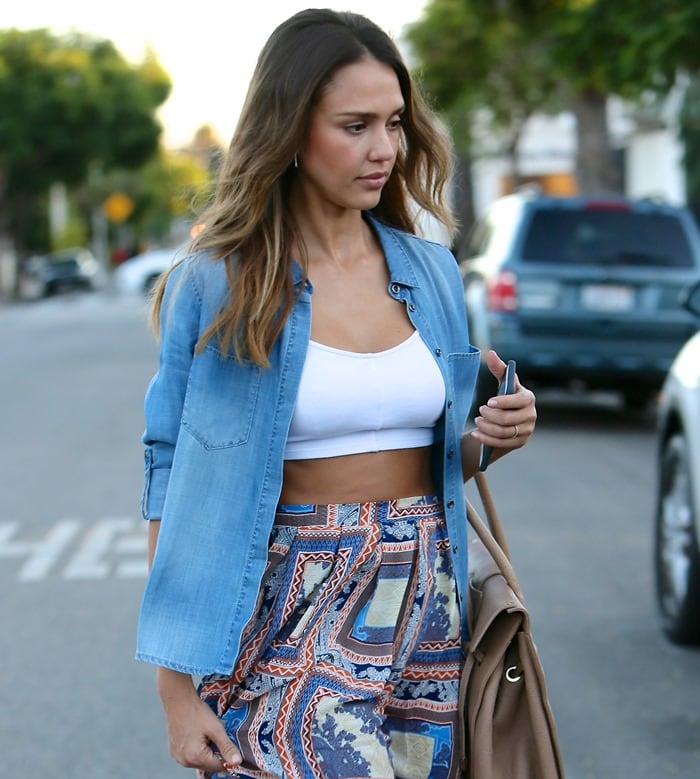 Jessica Alba wearing Tolani's "Margie" skirt and a strappy seam bralette (Credit: Michael Wright / WENN)
In October 2014, Jessica Alba flaunted her toned midriff in a white crop top and a maxi skirt on a Saturday afternoon in Los Angeles.
The then 33-year-old actress and businesswoman sported a "Margie" skirt by Tolani paired with a strappy seam bralette by British multinational fashion retailer Topshop.
She carried a leather "Rosabel" satchel by Jimmy Choo and completed the outfit with brown "Arizona – Birko-Flor" sandals by Birkenstock.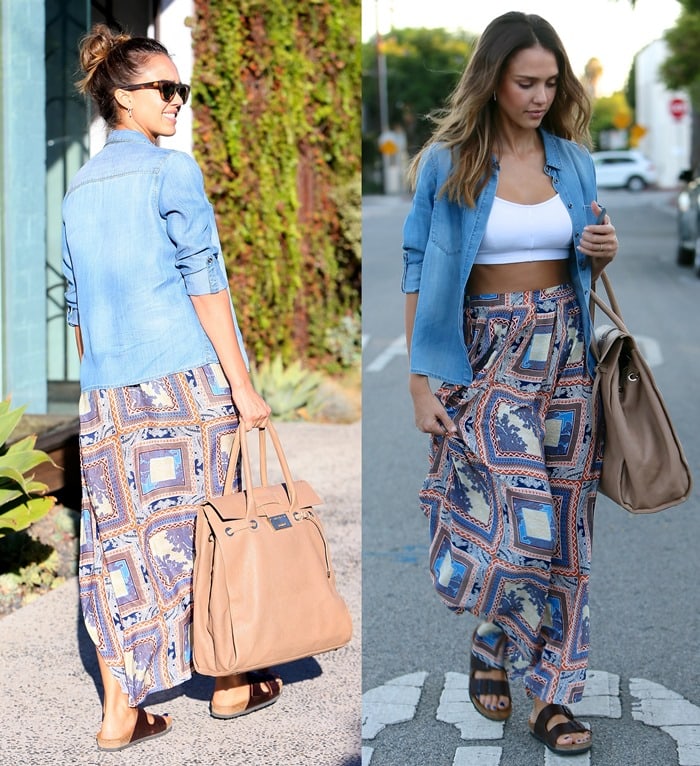 Jessica Alba visiting Andy LeCompte Salon in Los Angeles on October 5, 2014 (Credit: Michael Wright / WENN)
How do you like Jessica's outfit and popular slip-on Birkenstock sandals? They are made of acrylic and polyamide felt fibers.
Her shoes boast raised toe bars designed to encourage the natural gripping motion of your feet, anatomically correct cork footbeds, and buckle closures for an adjustable fit. You can buy them in brown and black at Nordstrom:
Birkenstock "Arizona – Birko-Flor" Sandals, $89.95