After jeans with Ugg boots, leggings are fashionistas' favorite article of clothing to wear with uggs.
It's easy to see why — slim legs perfectly contrast against clunky fur boots. Both exude a loungy, comfy vibe, and they are the kind of easy-wearing items you don't need to put much thought into to style.
But even if they're effortless, leggings or yoga pants with uggs provide a load of styling options: with dresses, sweaters, shorts, long socks, and coats, and sometimes, even all of these at once. If you find yourself needing the warmth and coverage of jeans, you can always layer on more leggings or wear a fleece-lined pair ($75 at Shopbop).
Just take it from these celebrities who show us 13 different style inspirations on how to wear uggs with leggings and yoga pants. One styling tip that they all have in common? All of them made sure that their tops covered at least 50% of their butts. It's a must!
1. Wear Leggings and Ugg Boots with an Oversized Sweater
The bigger, the better.
Ashley Greene leaving Trader Joe's grocery store in West Hollywood, Los Angeles, on June 14, 2012
2. Go from Workout to Sidewalk in Cropped Gym Leggings
We've entered the era of making cropped gym leggings look chic, just take a look at how Kim Kardashian styled hers.
Ali Larter grabbing some health drinks before grocery shopping at Trader Joe's in West Hollywood, Los Angeles, California, on February 25, 2013
3. Get Warm in a Down Jacket
Slim legging-clad legs contrast perfectly with a puffy jacket just as they do with clunky ugg boots.
Adriana Lima leaving the Soho House in Manhattan's Meatpacking District in New York City on December 4, 2012
4. Play with Lengths in a Long T-Shirt
An extra long, butt-covering T-shirt let Khloe wear a cute cropped biker jacket with her leggings and uggs.
Khloe Kardashian wears leggings and uggs at JFK in New York City on December 7, 2009
5. Achieve an Effortless Cool Vibe in a Plaid Shirt
Jessica Alba's plaid shirt and leather hoodie is the chicest grunge-inspired outfit we've seen.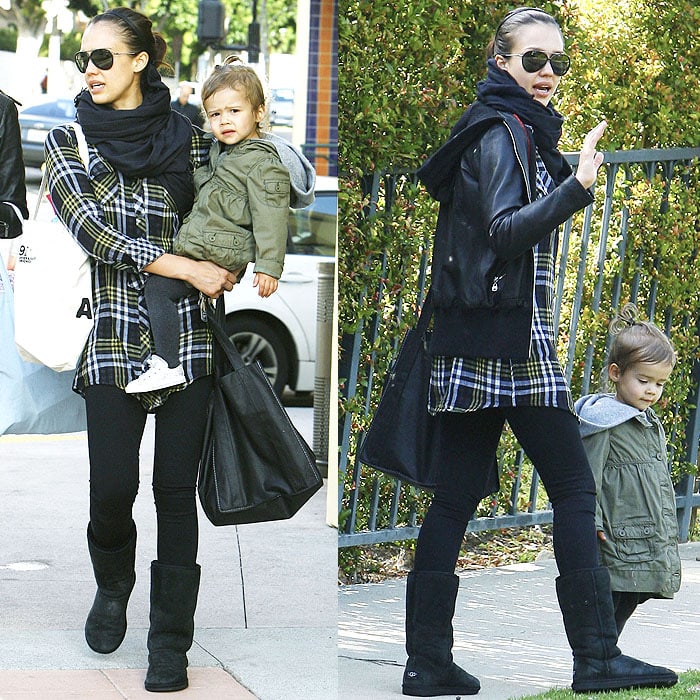 Jessica Alba out buying Easter eggs with daughter Honor Marie in Los Angeles, California, on April 3, 2010
6. Sweeten it up with Shorts
All-black makes Krysten Ritter's twee ribbon-print cardigan and flat-front shorts a little bit edgier.
Krysten Ritter on the set of comedy TV movie, Assistance, filming on location in Manhattan, New York City, on April 1, 2013
7. Contrast with a Designer Handbag
A designer handbag has the ability to make even an outfit consisting of a snapback cap, a T-shirt, a scarf, leggings, and uggs look expensive.
Ashley Tisdale heading to a gym in West Hollywood, California, on January 24, 2012
8. Harmoniously Wear Black, Brown, and Gray
As if wearing black with brown wasn't tricky enough, Blake Lively went ahead and threw gray into the mix in her perfectly put-together leggings with uggs outfit.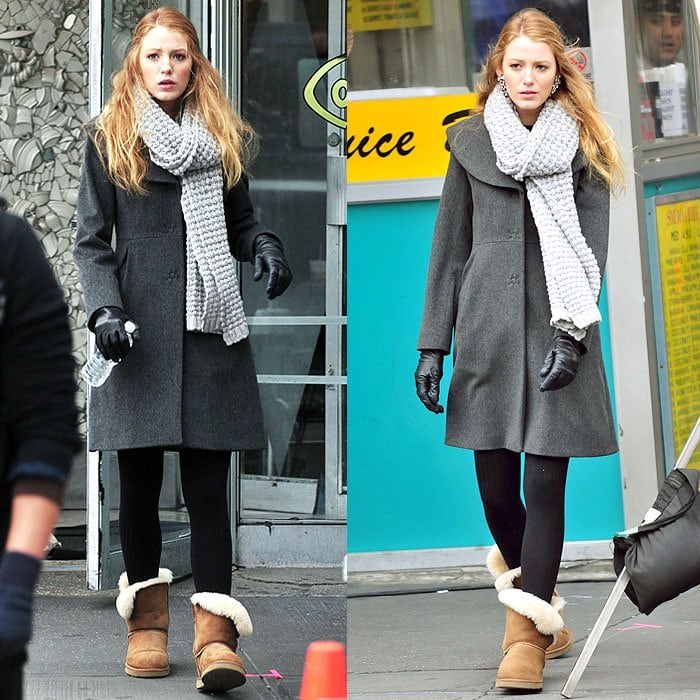 Blake Lively filming 'Gossip Girl' on location in New York City on November 16, 2010
9. Mix-and-Match Different Textured Knits
If color matching isn't your game, texture mixing with a knit scarf, a dress, a coat, and UGG "Cardy" boots like Kelly Brook might be more up your alley.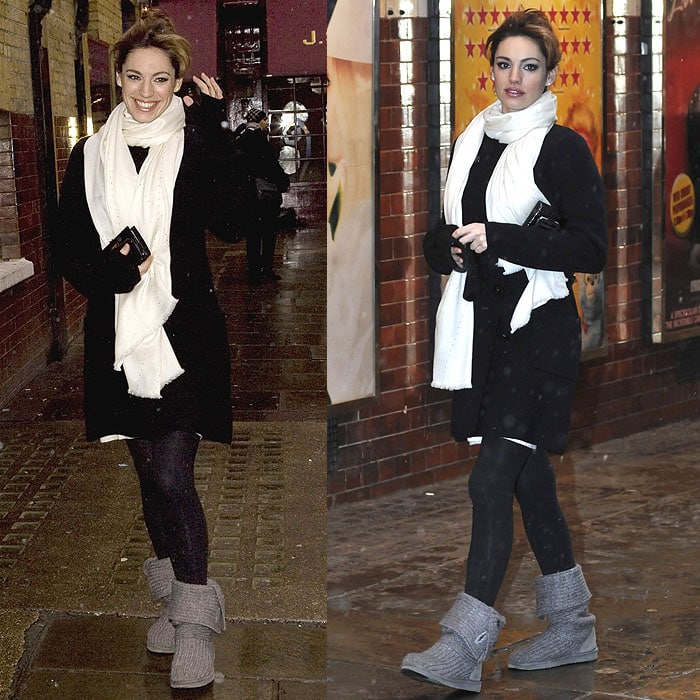 Kelly Brook arriving to appear in the stage show production of Calendar Girls at the Noel Coward Theatre in London, England, on January 6, 2010
10. Polish it up with a Tailored Coat
Lea Michele paired a tailored belted coat with clunky ugg boots like a pro.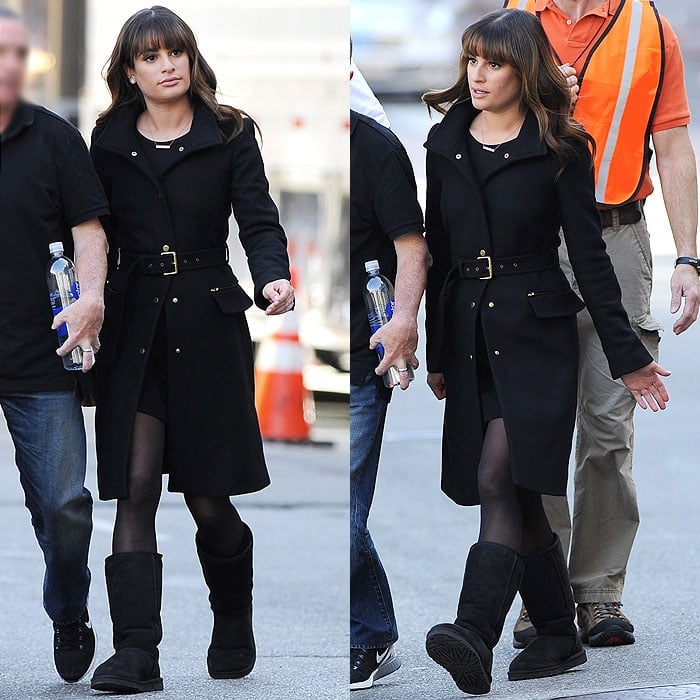 Lea Michele on the set of 'Glee' filming in downtown Los Angeles, California, on November 17, 2014
11. Bundle up in Cozy Everything
A fur scarf, a Fair Isle knit cardigan, a satchel, and thick knit socks — Holly Quin-Ankrah's super-cozy outfit is what ugg boots are made for.
Holly Quin-Ankrah arriving at the Granada Studios in Manchester, England, on December 15, 2010
12. Coordinate in Black and White Outfits
Ashley Tisdale was spotted with her musician husband, Christopher French, in color-coordinated black and white outfits.
The 29-year-old actress sported a pair of black "Bailey Button Triplet" boots by UGG Australia (available at Zappos) styled with a monochrome jacket over a black Victoria's Secret PINK top. She accessorized with "Hornby" sunglasses by Barton Perreira and carried a Céline "Nano" tote bag.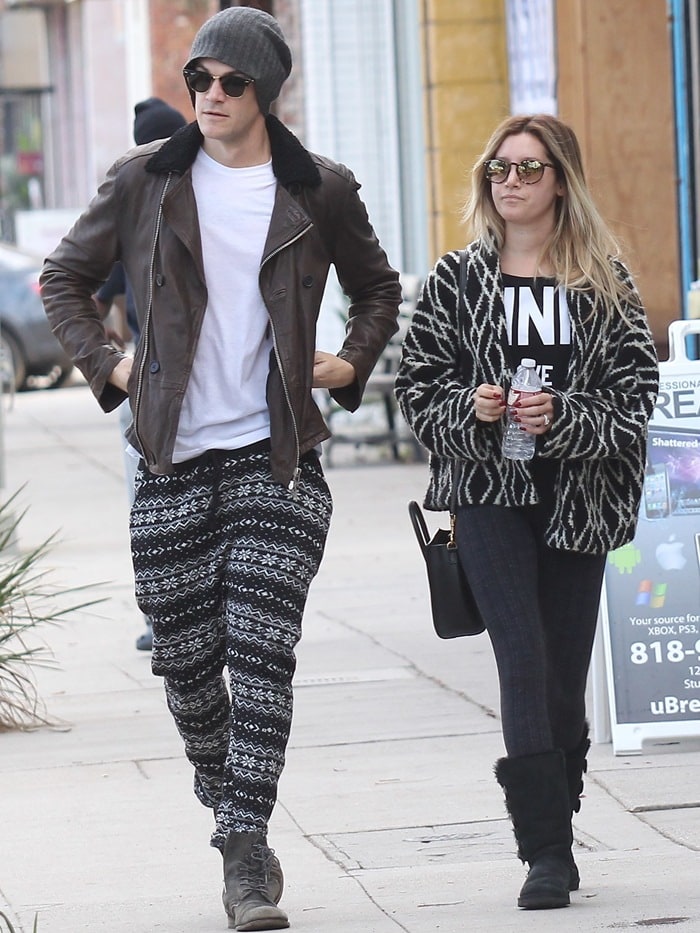 Ashley Tisdale and husband, Christopher French out and about together in Studio City on December 14, 2014
13. Yoga Pants and UGG Boots
Vanessa Hudgens kept it casual and comfy in yoga pants paired with studded Koolaburra x Lauren Moshi "Lips" boots while wrapping up a yoga session in Studio City, California.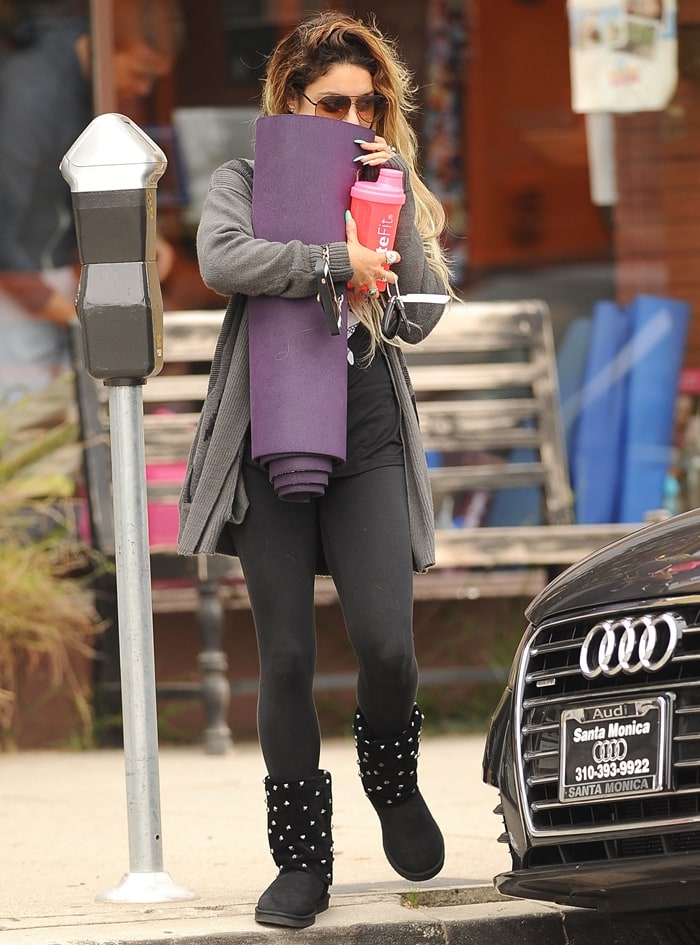 Vanessa Hudgens walks out in yoga pants while hiding behind her yoga mat in Studio City on June 7, 2014
Credit: Ivan Nikolov / Cousart / JFXimages / YNF / WENN