There are certainly individual preferences when it comes to wearing uggs with jeans. Some prefer to turn up the bottom of the jeans and fold them up to the brim of the ugg boots, while others insist that the jeans should be tucked inside.
In either case, your jeans should not look too wrinkled. If you have not purchased a pair of UGG boots yet, make sure to buy them from an authorized retailer, such as Amazon, Nordstrom, or Zappos. Unfortunately, there are plenty of dubious websites selling fake UGG boots, so please be careful.
While you won't see UGGs on the red carpet or in Qantas airline lounges, there are plenty of celebrities who are fans of sheepskin footwear. Here are 20 examples of how Hollywood stars and other celebrities wear their ugg boots with jeans.
1. Effortlessly Chic Lisa Faulkner in Cardigan and Scarf
Amp up the classic combo of jeans and a white shirt with a soft cardigan and a stylishly wrapped scarf. Keep your outfit simple with minimal styling and a comfortable pair of sheepskin boots.
Lisa Faulkner outside the ITV studios in London, England, on March 9, 2017
2. Zooey Deschanel Dresses Up Baby Bump in Plaid Overcoat and Black Jeans
Elevate a casual look with a patterned coat and a pair of jeans tucked into Ugg boots. Take a cue from Zooey Deschanel, who looked comfy chic on the set of "New Girl."
She dressed up her baby bump in a red blouse under a plaid overcoat paired with skinny black jeans tucked into her Ugg boots.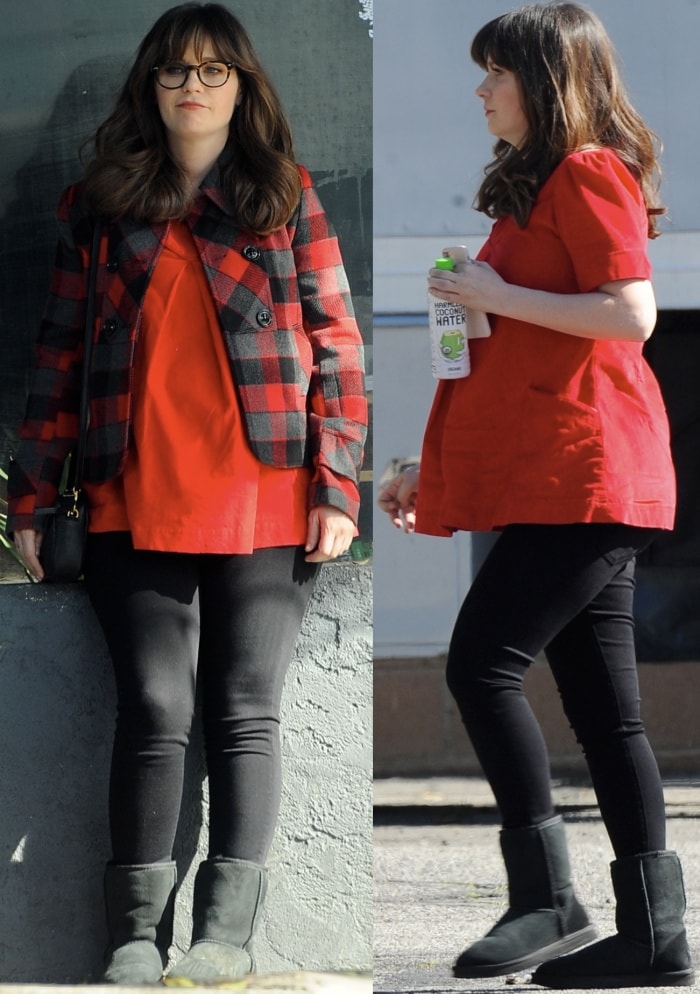 Zooey Deschanel on the set of "New Girl" in Los Angeles, California, on February 1, 2017
3. Ashley Greene Looks Cozy in Cable Knit Sweater
Look stylish even while out doing everyday things like buying groceries. Emulate Ashley Greene's look in a cream-colored cable knit sweater paired with blue jeans tucked into brown Ugg boots.
Sweep your hair up in a high ponytail and finish it off with a pair of sunglasses for a simple yet stylish look.
Ashley Greene grocery shopping at Bristol Farms in Los Angeles, California, on January 21, 2017
4. Casual Cool Mila Kunis in Hooded Sweater and Beanie
Combat the cold with your favorite hoodie, a pair of jeans, sheepskin boots, and a beanie just like Mila Kunis. Even little Wyatt looked stylish in her floral jacket, faded jeans, and her own pair of brown boots.
Mila Kunis and daughter Wyatt Kutcher leaving Joan's on Third in Los Angeles, California, on December 23, 2016
5. Heidi Klum in Low-Cut Top, Ripped Jeans, and Sunglasses
Dressing down doesn't always mean looking drab and not making any effort at all. Take Heidi Klum, for example, who looked stylish even while on a casual day out with her family.
She wore a sheer white low-cut shirt, dark blue jeans, and a comfy pair of Ugg boots. Her accessories kept the look from being boring, opting for dark sunglasses, a circular brown MCM 'Heritage Tambourine' shoulder bag, and a cool belt.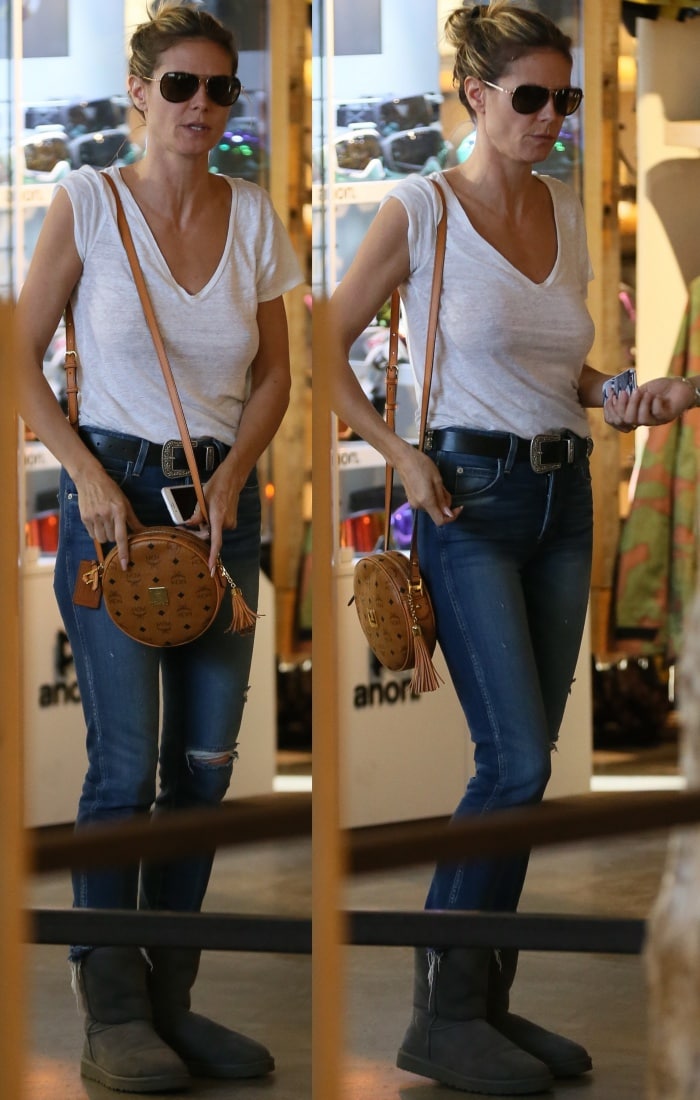 Heidi Klum shopping in grey UGG Classic Short boots and Amo Babe high rise crop jeans in Beverly Hills, California, on November 23, 2016
6. Ciara Looks Effortlessly Cool in All-Black Ensemble
Who says you can't look cool in a pair of Ugg boots? You can never go wrong with an all-black outfit for an effortlessly stylish look. But Ciara elevated hers with a fur-trimmed coat, black nails, and a sleek ponytail.
Ciara wears black UGG Classic Tall boots with jeans at Los Angeles International Airport on January 8, 2016
7. Kelly Rowland in Ribbed Sweater, Loose-Fitting Jeans, and White Beanie
Doing some last-minute errands? Take a cue from Kelly Rowland and slip on a pair of Ugg boots to round out a casual look.
The 36-year-old singer and actress did some last-minute Thanksgiving shopping in a baggy ribbed sweater, loose-fitting jeans, and sheepskin boots. She accessorized with a white beanie, sunglasses, and a black Chanel purse.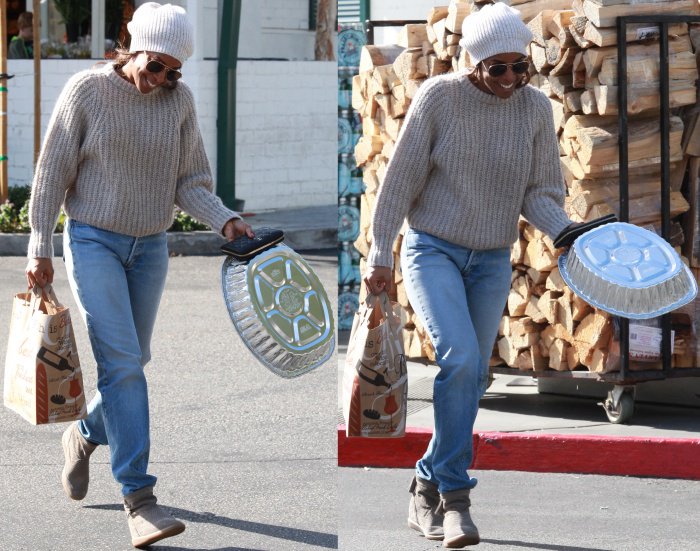 Kelly Rowland at Bristol Farms in Beverly Hills, California, on November 26, 2015
8. Chrissy Teigen Wears Black Leather Jacket and Matching Hat
Look edgy in a long black shirt under a black leather jacket and styled with sheepskin boots. Emulate Chrissy Teigen's airport style and finish it off with sunglasses and a loose ponytail under a black hat.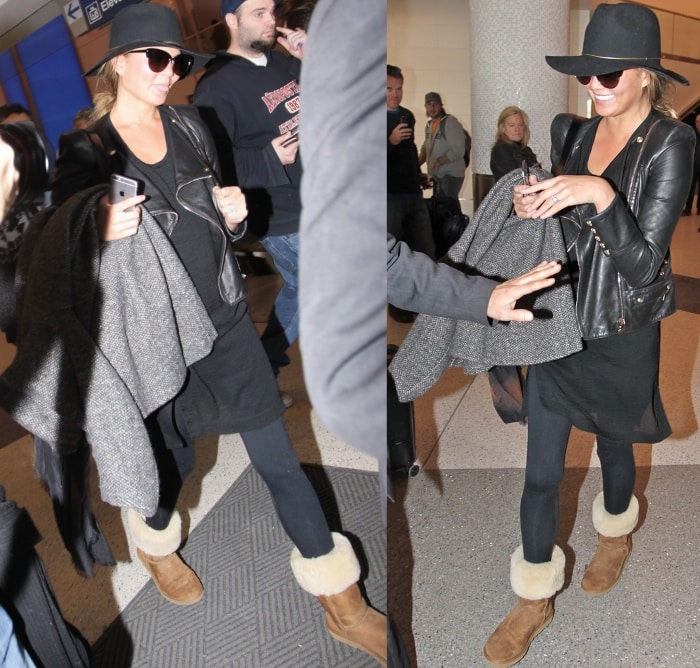 Chrissy Teigen arriving at the Los Angeles International Airport on January 23, 2015
9. Ashley Tisdale in Patterned Jacket, Oversized Sunglasses, and Black Leather Bag
Show off your cool-girl style in black sheepskin boots just like Ashley Tisdale. The then 32-year-old actress and singer wore a patterned jacket over a black shirt with a graphic print.
She styled it with oversized sunglasses, red nails, and a black leather shoulder bag.
Ashley Tisdale wears black UGG Bailey Button Triplet boots with jeans in Studio City, California, on December 14, 2014
10. Denise Richards in Tank Top, Sheer Cardigan, Blue Jeans, and Oversized Sunglasses
Exude stylish comfort on a casual day out just like Denise Richards while out with daughter Eloise.
She donned a simple black tank top styled with blue jeans, a sheer striped cardigan, oversized sunglasses, and black Ugg boots.
Denise Richards with daughter Eloise Sheen in West Hollywood, California, on May 6, 2014
11. Emma Thompson in Large Snow Jacket
Gear up for the winter weather in a cozy coat and your favorite pair of ugg boots. If you want to look stylish while keeping yourself warm, wear a buttoned-up winter coat with a high collar or a hooded parka with faux fur trim.
Tuck in your jeans inside your boots and you're all set for a fabulous winter ahead.
Emma Thompson visiting the Late Show with David Letterman in New York City on December 11, 2013
12. Kate Ford Carrying Louis Vuitton Bag
Opt for a business casual look with your ugg boots by wearing a belted trench coat or a tailored blazer. You can also wear a crisp white button-down shirt tucked into your jeans for a more relaxed work outfit.
Kate Ford wears uggs with jeans outside Granada Studios in Manchester, England, on December 3, 2013
13. Selma Blair in Ripped Blue Jeans and Inside-Out Sweatshirt
Run errands in style like Selma Blair with her sweatshirt over a yellow button-down shirt and ripped jeans. Wear a baggy sweater or put on a plaid shirt over a vintage tee for a comfortably stylish look.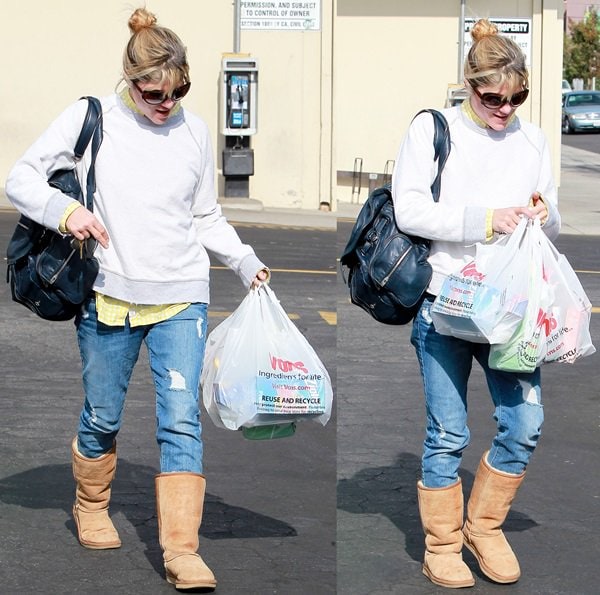 Selma Blair leaving Vons supermarket after buying groceries in Los Angeles on November 20, 2013
14. Cameron Diaz Looks Casually Chic
For an effortlessly chic look, take a cue from Cameron Diaz and wear a pretty blouse with your jeans and sheepskin boots. Wear a sheer blouse or a crochet top to exude a sexy vibe.
Pair your jeans with an off-shoulder top or a tunic for a bohemian look. Put your hair up in a bun or style them with cascading waves, and you're all set for a fabulous day out.
Cameron Diaz on the set of her new film titled 'Sex Tape' in Los Angeles on November 5, 2013
15. Jennifer Garner in Burgundy Knit Jumper, Faded Blue Jeans, and Long White T-Shirt
You can never go wrong with jeans and a t-shirt. Take a cue from Jennifer Garner and wear them with your favorite pair of ugg boots and a knit jumper.
Opt for a grunge look with a plaid shirt and ripped jeans. Or put on a chambray top with rolled-up sleeves.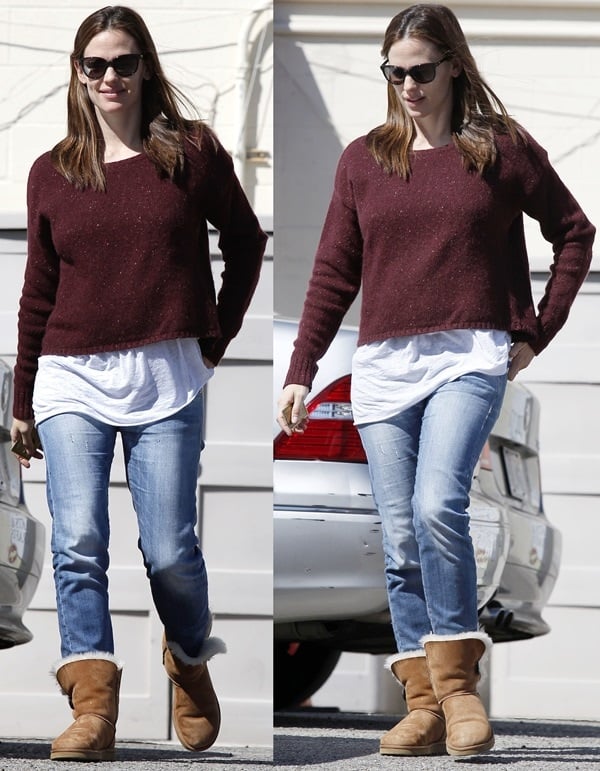 Jennifer Garner wears R13 skinny jeans with chestnut UGG Bailey Button boots in Brentwood, Los Angeles, on February 26, 2013
16. Nene Leakes in Black Leather Coat
In the mood for mixing it up? Throw away the style rulebook and wear ugg boots instead of black leather booties to finish off an edgy look.
You can even opt for an all-black ensemble with a leather jacket, skinny jeans, dark sunglasses, and black ugg boots.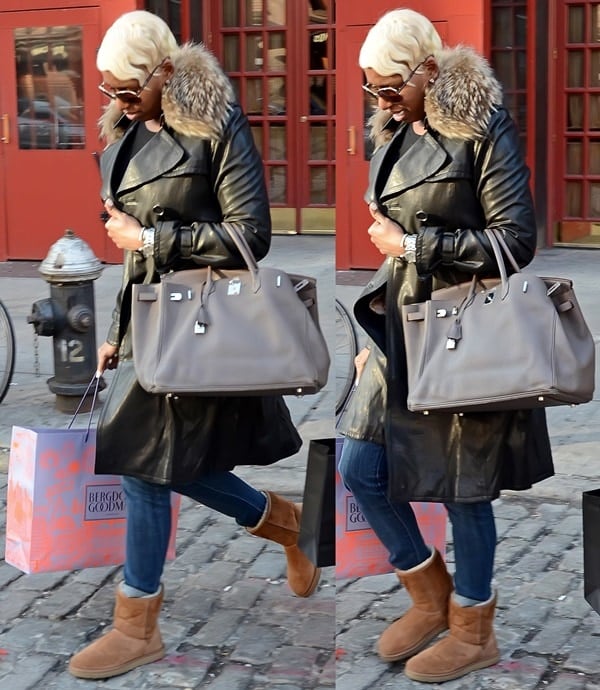 NeNe Leakes shopping in uggs and jeans in SoHo, New York City, on February 3, 2013
17. Lea Michele Wears Oversized Sweater and Sunglasses
Opt for stylish comfort like Lea Michele and wear an oversized sweater or a slouchy jumper paired with skinny jeans tucked into your ugg boots. Or you can ditch the sweater and wear a tank top or your favorite shirt.
Style your hair up in a messy bun or a loose braid, and put on a pair of sunglasses to finish off your look.
Lea Michele with her hands full as she leaves Barneys New York in Beverly Hills after shopping on October 7, 2011
18. Katherine Heigl in Striped Shirt and White Cardigan
Show off your style and personality by wearing your ugg boots with printed shirts and funky accessories. Or you can take a cue from Katherine Heigl and opt for a more polished look with a cardigan over a striped shirt.
Put on the finishing touches to your outfit with a hat, a scarf, or a pair of dark sunglasses.
Katherine Heigl and her mother out and about in West Hollywood on May 20, 2011
19. Jennifer Lopez in Pullover and White Top
The popular actress, author, fashion designer, dancer, producer, singer, and songwriter showed us two great ways to style Uggs with jeans while on the set of 'The Boy Next Door' in Hollywood.
Jennifer Lopez wears UGG boots and jeans while filming reshoots for her upcoming movie The Boy Next Door in Los Angeles on June 23, 2014
20. Britney Spears in Texas Longhorns Tank Top/See-Through Floral Top
To complete our list, we want to show you that it's possible to wear Ugg boots with denim shorts as well.
Britney Spears shopping at Planet Blue's flagship store in Malibu on March 10, 2014
The popular recording artist and entertainer did just that while out shopping in Malibu and at Target in Los Angeles. Her outfit consisted of cutoff denim shorts, a Texas Longhorns tank top, and Ugg boots.
Five years earlier, she also wore a wildflower print top from Planet Blue with True Religion Joey cut off shorts and Blinde Ga Ga Galore sunglasses.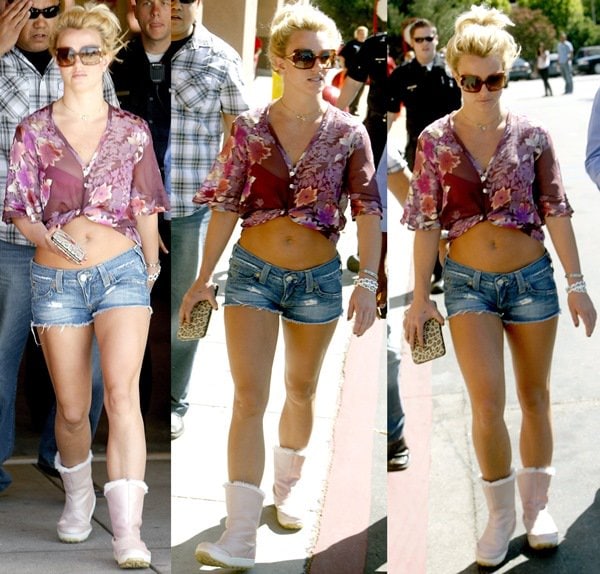 Britney Spears leaving with her bodyguards after shopping at Target in Los Angeles on September 30, 2009
The possibilities are endless for wearing ugg boots with your favorite pair of jeans. Of the celebrities featured above, who do you think looked best in sheepskin boots?
Credit: WENN / Rocky / Cousart / JFXimages / David Cardiff / Steve Searle / Patricia Schlein
Credit: Michael Wright / Beiny / Slater / revolutionpix