Love them or hate them, there are few shoes as emblematic of the 2000s as UGG boots.
That sentence alone may have conjured an image of Paris Hilton and Nicole Richie wearing their UGGs with low-rise Juicy Couture velour tracksuits and massive sunglasses.
UGG boots, the world's famous sheepskin boots, are making a major comeback in the fashion scene with the re-emergence of Y2K trends (Credit: EQRoy / Shutterstock)
UGG boots definitely have a nostalgic feel to them, but are they truly a relic of the past? Fashion is cyclical, and Y2K trends have made a comeback in recent years.
Discover the potentially shocking answer below as we discuss the relevance of UGG boots for 2023.
Are Ugg Boots Still In Style?
Call it perfect timing or the perfect storm, but as we enter 2023 it looks like UGGs are definitely back.
We're in the peak of the "ugly shoe" era, and Y2K trends are reigning supreme in the fashion world. Now that Birkenstocks and Crocs have officially been deemed cool, it only makes sense that UGGs are trending again.
Addison Rae, Sofia Boutella, Kaia Gerber, and Emily Ratajkowski show different ways to wear UGG boots (Credit: BauerGriffin / Jose Perez / INSTARimages / Cover Images)
The iconic (or infamous?) sheepskin boot has become an It Girl shoe again. Once a must-have for 2000s style icons like Lindsay Lohan and Kate Moss, UGGs are now an off-duty staple of models like the Hadid sisters, Kendall Jenner, Hailey Bieber, Kaia Gerber, and Irina Shayk.
Recent street style shots of these trendsetters have even caused UGG boots to sell out – the brand's Classic Ultra Mini Boot has joined many a fashion lover's wait list this fall.
With their new A-list fanbase and impressive sales stats, it's clear to see that UGGs have revived their former glory in the fashion world.
What Makes UGG Boots Special?
What is it about UGG boots that the fashion world can't get enough of? They were a polarizing shoe even at the peak of their 2000s popularity.
Let's face it; the bulky design isn't exactly flattering. They may not be the prettiest shoes to look at, but UGGs are undeniably comfortable and warm. Many fans say that wearing UGGs is like walking on a cloud.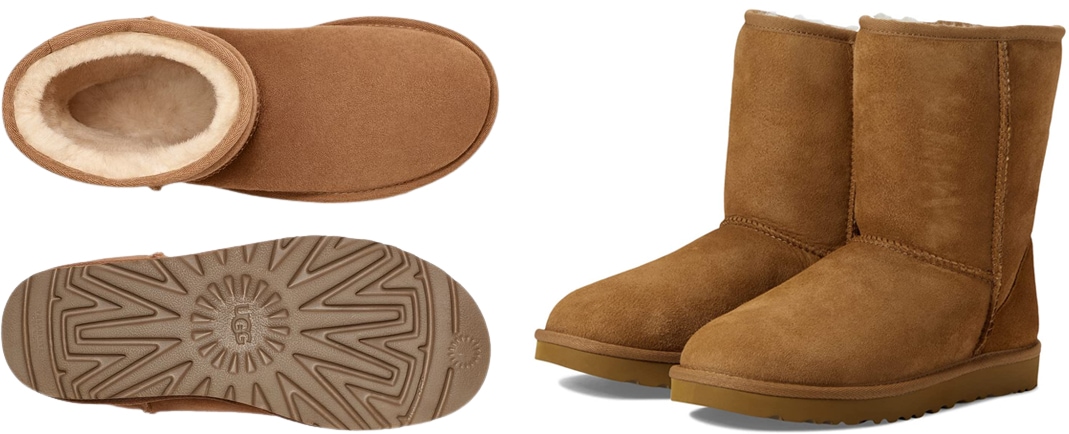 UGG boots are considered special because of their sheepskin outer layer and fleece lining that make them warm and comfy
Distinguished by their sheepskin outer layer and fleece lining, UGGs are definitely some of the best winter boots out there.
Their combination of materials keeps feet cozy while wicking moisture away. However, it's important to note that even though their primary purpose is keeping feet warm and dry, UGGs are not actually waterproof.
They are technically made of suede, so they shouldn't be treated as rain boots. UGGs can be considered water resistant, but most manufacturers recommend treating them with a waterproofing spray for protection.
What Does the Name UGG Mean?
The exact origins of UGG boots are unclear, but they can be traced back to Australia and New Zealand in the early 20th century.
Some believe they originated from the "fug boots" worn by Royal Air Force pilots in WWI, while others think they come from Australian sheepherders in the 1920s and 1930s.
The first mention of the name UGG can be linked to Frank Mortel, an Australian shoemaker who owned the Blue Mountains Ugg Boots of New South Wales company in the 1930s.
Mortel's wife allegedly called the boots ugly, which is where the name is said to derive from. Another Australian, surfer Shane Stedman, claims that he invented the boot after trademarking the name UGH-BOOTS in 1971.
In 1978, Australian surfer Brian Smith founded the UGG boot that we know today (Credit: BrianSmithSpeaker)
The UGG brand that most people are familiar with today was created by yet another Australian surfer, Brian Smith, in 1978. Smith had moved to California and wanted to bring the quintessentially Australian boots to American surfers.
The cozy boots quickly gained traction in the Californian surfing community throughout the '70s and '80s, becoming the go-to boot for warming up cold, numb feet.
UGG boots remained a niche surfer style for a few decades, but their popularity surged in the 2000s after being spotted on Hollywood starlets.
UGG's collaboration with Swarovski and Jimmy Choo cemented its status as fashion footwear
By the late 2000s, UGGs officially made the transition from surfer boots to fashion shoes. The brand underwent a massive global expansion, opening boutiques in Europe and Asia.
Their fashion status was cemented after successful collaborations with Jimmy Choo and Swarovski in 2009 and 2010. Not a bad transformation for a self-proclaimed ugly shoe!
How to Style UGGs in 2023
So, how can you wear UGG boots without feeling dated? Just stay far away from tracksuits and bootcut jeans!
UGG has been expanding its collections in recent years, which means there are more designs to choose from than ever. Look to the stars for inspiration and opt for newer, low-rise styles like the UGG Mini, Fluff Yeah slides, Classic Mini Platforms, and Tazz mules rather than the old-school calf-length UGGs.
Here are some celebrity-approved styling tricks for UGGs in 2023:
1. Bare legs & socks
Take a leaf out of Bella Hadid and Hailey Bieber's books by making UGGs even cozier with slouchy white socks. This look works best when you're styling UGGs with short hemlines and bare legs – perfect for transitional times.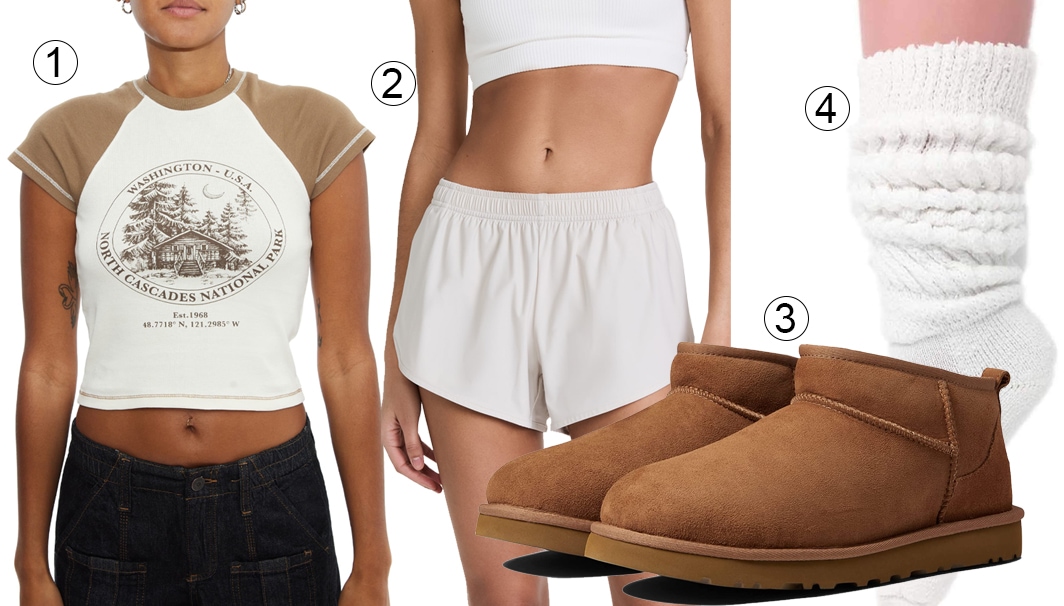 1. BDG Urban Outfitters National Park Crop Graphic Tee, $39 at Nordstrom; 2. All Access Run Shorts, $78 at Shopbop; 3. UGG Classic Ultra Mini, $139.95 at Zappos; 4. American Made Store Heavy Slouch Cotton Socks, $10.99 on Amazon
2. Eye-catching colors
Most people wore beige UGGs in the 2000s, so choosing a colorful variety makes them look fresh in the 2020s. Could you have guessed Hailey Bieber's periwinkle blue slides were UGGs?
Nowadays, UGGs are available in a wide variety of colors, from soft pastels to more vibrant shades and alternative neutrals – the sage green looks very chic!
You can find several eye-catching UGGs at Zappos.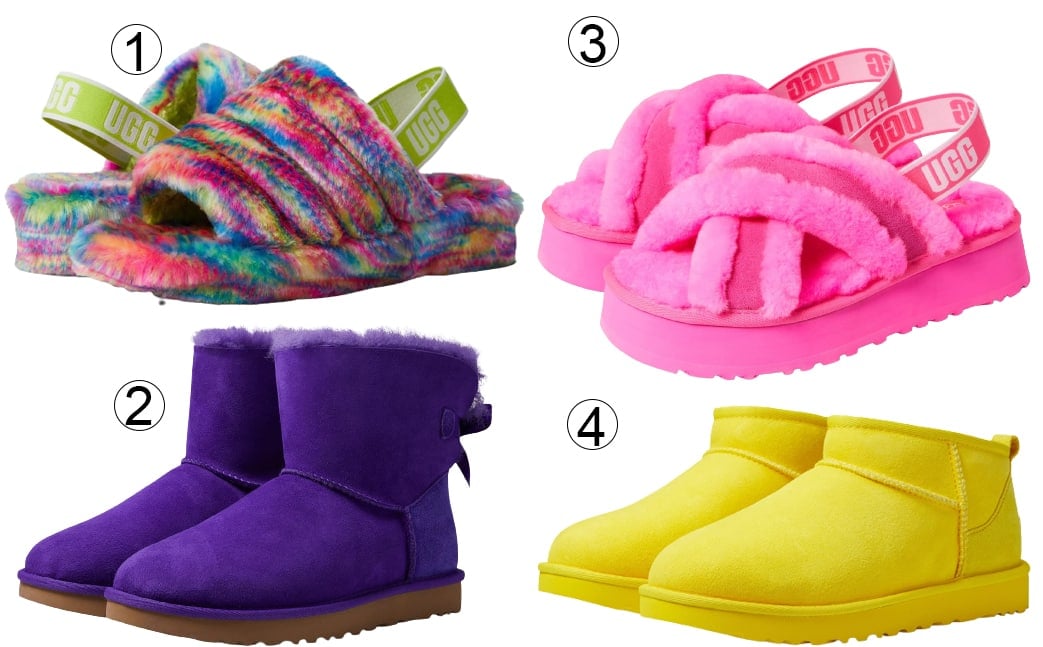 1. UGG Fluff Yeah Slide, $109.95; 2.UGG Mini Bailey Bow II, $159.95; 3. UGG Disco Cross Slide, $119.95; 4. UGG Classic Ultra Mini, $139.95
3. High-low styling
Influencers and celebrities are big fans of using UGGs to create a high-low feel.
While UGGs were treated as purely casual shoes in the 2000s, modern ones are being used to dress down formal pieces like blazers, suits, and tailored jackets. You can mix and match your look with other casual pieces like hoodies and jeans.
1. Yves Saint Laurent Double-Breasted Wool Blazer Minidress, $3,590 at Nordstrom; 2. Eurosock Slam Cool Crew Socks, $33 at Zappos; 3. UGG Fluff Yeah Slingback Sandal, $139 at Farfetch; 4. Wardrobe.NYC HB Knit Sweater, $1,200 at Shopbop; 5. Victoria Beckham Alina Wide-Leg Jeans, $490 at Mytheresa; 6. UGG Classic Mini, $149.95 at Zappos
4. Elevated loungewear
We've all pretty much become experts in loungewear after the pandemic. UGGs are excellent shoes to wear with cute knitted sets, whether it's a hoodie and wide-leg pants or a slouchy cardigan and midi skirt.
1. MSGM Logo-Print Drawstring Hoodie, $265 at Farfetch; 2. MSGM Embroidered Logo Sweatpants, $235 at Farfetch; 3. UGG Classic Mini II, $149.95 at Zappos; 4. Karen Kane Crewneck Cable Stitch Sweater, $128 at Nordstrom; 5. Xirena Sera Tiered Floral A-Line Skirt, $340 at Saks Fifth Avenue; 6. UGG Classic Mini II, $149.95 at Zappos
If you were always team UGG, we're sure you're rejoicing. For those on the fence, will you dare to wear UGGs in 2023?