By now, you're probably ready to hit 'add to cart' and purchase a pair of slippers. With so many options on the market, it's easy to feel overwhelmed when choosing a pair.
Slippers are shoes that are worth investing in, as they can last you a lifetime. You'll end up wearing your slippers almost every day, so you want to choose a pair that will keep you comfortable.
Here are our eight brand recommendations for slippers:
1. UGG
Ugg has become one of the most popular brands for slippers. Their innovative designs blend contemporary trends with the functionality of traditional slippers.
It's a natural evolution for the brand, which became famous for its synonymous Ugg boots. Ugg has something to offer everyone. If you prefer a quirky on-trend style, check out the brand's popular 'Oh Yeah Slide' slippers at Zappos.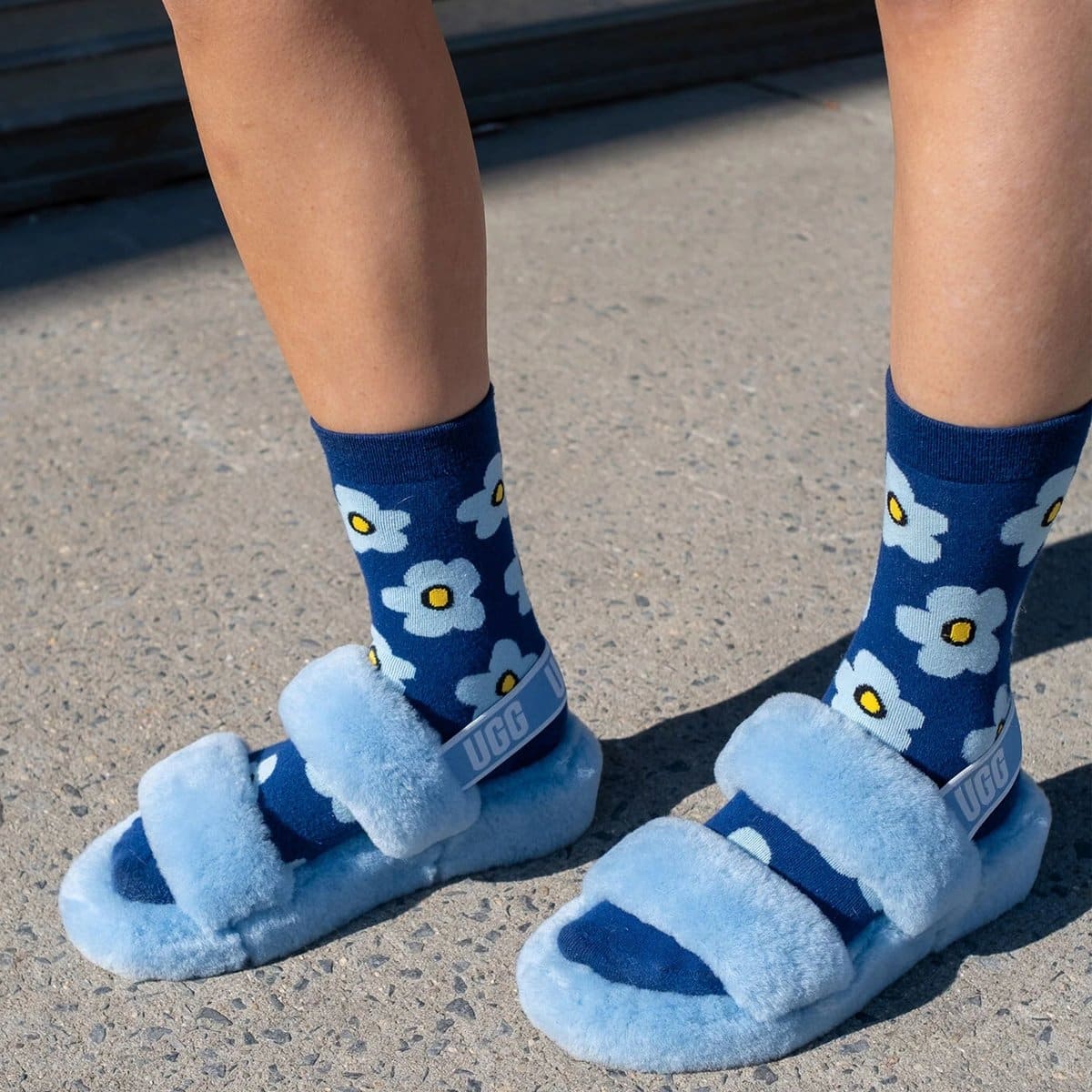 With 10mm of plush sheepskin uppers, the UGG Oh Yeah Slide open-toe slingback slipper kicks up the comfort with on-trend style (Credit: UGG)
This style takes the popular sandal silhouette and gives it a fluffy twist with colorful sheepskin. These slippers are available in seven different color options. Adding a pair of socks can make these slippers wearable for outdoor wear.
These slippers are an attainable luxury that you can add to your everyday closet. For a classic look, you can try the open-toe 'Fluffita Slide' slippers, available in three color options.
Ugg's most popular style is their 'Scuffette' slipper, which launched this footwear category for the brand. It is one of the most popular slippers at Nordstrom.
This comfy, water-resistant suede house slipper is trimmed and lined with genuine sheepskin (Credit: UGG)
If you're looking for a timeless option, these slippers are a perfect choice and sit in the middle of Ugg's price point. The new 'Scuffette II slipper' is a gender-neutral option, with six colors for you to choose from.
2. Minnetonka
Minnetonka was established in 1946, creating high-quality American shoes with premium materials. They offer classic slippers for both men and women.
Their styles retail for comfortably under $100, making them a more affordable option without sacrificing quality.
Minnetonka offers a variety of silhouettes for you to choose from, including open-back and ankle boot styles.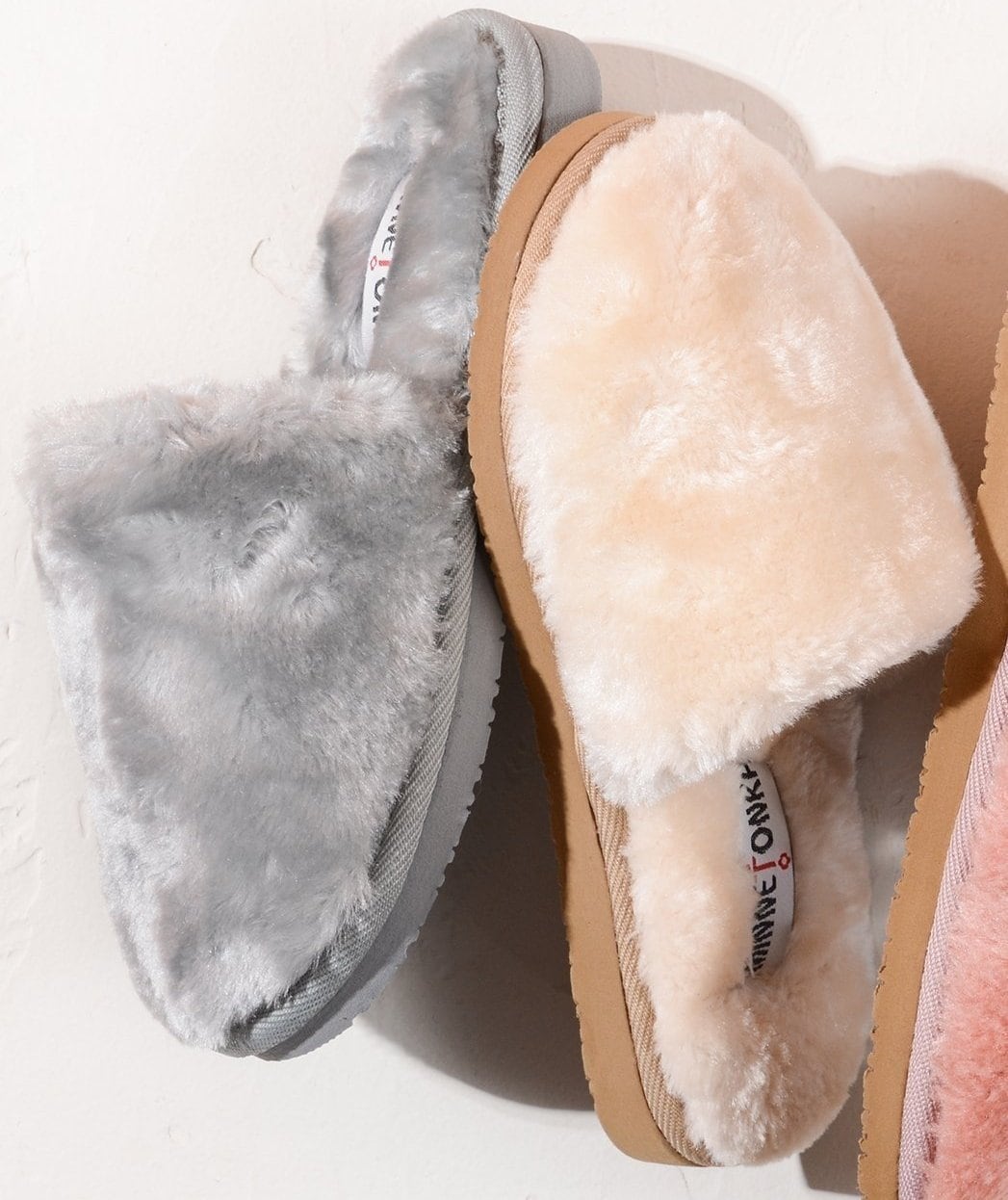 Minnetonka's plush, cozy Lora slippers reinvent the classic scuff silhouette with fluffy faux fur and gorgeous color options (Credit: Minnetonka)
These slippers are made using sheepskin, giving you a luxurious experience at an attainable price point.
3. L.L.Bean
Another classic American brand is L.L.Bean. Slippers are one of their most popular product categories, where they offer a selection of timeless styles for you to choose from.
If you're looking for slippers that will last you a lifetime, L.L.Bean is a perfect choice. Their 'wicked good moccasins' are an easy way to embrace the hygge lifestyle. They also offer more contemporary silhouettes, including slipper ankle boots.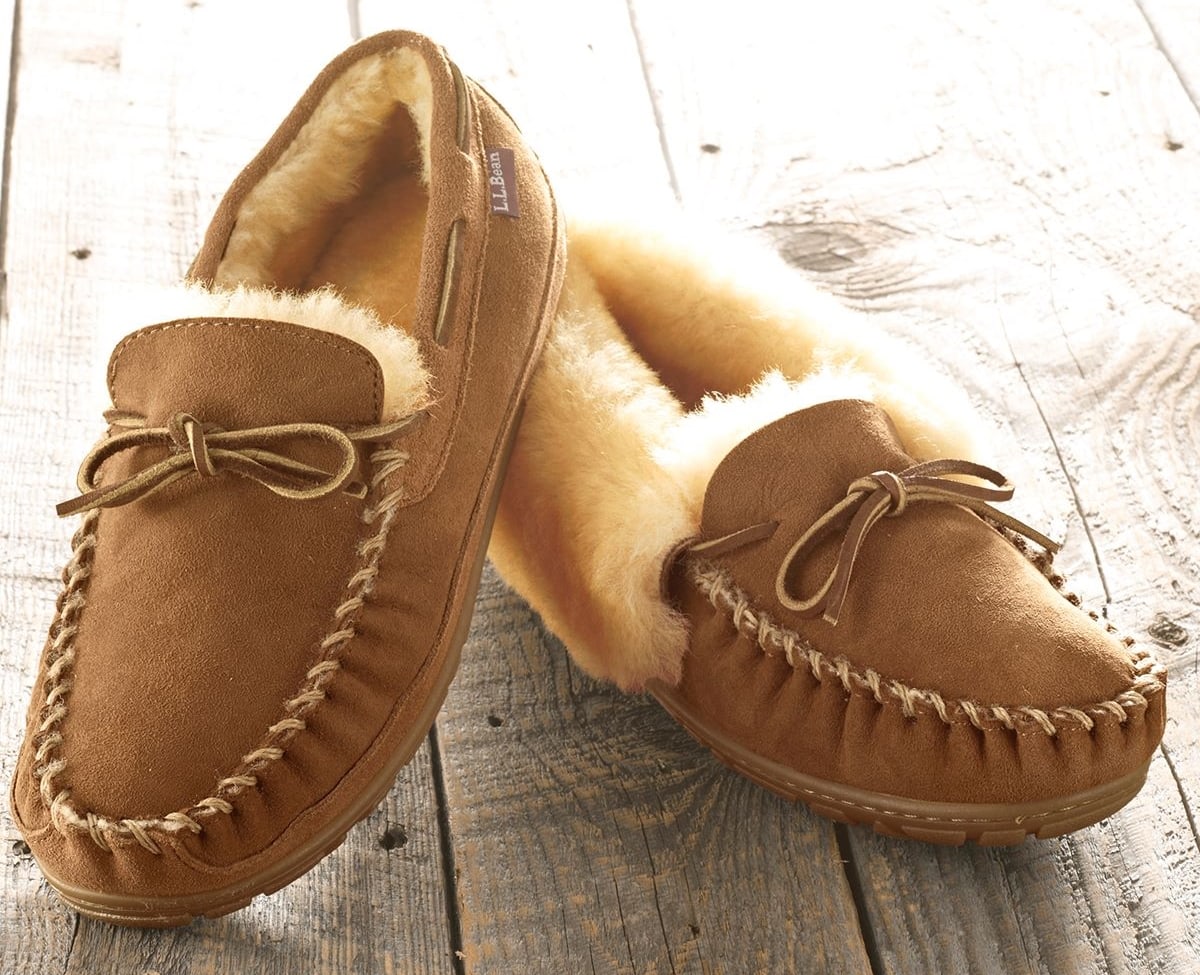 L.L.Bean's slippers are made of superior sheepskin to keep your feet warmer on chilly mornings (Credit: L.L.Bean)
The brand also offers a more wearable, outdoor-friendly style. The 'Airlight Slipper Scuffs' are lightweight, incorporating a rugged outsole for added protection and versatility.
4. Vionic
Vionic specializes in supportive and comfortable shoes. They make their designs to give you relief from plantar fasciitis and heel pain without compromising on style. Vionic slippers have built-in arch support for extra comfort.
The brand offers three main styles, including their on-trend pastel Relax Slipper, which landed on Oprah Winfrey's Favorite Things list in 2016.
"Talk about cute and comfy. A flexible midsole, an orthotic footbed, and plush terry cloth fabric? My feet have never been happier," she wrote. You check out Oprah's favorite slippers at Nordstrom.
Their most classic silhouette is the 'Gemma' slipper, which you can purchase in every style, from leopard print to mauve pink. Vionic is one of the more affordable brands on our recommendation list.
5. Isotoner
If you're on a budget, look no further than Isotoner. These slippers are perfect if you need a backup pair or an option to keep in your suitcase while traveling.
Made from recycled water bottles, Isotoner's ECO Comfort Fabric slipper is built to last so you can enjoy them for seasons to come (Credit: Isotoner)
Their typical silhouettes include ballerinas, clogs, and mule styles. Isotoner has a wide variety of slippers, with more outdoor-friendly options available.
6. Dearfoams
Dearforms carries the tagline, "feels like home", reflecting the comfort and quality of their slippers. This budget-friendly option is one of our favorites as they offer the most on-trend styles.
You can even purchase matching 'Mama Bear' and 'Lil Bear' slippers, along with father-and-son versions.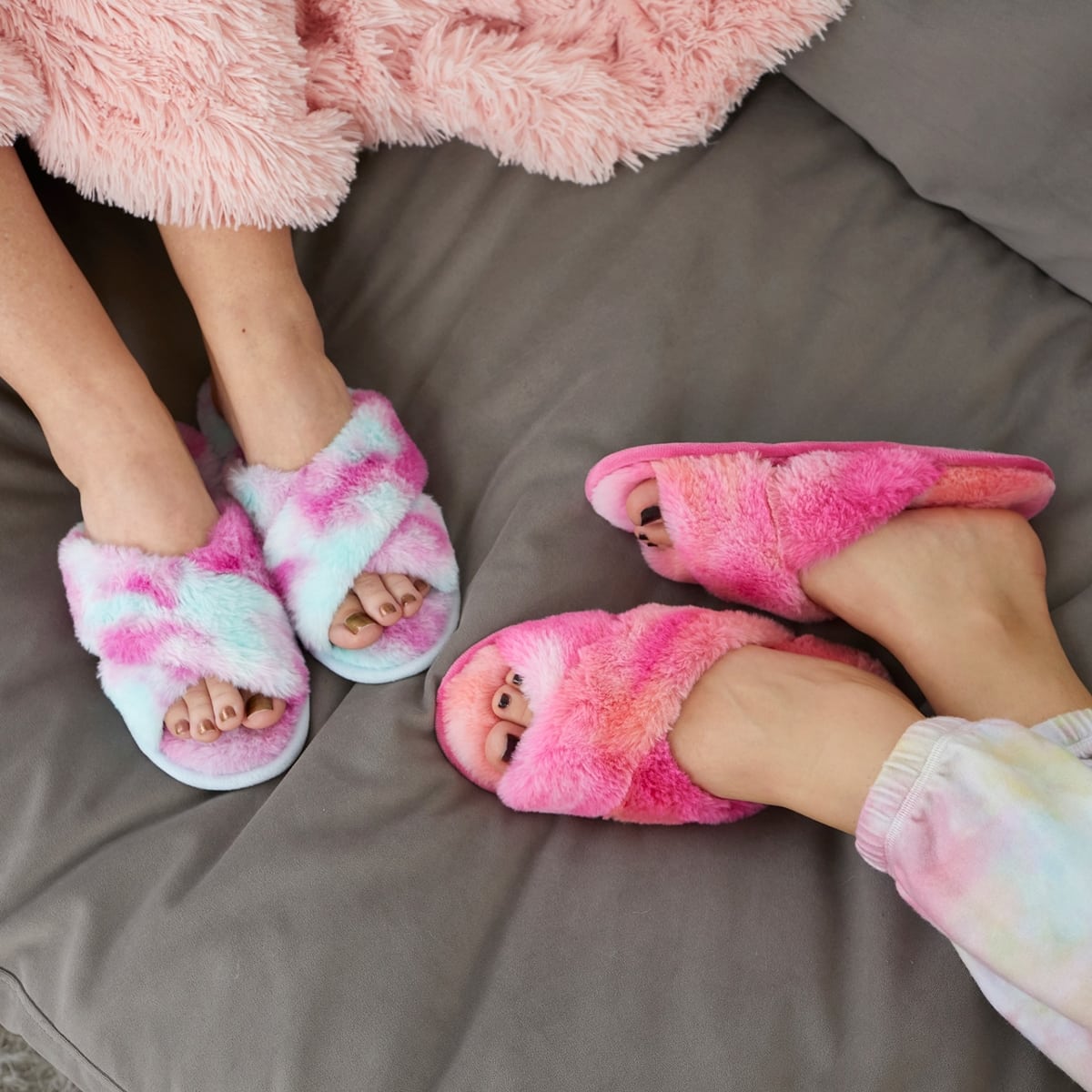 The easy on/off design of these Dearfoams slide slippers ensures unbeatable comfort is always just a step away (Credit: Dearfoams)
Dearforms offers slippers for men, women, and kids. The brand offers a mixture of contemporary and classic styles, incorporating memory foam soles for added comfort.
7. Acorn
Acorn slippers are the perfect choice for taking with you to a spa or weekend getaway. The brand offers styles for both men and women, even offering a range of sustainably recycled slippers.
Acorn's spa slippers wrap your feet in unmatched comfort (Credit: Acorn)
Acorn's 'Spa Travel Slipper' is a sock/slipper hybrid that's perfect for taking with you on the go.
8. Haflinger
Haflinger is a slipper brand that produces its shoes in Europe, using natural materials and unique designs to create its distinctive slippers.
Available at Zappos, this brand is a must-try for anyone who appreciates a quirky twist to their slippers.
Haflinger's 'Flair Cats in Love' slippers take a classic silhouette and give them a fun feel. This European brand offers slippers for men, women, and kids.
Haflinger is famous for its boiled wool slippers and fun slipper designs
Whatever your aesthetic or lifestyle is, slippers are a staple for your closet. They're some of the most comfortable shoes you'll ever own. Slippers are worth making a splurge purchase on, as you'll often only need one pair in your closet.
Both men and women can buy the same styles, with the market full of options for every aesthetic. Finding the right pair of slippers for you can be a gamechanger, and they're well worth the investment. Trust us. You'll thank us later!