Jennifer Hudson is the undisputed queen of foot corns that can cause pain and discomfort when you walk. However, she's far from the only celebrity to suffer from corny feet and busted toes.
A surprising number of beautiful celebrities we see on the big and small screen have an ugly body part: their feet. As you will see below, even the most attractive among us can have nasty feet and jacked-up toes.
To prevent foot problems, check out these foot peel masks and foot creams!
1. Tyra Banks Blames Her Heels
After being ridiculed for her foot corns in 2010, Tyra Banks took to Twitter to explain why she has them.
Known for her big feet, in March 2018 the American television personality showed that she has not removed them.
Tyra Banks wearing a statement necklace from Glynneth B Jewelry while attending America's Got Talent: Season 13 Kickoff Celebration at Pasadena Civic Auditorium in Pasadena, California, on March 12, 2018
Tyra joined Heidi Klum at America's Got Talent: Season 13 Kickoff Celebration in a faux leather cap sleeve ankle-length dress styled with a statement necklace from Glynneth B Jewelry and black studded sandals.
Tyra Banks wearing a faux leather cap sleeve ankle-length dress
Tyra also showed off her foot corns, which are areas of hard, thickened skin that develop when the skin is exposed to excessive pressure or friction.
Tyra Banks's feet in black studded sandals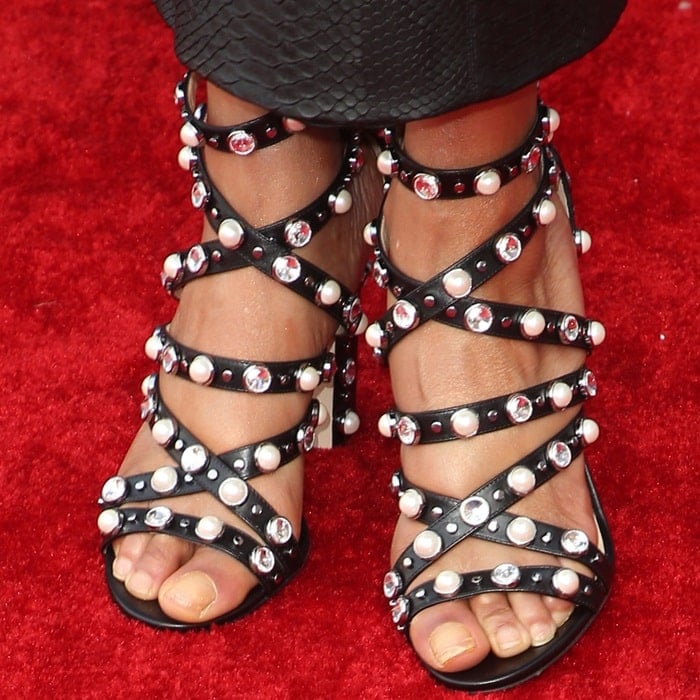 Tyra Banks's corn-filled toes
2. Kelly Rowland's Corny Feet
Kelly Rowland shows off her corny feet at the 2016 Hollywood Beauty Awards Benefiting Children's Hospital Los Angeles held at Avalon in Hollywood on February 21, 2016
Kelly Rowland also showed off her popcorn toes in Gucci heels at the 40th annual AMAs.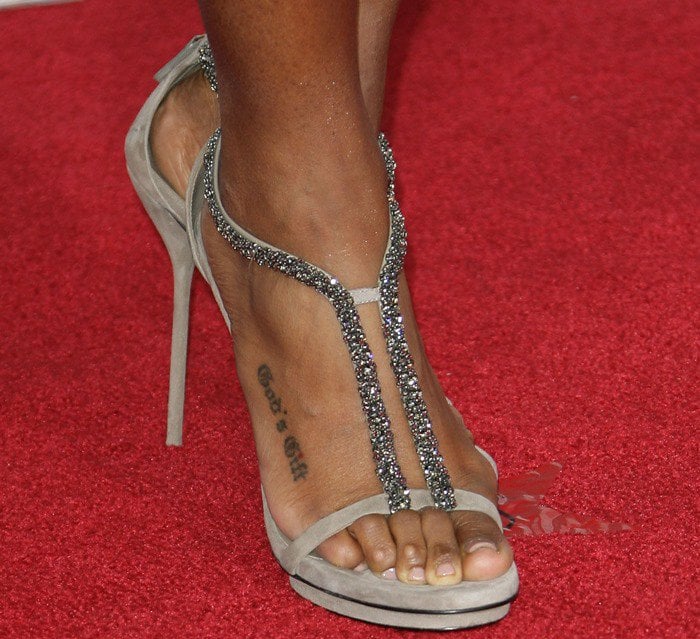 Kelly Rowland's popcorn toes in minimalist sandals perched atop a strikingly slim heel
3. Jennifer Hudson's Popcorn Feet
The American singer is famous for her 'ready to pop' corn-filled feet.
Jennifer Hudson shows off her popcorn feet in Manolo Blahnik strappy sandals at the 2014 People's Choice Awards held at the Nokia Theatre L.A. Live in Los Angeles on January 8, 2014
4. Keri Hilson's Hammertoes
In December 2014, she wrote on Twitter that she suffers from foot pain. "My feet are literally throbbing. Ugh. And I've been off them for two hours!! Thankful for the foot massager Mom got me for my bday, cuz…," revealed Keri Hilson.
Keri Hilson showing off her hammertoes at the premiere of 'Riddick' at the Regency Village Theater in Los Angeles on August 28, 2013
5. Katie Holmes' Corn-Filled Toes
This should help you understand why Katie Holmes rarely shows off her wonky toes and frumpy feet in public.
Katie Holmes showing off her corn-filled toes at The Fragrance Foundation's 33rd Annual 'FiFi' Awards at the Hammerstein Ballroom on April 7, 2005, in New York City
"Thanks to exercise and a few nips and tucks, Katie's body has never looked better — aside from her feet," a source revealed to Globe Magazine in 2019. "She desperately wants to do something about her crooked toes and unsightly bunions and she's consulted with her surgeon."
Katie Holmes shows off her feet at the Calvin Klein fashion show in 2005
Do you think she needs to consider foot surgery?
Katie Holmes has reportedly considered surgery to correct her toes
6. Zoe Saldana's Popcorn Feet
Zoe Saldana showed off her exposed corn situation in Miu Miu beige-leather ankle-strap sandals while receiving a star on the Hollywood Walk of Fame in Hollywood.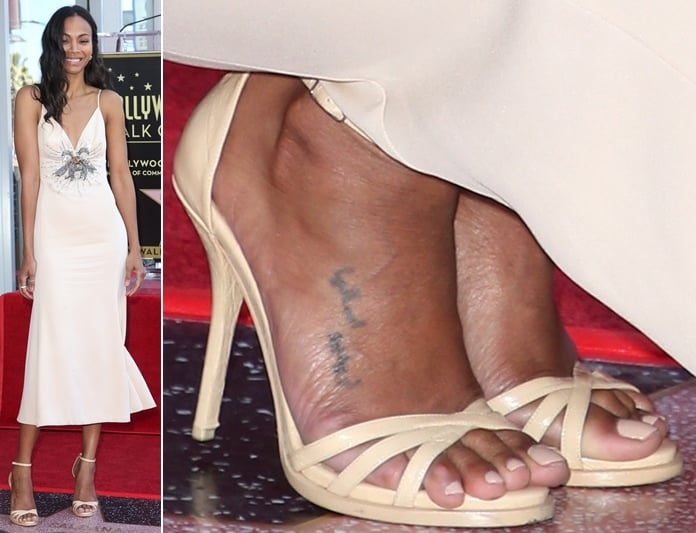 Zoe Saldana being honored with a star on the Hollywood Walk of Fame in Hollywood, California, on May 3, 2018
One of her toes also tried to escape at another movie premiere in 2013. She also showed off her Arabic foot tattoos. What was Zoe thinking?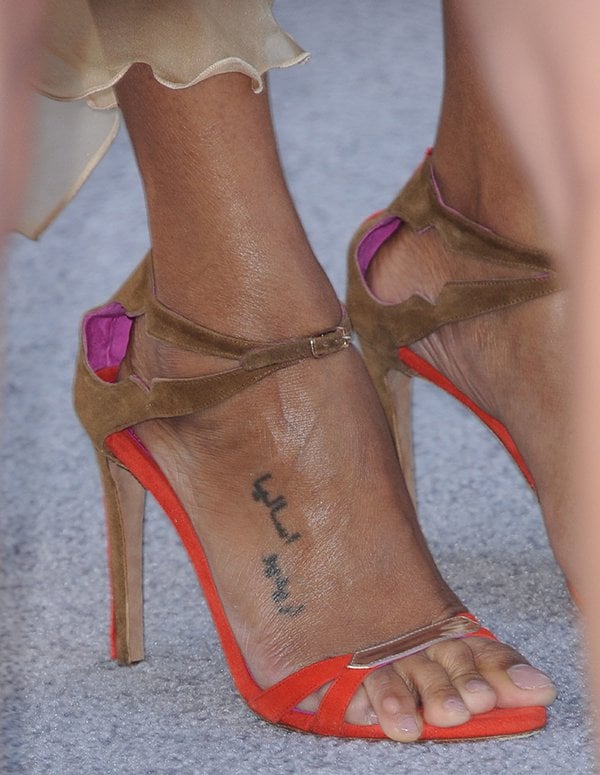 One of Zoe Saldana's toes tried to escape at the premiere of 'Star Trek Into Darkness' held at the Dolby Theater in Hollywood, Los Angeles on May 14, 2013
7. Sarah Paulson Reveals Bunions in Ill-Fitting Shoes
Sarah's bunions looked like they were screaming in ill-fitting contrast ankle strap 'Kadence' pumps at the 2018 Elle Women In Hollywood event at the Four Seasons Hotel in Beverly Hills, California.
Sarah Paulson reveals her foot bunions at the 2018 Elle Women in Hollywood celebration held at the Four Seasons Hotel in Beverly Hills, California, on October 15, 2018
While she does not suffer from hammertoes (yet), Kate Bosworth needs to take better care of her cracked, dry feet.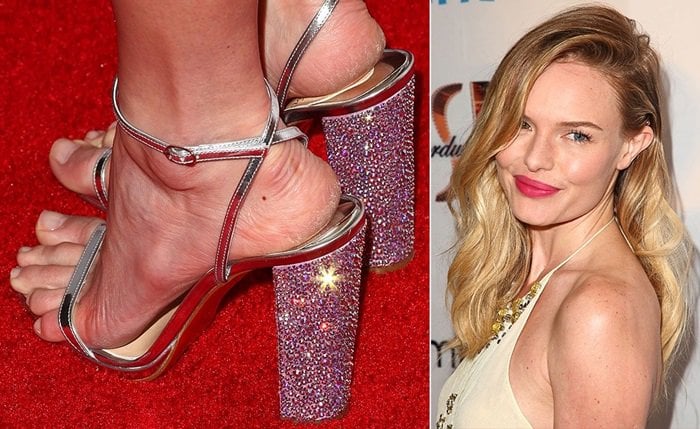 Kate Bosworth showed that she needs to take better care of her cracked, dry feet
9. Faye Elaine Marsay's Jacked Up Feet
While her ill-fitting shoes were gorgeous, we can't say the same about Faye's jacked-up feet at the season six premiere of 'Game of Thrones'.
Faye Marsay's jacked up feet in Christian Louboutin sandals
10. Kate Beckinsale's Out of Control Toes
We're always relieved when the English actress shows up in closed-toe shoes. Time and time again, her toes have looked like they're trying to run away from whatever event Kate Beckinsale is attending.
Kate Beckinsale's toes tried to run away at the at the 2014 LACMA Art + Film Gala
11. Kelly Gale's Jacked Up Toes
The Swedish-Australian model showed off her nasty feet when joining Elsa Hosk and Kendall Jenner at the Revolve Awards held at Palms Casino Resort in Las Vegas Nevada.
Chanel Iman, Romee Strijd, Elsa Hosk, and Kelly Gale attend REVOLVE Presents: The 2nd Annual #REVOLVEawards at Palms Casino Resort on November 9, 2018, in Las Vegas, Nevada
The Swedish-Australian model flaunted her sexy legs in a figure-hugging strapless mini dress that was embellished with silver gems. She completed her outfit with matching black sandals and glittering jewelry.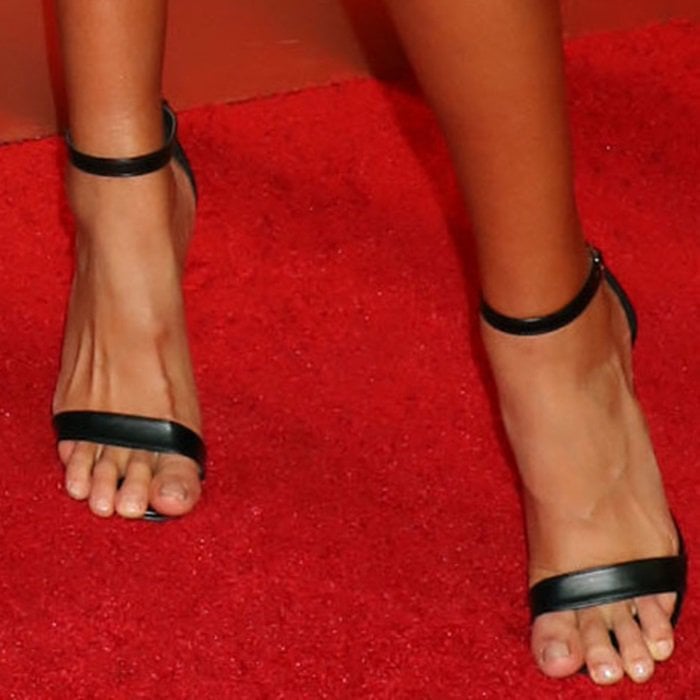 Kelly Gale shows off her feet in black sandals
12. Natalie Portman's Crusty Feet
The film actress, producer, and director did not just show off her underwear while promoting her feature directorial debut, A Tale of Love and Darkness, in Cannes. Natalie Portman also showed that she needs to take better care of her crusty feet.
Natalie Portman showed off her crusty feet in black Dior heels
13. Elle Fanning's Yellow Feet
The young actress showed off her extremely yellow feet at the premiere of 'The Twilight Saga: Breaking Dawn – Part 2'.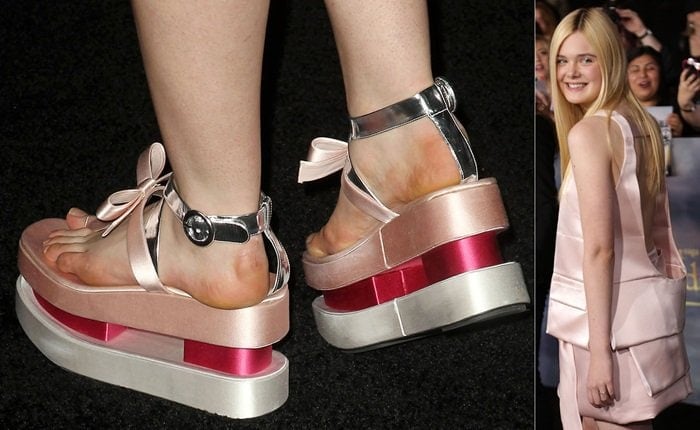 Elle Fanning shows off her yellow feet at the premiere of The Twilight Saga: Breaking Dawn — Part 2 at Nokia Theatre L.A. Live in Los Angeles, California on November 12, 2012
14. Nicole Scherzinger's Totally Gross Feet
The American singer, actress, and television personality showed what can happen if you wear uncomfortable shoes when she went bar hopping in London.
Nicole Scherzinger showed off her busted feet while enjoying a night out in London after "The X Factor" on November 26, 2016
15. Emmy Rossum's Peanut Toes
It looked like Emmy's feet were in a bad car accident before arriving at the H&M Conscious Collection dinner. Her peanut toes were literally all over the place.
Actress Emmy Rossum showed off her peanut toes at the H&M Conscious Exclusive Dinner at Eveleigh on March 19, 2014, in West Hollywood, California
16. Brie Larson's Nasty Feet
Her feet may be horribly misshapen and her toes disturbing, but Brie Larson's feet are still among the most popular at WikiFeet, a photo-sharing foot fetish website dedicated to sharing photos of celebrities' feet.
Brie Larson's nasty toes at the 22nd Annual Screen Actors Guild Awards at The Shrine Auditorium on January 30, 2016, in Los Angeles, California
She also paraded her foot fungus at the premiere of her new movie 'Unicorn Store' during the 2017 Toronto International Film Festival.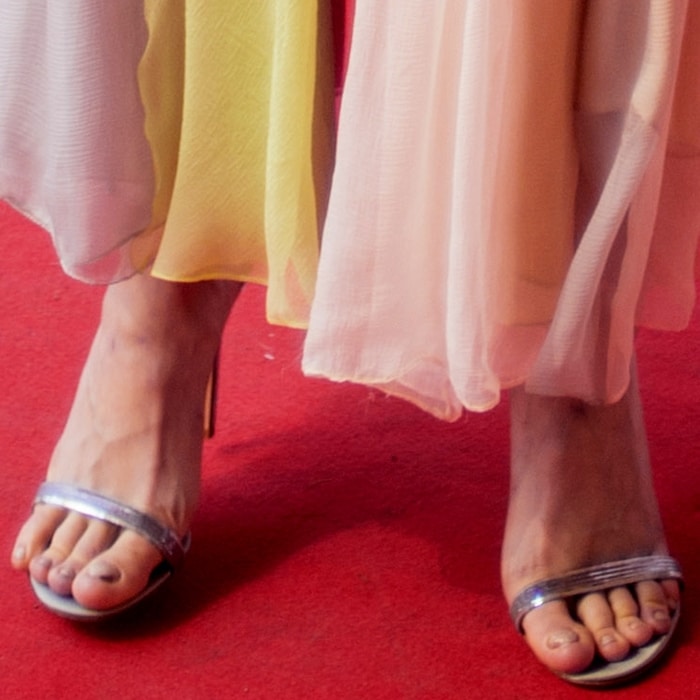 Brie Larson felt no shame showing off her fungal nail infections
17. Holly Madison's Dry Cracked Feet
We've never seen a worse case of dry, cracked heels. The best way to prevent this foot problem is to stay moisturized.
As many of the members of the Your Next Shoes community have pointed out, it's difficult to appreciate a pair of beautiful shoes when the wearer's feet are not up to par.
Holly Madison's shockingly dry and cracked feet
18. Rose Leslie's Barbaric Feet
The Scottish "Game of Thrones" actress scared everyone on the red carpet at the season 7 premiere of her popular television series.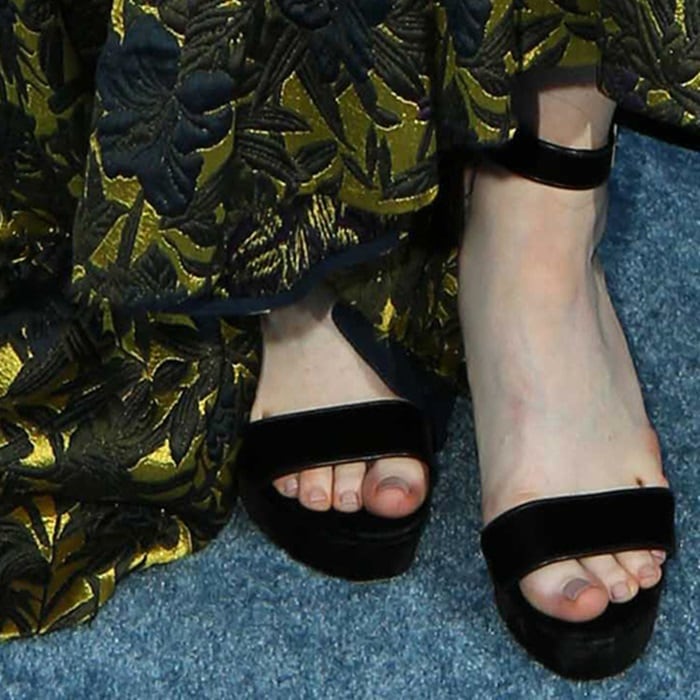 Rose Leslie's barbaric feet could scare anyone
19. Kim Kardashian's Swollen Feet and Ankles
The reality television personality with a net worth of over $200 million showed off her swollen feet and ankles when pregnant with her first daughter, North West.
Pregnant Kim Kardashian's swollen feet and ankles
20. Julianne Moore's Pinky Toes Tried to Escape
It was like Julianne Moore's pinky toes had a mind of their own. See more pictures of Julianne Moore's toes commit one of the worst fashion faux pas of all time.

If you think it looks painful, Julianne said in an interview with Jimmy Fallon that she didn't feel it as it was happening.
Julianne Moore's pinky toes slipping out of her strappy silver sandals at the opening ceremony of the 66th Cannes Film Festival in Cannes, France, on May 15, 2013
21. Katy Perry Clawed the Edge of Her Sandals With Her Toes
When you have to spread your toes so that they look like a rake, you know you need to find better ways to keep your shoes from slipping.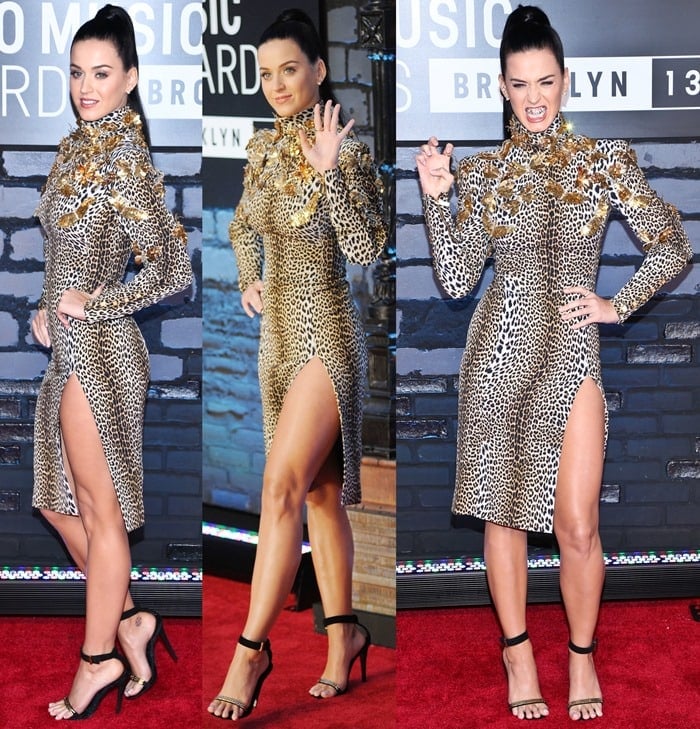 Katy Perry flaunts her legs at the 2013 MTV Video Music Awards at the Barclays Center in Brooklyn, New York, on August 25, 2013
Too bad, and her "Roar"-themed look was cute, too. See more cute shoes spotted at the 2013 MTV Video Music Awards!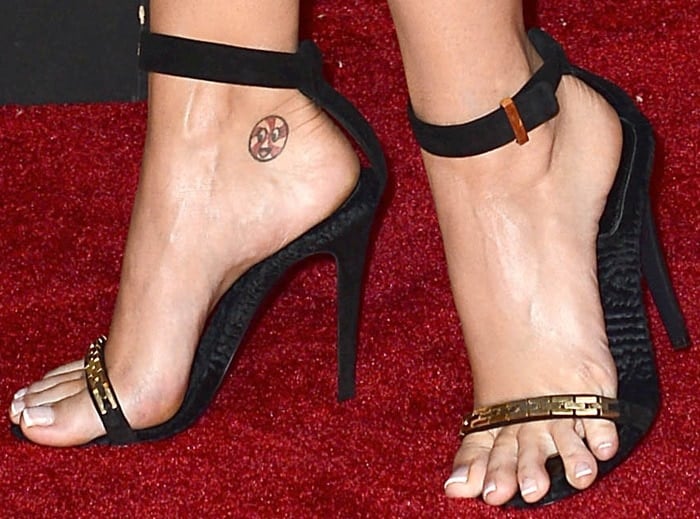 Katy Perry grasping the edge of her sandals with her toes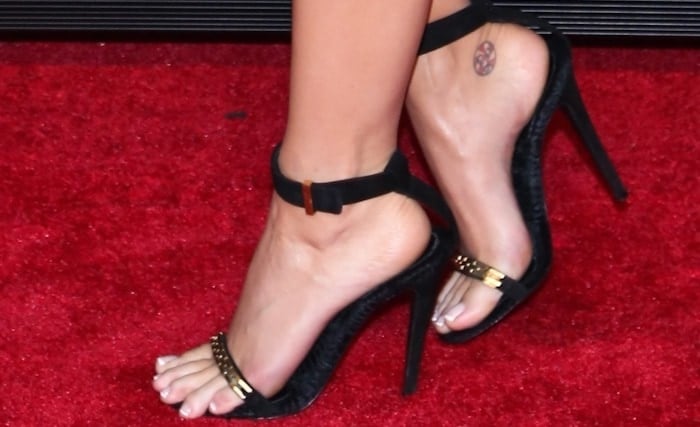 Katy Perry revealed her incredibly long toes
Katy Perry showed off her ugly feet on the red carpet
22. Rashida Jones' Toes Go Their Own Ways
Rashida Jones' rebellious toes just could not be contained. She has had some fantastic shoe moments, though.
Rashida Jones with her toes slipping out of her sandals at the 2013 Independent Spirit Brunch held at BOA Steakhouse in West Hollywood, Los Angeles, California, on January 12, 2013
23. Lady Gaga Forgot to Wear Shoes
Okay, so it's part of her act, but walking barefoot in the streets of London? We hope the men around her were there to keep her from walking on anything she shouldn't.
Lady Gaga arriving barefoot at her hotel in London, England, on October 25, 2013
24. Amy Adams' Enormous Bunions
The critically acclaimed American actress showed off her deformed feet at the premiere of HBO's miniseries "Sharp Objects" in Los Angeles and at the "Nocturnal Animals" photocall in Venice.
Amy Adams suffers from painful-looking bunions
25. Cara Delevingne's Nasty Finger Toes
Best known for her tomboy style, Cara Delevingne should think twice about showing her nasty finger toes. Did you know she has inked both her soles?
Cara Delevingne shows off her nasty finger toes while walking barefoot outside her hotel in London on February 18, 2014
26. Cobie Smulders' Gnarly Toes
The "How I Met Your Mother" actress showed up with crusty toes and brittle toenails for the New York premiere of "Friends From College".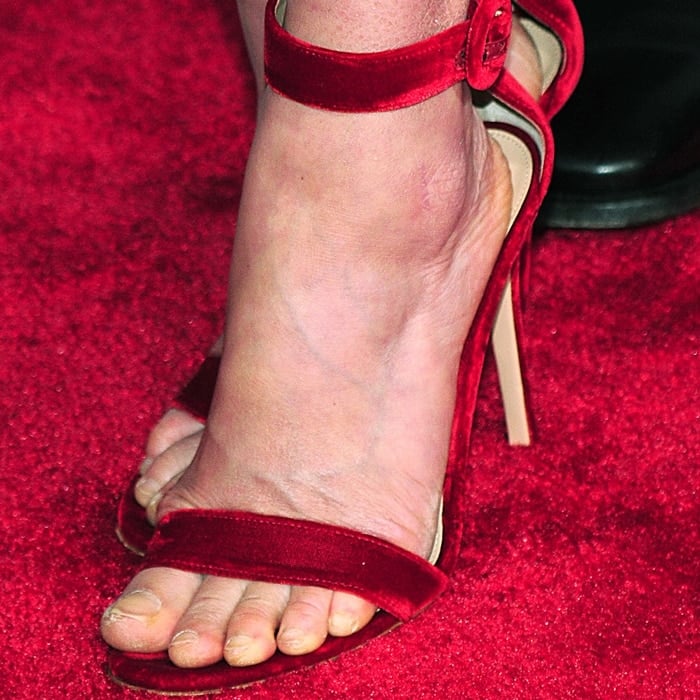 Cobie Smulders' gnarly feet can not be unseen
Foot corns, small circles of thick skin, are often caused by poorly fitting shoes. Heels that are too loose can allow your foot to slide and rub. There are also some footwear designs that place excessive pressure on an area of the foot.
Wearing high heels for too long can squeeze your toes and cause other damage to your feet. Toe corns can also develop as a symptom of bunions and other foot problems.
Credit: WENN / PNP / FayesVision / Apega / Adriana M. Barraza / B.Dowling / Michael Boardman / Brian To
Credit: DJDM / Judy Eddy / Nikki Nelson / Visual / RV / Bridow / Will Alexander / Dan Jackman / LK