When it comes to winter boots and cozy slippers, UGG is in a league of its own. What most people don't know is that the California brand has expanded outside of footwear and launched a homeware collection.
If you want a luxury blanket without splurging on the four-figure price tag of a Hermes blanket, UGG is the perfect alternative.
Available on Zappos and Nordstrom, their blankets are just as chic and timeless as their footwear, making them a home décor staple for the minimalist at heart.
UGG's deliciously cozy throw blankets in super soft plush
With the holiday season approaching, we're shining a light on UGG's new best-selling home essentials. With seven blanket styles to choose from, the UGG blankets are just as comfortable as the brand's iconic footwear.
The Duffield Throw II + Juana Knit Throw
The most popular blanket by UGG is their 'Duffield Throw II' style, which is also their most affordable. It's available in five neutral color options on Amazon, including seal heather and cream.
The soft hues of this blanket make it perfect for any space with a minimal aesthetic, while the velvety sheen gives the blanket a luxurious feel.
UGG's ultrasoft Duffield II throw blanket is available in numerous colors and is plush, warm, and incredibly cozy
Although these blankets feature a minimalistic design, they have a subtle UGG logo on one corner.
Feel like splurging? UGG's most expensive blanket is their Juana knit throw which is available in denim, taupe, and cream. This 100% cotton blanket is made using open mesh knit with seed stitching across the border for extra texture.
Are UGG Blankets Warm?
UGG blankets are largely considered to be amongst the warmest and comfiest on the market. The different materials that UGG offers are the secret behind these blankets, whether faux fur, Sherpa, or cotton.
UGG's warm blankets and throws bring California luxury to any home
Each blanket is soft to the touch and gentle against your skin, making it perfect for curling up with.
Can You Wash UGG Blankets?
Good news, you can wash your UGG blanket! The brand recommends that you wash their blankets on a gentle cycle with cold water.
Dry your UGG blanket using warm – but not hot – heat. It's always best to double-check the information on the label of your blanket, as the cleaning and care instructions may differ depending on the material.
Here are some general steps on how to wash an UGG blanket:
Check the care label to ensure the blanket can be machine washed.
Place the blanket in a washing machine on a gentle cycle with cold water.
Use a mild detergent and avoid using bleach or fabric softener.
Air-dry the blanket or tumble-dry it on low heat.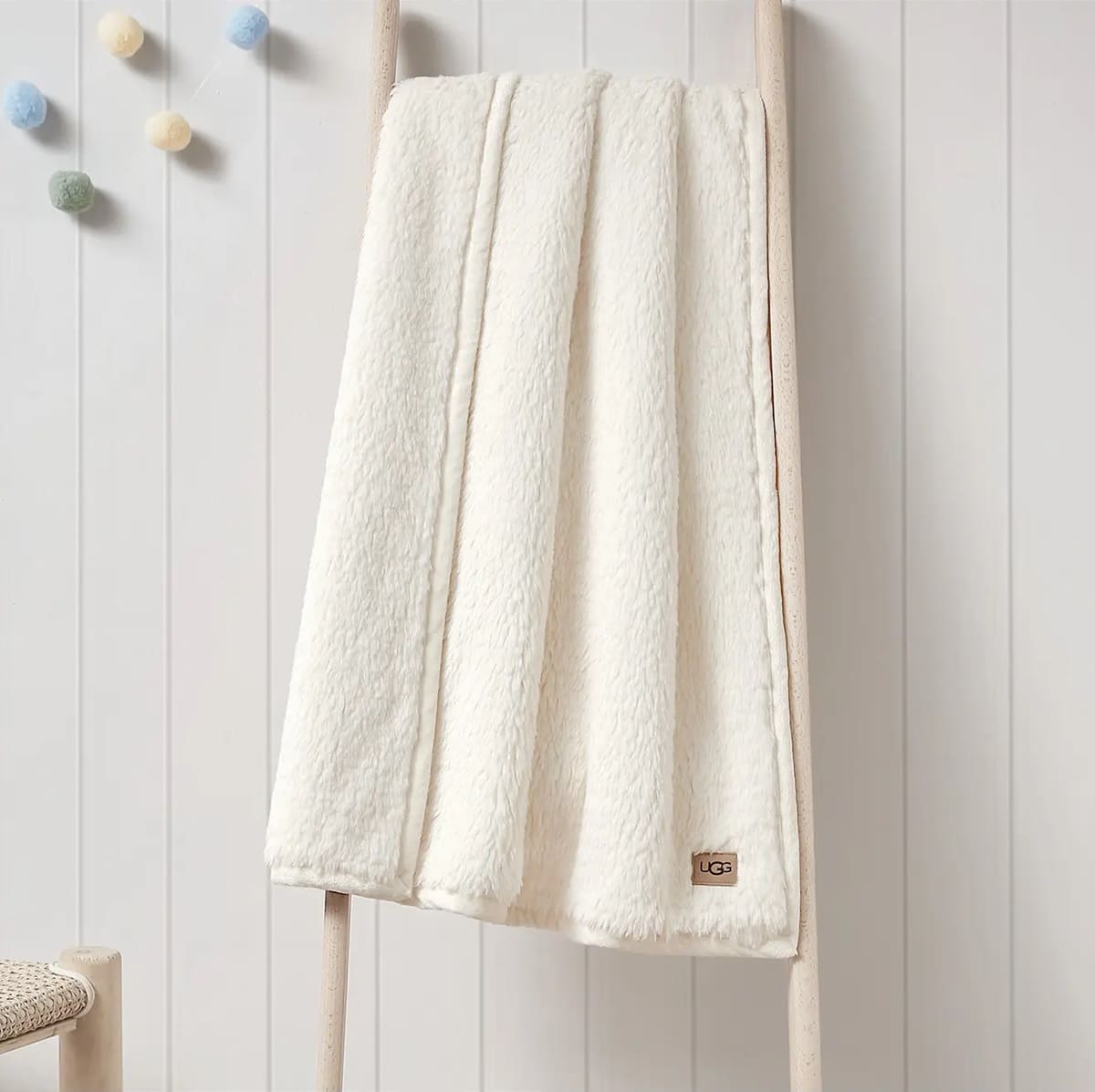 Most UGG blankets are made of a durable microfiber fabric that can be machine washed on a gentle cycle with cold water
Here are some additional tips for washing UGG blankets:
If the blanket is heavily soiled, you may need to pre-wash it by hand.
Do not use a washing machine with an agitator, as this can damage the blanket.
Do not over-dry the blanket, as this can cause it to shrink.
If the blanket has any fur trim, brush it out before washing.
By following these tips, you can keep your UGG blanket looking and feeling its best for years to come.
Here are some alternatives to washing your UGG blanket:
Spot clean the blanket with a damp cloth and mild detergent.
Take the blanket to a professional cleaner.
Use a UGG protector spray to help keep the blanket clean and free of stains.
Are UGG blankets worth it?
When it comes to brand-name blankets, the UGG blankets won't break the bank. They're more expensive than most blankets in department stores, but they won't set you back the same price tag as luxury blankets by brands like Hermès.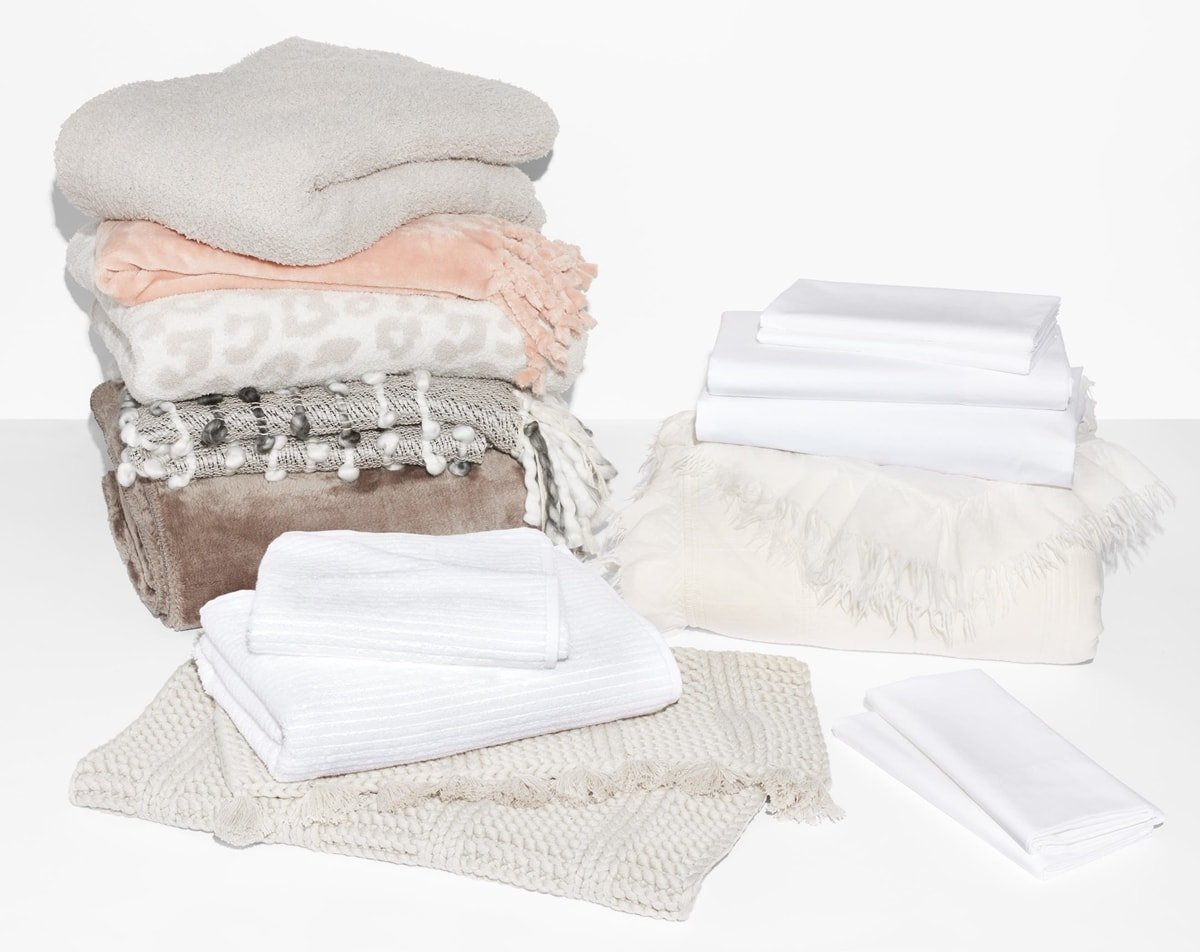 Get ready to snuggle up with cozy blankets and bedding from UGG
If you want to invest in a staple blanket that can double as a home décor piece, the UGG blankets are worth it. They're the perfect staple to add to your Christmas wish list or to treat yourself to for the holiday season.
Customer Reviews of the UGG Blankets
The UGG blankets are getting glowing reviews online. One reviewer said their blanket was "so soft and warm, it's perfect for any home."
Another review said, "the softness is unparalleled, and it is absolutely beautiful. If you need a truly soft blanket, this is worth the splurge".
Most reviews pick up on the softness of the blanket, with another review saying, "it is SUPER soft and snuggly…I LOVE this blanket and highly recommend it if you want a warm, snuggle-up blanket".
Are you thinking of investing in a throw blanket from UGG? Do you already own one?