Kate Bosworth is undoubtedly one of Hollywood's most followed fashionistas but unlike other celebrities we've featured before, you won't see many fancy designer shoes this time.
While there are a few, Kate Bosworth is known for her effortlessly chic casual style. That's why we had to include two of her everyday shoes in number five. Don't you feel like copying these head-turning outfits?
The American actress recently softened up tomboyish Burberry boots with a cute owl print sweater and perpetuated the wedge sneaker trend, yet still goes all-out glamorous when it's called for.
Kate Bosworth has given us many opportunities to admire her pretty feet and legs this year. Below are her 5 best shoe moments of 2012. As fabulous as her red carpet shoes are, we're still clamoring for her everyday shoes the most.
1. Burberry Prorsum fur-lined ankle boots
Kate put her endless legs on display in a skirt and an owl print sweater from the Burberry Prorsum Pre-Fall 2012 Collection.
Kate Bosworth flaunts her legs at the Burberry Fall 2012 presentation during London Fashion Week in London, England on February 20, 2012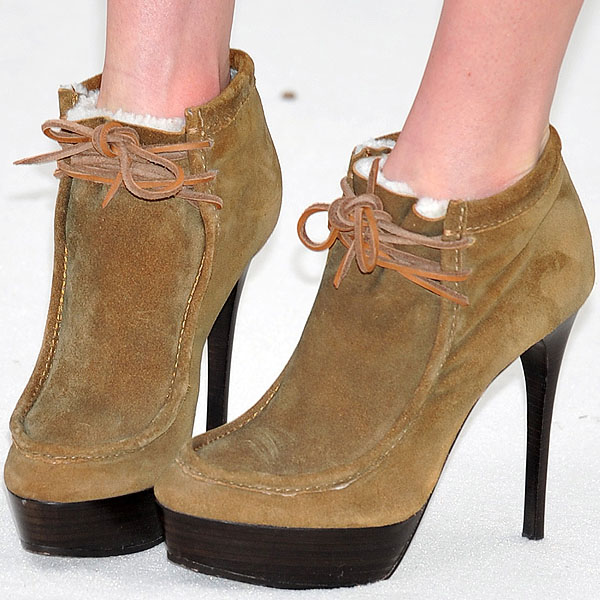 Kate Bosworth rocks Burberry Prorsum fur-lined ankle boots
2. Christian Louboutin 'Un Palace' sandals
For the premiere of her new film, Kate donned a beige Prada dress and accessorized with a bag and jewelry from Jewelmint.
Kate Bosworth rocking a beige Prada dress at the "L!fe Happens" premiere at AMC Century City 15 theaters in Los Angeles, California, USA on April 2, 2012
She showed off her pretty yet dry feet in Christian Louboutin silver strappy sandals. Perhaps Kate should check out our guide on how to prevent toe overhangs?
Also, do you think her feet deserve some pampering? That said, it's nothing compared to Holly Madison's cracked heels.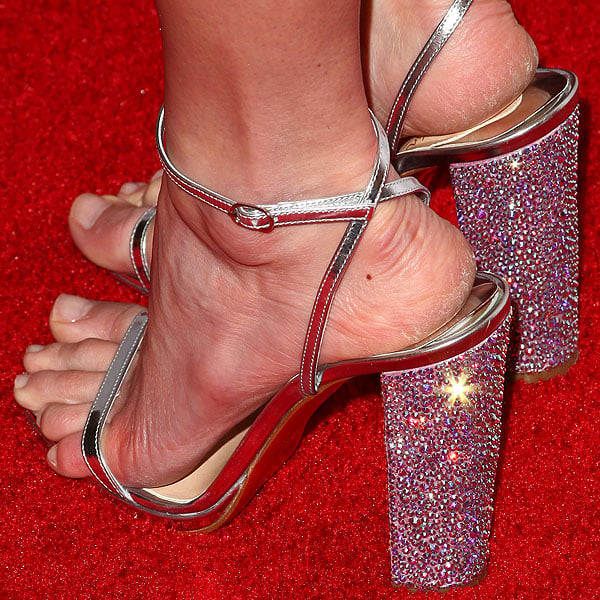 Kate Bosworth shows off her dry feet in Christian Louboutin silver strappy sandals
3. Isabel Marant 'Willow' wedge sneakers
Don't you just love Kate's beautiful minty sea-foam pleated maxi skirt?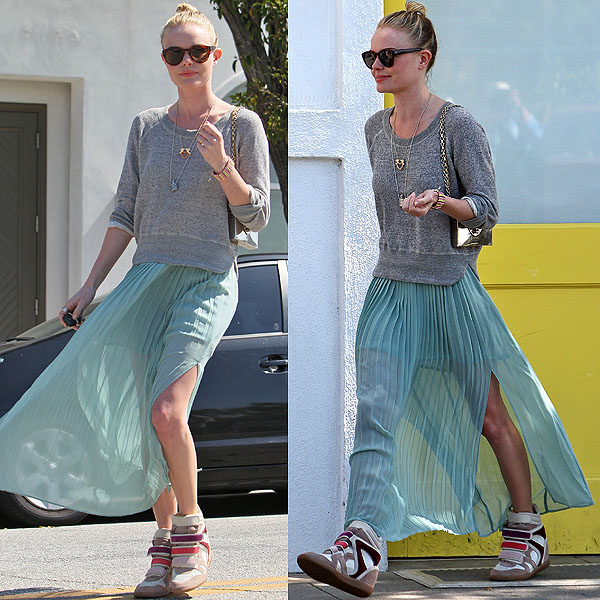 Kate Bosworth flashes her legs while leaving Byron and Tracey Salon in Los Angeles, California on April 10, 2012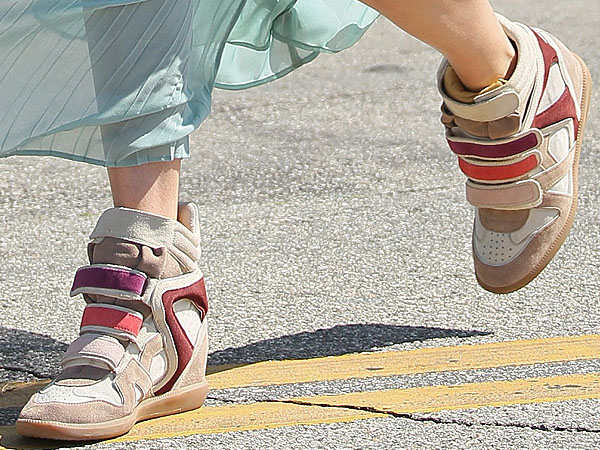 Kate Bosworth styled her dress with Isabel Marant wedge sneakers
4. Miu Miu glitter platform sandals
Her feather dress by Prada and glam Miu Miu sandals left the fashion critics completely speechless!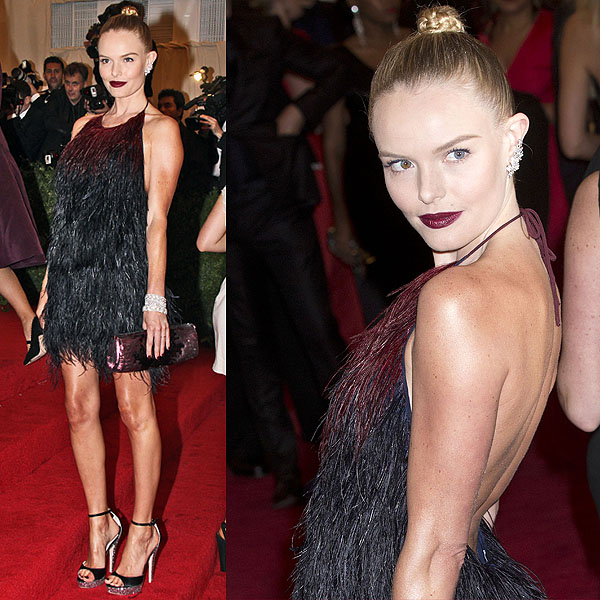 Kate Bosworth poses on the red carpet at the Schiaparelli and Prada 'Impossible Conversations' Costume Institute Gala at The Metropolitan Museum of Art in New York City on May 7, 2012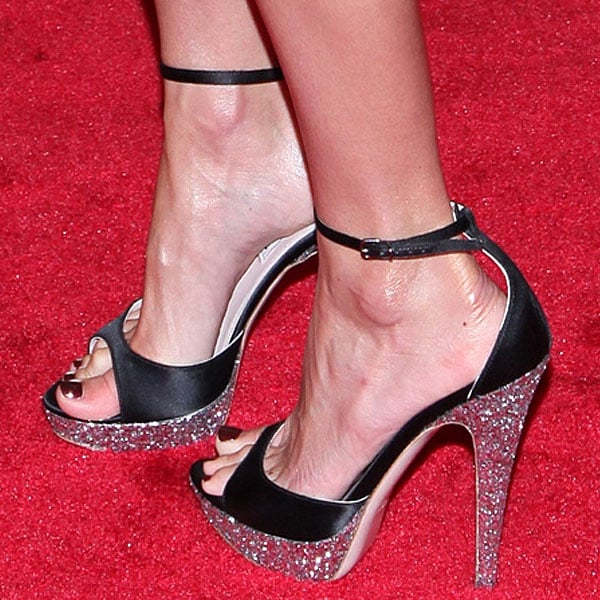 Kate Bosworth shows off her pretty feet in Miu Miu shoes
5. Comfy and chic everyday shoes
Kate Bosworth heads to Bristol Farms in Santa Monica in Los Angeles, California on October 3, 2012
Kate Bosworth's Topshop 'Kowboy' low-cut western shoes
Kate Bosworth leaves a meeting in Beverly Hills, California on October 4, 2012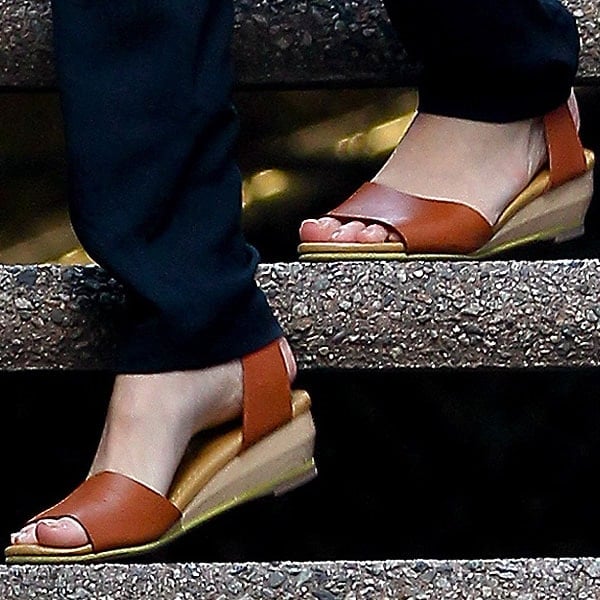 Kate Bosworth's See by Chloe ankle strap wedge sandals
Credit: Daniel Deme / WENN / B.Dowling / STS / Caroline Torem Craig / Andres Otero