So we've noticed that Kendall Jenner has been kind of on this mission lately to prove that she eats during Fashion Week. She posted pictures of herself holding an untouched pizza slice before walking the Marc Jacobs runway. She made sure paparazzi photographed her with a still-intact cup of ice cream as she left the Fendi show. When she partied late at night with Rihanna and Drake, she made it a point to stop by at a Burger King and take some selfies at the counter.
Her latest demonstration is in her "day in the life of Kendall Jenner" Vogue video where she is shown scarfing down McDonald's fries right in the middle of a photoshoot. Oh, and she does it while topless and wearing nothing but a black miniskirt and Vetements brown thigh-high boots that show off her slender supermodel figure.
We get it, Kendall — you're rich, famous and a supermodel. On top of that, you can eat whatever you want and not get fat. The life of Kendall Jenner is perfect. Watch:
Let's get to the Vetements boots that Kendall couldn't resist trying on. You can see in the stills below that they have inwardly curved wedge heels similar to the no-heel style that Lady Gaga made famous. That's why Kendall said, "how do you walk in these?" when she picked them up.
The 20-year-old model then proceeded to walk in the boots around the room with no problem at all. She also nonchalantly greeted Kim, who remarked, "I didn't know you had a nipple ring" upon seeing her younger's sister topless state.
Kendall dismissed all the cameras and eyes, saying "I'm extremely comfortable, which kind of scares me because (there are) a lot of people around!"
That level of body confidence is why she's one of the world's top-paid models, ladies. Check out photos of her boot try-on session and being very comfortable in her near-nakedness:
Kendall Jenner modeling a black miniskirt, Vetements brown leather thigh-high boots, and nothing else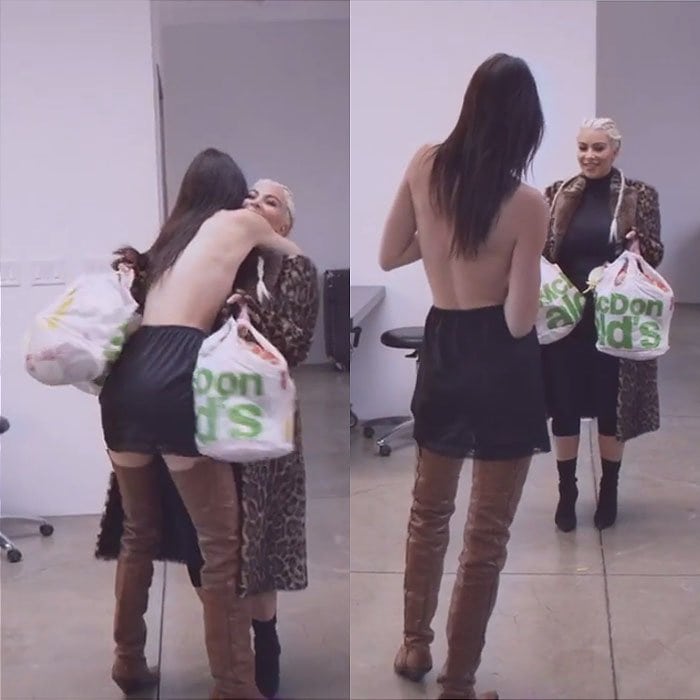 Topless Kendall greeting older sister Kim Kardashian, who comes bearing two bags of McDonald's to the photo shoot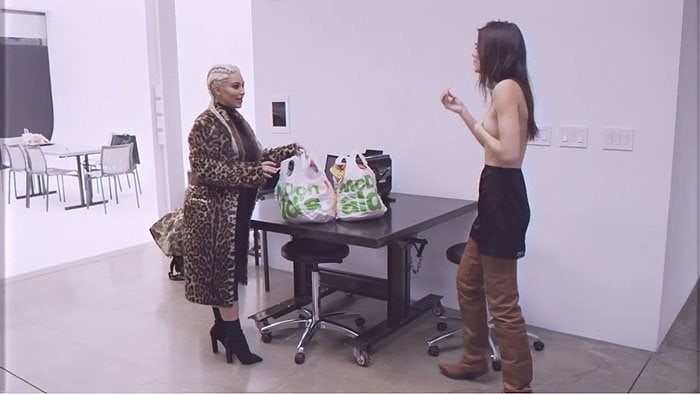 Kendall asking Kim what she thinks of her incomplete outfit as she scarfs down french fries
The 20-year-old reality star not thinking twice about downing her greasy fast food breakfast even while in the middle of a modeling gig
Below are stills showing more angles of the boots. You can see the curved wedge heels clearly in the mirror reflection in the following picture: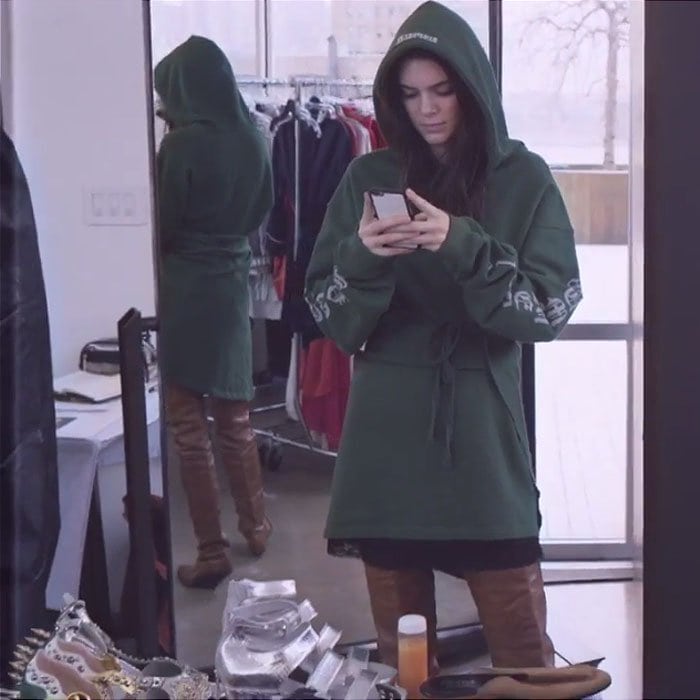 Kendall in her complete outfit consisting of an army green hoodie dress, black lace-trim miniskirt and Vetements brown leather thigh boots
More angles of the Vetements brown leather thigh-high boots with inward-curved wedge heels that Kendall Jenner could not resist trying on
Kendall repaying her sister Kim for the McDonald's treats with a foot massage
The Vetements boots are part of the Paris-based label's spring/summer 2016 collection. A number of pieces are up for grabs at Ssense.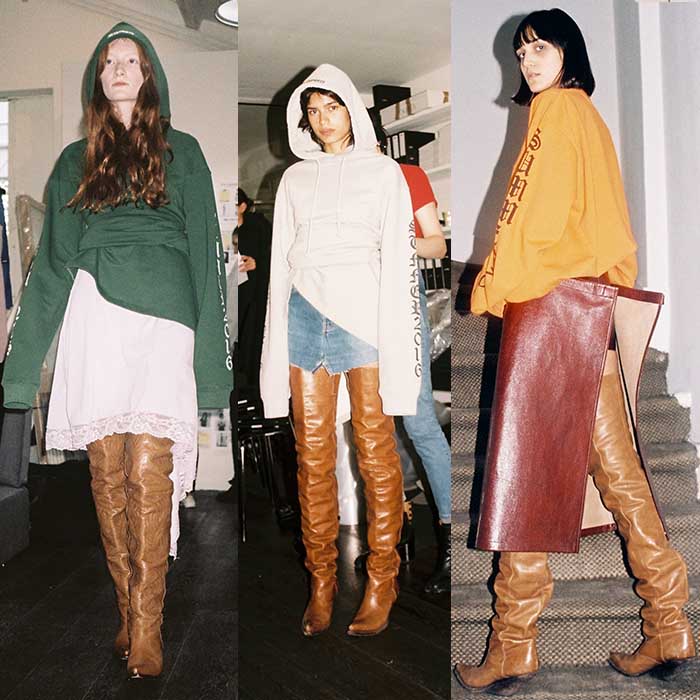 Looks from the Vetements spring/summer 2016 collection with the brown thigh-high boots as photographed by Pierre-Ange Carlotti
For a look-for-less alternative, try these stretch-suede thigh boots from Jeffrey Campbell:
Jeffrey Campbell 'Parkway' Thigh Boots in Tan Suede, $198 at Free People