While Gigi Hadid may have suffered a wardrobe malfunction during the Versace Fall 2016 fashion show held Friday during Milan Fashion Week in Italy, her fellow model Kendall Jenner luckily managed to strut down the runway without a hitch.
Of course, Kendall's ensemble wasn't quite as remarkable as Gigi's.
Kendall wore a shiny gray coat lined in pink fur, a pastel aqua mini dress. She carried a matching bag and wore a matching pair of pumps.
View this post on Instagram
Granted, Kendall did do the boob-baring gimmick at a Marc Jacobs show years ago, so maybe she's just over it.
Her real standout moment was at the earlier Fendi Fall 2016 fashion presentation.
View this post on Instagram
Kendall not only opened the show but also debuted a very interesting navy zip coat dress accented with green-and-blue fur and flounce cuffs.
She carried a detailed embellished bag and wore a pair of baby blue thigh-high boots with ruffles.
View this post on Instagram
Fendi described them on Instagram as "inspired by Japanese botanical art from the 18th century with a look to the future."
Kendall is a master of transitioning from high fashion on the runway to low-key cool on the streets since she's worked as an in-demand model for a few years now.
She demonstrated that skill as she made her way between the Fendi and Versace fashion shows.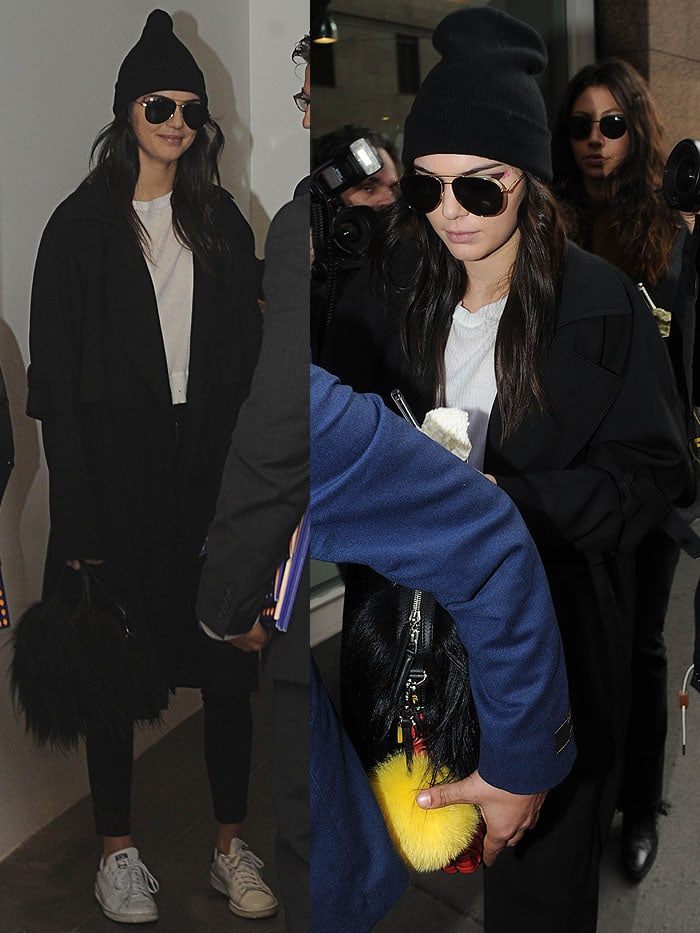 Kendall Jenner wears a beanie over her hair as she leaves the Fendi Fall 2016 fashion show in Milan, Italy, on February 25, 2016 (Credit: WENN)
The 20-year-old slipped into a more comfortable white ribbed tee, black leggings, and a long, black coat as she changed out of the couture clothes she modeled on the catwalk.
Kendall Jenner carries a cup of ice cream as she leaves a fashion show (Credit: WENN)
She topped off her effortless in-between-shows look with a pointy black beanie, dark aviator shades, and white retro sneakers.
Perhaps to further prove the point she's been trying to make that she does eat during fashion week, Kendall also carried a small cup of ice cream.
Kendall Jenner wears a monochrome look including a beanie and aviators as she moves between Fendi and Versace fashion shows (Credit: WENN)
Kendall's fashion week staple shoes are her go-to Adidas "Stan Smith" sneakers. Unsure how to style a pair of white sneakers? Here's some celebrity inspiration for you.
Adidas Originals 'Stan Smith' Sneakers, $75