In October, Rihanna reignited her feud with Jennifer Lopez. Insinuating that JLo will do anything for money, the Grammy-winning rapper told Vogue she turned down the Super Bowl half-time show because she didn't want to be a "sellout".
"Absolutely," she answered when asked if she turned down the Super Bowl halftime show in solidarity with Colin Kaepernick, a football quarterback and political activist known for kneeling during the national anthem in protest of police brutality and racial inequality in the United States.
Rihanna, who has called Jennifer Lopez a "traitor" and "sellout", heading out of the Fashion Awards' after party at Laylow Club in London on December 3, 2019
"I couldn't dare do that. For what? Who gains from that? Not my people. I just couldn't be a sellout. I couldn't be an enabler. There's things within that organization that I do not agree with at all, and I was not about to go and be of service to them in any way."
Since Rihanna refused to perform, J-Lo and Shakira were announced to play the gigantic Super Bowl half-time show that will take place at Miami's Hard Rock Stadium on February 20, 2020, which also happens to be Shakira's 43rd birthday. The two artists have promised to 'set the world on fire.'
Wearing an oversized belted faux shearling-trimmed faux leather coat from Balenciaga, Rihanna did not comment on her feud with Jennifer Lopez when leaving the Fashion Awards at Laylow Club in London. She toted Prada's Galleria mini textured-leather tote that you can buy for $1,990 at Net-A-Porter.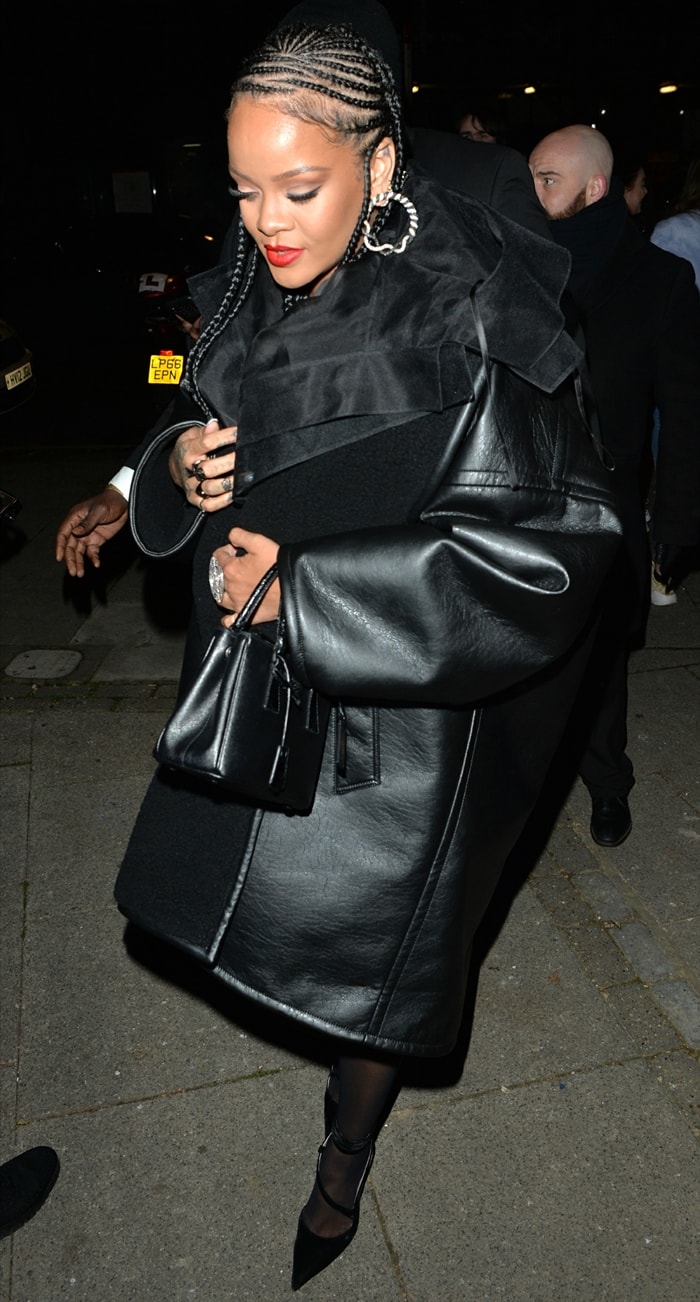 Rihanna's oversized belted faux shearling-trimmed faux leather coat from Balenciaga and De Grisogono x Emmanuel Tarpin diamond earrings
Their feud originally started when Jennifer Lopez had a fling with Rihanna's ex-boyfriend Drake in 2016. A friend of the Barbadian singer revealed to In Touch that Rihanna felt like their new fling was "the ultimate betrayal."
"Rihanna and Jennifer used to be good friends. She's even confided in J.Lo about her rocky relationship with Drake over the years. Rihanna is very hurt," the source said, adding Rihanna even "branded her former pal a traitor."
Just like her relationship with Ben Affleck, Jennifer Lopez did not date Drake for very long and got engaged to Alex Rodriguez in 2019. Prior to the 2020 Golden Globes, the 44-year-old former Yankee player took to Instagram to praise his fiancée for everything she's accomplished in life.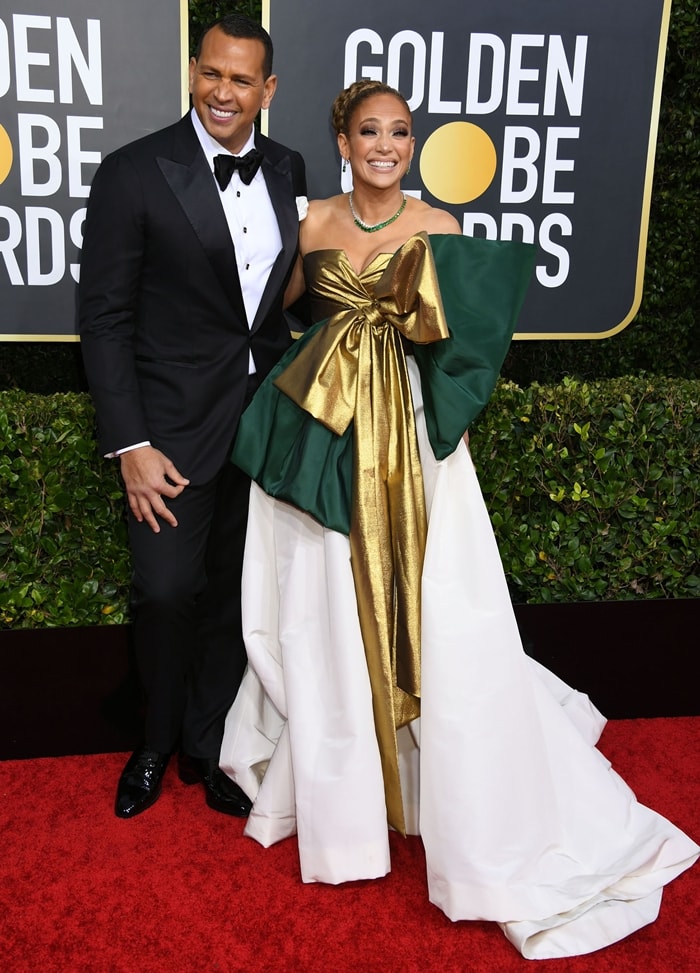 Alex Rodriguez and Jennifer Lopez arrive at the 2020 Golden Globe Awards at the Beverly Hilton Hotel in Beverly Hills, California, on January 5, 2019
"Jen, it doesn't take a trophy, medal, or plaque to identify a true champion. To millions of young women who have watched you and have been inspired and empowered to do amazing things in their lives, you are a champion," Alex wrote.
"For countless musicians, dancers, actresses, and performers who have seen and emulate your passion, drive and work ethic to find their own success, you are a champion."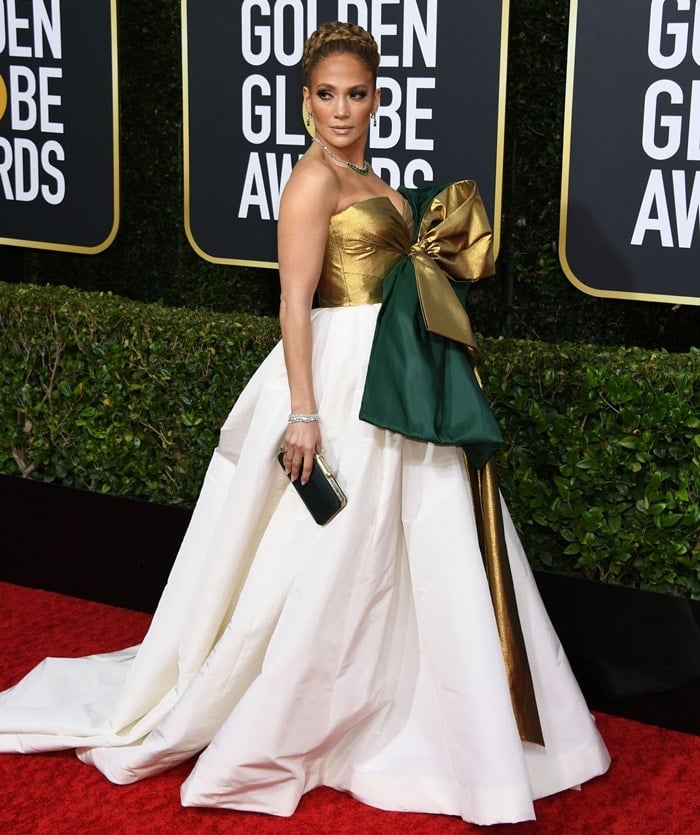 Jennifer Lopez donned a Valentino Haute Couture gown with a gigantic gold and emerald bow
In September 2015, Rihanna launched her seventh fragrance, "RiRi by Rihanna," at Macy's while wearing in an all-pink ensemble.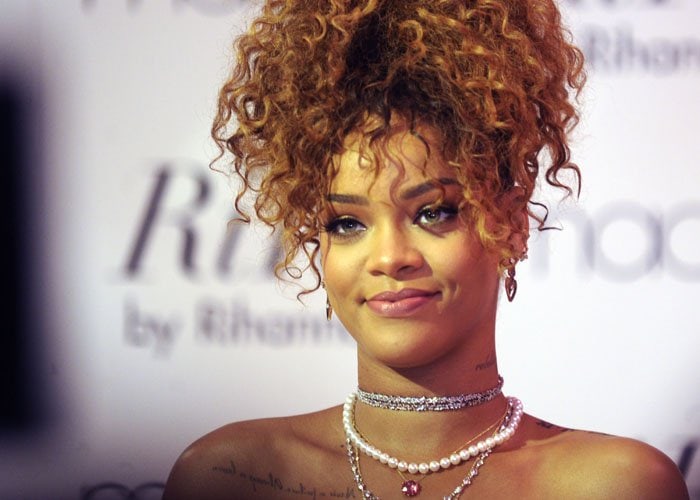 Rihanna launches her new fragrance, "RiRi by Rihanna," September 1, 2015, at Macy's in Brooklyn, New York
At the event, Rihanna debuted her newest fragrance and explained its concept to the 1,000 fans who showed up.
Rihanna poses with her latest fragrance while wearing a bright pink dress from Vivienne Westwood
The then 27-year-old pop star said her latest fragrance is suitable for transitioning from day to night and includes notes of rum.
"(It) just keeps getting better," she said.
Rihanna shows off an ankle tattoo that reads "1988" in a pair of glossy pink Christian Louboutin pumps
Rih also shared her thoughts on Kanye's controversial VMA moment when he announced that he was running for president in 2020.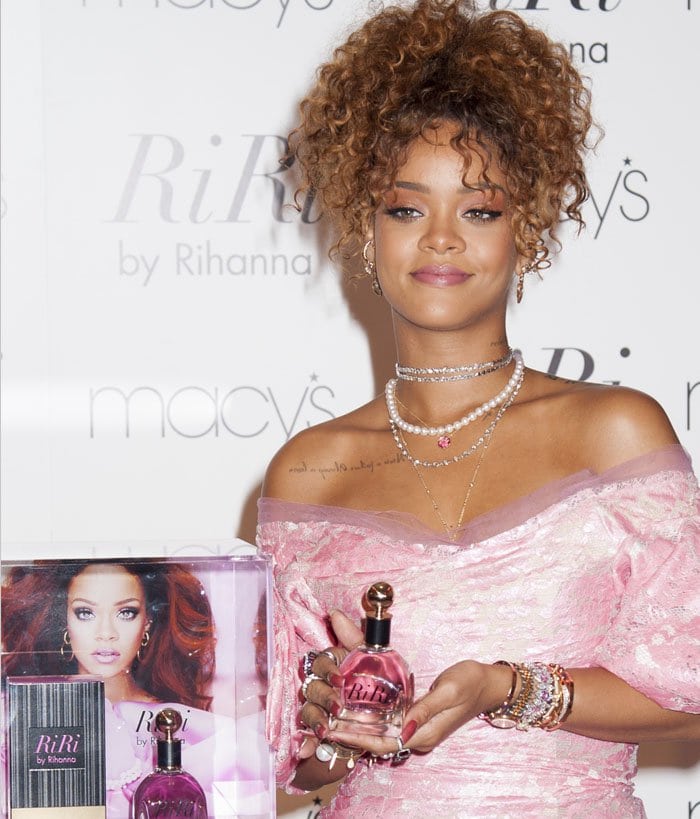 Rihanna smiles and flaunts a bottle of "RiRi by Rihanna" while showing off her stacks of bracelets and layered necklaces
Rihanna said that she thought it was inspiring and that it was exactly what her generation needed to hear.
For the launch, the "Bitch Better Have My Money" singer wore a pink dress by Vivienne Westwood, which she paired with pink patent "So Kate" heels from Christian Louboutin.
Rihanna talks about her inspiration for "RiRi by Rihanna," as well as what she thought of Kanye's 2020 presidential speech
If you're into the Barbie pink style that Paris Hilton made popular during the peak of her reality television career (think Mean Girls), head on over to Nordstrom, Matches Fashion, Saks Fifth Avenue, and Bergdorf Goodman.
Christian Louboutin "So Kate" 120 mm Patent Leather in Baby Pink, $675 – $825
Credit: Dennis Van Tine / Future Image / WENN / Instar