It's kind of surprising to see Rihanna in a "normal' pair of shoes. We're simply used to seeing her in very unique and unusual heels.
When we spotted the singer in London on September 11, she was sporting a classy pair of white pumps. Actually, Rihanna wore two different pairs from Manolo Blahnik, one when leaving her hotel in London and another pair when coming back after taping an appearance for Alan Carr's TV show, where she performed her new single, "What Now."
When leaving her hotel, Rihanna wore an Alexander Wang sweatshirt paired with black leather pants. She accessorized with a black-detailed white cap, sunnies, and hoop earrings. Her white pumps "Tayler" d'Orsay pumps are made from goatskin. They feature pointy toes and about 3.75 inch heels.
Rihanna leaving her hotel in London to film a talk show appearance on September 11, 2013
Get her shoes at Barneys New York: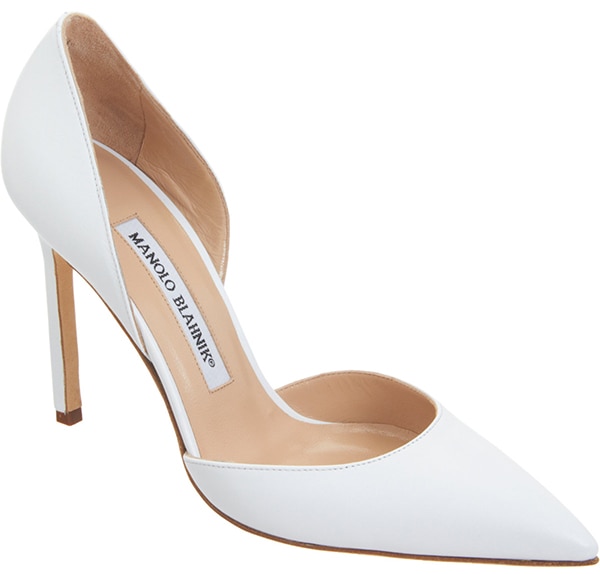 Manolo Blahnik "Tayler" Pumps, $695 at Barneys New York
After her appearance on the said talk show, RiRi was spotted arriving back at her hotel wearing the same leather pants, but this time with a black top and a Saint Laurent checkered biker jacket.
She finished her look with the "BB" ankle-strap pumps with pointy toes and 4 1/4 inch heels.
Rihanna back at her hotel after visiting the ITV studios in London on September 11, 2013
Get her shoes in different colors at Barneys New York:
Manolo Blahnik "BB" Ankle-Strap Pumps in Nude, $645 at Barneys New York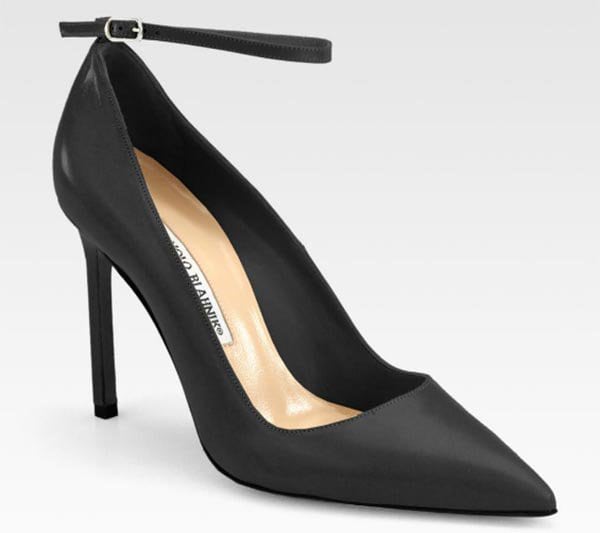 Manolo Blahnik "BB" Ankle-Strap Pumps in Black, $645 at Barneys New York
Credit: Karl Piper/Will Alexander/WENN