Ana de Armas's casting as Marilyn Monroe certainly captured headlines. However, her accent in the film "Blonde" became the central point of discussion.
There's no denying her uncanny resemblance to the iconic figure, but everyone was concerned about her Cuban accent slipping through every once in a while.
She sat down with Variety to talk about bringing Marilyn Monroe to life. In the video interview, Ana said it took seven months from the audition to the movie being greenlit with her in the role.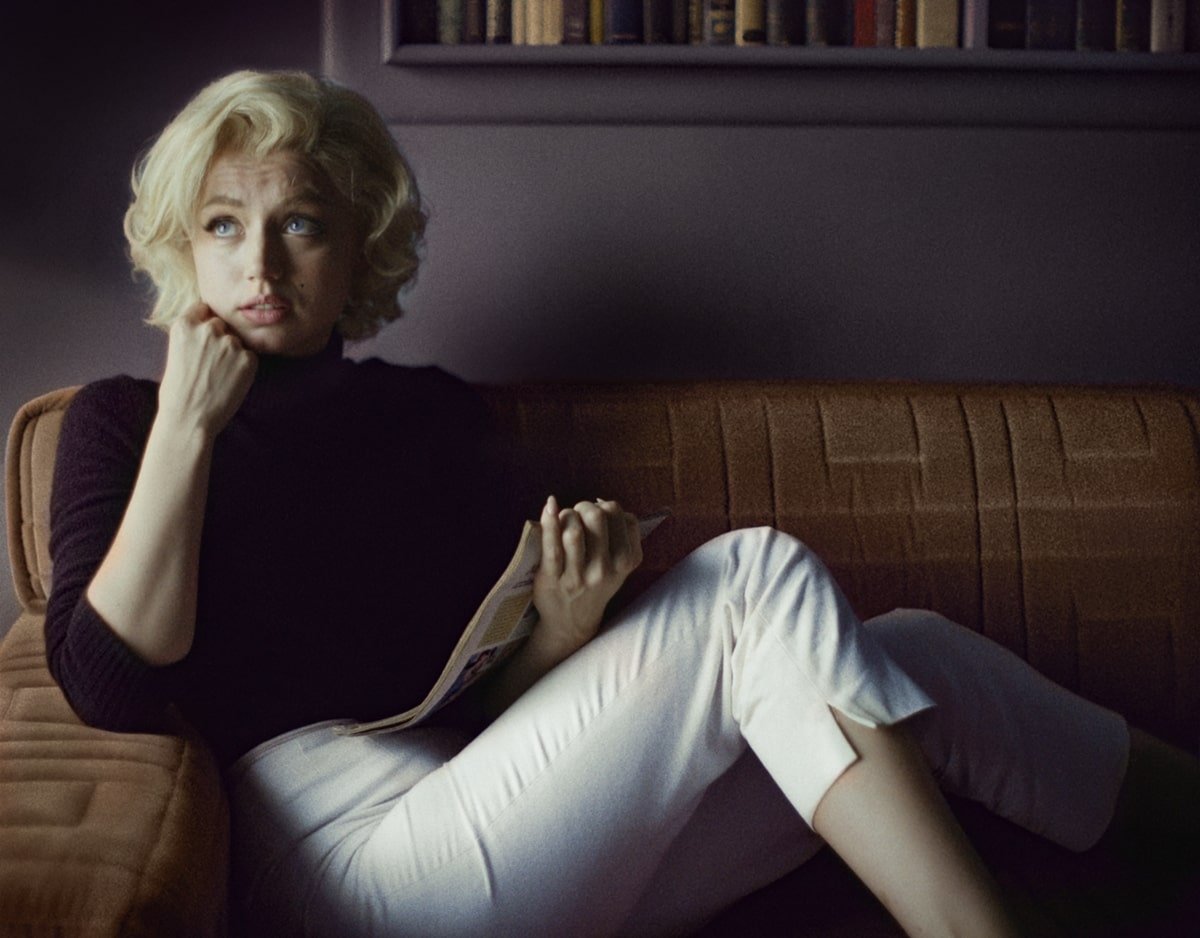 Ana de Armas as Norma Jeane in the biographical drama film Blonde (Credit: Netflix)
"Because we had time, I was working with a dialect coach every day, several hours a day, watching her films, reading the book, just on YouTube all day long just finding random videos of her and interviews and footage and audios and everything I could find," she said about her process at the beginning of production.
Ana's Biggest Fear Was Marilyn Monroe's Voice
The 34-year-old actress shared that her "biggest worry" was the voice. "Just because it's so iconic and so specific, and English is not my first language to begin with." She added that Marilyn Monroe's voice "was [her] biggest fear."
"There are so many aspects in a voice. It's not just the accent. That's just one thing. The most important thing for me was to capture the essence of what that was and what was she trying to do by talking like that."
Ana de Armas said that her biggest worry was Marilyn Monroe's voice (Credit: Netflix)
She explained that throughout Marilyn Monroe's career, her accent changed depending on what movie she was filming.
"She had different dialect coaches. She had coaches for movies. She had coaches for real life because she wanted to sound more sophisticated or educated."
"So her accent, itself, was all over the place," Ana said. "Her voice was consistent, which is very different. So it was hard. It was a hard process."
Bringing Marilyn Monroe to Life
When talking about taking on the role, Ana decided that she wasn't going to imitate Marilyn Monroe. "If I try to do that, I'll fail. It's just not possible."
She shared that the only way for her to successfully inhabit the role is "to connect with her, to understand her. Her background, her childhood. So, for me, the work had to be focused on her emotions, her feelings."
Ana de Armas said that it was just not possible to imitate Marilyn Monroe for Blonde (Credit: Netflix)
"And, of course, the costumes also helped a huge deal because you're in it and you're feeling it," Ana added.
She also talked about how every little thing was "so tied up to what [Marilyn Monroe] was feeling." Everything from her body to her posture.
"When you start understanding what she was feeling, and then you watch how she moves – it all makes sense. It's like you understand why she's doing that."
Feeling Insecure and Pressured
The Cuban actress also mentioned that there were times when she was insecure while filming. "I was scared. I felt the pressure. I felt observed or judged – or at least that's what was going on in my head."
So, how did she get out of that negative mindset?
Ana shared, "every time when I was struggling with that, Andrew [Dominik] would come to me and tell me, 'That's it. Go with it because that is literally what she's going through. That is exactly what she's feeling, so just more. Just more.'"
It Only Took Three Takes for Director Andrew Dominik to Know That He's Found His Marilyn
The Blonde actress made two recent guest appearances on late-night talk shows to promote her film. One was for The Late Show With Stephen Colbert.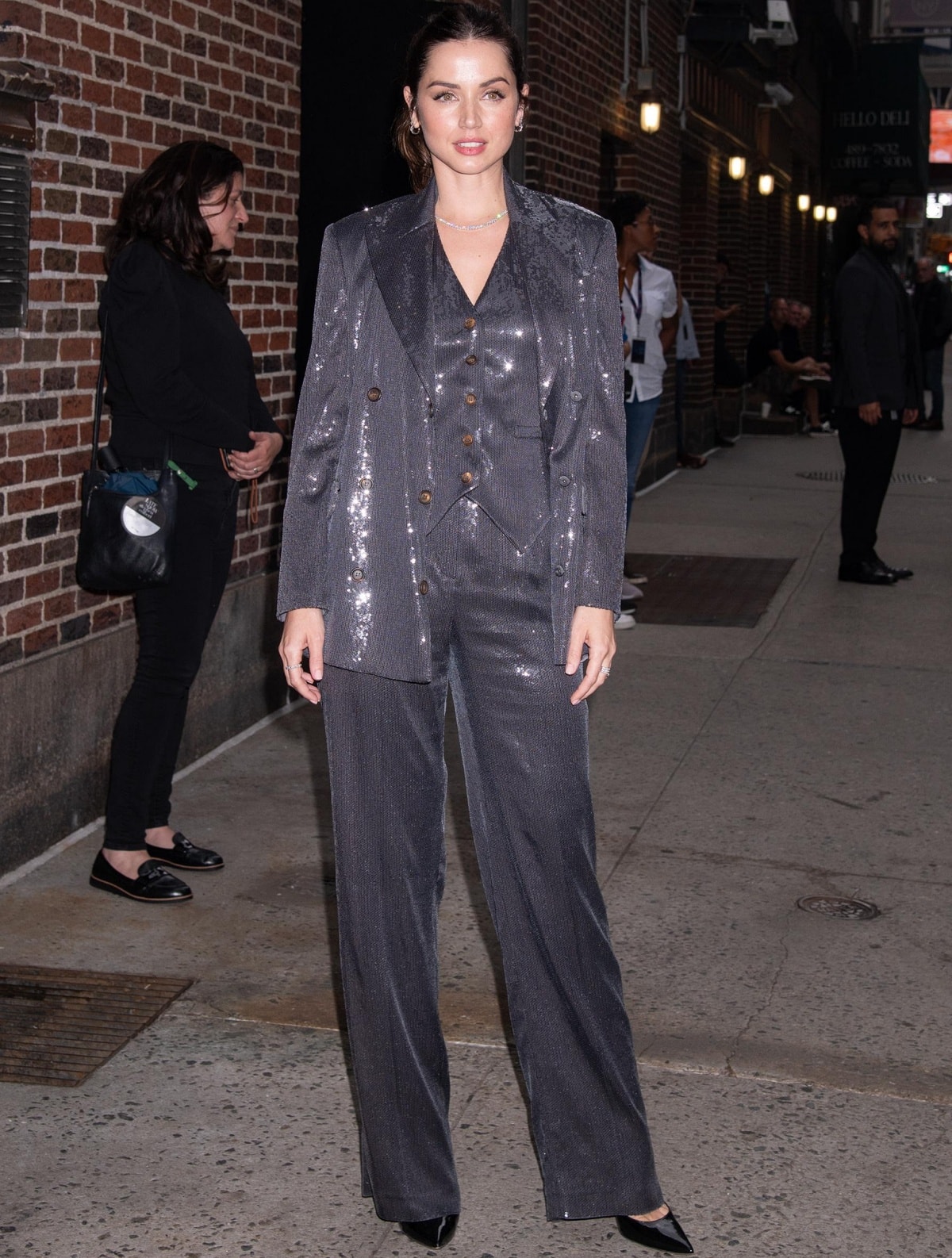 Ana de Armas in a shimmering Brunello Cucinelli three-piece suit outside the Late Show with Stephen Colbert studio in New York City on September 19, 2022 (Credit: Janet Mayer / Startraksphoto / Cover Images)
We're used to seeing Ana in a series of Louis Vuitton looks, so it was a nice surprise to see her change it up. This time, she wore a three-piece suit with sequin embellishments from Brunello Cucinelli's Spring 2022 collection.
Ana wore a double-breasted jacket over a waistcoat with high-rise trousers. The sequined suit shimmered on its own, so all she needed was her diamond Hepburn choker, ear jewelry from Anita Ko, and black pointy-toe heels.
Ana de Armas wears a Brunello Cucinelli sequin-embellished double-breasted jacket and a single-breasted waistcoat (Credit: Roger Wong / INSTARImages / Cover Images)
She talked about not thinking that she looked like Marilyn Monroe and mentioned that during take three of her audition, director Andrew Dominik knew that Ana de Armas was his Marilyn.
Growing up in Cuba, she said that she wasn't as aware of Marilyn Monroe as she is now. "It was later on where I started watching films after studying in drama school that I realized this is Marilyn Monroe and what she meant."
For Ana, getting the role is "almost close to a miracle." She said that this type of role "was not supposed to come [her] way."
And it's not "because I'm Latina and Cuban. They don't just exist in general. Like, this is something very, very special. So the opportunity for me to play this part was, you know, a dream."
A Beautiful Experience
Ana's second stop was at Late Night with Seth Meyers, where she oozed vintage glamour. She wore a black silk midi dress from Alessandra Rich.
It features mutton sleeves, a sweetheart neckline, a pleated skirt, a polka-dot pattern, and a bow detail. She cinched it at the waist with a chain belt from Alessandra Rich with a daisy embellishment.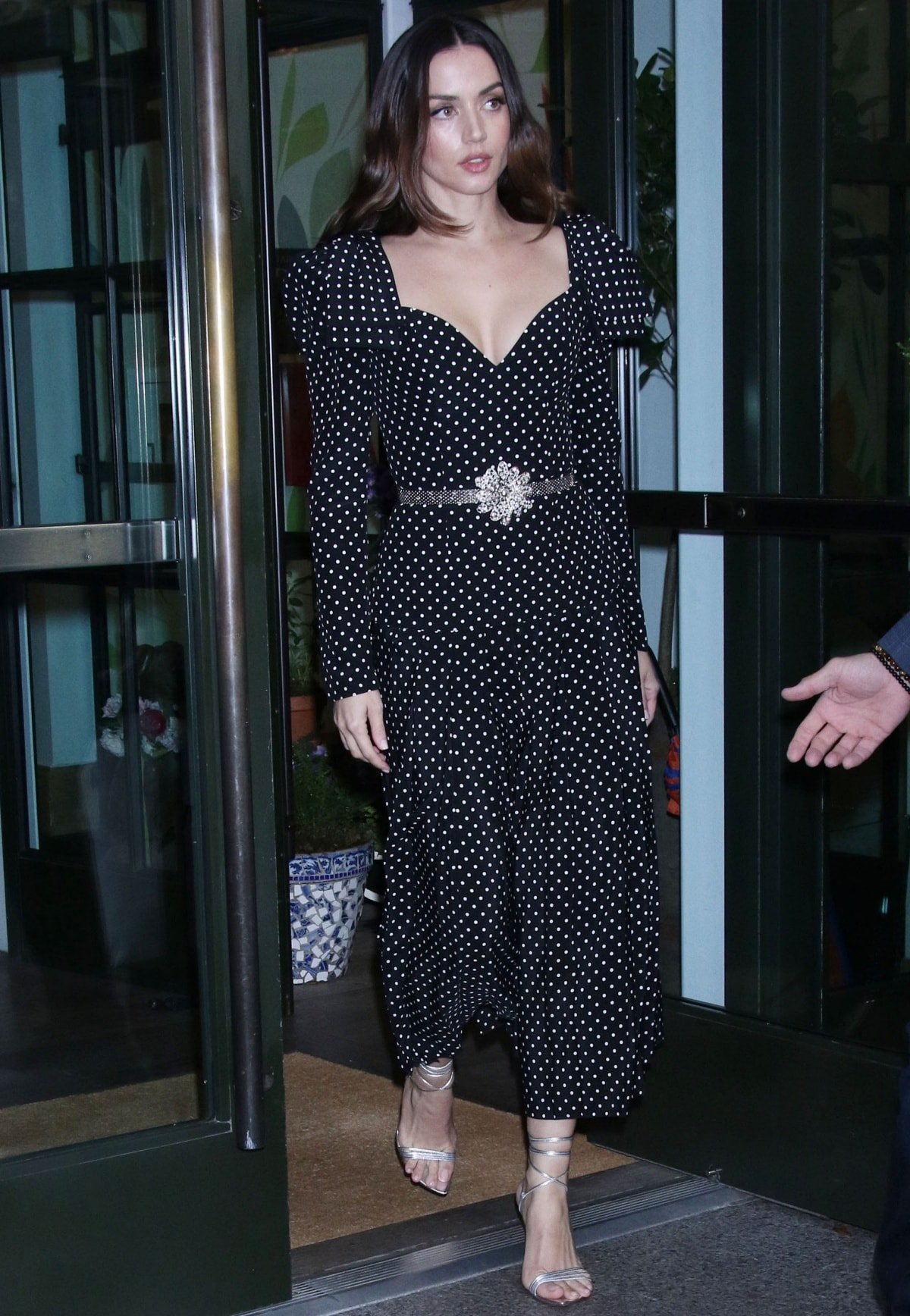 Ana de Armas wears a bow-detailed pleated polka-dot silk midi dress and Aquazzura Trouble Maker sandals on her way to the Late Night with Seth Meyers studio in New York City on September 20, 2022 (Credit: ROGER WONG / INSTARimages / Cover Images)
On her feet are Aquazzura Trouble Maker sandals that you can buy at Farfetch.
These shoes were crafted from polished silver laminated nappa leather. They feature slender ankle ties, stiletto heels, and an open-toed design.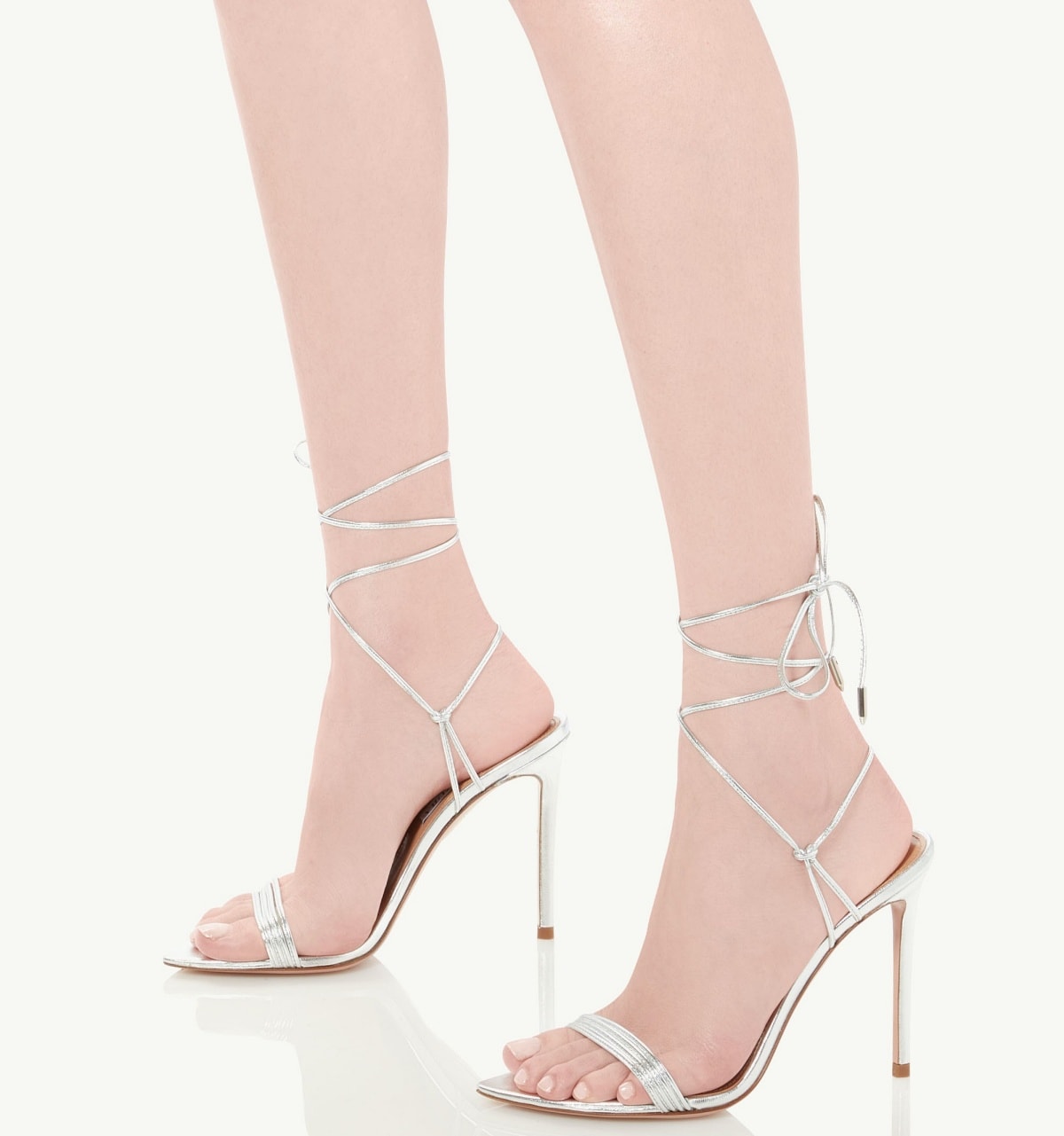 These sandals feature a barely-there silhouette and slender laces that wrap around the ankles
Ana told Seth Meyers that filming Blonde was "very emotional, very immersive, but also a beautiful experience."
She mentioned that it was her first time at the Venice International Film Festival, and her mother was there to support her.
The Gray Man actress also told Seth how she knew of Marilyn Monroe, but "[she] didn't know about Norma Jeane, who was that woman playing that character."
Seth mentioned her real-life dog Elvis making it into the film as Marilyn Monroe's loyal companion, Mafia.
"When I watch it, I don't know how to feel because of course it's a very serious, important scene in the film. And then at the same time, I'm just looking at him and I'm melting," Ana said about filming with Elvis.
Ana also never forgets to say a nice thing about director Andrew Dominik, who took a chance on her. She said that he's "a fantastic director. He's very thoughtful and very respectful. He was very passionate about this story, and he took it very seriously. He's very detailed and a perfectionist, and so am I."