Ana de Armas, who worked with a dialect coach for nine months to sound like Marilin Monroe, continues the Blonde promotional tour in more impressive Louis Vuitton looks. The actress, who grew up in Cuba, is known for her Spanish-Cuban accent.
After channeling Marilyn Monroe at this year's Venice Film Festival, Ana headed to Hollywood for the Los Angeles premiere of her highly anticipated film.
Ana de Armas recreating a scene from The Seven Year Itch in the 2022 biographical drama film Blonde (Credit: Netflix)
She told The Los Angeles Times: "It was about observing her facial expressions, her mouth, the roundedness of her lips, how she showed her lower teeth, and why the 'o's were like that. Someone's voice is more than just a specific accent. It says so much more about a person."
Despite her hard work, some critics dislike her Spanish accent in the film.
Why does Ana de Armas have an accent in Blonde?
"Why would Ana de Armas ever make a good Marilyn Monroe? She can't speak English and has a heavy Hispanic accent," Tina Kilberg tweeted. Many others have criticized the actress for sounding "nothing like Marilyn Monroe."
The estate of Marily Monroe has defended the casting of Cuban actress Ana Celia de Armas Caso.
"Marilyn Monroe is a singular Hollywood and pop culture icon that transcends generations and history," Marc Rosen, the president of entertainment at Authentic Brands Group (ABG), told Variety.
"Any actor that steps into that role knows they have big shoes to fill. Based on the trailer alone, it looks like Ana was a great casting choice as she captures Marilyn's glamour, humanity, and vulnerability. We can't wait to see the film in its entirety!"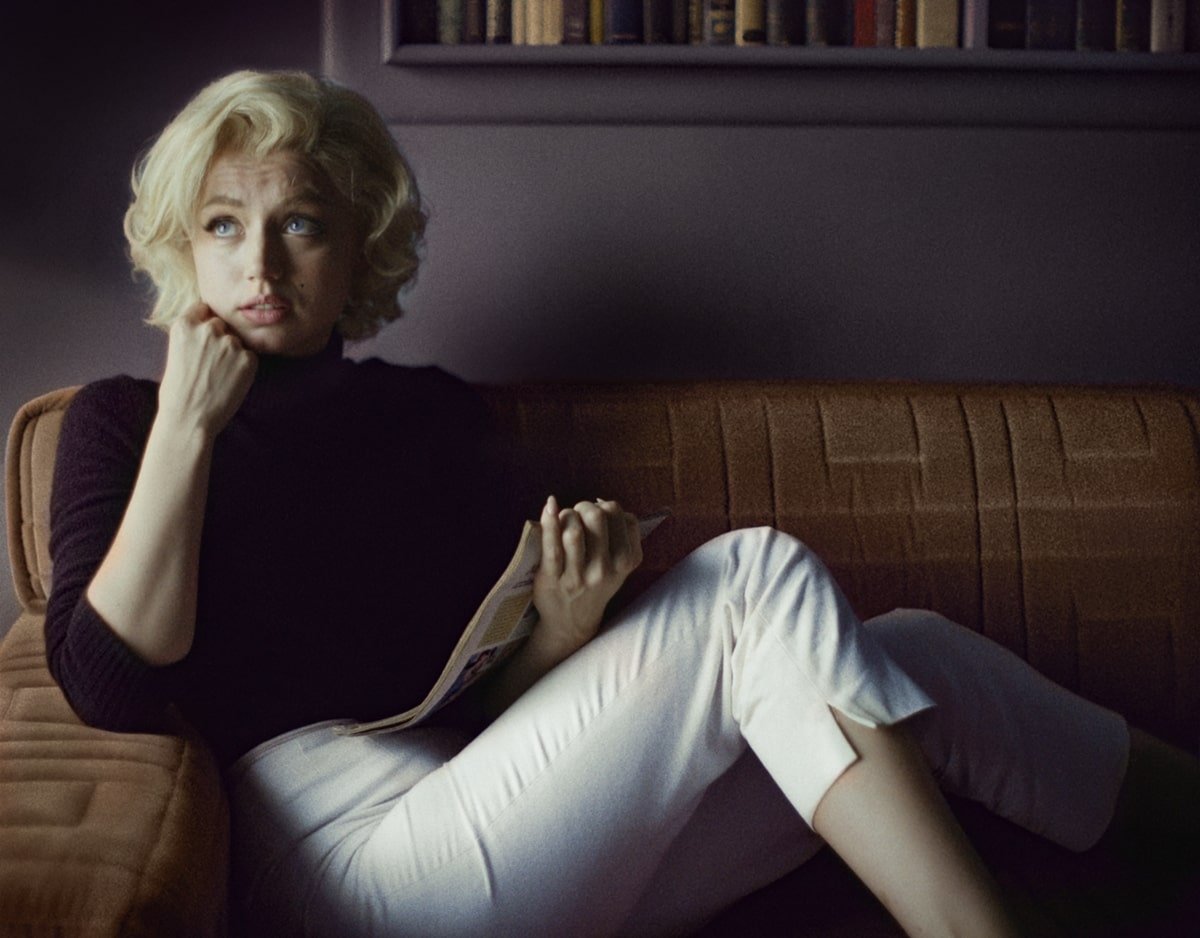 Some critics dislike the Cuban-Spanish accent of Ana de Armas as Norma Jeane Mortenson / Marilyn Monroe in the 2022 American historical psychological drama film Blonde (Credit: Netflix)
"It took me nine months of dialect coaching, and practicing and some ADR sessions [to get the accent right]. It was a big torture, so exhausting. My brain was fried," Monroe told The Times about working on her Monroe accent for "Blonde."
"I only had to audition for Marilyn once, and Andrew said 'It's you,' but I had to audition for everyone else," de Armas said about her casting by New Zealand-born Australian film director Andrew Dominik.
Andrew Dominik has admitted he hesitated to cast Ana de Armas as English is her second language (Credit: Xavier Collin / ABACA / INSTARimages / Cover Images)
"The producers. The money people. I always have people I needed to convince. But I knew I could do it. Playing Marilyn was groundbreaking. A Cuban playing Marilyn Monroe. I wanted it so badly. You see that famous photo of her and she is smiling in the moment, but that's just a slice of what she was really going through at the time."
"I had concerns, until I saw her act, then I forgot what I was supposed to be concerned about," director Andrew Dominik said about casting an actress with English as her second language.
"I was insecure about my voice, about the accent, about the choreography, about working with American actors who know her better than me, everything! All of that was exactly what she would be feeling. So it was incredible," Ana de Armas added about her Cuban-Spanish accent in an interview with Empire.
Paying Homage to Marilyn Monroe
For the premiere, Ana served glamour in a custom Louis Vuitton halter gown. It featured silver and gold paillettes, a low open back, and a floor-length skirt with a short train.
The 34-year-old actress has been paying homage to Marilyn Monroe during the Blonde promotional tour. Instead of wearing exact replicas of memorable looks from the Hollywood icon, Ana has taken the subtle approach. She's often seen in similar silhouettes or paying tribute through her beauty looks.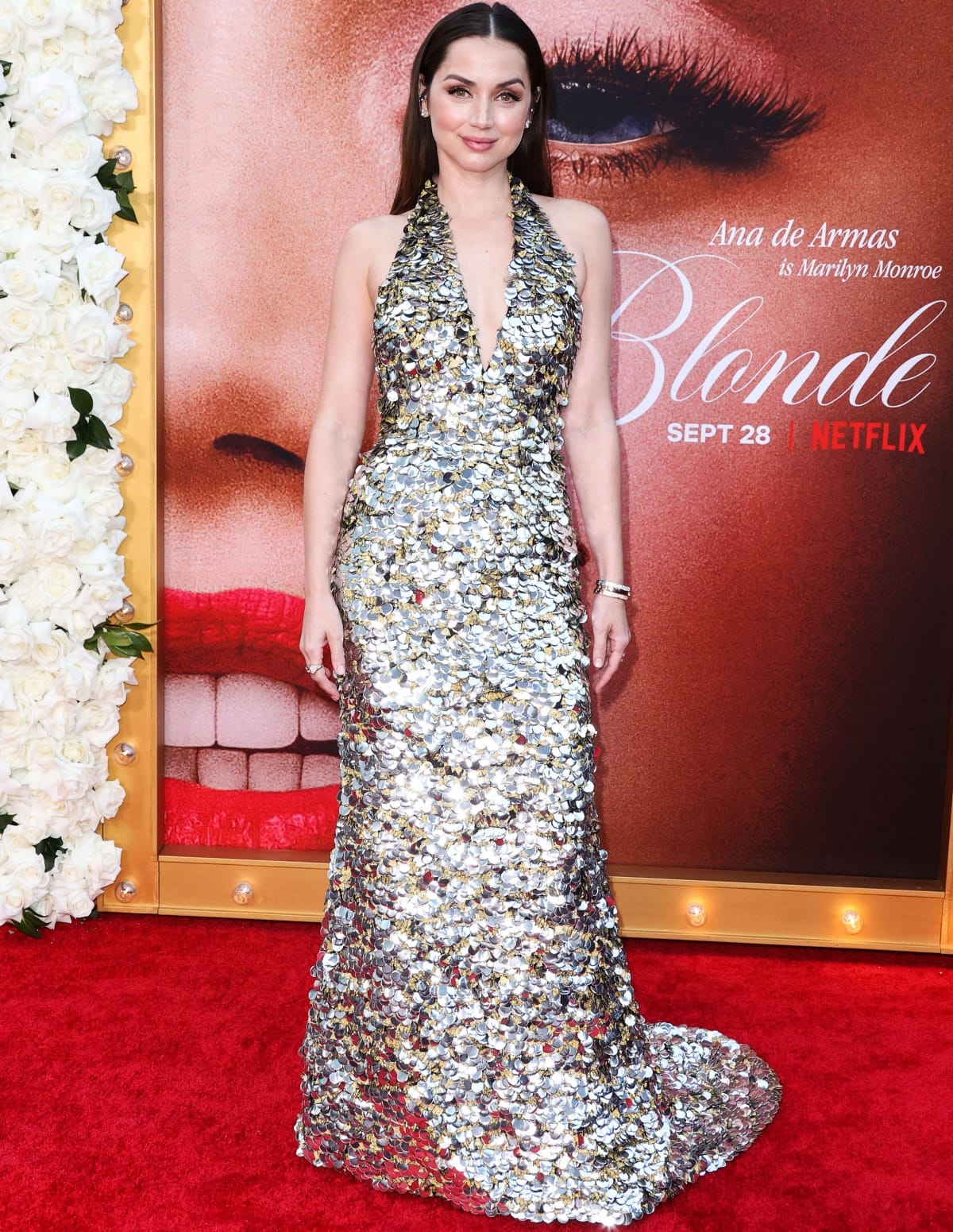 Ana de Armas wearing a custom Louis Vuitton gown with silver and gold paillettes at the Blonde Los Angeles premiere on September 13, 2022 (Credit: Xavier Collin / ABACA / INSTARimages / Cover Images)
In this case, her gown can be seen as a nod to the legendary white halter dress from the 1955 romantic comedy film, The Seven Year Itch.
Ana's stylist is Samantha McMillen, who often works with A-list stars such as Brie Larson and Evan Rachel Wood. Under her style direction, Ana discovered her sartorial sense, and we've all been pretty impressed.
At the Blonde premiere, Ana kept her beauty look simple. She opted for sleek, straight hair and the classic Marilyn Monroe winged liner but with a metallic eyeshadow. Jewelry from Fred Leighton and Anita Ko finished off her red carpet look.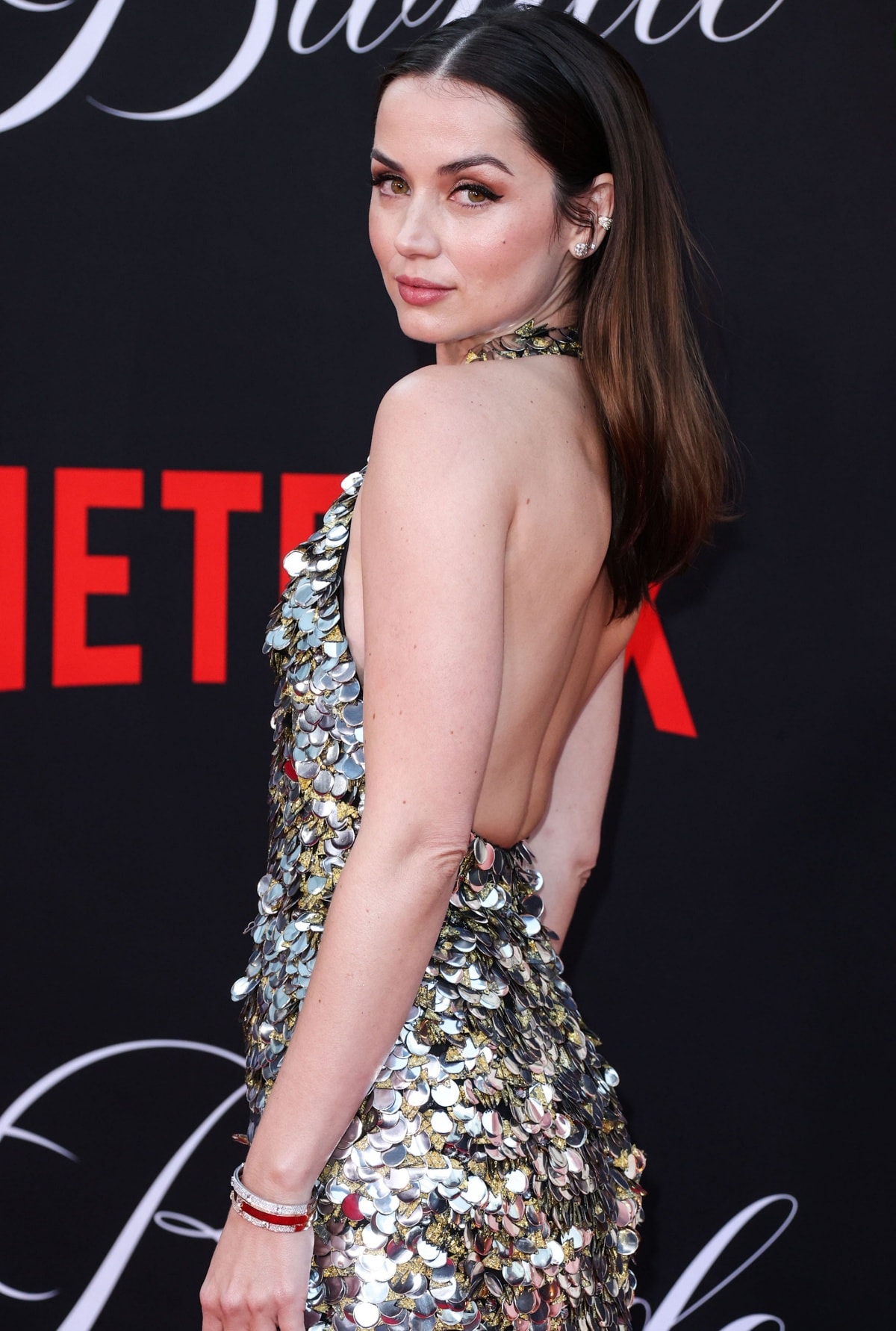 Ana de Armas with a Marilyn Monroe-inspired beauty look and jewels from Fred Leighton and Anita Ko (Credit: Xavier Collin / ABACA / INSTARimages / Cover Images)
Exuding Quiet Elegance
Immediately after the Venice Film Festival, Ana headed to France for the Deauville American Film Festival. She graced the event to screen her film and to receive an award that commends her talent and passion for cinema.
For the photocall, Ana suited up in a Louis Vuitton charcoal grey pinstripe suit. She styled it with a low-cut black top and diamond accents for a bit of sparkle.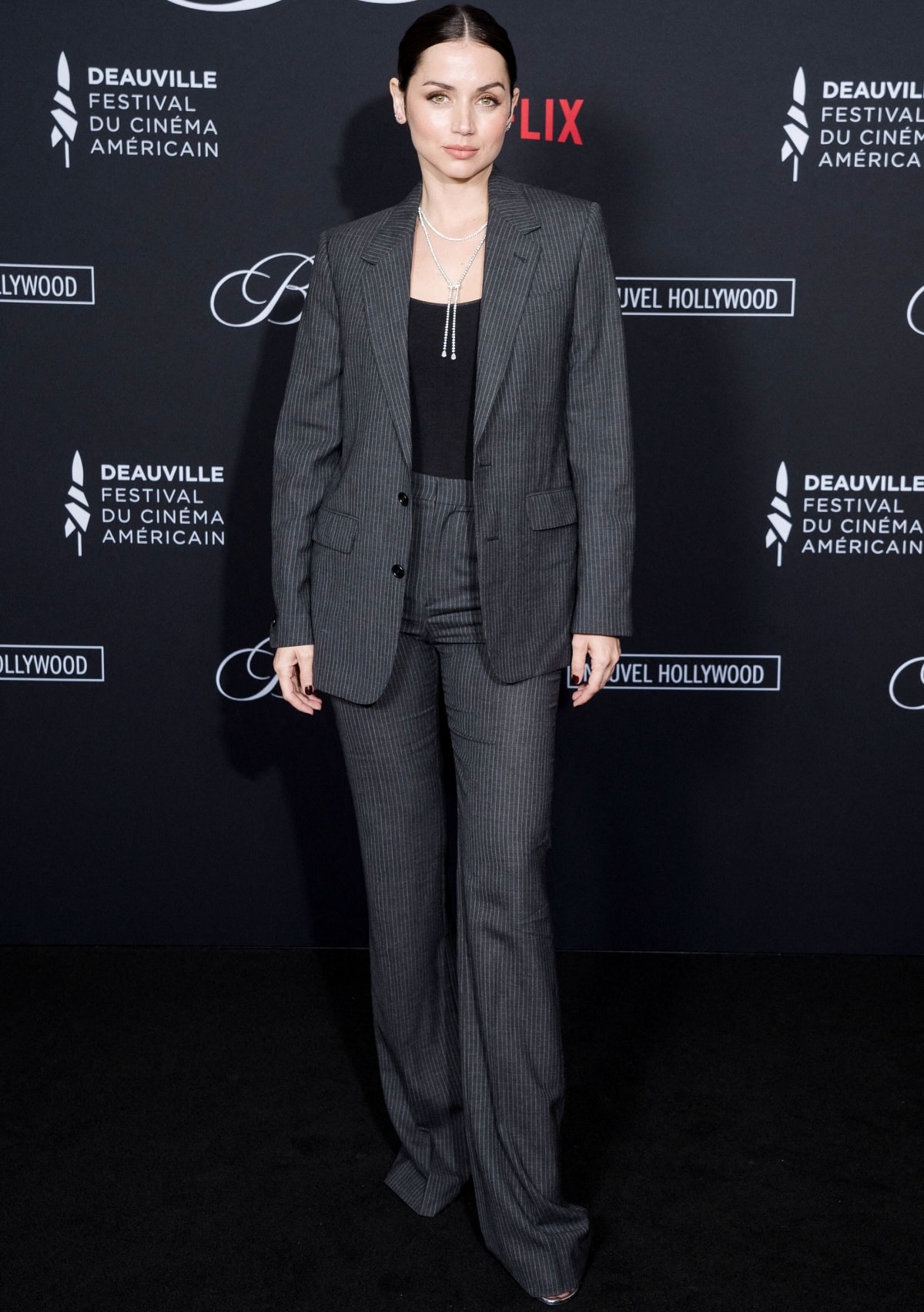 Ana de Armas wearing a Louis Vuitton pinstripe suit with diamond jewelry and a sleek updo (Credit: Franck Castel / ABACA / INSTARimages / Cover Images)
The Cuban actress exuded understated elegance at the premiere in another custom Louis Vuitton creation. Ana wore a white chiffon long-sleeved dress with glittering gold accents.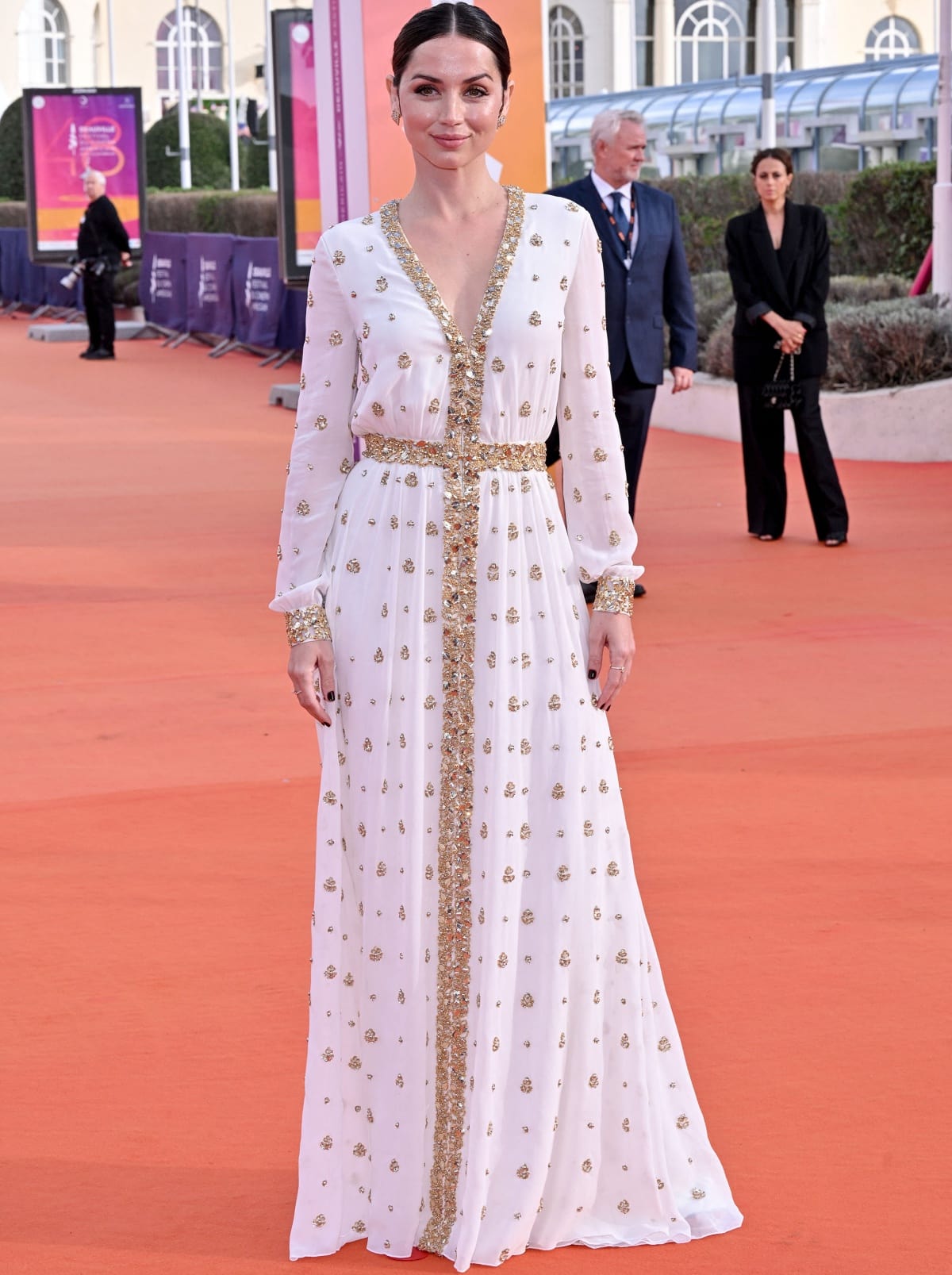 Ana de Armas wearing a custom Louis Vuitton gown at the Blonde premiere during the 48th Deauville American Film Festival in France on September 9, 2022 (Credit: Julien Reynaud / ABACA / INSTARimages / Cover Images)
Her hair was swept up in a sleek, center-parted updo to show off her gorgeous face with minimal makeup. She rounded out her look with dark red nails for contrast and diamond jewels for some sparkle.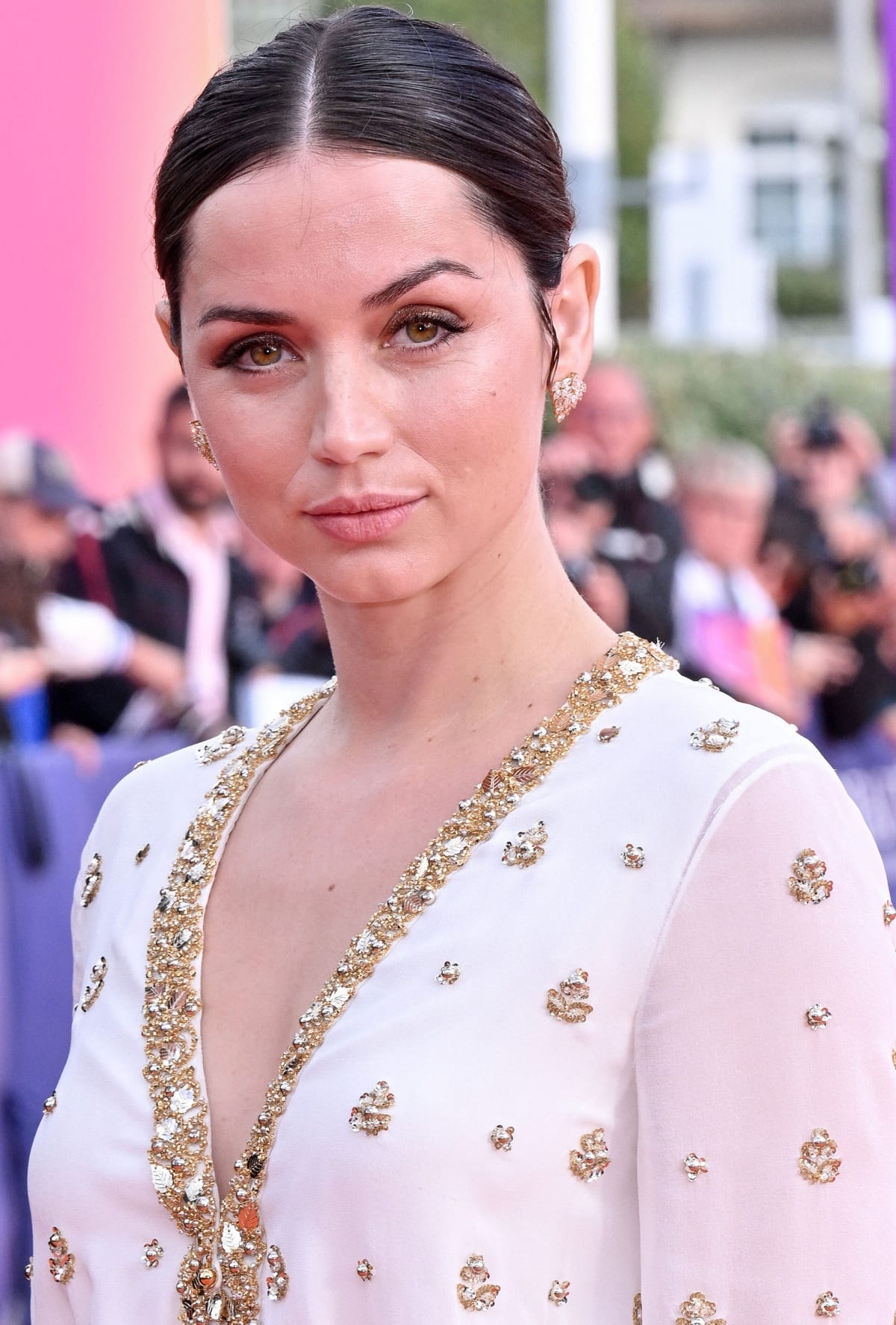 Ana de Armas with a simple beauty look and diamond jewels (Credit: Julien Reynaud / ABACA / INSTARimages / Cover Images)
Hollywood Rising Star
Aside from screening her film Blonde, Ana also went up the stage to receive an award at the Deauville American Film Festival. She was honored with the Hollywood Rising-Star Award at the Palais des Congres.
Previous recipients of the honor include Elizabeth Olsen, Jessica Chastain, Elle Fanning, Shailene Woodley, Sophie Turner, and Chloe Grace Moretz.
In her speech, Ana paid tribute to her grandfather, "who was a cinephile."
"I was about 10 years old when almost every night my grandfather and I would sit on the couch and watch whatever movie was playing on TV," she recalled.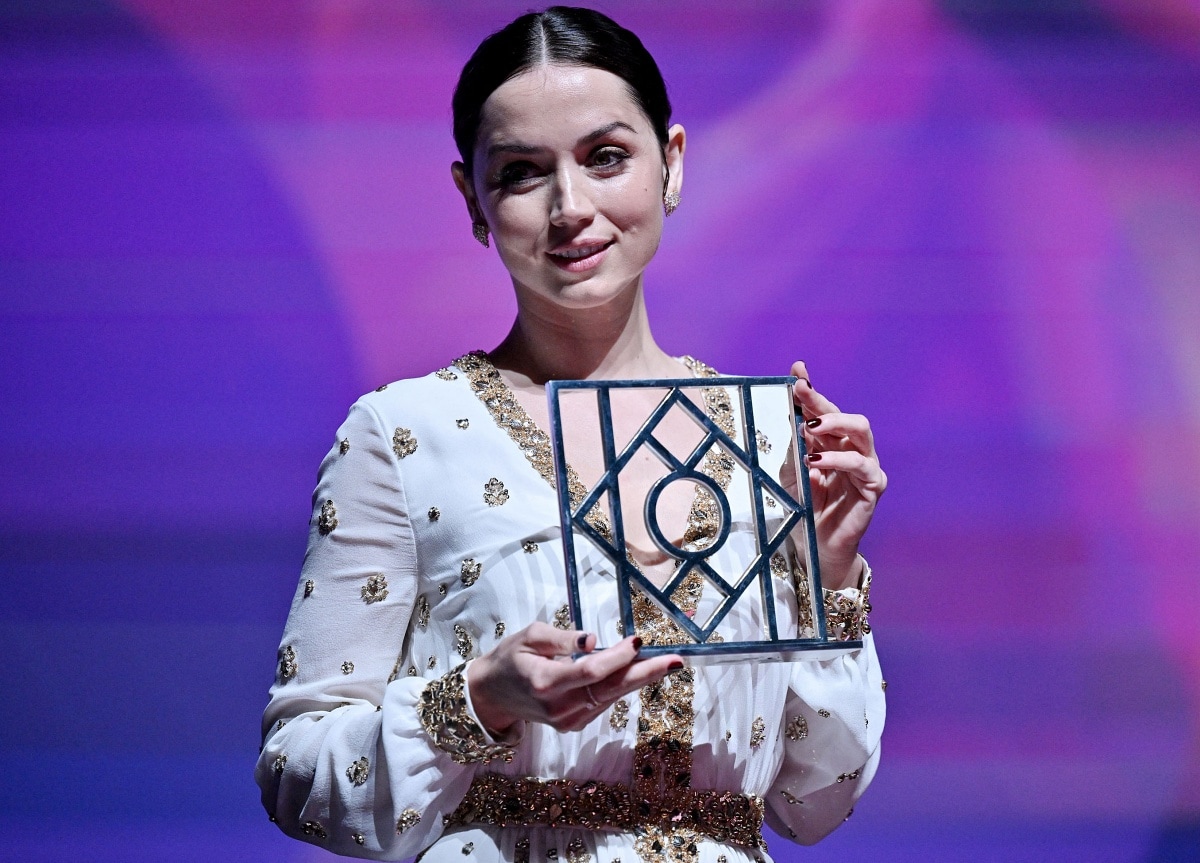 Ana de Armas receiving the Hollywood Rising-Star Award during the 48th Deauville American Film Festival (Credit: Julien Reynaud / ABACA / INSTARimages / Cover Images)
"When the news was over and the telenovela was over and after everyone else had gone to sleep, we would sit in the dark living room, turn the volume down and with him by my side, I'd enjoy every single minute, learning and discussing with him about all these places and people in worlds that were very different from mine."
Ana went on to say that those movies "led me to have big dreams."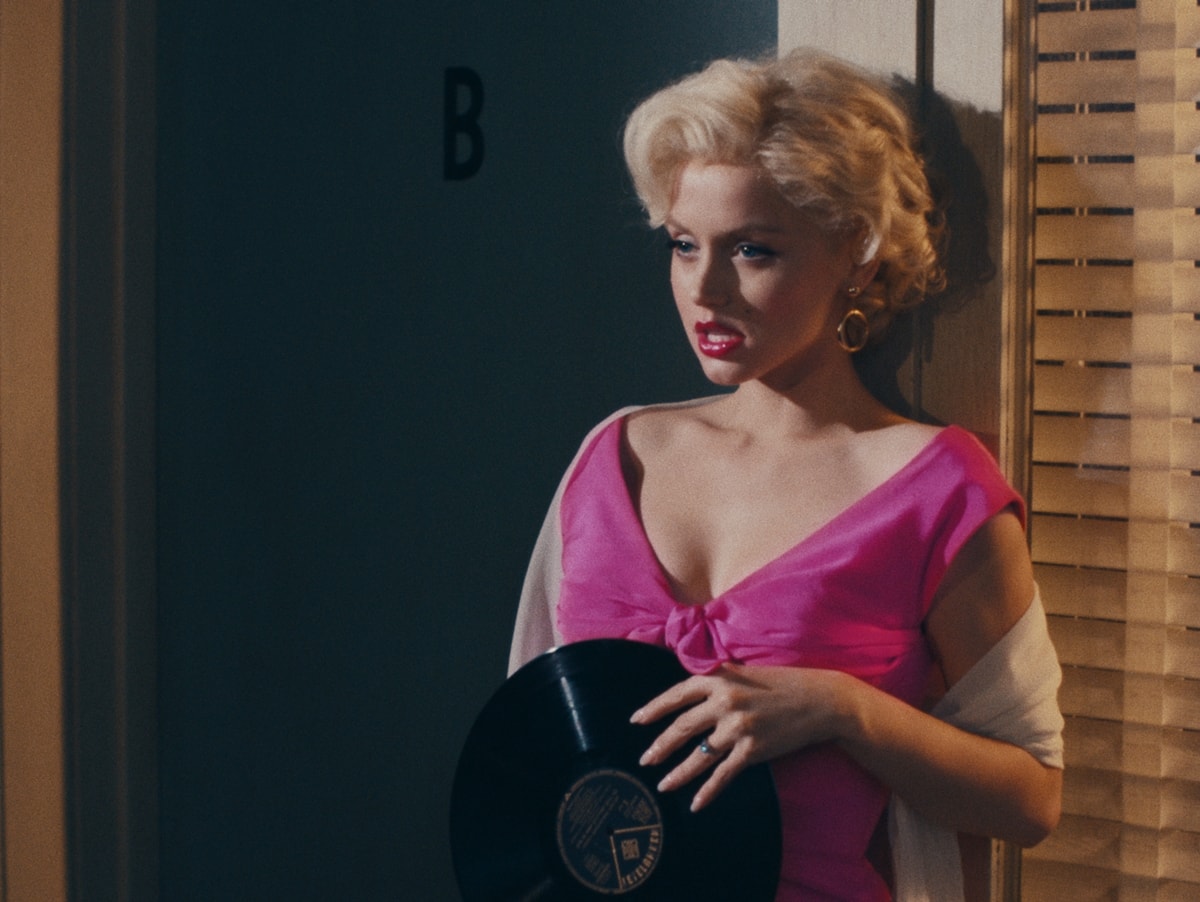 Ana de Armas spent three hours a day with a vocal coach to perfect her Marilyn Monroe accent for Blonde (Credit: Netflix)
She also thanked her parents for acknowledging her dreams and passion and for showing their utmost support. "Even though they didn't know much about the industry of the world outside Cuba, they knew that love meant to support and trust me and they did every step of the way."
To end her acceptance speech, Ana proudly said that she's thinking of "every person who's given me an opportunity to be creative and to speak my mind."