What is it about "bad boys" that makes people go so wild? A leather-clad James Dean in Rebel Without A Cause and even the disgustingly suave Chuck Bass from Gossip Girl—they can't help but excite the viewer, hopeless romantic or not. Strangely enough, the bad boy film trope turns out to be rather lucrative, even in commercials!
Dean Winters, better known as Mr. Mayhem from the Allstate Insurance commercials, is a prime example of a bad boy that is oh-so-good to watch on screen. In fact, it made him one of the highest-paid commercial actors of all time—not bad at all!
Dean Gerard Winters is known for portraying "Mayhem" in a series of Allstate Insurance commercials (Credit: Allstate Insurance)
Here's everything you wanted to know (or didn't want to know) about Dean Winters and his on-screen character, Mr. Mayhem.
Allstate's "Mayhem" commercials were inspired by Reservoir Dogs
Though few on-screen moments are as iconic as the scene from Reservoir Dogs where Michael Madsen grooves to "Stuck in the Middle With You" while rhythmically chopping off someone's ear, it doesn't exactly scream, "Hey, this would make a great commercial!"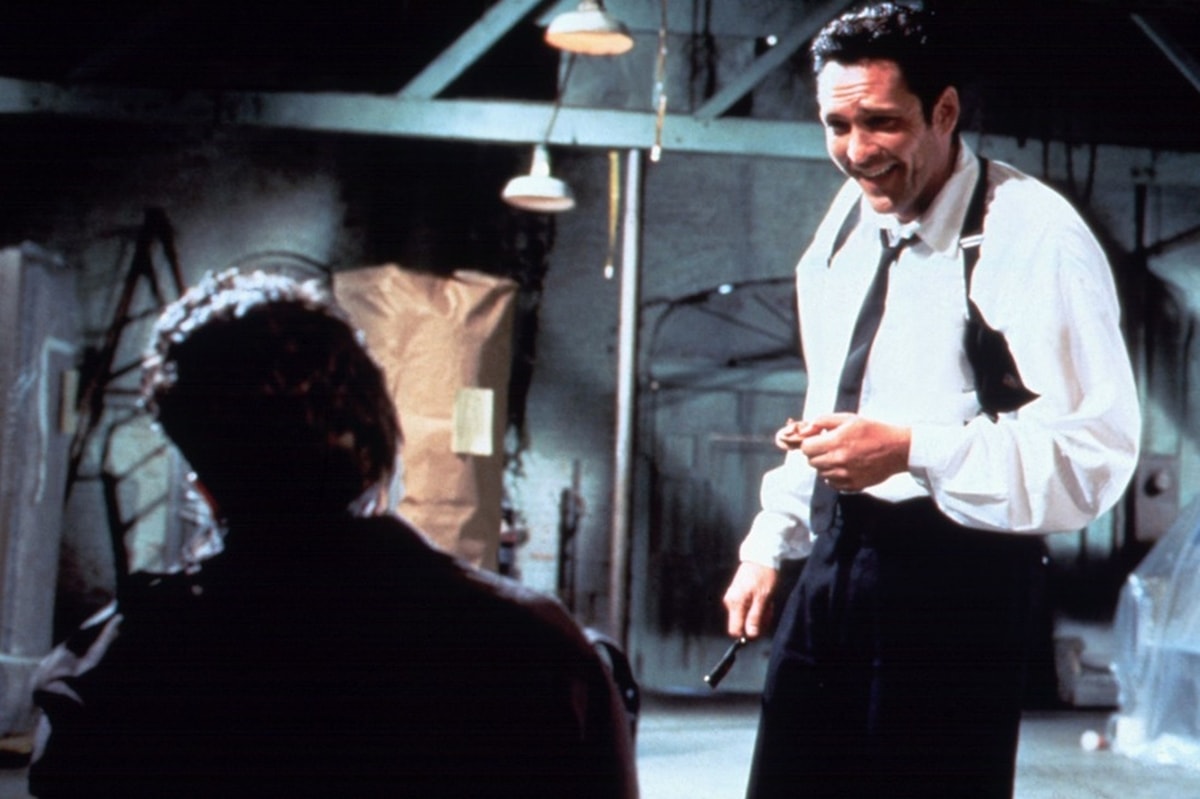 Michael Madsen played Vic Vega, aka Mr. Blonde, in Quentin Tarantino's 1992 American crime film Reservoir Dogs (Credit: Miramax Films)
Strangely enough, that was almost exactly the thought one marketing executive had when pitching new ad campaigns to Allstate Insurance.
As it turns out, Allstate's Mr. Mayhem's character was inspired by the classic Tarantino flick. Allegedly, Mr. Mayhem was compared to Harvey Keitel's Reservoir Dogs character, Mr. White, who—although is not the character that cuts off an ear—is well-known as being a bit weaselly and always has something up his sleeve.
The campaign kicked off in April 2010, with actor Dean Winters as the titular character. Winters appears in every commercial with some sort of injury, breaking the fourth wall as he tells the viewers what kind of home or automobile liability he is portraying—fires, lightning strikes, a teenage girl learning to drive—before ending the scene with his tagline: with Allstate Insurance, you will be "better protected from mayhem, like me."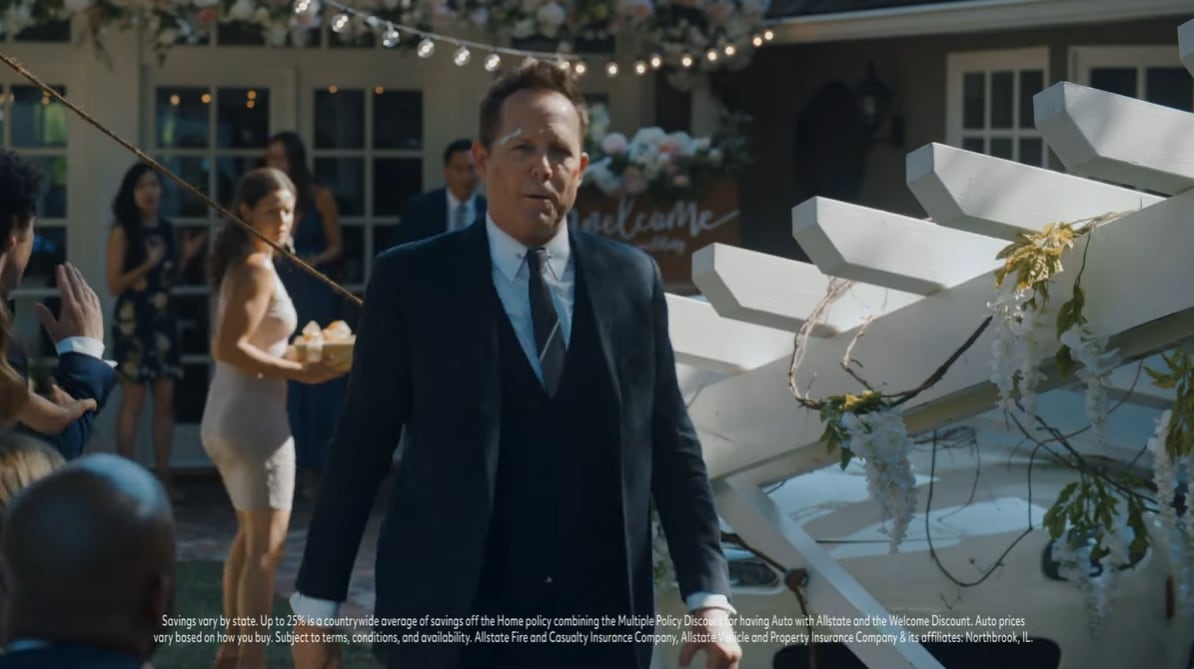 Created by the advertising agency Leo Burnett Chicago, Mayhem is inspired by the iconic 1992 film Reservoir Dogs (Credit: Allstate Insurance)
The Mr. Mayhem commercial campaign was a smash-hit success, earning Allstate Insurance more than 80 industry marketing awards for the ad campaign and placing their advertising rank higher than competitors like Progressive (and their beloved Flo commercials), GEICO, and State Farm.
This was planned as, according to one Allstate marketing executive, "We wanted to kick Flo's ass."
Mr. Mayhem made Dean Winters one of the highest-paid commercial actors of all time
Surprisingly, 58-year-old Dean Winters was not too keen on becoming Mr. Mayhem at first.
"When they offered me the commercial, I said no," Winters revealed in a 2019 interview with HuffPost. "My smartass remark was that I became an actor so I wouldn't have to put on a suit and sell insurance. And then my agent slapped me around and said, 'Come on, get real.'"
We're grateful that his agent knocked some sense into him!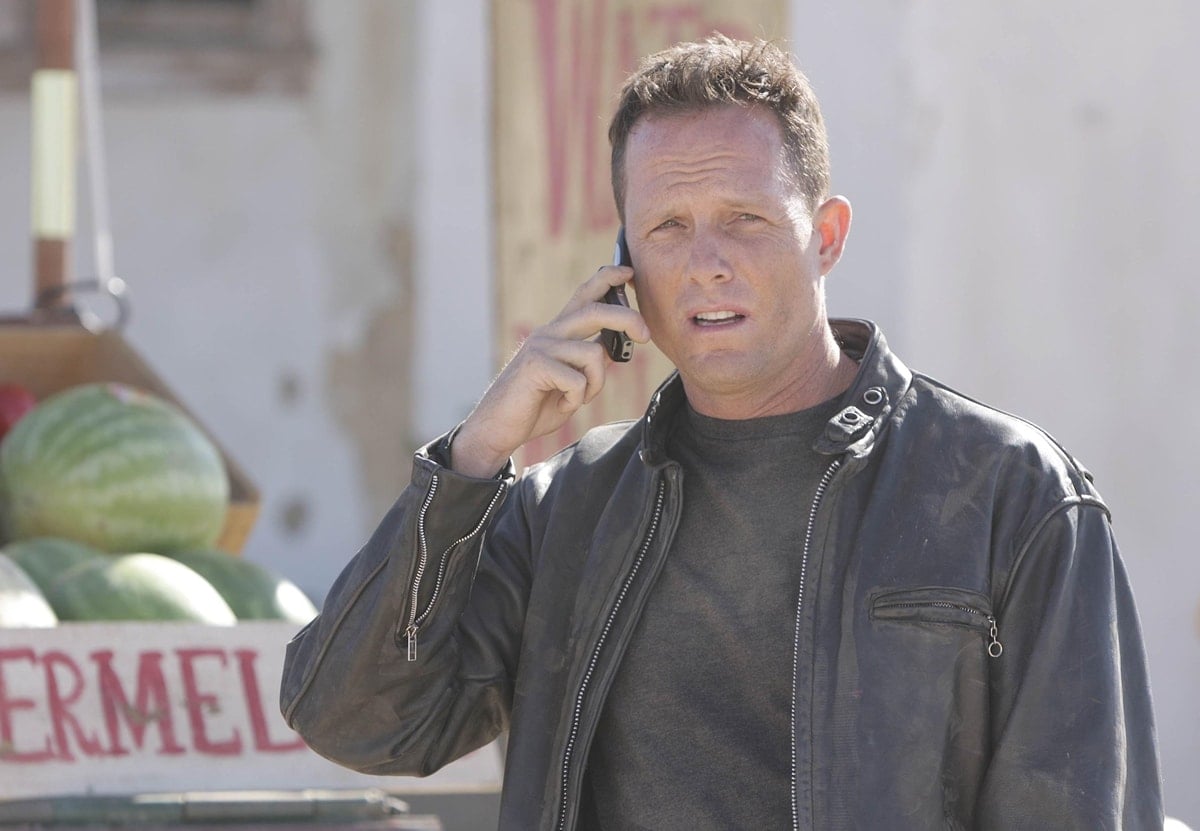 Dean Winters as paramedic Charley Dixon in the American science fiction television series Terminator: The Sarah Connor Chronicles (Credit: Fox / Warner Bros. Television Distribution)
Since fulfilling the iconic commercial role starting in 2010, Winters said that the character had "taken on a life of its own," so much so that it had begun to bleed into his everyday life.
"My mom calls me Mayhem," the actor admitted, chuckling during the HuffPost interview.
Luckily for Winters, he doesn't need to be a "serious" actor to earn some serious cheddar. Due to his role as Mr. Mayhem, Dean Winters earned himself an estimated net worth of $5 million, which is rather impressive for a commercial actor!
Dean Winters is far more than just Mr. Mayhem
If you've ever wondered why the guy playing Mr. Mayhem looks so familiar, it is probably because you've seen him before. In fact, you have likely seen 58-year-old Dean Winters on screen (outside of the Allstate commercials) a number of times, even if you didn't know it was him!
Dean Winters has a seriously impressive list of IMDb credits, many of which you may recognize him for.
He had a recurring role as series regular Ryan O'Reily in Oz, in which you have definitely seen Dean Winters full-frontal nude.
Dean Winters as Ryan O'Reily in the American drama television series Oz (Credit: HBO)
Winters has appeared in both Law & Order: Criminal Intent and Law & Order: Special Victims Unit, the latter of which he had a recurring role as the love interest of Mariska Hargitay's iconic detective, Olivia Benson.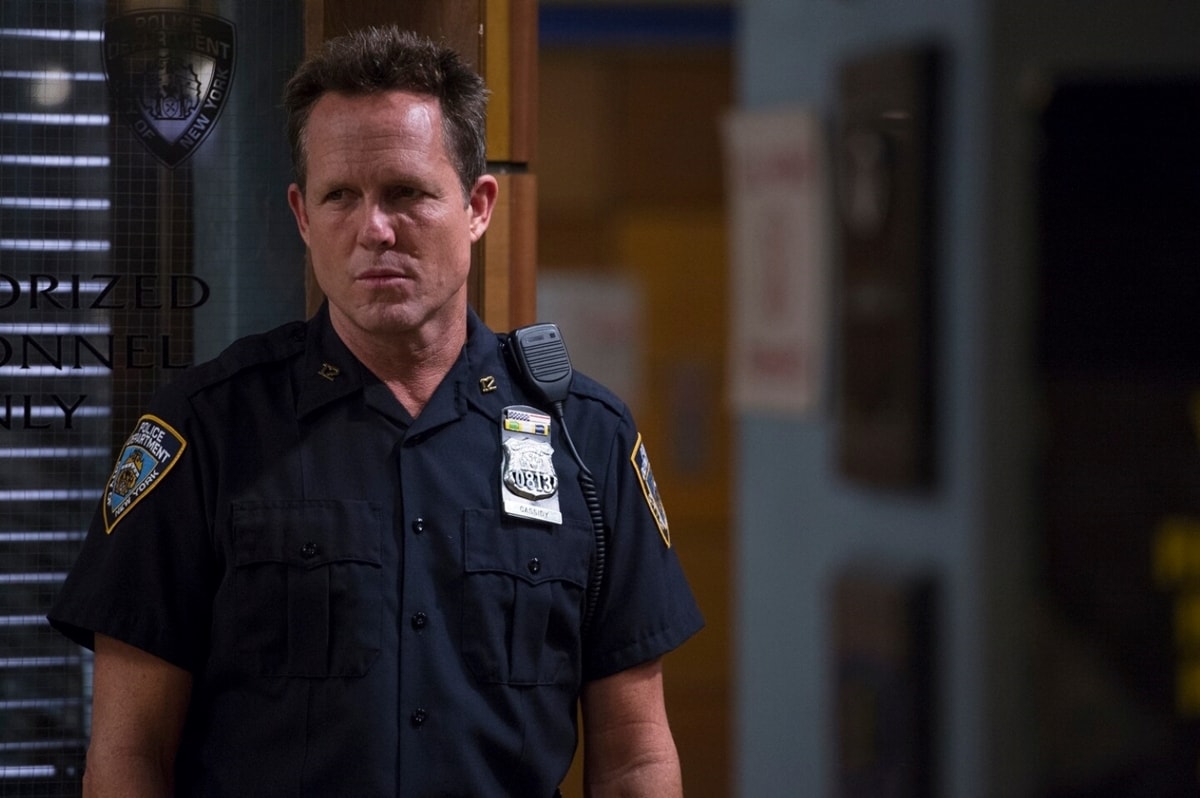 Dean Winters as Brian Cassidy in the American crime drama television series Law & Order: Special Victims Unit (Credit: NBC)
You may also recognize Dean Winters as another love interest. He played Dennis Duffy, the sleazy love interest of Tina Fey's Liz Lemon on 30 Rock, and could frequently be heard saying, "Hey, dummy!"
This character is not unlike Mr. Mayhem, showing that Dean Winters is a professional at portraying a sleazebag.
In fact, for his role on 30 Rock, Winters was nominated for the Gold Derby Award for Best Guest Actor in a Comedy Series and the Online Film & Television Association Award for Best Guest Actor in a Comedy Series.
Charlie Corwin, Olivia Corwin, and Dean Winters attend "The Unbearable Weight Of Massive Talent" New York Screening at Regal Essex Crossing on April 10, 2022, in New York City (Credit: Marion Curtis / StarPix for Lionsgate)
Winters has made a number of guest appearances and regular appearances in other television titles, including Brooklyn Nine-Nine, American Dad!, Sex and the City, and Unbreakable Kimmy Schmidt.
Though Dean Winters is best known for his exploits on the small screen, he has made a number of forays onto the silver screen, too!
He has appeared in films like The Devil You Know, John Wick, P.S. I Love You, After Everything, and Framing John DeLorean.
Dean Winters and Oz creator Tom Fontana attend the 71st Annual Writers Guild Awards New York Ceremony at Edison Ballroom on February 17, 2019, in New York City (Credit: Jason Mendez / Startraksphoto)
When analyzing Dean Winters' long list of film and television credits, it is no wonder why the actor was a prime choice to play Mr. Mayhem—and why Allstate Insurance is willing to pay him so much to do so!