As Nancy Sinatra once sang, "these boots are made for walking – and that's just what they'll do." While cowboy boots are instantly recognizable, roper boots deserve a second look.
These Western boots are an instant conversation starter and a more feminine alternative to traditional cowboy boots. Whether you're heading to a Taylor Swift concert or exploring Nashville, roper boots will do all the talking.
Roper boots are a more feminine alternative to traditional cowboy boots (Credit: Glebchik / Shuttestock)
Roper boots are a late '90s/early '00s trend that is coming back with a bang. You don't need to be a country music fan to appreciate these versatile boots that will unlock your inner cowgirl.
We're exploring everything you need to know about roper boots, where to buy them from, and how to style your new roper boots for every season.
What are Roper Boots?
Roper boots and cowboy boots are not the same. It might feel like a 'cerulean blue' moment, but these two boots serve different functions.
While cowboy boots are designed for horse riding, roper boots are more versatile as an everyday alternative with a lower shaft.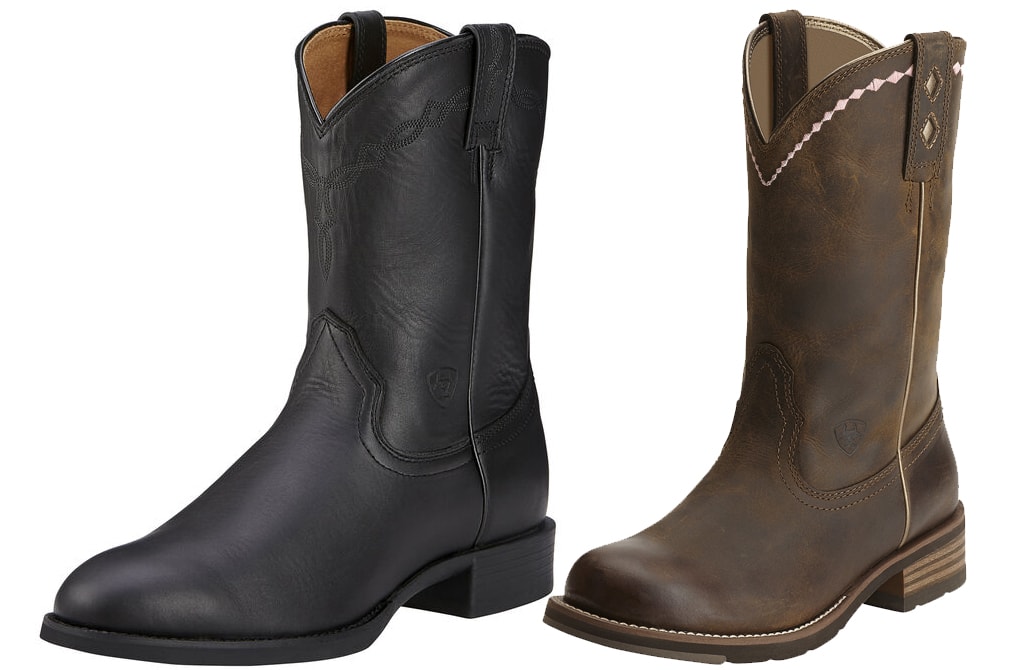 Roper boots have lower shafts and were originally designed to be worn when roping up cattle
The name 'roper' comes from the original purpose of these shoes, which were made to be worn when roping up cattle. While you'll find these shoes on any ranch, they're also a fashion moment.
The silhouette is softer and easier to style than taller cowboy boots, giving you more styling options. Roper boots are a style that's evolved from classic cowboy boots. They shouldn't be confused with tall cowboy boots from your favorite Wild West movie.
Roper Boots vs. Cowboy Boots
How are roper boots different from cowboy boots? It's all in the details.
Roper boots have a shorter heel that is taller than a Chelsea boot. This heel has a square silhouette to help the boot sit securely in the stirrup when horse riding while still being comfortable for walking around a ranch.
While most cowboy boots have a pointed toe, roper boots have a round toe for extra comfort and flexibility. You'll find casual roper boots for everyday wear or horse riding, along with more elevated styles with intricate detailing.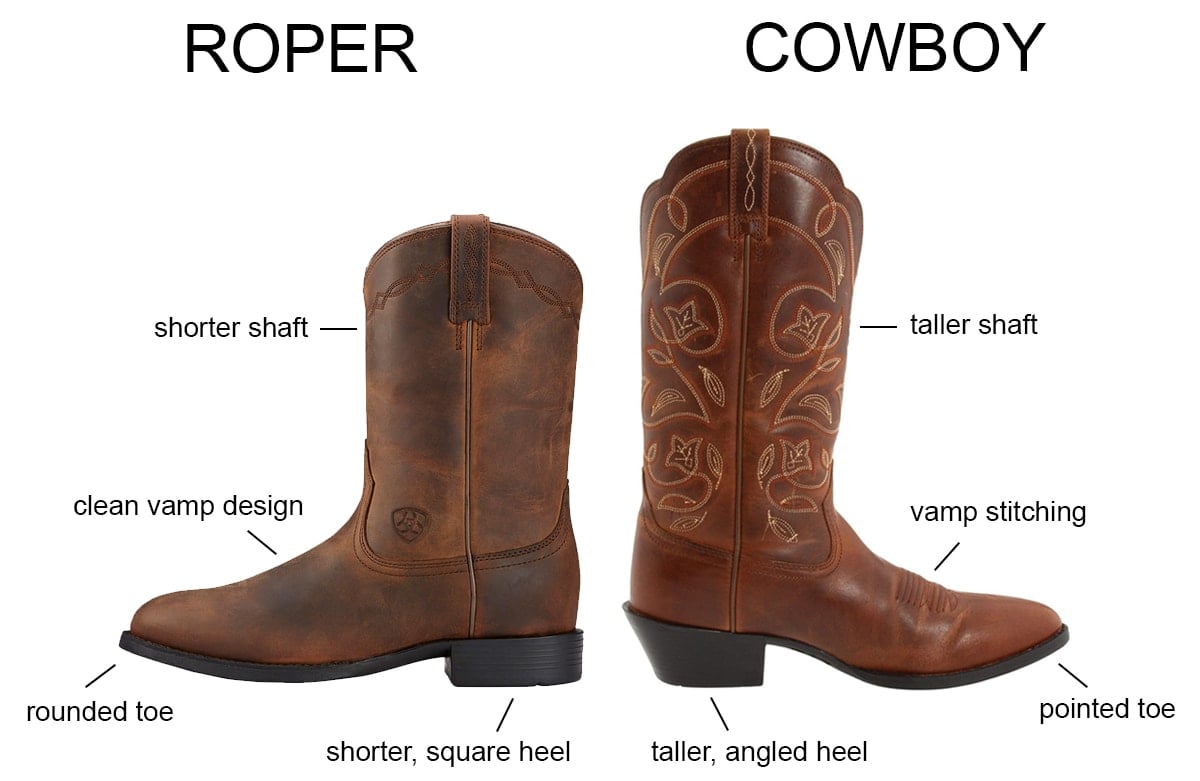 The difference between roper boots and cowboy boots
Roper boots are typically made of full-grain leather, just like cowboy boots. These shoes can be given a vintage look with distressed detailing and stitching.
If you want Western boots with more support, consider buying laced roper boots. These boots aren't suitable for horse riding and are instead designed for added support when working on a ranch or being on your feet all day. Invest in laced roper boots if you need extra ankle support.
Laced roper boots provide extra ankle support than traditional Western roper boots
How to Care for Roper Boots
Leather shoes require a little more TLC. Roper boots are no exception. Giving your roper boots a little extra care will help you get the most out of your shoes.
Start by making sure your roper boots are broken in before you wear them for horse riding. If your boots are a little tight, wear them around the house with winter socks to lightly stretch them out.
Brush dirt off your roper boots before applying leather cleaner and conditioner (Credit: Vitalis83 / Shutterstock)
The trick to caring for your roper boots is to clean and brush them regularly. Don't let any dirt or mud hang on around your roper boots. A shoe brush should remove most dirt, while a leather cleaner will tackle tougher stains.
Leather boots can start to show signs of age when the leather dries and cracks out. You'll want to follow up your leather cleaner with a conditioner to keep them looking fresh.
Popular Brands for Roper Boots
Are you thinking of adding a pair of roper boots to your closet? You don't have to jet off to Nashville to find roper boots. Celebrities like Alexa Chung, Gigi Hadid, and Kylie Richards have put these shoes back on the fashion agenda.
Brands that sell roper boots typically fall into two categories – specialist Western footwear or bohemian fashion brands.
Whether you're searching for bridal cowboy boots or bootcut jeans, Boot Barn is the home of contemporary Western fashion. Its exclusive range of Boot Barn x Lane roper boots is some of the most feminine styles you'll find online.
The home of contemporary Western fashion, Boot Barn is your one-stop-shop for Western boots
These luxury roper boots might be a splurge, but they're perfect for a special occasion.
Roper is a niche fashion brand that strives to help you 'wear the west' with country-inspired apparel and footwear. It offers an extensive range of unisex roper boots with something for everyone.
You can choose from traditional vintage-inspired oiled leather roper boots or show your patriotic side with American flag embroidery.
Roper is the largest manufacturer of Western-inspired fashion, offering a wide range of roper boots for both men and women
Roper is the largest manufacturer of Western-inspired fashion with footwear designed to take you from working on the ranch to drinks with your friends.
Ariat has been going strong for three decades as the 'new breed of boot.' It was the first to integrate athletic footwear into equestrian boots. These roper boots blend scientific innovation with traditional craftsmanship for the modern cowgirl.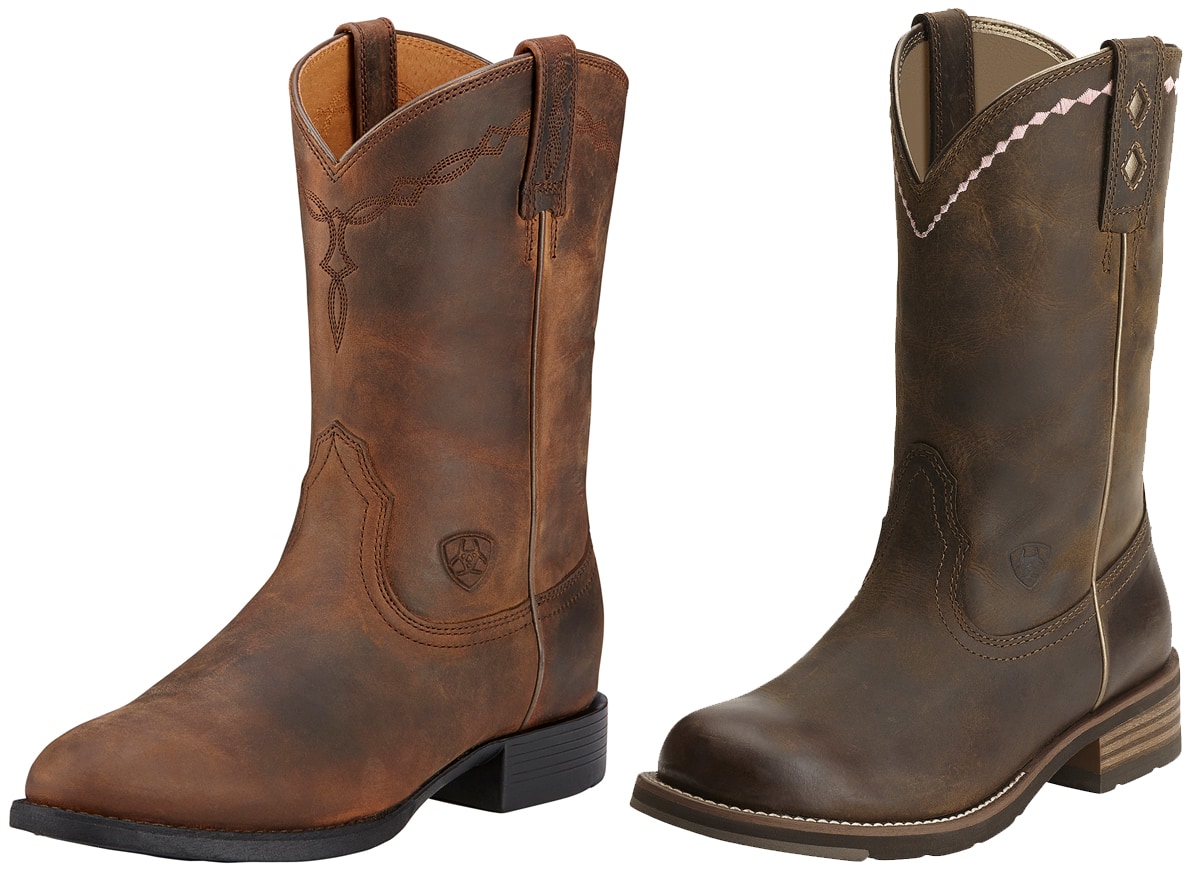 Ariat is known for its quality boots that offer comfort and protection
Most Ariat boots go through 150 steps during construction using advanced sustainability processes. You'll find the roper boots in the 'cowgirl boots' section of the Ariat website.
Roper boots are a music festival staple. It's no surprise that they're right at home in bohemian fashion trends. Free People is one of the few mainstream brands that includes roper boots in their footwear range.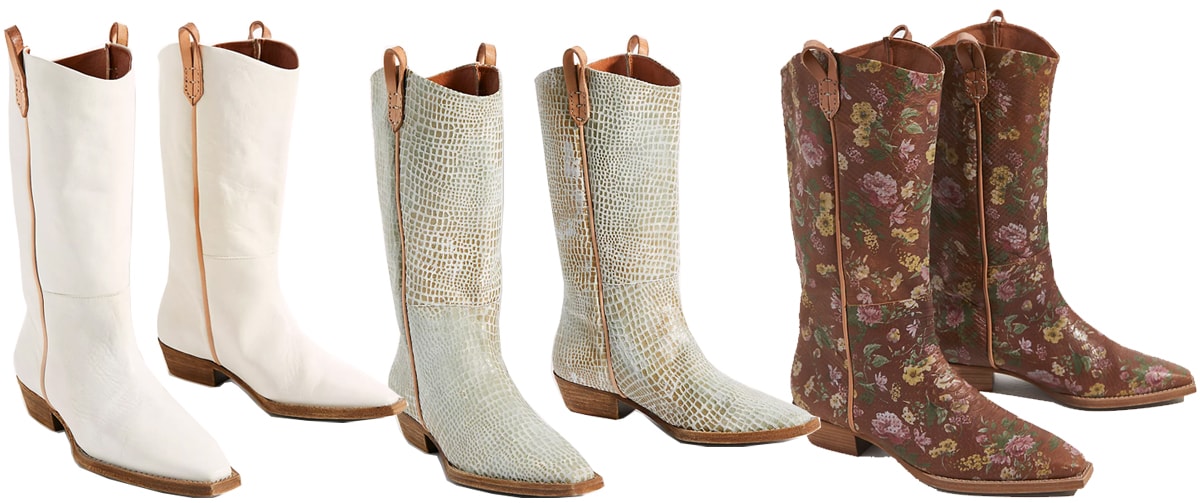 Known for its bohemian-inspired designs, Free People also offers Western roper boots in its footwear range
The brand's in-house label 'We The Free' includes heritage-inspired footwear that is made by artisans. The Montage boots are a contemporary take on the roper boots style.
How to Wear Roper Boots
You've found your dream roper boots, but how do you style them? Roper boots are just as versatile as Chelsea boots. You can style them the same way.
Swap your sneakers for roper boots and style them with a shirt dress, denim mini skirt, or summer dress. You can add an extra country feel with a denim jacket.
1. River Island Wrap Blazer Playsuit, $110 at Nordstrom; 2. We The Free Montage Tall Boots, $328 at Free People; 3. Jonathan Simkhai Trista Summer Lace-Up Dress, $375 at Nordstrom; 4. Ariat Unbridled Roper Boots, $159.95 at Zappos; 5. Dear John Arianna Top, $95 at Zappos; 6. Lucky Brand Denim Mini Skirt, $79.50 at Nordstrom; 7. Roper America First Boots, $100 at Zappos
Roper boots can add an unexpected twist to elevated outfits, from blazer dresses to leather skirts and all-denim looks. The key to wearing roper boots is to let them take center stage.
Want a more understated look? Build your outfit around a muted color scheme and coordinate your clothes with the color of your roper boots.
Give your closet a vintage twist with roper boots that will see from spring to winter with a bohemian Western look.