Riding boots and cowboy boots never seem to go out of style, and they aren't just for equestrians and cowgirls. This is one of the many reasons why Ariat boots have continued to grow in popularity. The iconic American label will celebrate its 30th anniversary in 2023.
Although visually stunning, Ariat boots offer so much more than a trendy look. The brand is renowned for its innovative footwear design!
If this is the first time you hear about them, Ariat is an outdoor footwear and clothing company. Their claim to fame is their boots that are designed with style, functionality, durability, and comfort in mind.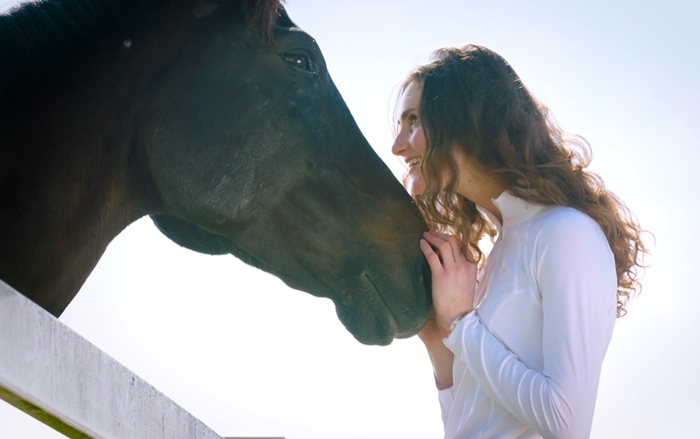 Ariat is one of the top equestrian, outdoor, and work brands in the world
Ariat boots have a unique patented outsole, a layered lightweight sole, patented Advanced Torque Stability technology, and a gel sole with a heel stabilizer, making them perfect for riding, work, and outdoor activities.
They come in various styles, including western (also known as cowboy boots), English, work, outdoor, and lifestyle, and have been spotted on famous country musicians like Blake Shelton and Ashley McBryde.
There really is no better advertisement for western boots than being worn by a country star!
Brand History
The founder, Beth Cross, grew up on a working horse farm in Pennsylvania, USA, surrounded by animals. She loved animals and frequently went horseback riding and spent time with the horses on the farm.
Beth Cross is the co-founder of Ariat International, a company that specializes in high-performance equestrian footwear and apparel
Cross fondly remembers sitting in front of her family's TV in 1973, watching Secretariat win the Kentucky Derby. Secretariat went on to win the Triple Crown, setting records that have yet to be beaten.
Secretariat's heart and competitive spirit are the inspiration behind the company's name Ariat. Before starting Ariat, Cross was a Stanford Graduate School of Business student and worked for Bain & Company as a consultant for Reebok.
This experience provided Beth with a better understanding of the technology behind athletic footwear. Combining her love for horses with her experience in athletic footwear, Cross launched Ariat as "The New Breed of Boot."
In April 2017, Ariat opened a retail store in The Summit at Fritz Farm, a shopping mall in Lexington, Kentucky
What made it new was they were the first company to utilize the same technology commonly used in athletic footwear when making boots for equestrians. The footwear brand released their first two styles of boots in 1993, which were catered to equestrians.
Since their launch, they have seen tremendous international growth and massive sales. Today, Ariat is known for its innovative products for outdoor, riding, and work roles as well as everyday use.
They have significantly expanded and now design clothing as well as footwear, including denim, tee's, workwear, jackets, and accessories. Originating in the US, Ariat apparel and footwear are now sold in Europe, Australia, Mexico, and Japan as well.
Quality of Ariat Boots: Are they worth it?
To put it bluntly, yes, but let me elaborate. Ariat is all about innovation! They are cutting-edge and arguably the best in the boot biz. Innovation is part of their DNA, so much so that they have over 150 patents for their sole technology alone.
They are never happy with the status quo and always looking at how they can increase their boots' performance, durability, and comfort.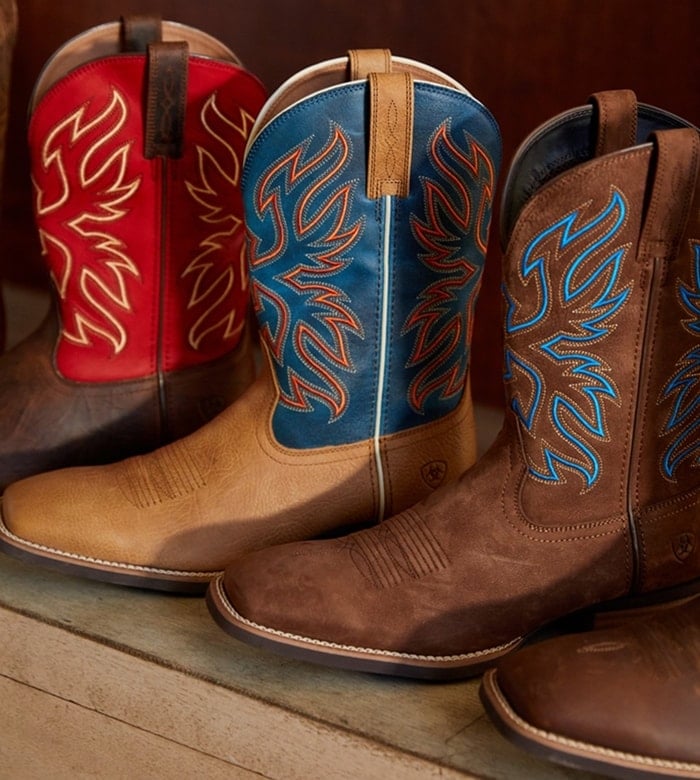 The Everlite collection from Ariat features lightweight yet durable boots
With a history of quality footwear and a culture of creativity, it's no surprise that Ariat attracts the best shoemakers in the business.
Their amazing team of engineers, designers, and testers often spend over 18 months designing and testing products.
Ariat boots are built to last, though you need to take care of your shoes. These are not boots that will last you a season or two; the company aims to design products that will last a lifetime!
Cross has said that she still hears from customers who have had their boots for up to 20 years, often passed down to the next generation! Their design is timeless while stylish, appealing to multiple generations.
Ariat's Circuit ombre boot features winning good looks and performance technology made for the ride
With craftsmanship and quality like that, you would expect their footwear to be expensive, right? It's not! In fact, that's one of the things the brand considers when designing their footwear. They want their items to be accessible and affordable.
Where are Ariat boots made?
Ariat boots are made in the US, Mexico, Asia, and Europe. Quality control is crucial to the brand, and they ensure their factory partners and tanneries are the very best!
Ariat doesn't make it clear on their website which boots are made where. If you want to find out where your specific pair of boots are made, you can check the inside of your boot for a number.
Ariat boots are made in the US, Mexico, Asia, and Europe
You can then call Ariat and provide them with this number, and they can look up where your pair of boots were made.
You'll have a tough time finding this out before buying the boots, so if the manufacturing country is important to you, you may want to call customer service first.
How much do Ariat boots cost?
As I mentioned earlier, Ariat prides itself on making top-quality boots that won't break the bank. Even with their unique technology and high-end material, they still manage to have a reasonable price tag.
Ariat boots range in price, depending on the product and the craftsmanship that goes into it. To give you an idea, Ariat's line of western boots ranges from $100 to $400, and the line of lifestyle footwear ranges from $80 to $170.
Where are the best places to buy Ariat boots?
If you want to get yourself a pair of these beautiful boots, you can purchase them directly from their website or an authorized retailer.
Many boutique shoe stores, outerwear retailers, and major shoe stores sell some of their most popular styles. The best shoe websites to buy Ariat boots are Nordstrom, Zappos, Amazon, and Ariat.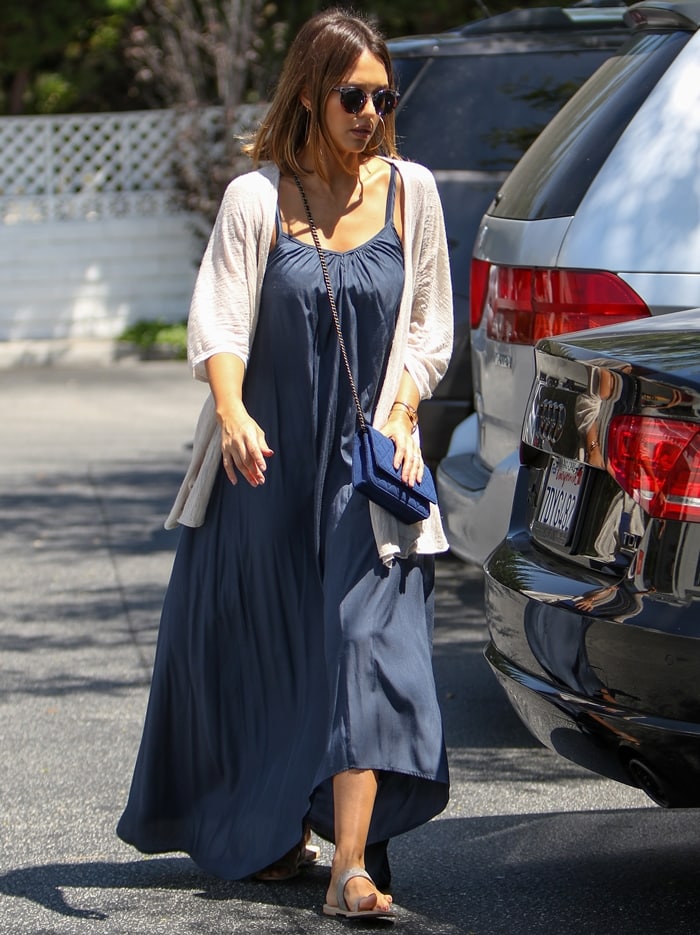 Jessica Alba wears Ariat's popular Copper Creek sandals with a maxi dress and cardigan (Credit: WENN)
With the authorized retailer directory on their website, you can find a retailer located near you. You just have to select your country and enter your zip or postal code. Unfortunately, there are knock-offs out there.
To ensure you are purchasing authentic Ariat boots, check their website to find an authorized seller first.
How to find the right size?
Nothing is worse than a pair of boots that don't fit. Boots that are too tight or too loose can cause injury, and there's a good chance you aren't going to wear them, and they'll end up collecting dust in your closet.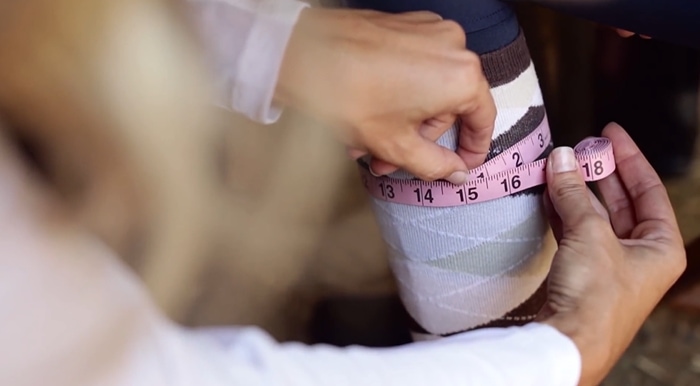 Three ways tall boots are measured: shoe size, calf width, and height from floor to knee
Don't do that to a pair of Ariat boots! They don't deserve it. Fortunately, there are ways to ensure you have the perfect fit. First off, if you are buying online, you can refer to Ariat's size chart to help select the correct size.
Once you have your boots, you can ensure they fit properly by pulling out the footbed and placing your foot from heel to toe on it. You should then be able to place your thumb above your toe and still not be at the end of the footbed, as this will allow for slippage.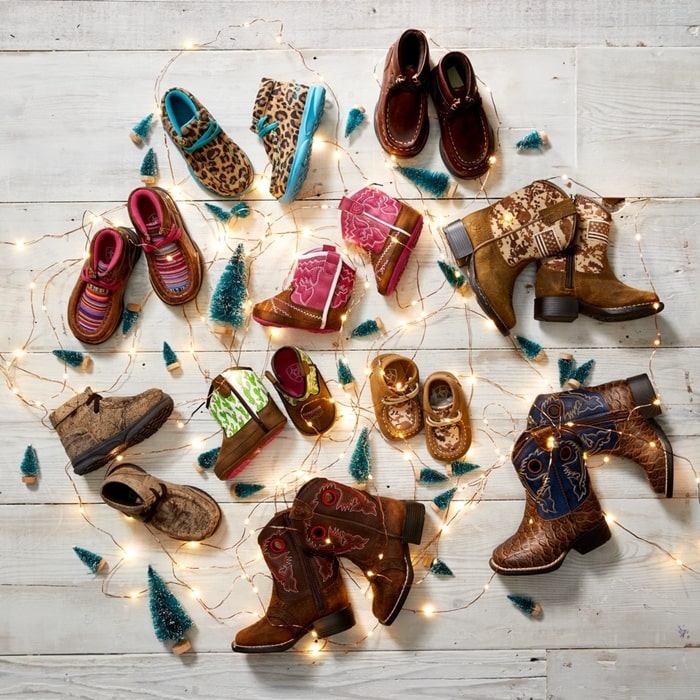 Ariat makes boots in all sizes for women, men, and children
The next step is to put the unlaced boot on. Leave it unlaced and push your toes forward. When your toes are pushed forward, there should be some room behind your heel.
If there is no room behind your heel, your boots are likely too small, and you should go up a size. Next, center your foot in the boot and lace it up.
Your toes should not feel cramped; you should have a bit of wiggle room. You can adjust the tightness with the laces; however, you will still notice a bit of lift (your heel) when you walk.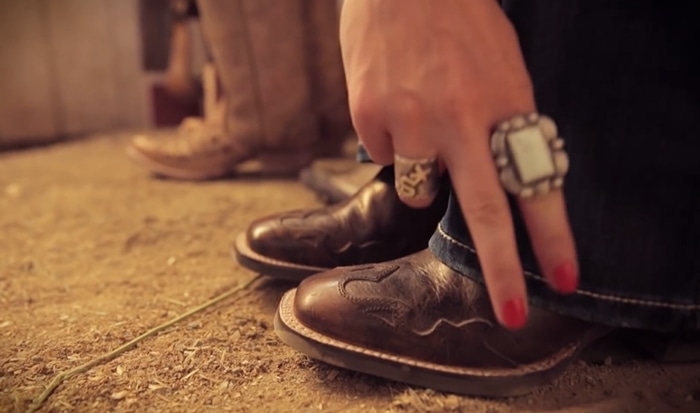 Make sure you get the appropriate style and fit for your boots
If the boot feels too loose and the laces are already tight, you should try a boot that's ½ size smaller.
How should tall riding boots fit? Learn how to fit tall boots with Ariat's step-by-step video:
You can also learn how to fit cowgirl boots with this instructional video: