Just who is Hannah Selleck, the gorgeous daughter of Tom Selleck and Jillie Mack?
Although she doesn't win awards in show business like her famous father, Hannah has received and continues to receive many awards and accolades in an entirely different arena!
Hannah Selleck attends The $16 Million Pegasus World Cup Invitational, The World's Richest Thoroughbred Horse Race at Gulfstream Park on January 27, 2018, in Hallandale, Florida
Read on to learn more about this accomplished champion equestrian and breeder of superior horses.
Early Years
Hannah Margaret Selleck was born on December 16, 1988, to Tom Selleck and his wife, Jillie Mack.
Hannah is their only child and grew up in Ventura County, California on a 65- acre horse stable and avocado farm purchased by her father shortly after her birth.
It was on this expansive private ranch where Hannah's love for horses blossomed and put her on the path to becoming a competitive equestrian and breeder.
Actor Tom Selleck (C), wife Jillie Mack (R), and daughter Hannah (L) at HBO's Post Award Reception following the 59th Annual Primetime Emmy Awards at the Pacific Design Center on September 16, 2007, in Los Angeles, California
She began riding at age 4 and started competing at age 14, while attending and training at the prestigious Foxfield Riding School in Westlake Village, California.
It was during her time at Foxfield when Hannah began perfecting her craft with world-class trainers and began entering and winning competitions. After Foxfield, she attended Loyola Marymount College in LA where she studied communications and secured a position with a PR firm in Beverly Hills.
However, after working briefly with that firm and discovering that having only limited time on the weekends to ride and compete was not nearly enough to satisfy her ambition, she made the decision to follow her first true passion and returned to riding competitively full time.
Equestrian Career
Hannah Selleck has won many awards and has often been featured in many equestrian-related publications during her very successful career in both riding and jumping.
"Because [my parents are] both artists, they believe in the idea that you have to be very passionate about what you do to be successful," Hannah told Equestrian Living about her parents.
"They encouraged me to be passionate about it and immersed in it, and from there it was kind of on me how much I wanted it. They always let me take the lead. If I wanted to move barns or trainers, that was my decision."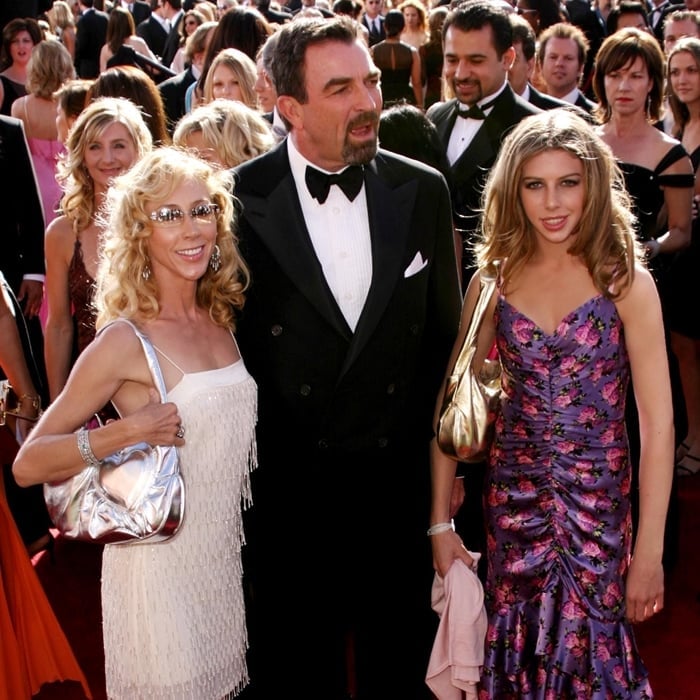 Hannah Margaret Selleck with her dad Tom Selleck and her mom Jillie Mack at the 2004 Emmy Awards
Hannah's awards include placements in both team and individual events. The most noted of her early career are the gold medals she acquired while competing at the 2008 North American Junior and Young Rider Championships, a competition now known as the North American Youth Championships, and a win in the 2008 U.S. Equestrian Federation Show Jumping Talent Search Finals.
Selleck also had an impressive second-place finish in the 2007 Pessoa/USEF (United States Equestrian Finals) Medal Finals.
Hannah Selleck and Ariana Rockefeller at the Longines Masters Los Angeles – Gala at Long Beach Convention Center on September 29, 2016, in Long Beach, California
After discovering a love and talent for the sport of jumping, Hannah placed her first Grand Prix win in the jumper ring at the 2010 Blenheim Summer Classic in California on her favorite horse, Tosca, a Belgian Mare.
Hannah's passion for riding and for her beloved horses would also lead her to a rewarding breeding business.
Breeding the Best
Hannah first became interested in breeding horses after she retired her cherished horse Tosca.
Selleck by then had also won several competitions on her mare Alavarina, and after much consideration and a need to generate income, she made the decision to start her own breeding business.
In 2010, Hannah, along with her famous father Tom, founded "Descanso Farm," a place to both breed new champions as well as train those who want to ride competitively.
In the first 3 years of operation, Descanso Farms welcomed a total of six foals to the family. The young mares are sent to a farm in New Mexico where they can play and graze and grow big and strong enough to be sent back to Descanso to continue training and being groomed for competition.
Hannah's goal with her breeding business is to produce first-class horses selectively and carefully and to demonstrate that quality mares can be bred in the United States in direct competition with international counterparts.
Hannah's horses are well on their way to becoming very well known throughout the show circuit with several already securing wins in both the competitive riding and jumping arenas.
Personal Life
Hannah Selleck is currently 31 years of age and not much has been made public about her earnings or who she is dating currently. She has chosen to stay mostly quiet on the details of her private life, although it has been rumored that her net worth is around $1 million dollars from her successful competing and breeding careers.
Hannah Selleck attends the American Ballet Theatre's annual holiday benefit dinner and performance at The Beverly Hilton Hotel on December 11, 2017, in Beverly Hills, California
Hannah posted a picture of herself on her Instagram in 2018 with Beto Gutierrez who she reportedly met while attending a red-carpet event of her TV and movie star father, Tom. Due to her keeping very hushed about her personal life, not much is known regarding Gutierrez or if they are even still a couple.
Hannah Selleck Today
Hannah Selleck continues to be both a breeder of elite horses as well as a competitor in the Grand Prix jumper circuit.
Her most recent noted accomplishments have been in 2011 at the Gucci Masters tournament and in 2015 at the Longines Masters of Los Angeles where Selleck added to her ever-growing trophy collection.
Selleck's passion for both competing and breeding is so prominent in her life that the equestrian world can expect to see her thriving and succeeding on this stage for many years to come.
Credit: Johnny Louis / WENN / Sheri Determan / FayesVision / Rachel Worth