We're saying "get along, little doggy" to the resurgence of the glitzy McBling era or the über sleek camping-inspired Gorpcore trend, and "howdy, partner" to bringing back all things cowboy.
That being said, real cowboy boots are far more than a fashion statement, as these boots have a long, storied history and designs that have been optimized over the years to make them effective both in and out of the saddle.
The Anatomy of the Cowboy Boot
Cowboy boots, also just known as "boots" to those who work with horses and other types of livestock, haven't changed much over the years.
As their name suggests, cowboy boots were originally designed to protect a cowhand's feet from the elements and were optimized for long hours in the saddle.
Cowboy boots were originally designed to protect a cowhand's feet from the elements (Credit: Arina P Habich / Shutterstock)
When you think of a cowboy boot, you picture a tall, leather boot with a slight heel and a narrow toe. Though an iconic profile, each of these features has a purpose:
The entirety of the boot's upper is generally made of leather. Though cow leather was the most widely available material, it is also one of the sturdiest and is easily able to be kept in good shape for years using leather conditioner.
Additionally, it provides the cowboy (or cowgirl, cowhand, rider, etc.) with more grip around the lower leg, which is a necessity for proper equitation.
Cowboy boots have an iconic profile, with functional features such as leather upper, narrow toe box, and short heel (Credit: Artman96 / Shutterstock)
A tall, leather shaft that hits around the calf protects the cowboy from experiencing chafing from their leather saddle or damage from brush, stinging nettles, or other types of itchy and painful plants that may grow in a grazing field.
Cowboy boots should be snug to offer the wearer a significant amount of ankle support, making the pull strap at the top of most boots essential.
The narrow toe box makes it easier for the rider to quickly slip their foot in and out of the stirrup, making for speedy dismounts.
This also prevents the boot from getting stuck in the stirrup, which can be dangerous as the rider cannot dismount if the horse is acting up. A rider can be dragged along the ground by a foot stuck in a stirrup, which can be fatal.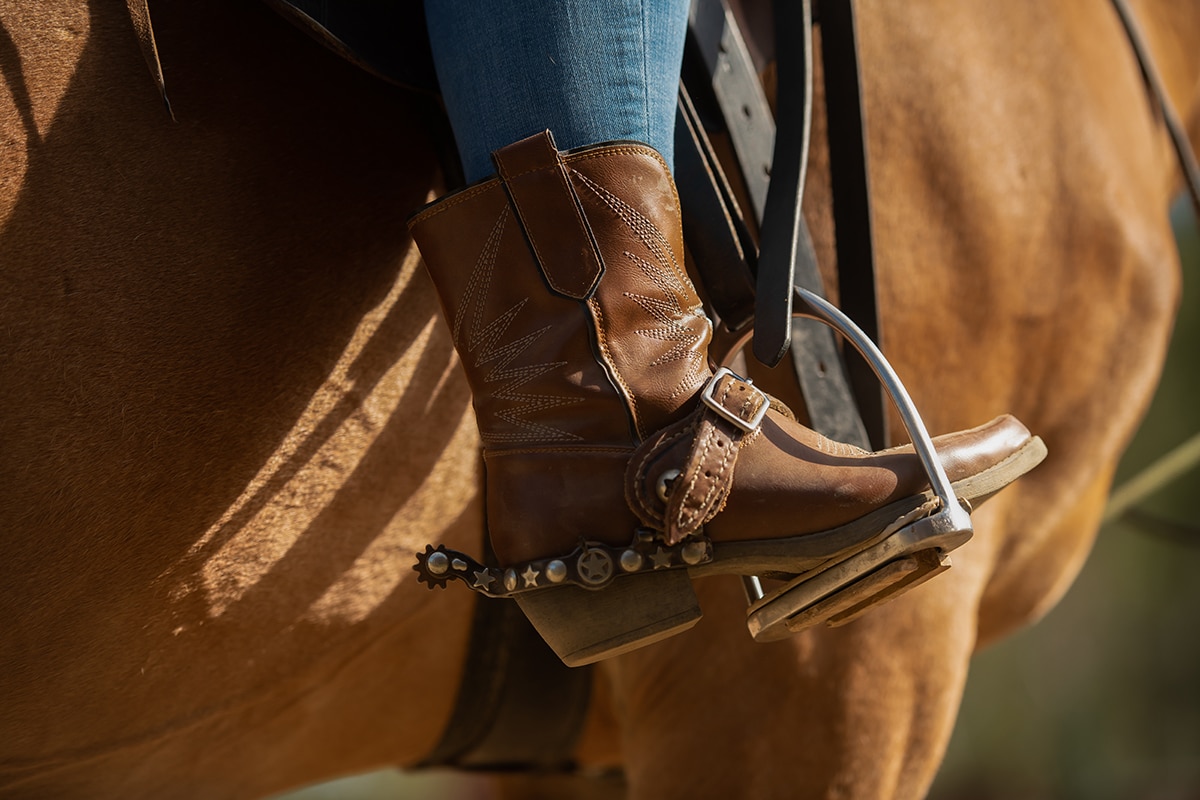 Cowboy boots in stirrup during horseback riding (Credit: Rina Antipina / Shutterstock)
Every cowboy boot features a heel—angled or straight, tall or short, but typically no shorter than one inch—which is essential in riding boots, as it stops the wearer's foot from sliding through the stirrup and becoming stuck. As mentioned, this is very dangerous.
There are a number of different types and styles of cowboy boots. The majority of styles incorporate all of these features, but some styles that are geared toward fashion rather than function do not.
Most popular styles of cowboy boots
1. Traditional Western Boots
These are the iconic shoes you think of when you hear the term "cowboy boots."
Traditional cowboy boots usually have 12-inch shafts and angled heels
2. Work Cowboy Boots
A bulkier style, these boots are designed to protect the wearer and often incorporate steel toes.
Work cowboy boots are bulkier and usually feature a waterproof membrane and a composite safety toe for protection
3. Ropers or Roper Boots
As the name suggests, these boots were designed for cattle ropers and are a bit comfier on the ground than traditional cowboy boots.
Roper boots have shorter shafts and lower flat heels
4. Cowboy Dress Boots
Dress boots are better suited for a night on the town than working on the ranch. They can come in a number of styles and heel heights, and many feature exotic materials such as alligator or ostrich leather.
Cowboy dress boots come in a variety of styles, materials, and heel heights
Whether you are a city slicker ready to take on the country and western trend, or you moonlight as a farmhand and just need a good pair of boots, here are a few of our favorite tried-and-true cowboy boot brands.
The Best Cowboy Boot Brands
1. Ariat
Pronounced 'air-ree-uht', this brand gets its name from one of the winningest racehorses of all time, the legendary Triple Crown winner and Triple Crown speed record setter Secretariat.
Founded in just 1993, Ariat has quickly become one of the most popular names in boots due to the brand's commitment to integrating athletic shoe technologies into boots for equestrians in both English and Western disciplines.
As a result, Ariat boots are the perfect blend of comfy and stylish, great for long days on the farm or the dance floor.
The Best Ariat Boots for Work:
Terrain Pull-On Waterproof Work Boot, $159.95 at Ariat
Combining Western and work boot, the Terrain Pull-On Waterproof Boots feature ATS lightweight forked shank for enhanced support, waterproof PRO construction, lightweight EVA midsole, and non-marking Duratread sole
Hybrid Rancher Boot, $194.95 at Zappos
The Hybrid Rancher is made of full grain leather with traditional six-row stitch pattern on the shaft and the 4LR technology that provides support and cushioning with a four-layer footbed and lightweight stabilizing shank for support
The Best Ariat Cowboy Boots for Fashion:
Abilene Western Boot, $250 at Ariat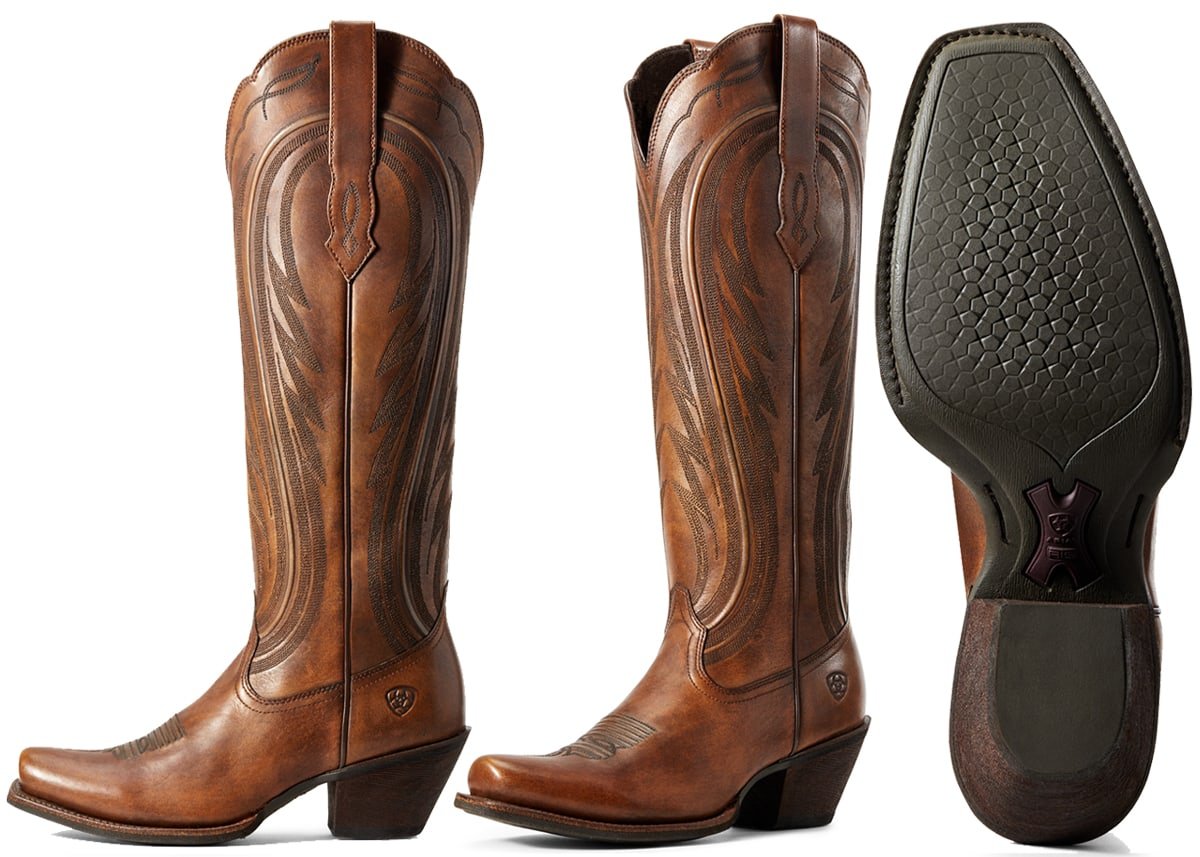 The Abilene is a chic Western boot incorporated with Ariat's ATS technology for stability and a Duratread outsole for flexibility
Casanova Western Boot, $266.77 – $275.35 on Amazon
The Ariat Casanova boot offers all-day comfort, a distinctive design, and a universally flattering fit
2. Lucchese
Founded deep in the heart of Texas (cue clapping here) in San Antonio in 1883, the Lucchese Bootmaker Company has deep roots in the Western wear world.
Sharing its namesake with the Italian immigrant family that founded the company, Lucchese employs modern and traditional bootmaking techniques resulting in beautiful, hand-stitched cowboy boots that are truly works of art.
Lucchese cowboy boots are quite a bit more expensive than many of their competitors, but these luxurious boots can last generations.
Even more, Lucchese has its own Repair and Restoration department full of artisans that can do everything from small repairs, resoles, or complete cowboy boot overhauls.
The Best Lucchese Cowboy Boots for Work:
Ruth Barn Boot, $325 on Amazon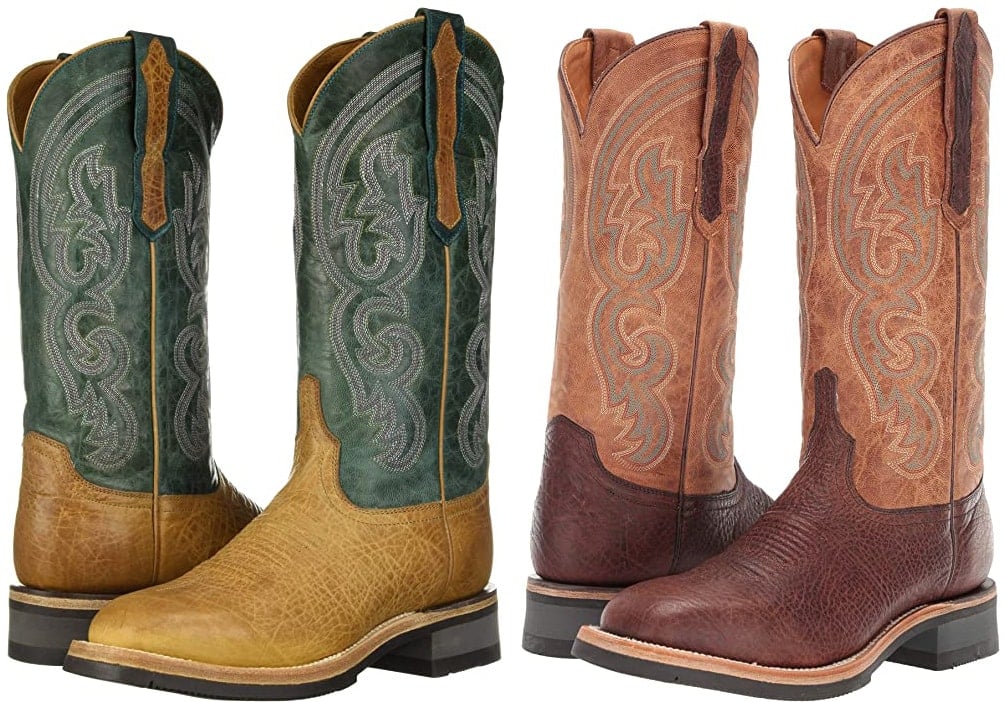 Performance footwear, the Ruth boots are built with technology that allows them to stand up to the toughest conditions
Ladies High Top Snake Boot King Ranch Edition, $645 at Lucchese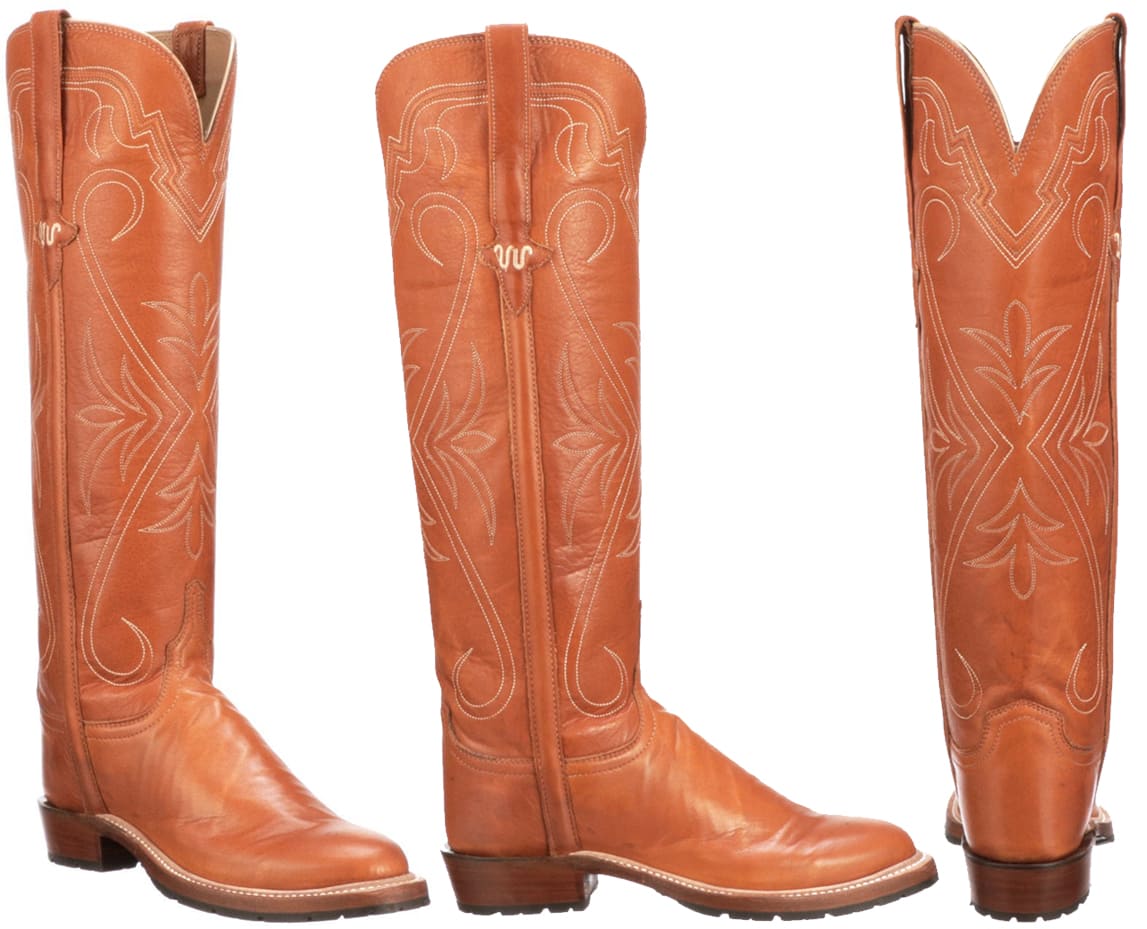 Built for field and fashion, the Ladies High Top Snake Boot King Ranch Edition is constructed from Old English Whiskey leather and fully lined with TurtleSkin SnakeArmor's patented technology
The Best Lucchese Cowboy Boots for Fashion:
Cassidy Traditional Western Boot, $545 at Lucchese
The Cassidy western boot are handmade in Texas from Madras Goat Leather and feature bold stitch patterns on the quarters
Gaby Short Boot, $495 at Lucchese
A Western shortie, the Gaby boot is a simple yet stylish cowboy boot that has a tonal, mirrored-L logo on the back and a Star toe medallion on the vamp
3. Tecovas
A newer company founded in 2015, Tecovas has quickly become popular with cowboy boot enthusiasts and actual cowboys alike.
The popular theory behind the brand is that founder Paul Hedrick, a Texas native, decided to launch the brand after becoming a Connecticut transplant and finding that the Northeast was a difficult place to buy authentic cowboy boots.
As a result, he named his new company after Tecovas Creek located in Potter County, Texas. Though the newest company on this list, Tecovas boots are made using age-old techniques and handmade in Léon, Mexico.
The Best Tecovas Cowboy Boots for Work:
Stockton Roper, $245 at Tecovas

A durable ready-to-work boot, the Stockton Roper features Vibram soles, oiled bovine or bison leather, weatherproof seams, and removable polyurethane insoles
Jamie Western Boot, $275 at Tecovas
The Jamie Western boot is a combination of quality and comfort with classic western styling and Goodyear welt construction
The Best Tecovas Cowboy Boots for Fashion:
Jessie Ostrich Boot, $445 at Tecovas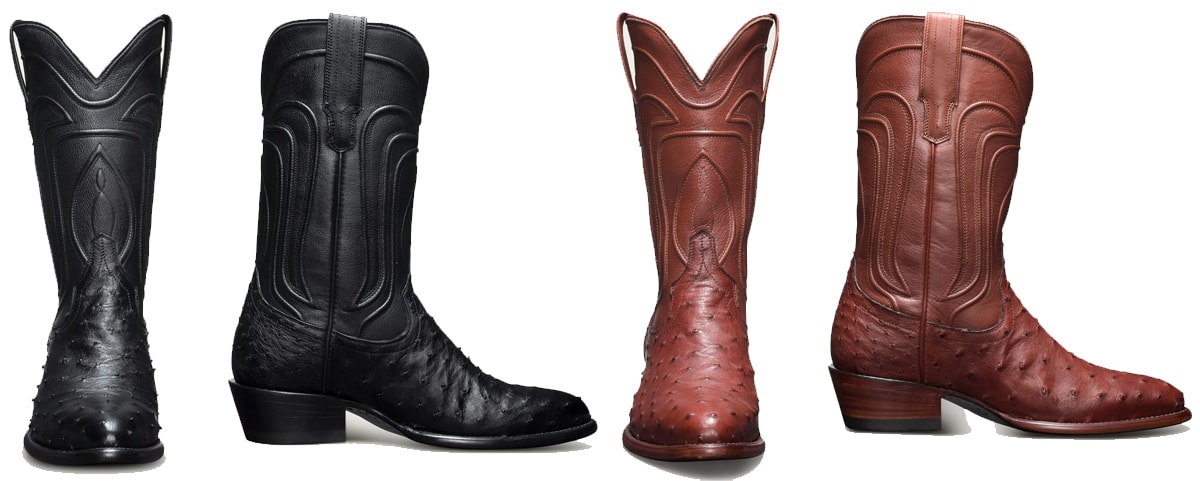 An exotic cowgirl boot, Tecovas' Jessie is handcrafted in supple, full-quill ostrich leather and features hand-corded details classic angled heels
Annie Tall Cowgirl Boot, $295 at Tecovas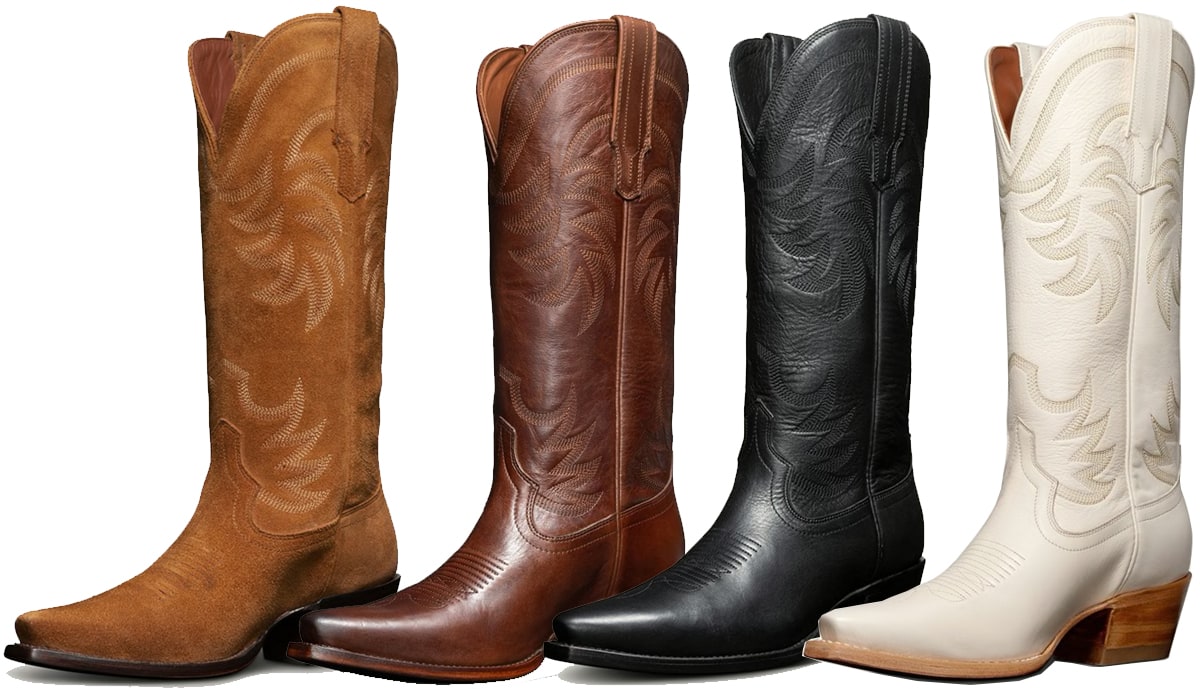 Chic and comfy, the Annie premium tall boots feature a deep scallop for a comfortable, flattering fit and a snip toe complemented by classic toe bug stitching