Remember that scene in "Back to the Future II" where Marty McFly puts on a pair of Nike sneakers, and they automatically lace themselves up?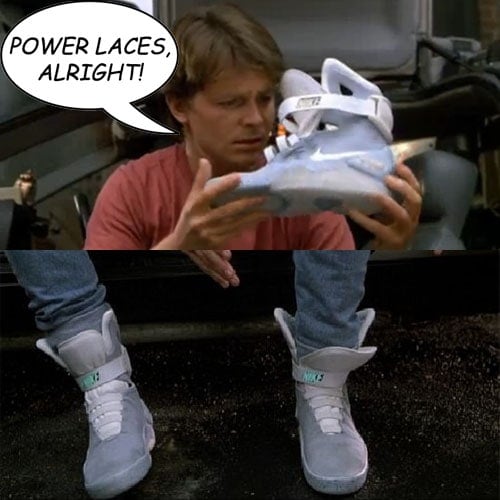 The scene in "Back to the Future II" where Marty McFly puts on a pair of Nike sneakers and they automatically lace themselves up(Credit: Amblin Entertainment / Universal Pictures)
Well, that vision of the future is now a reality thanks to Blake Bevin, who recreated the iconic shoes from the famous movie as part of an art project for a contest.
Intending them to be nothing more than just a goof, Blake Bevin soon found the short video demo for her "little art project" getting over a million hits on YouTube and the sci-fi/gadget geek community clamoring for her to develop, improve, and ultimately mass produce Power Laces.
Who wouldn't want that as their next pair of shoes? I'd keep taking these on and off and watch these shoes tie and untie themselves if I had a pair.
On a more serious note, Blake Bevin also received inquiries from people or family and friends of people who had motor skill disabilities about Power Laces.
Seeing as how her invention goes beyond catering to fan fantasy and could actually improve people's lives, Blake Bevin is now asking people for help and funding so that she could perfect her auto-lacing, shrink-to-fit shoes.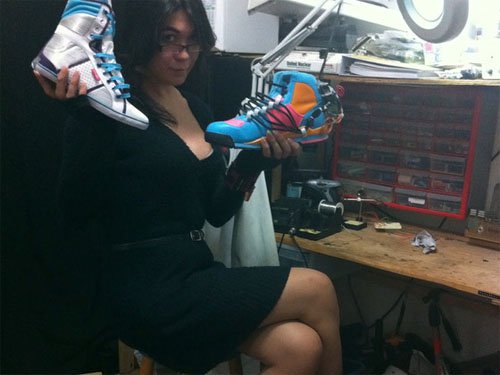 Inventor Blake Bevin with her Power Laces prototypes
The movie "Back to the Future II" was set in 2015. That means we've got less than five years to go to develop things like hoverboards, flying cars, and food hydrators that make compact food people-sized.
If you want to support the future that 80s comedy/sci-fi movies promised us, pledge some money for the Power Laces project at Blake Bevin's Kickstarter. She has to reach $25,000 by October 11 before she can proceed, so pledge now!
Oh, and Blake Bevin, while you're at it, how about making our fall favorite over-the-knee lace-up boots self-tying too?
That's a lot more laces to rig up, but we don't mind higher heels or thicker platform soles if that's where you have to hide the auto-lacing mechanism!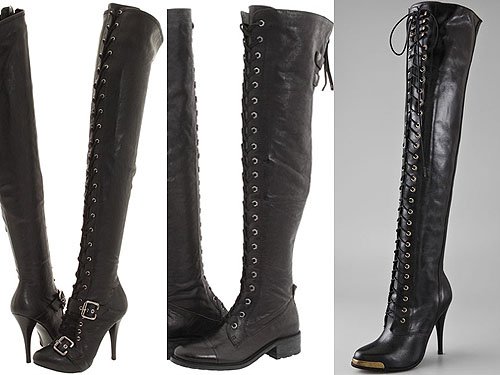 GUESS 'Oriska' Boots; Sam Edelman 'Dixie' Boots; Joie 'Top of the World' Over the Knee Boots
Imagine these babies tying themselves up! Lazy, yes, but so cool!