BAPE is a brand that dominates streetwear. When an expensive brand becomes popular, it's only a matter of time before counterfeits start to appear. Fans of BAPE clothing, particularly its hoodies, will have come across fakes online.
BAPE has been everywhere you look in the world of streetwear. The Japanese brand, otherwise known as 'A Bathing Ape,' has made it big in the mainstream. Its popularity is on par with brands like Supreme and Yeezy.
A Bathing Ape or BAPE is a Japanese fashion brand founded by Nigo in Ura-Harajuku in 1993 (Credit: MADSOLAR / Shutterstock)
BAPE has developed into one of streetwear's first organically evolved 'lifestyle brands.' The more successful BAPE has become, the most counterfeit BAPE clothing we're seeing on the market.
We're deep diving into this Japanese streetwear brand to share everything you need to know about BAPE and how to spot fake BAPE products online.
Where to Buy BAPE Clothing
The best way to avoid fake BAPE clothing is by buying your items directly from the brand or an authorized stockist. Gone are the days when BAPE was famous for its scarcity.
You can find BAPE clothing and accessories on the brand's official website and a variety of luxury e-commerce platforms. BAPE is available at Selfridges, END. Clothing, Farfetch, and Mytheresa.
Authentic BAPE Clothing and accessories are available on the official website and in luxury e-commerce platforms
Alternatively, you can purchase BAPE clothing on the pre-owned market. Vintage BAPE clothing is popular amongst collectors and fans of the brand. It's a great way to purchase BAPE pieces from previous collections and build a designer streetwear closet on a budget.
You'll find pre-owned BAPE clothing on all popular re-sale sites, including eBay, Depop, and Vinted. Before buying BAPE pre-loved, it's worth learning how to spot fake BAPE clothing. Some re-sale websites will offer authentication services or money-back guarantees if your item isn't genuine.
How Much is BAPE Clothing?
While BAPE is a luxury brand, it's not at the same price point as heritage fashion houses, such as Gucci. You can expect to pay between $290 and $450 for a BAPE sweater. Sneakers retail from $106 to $411.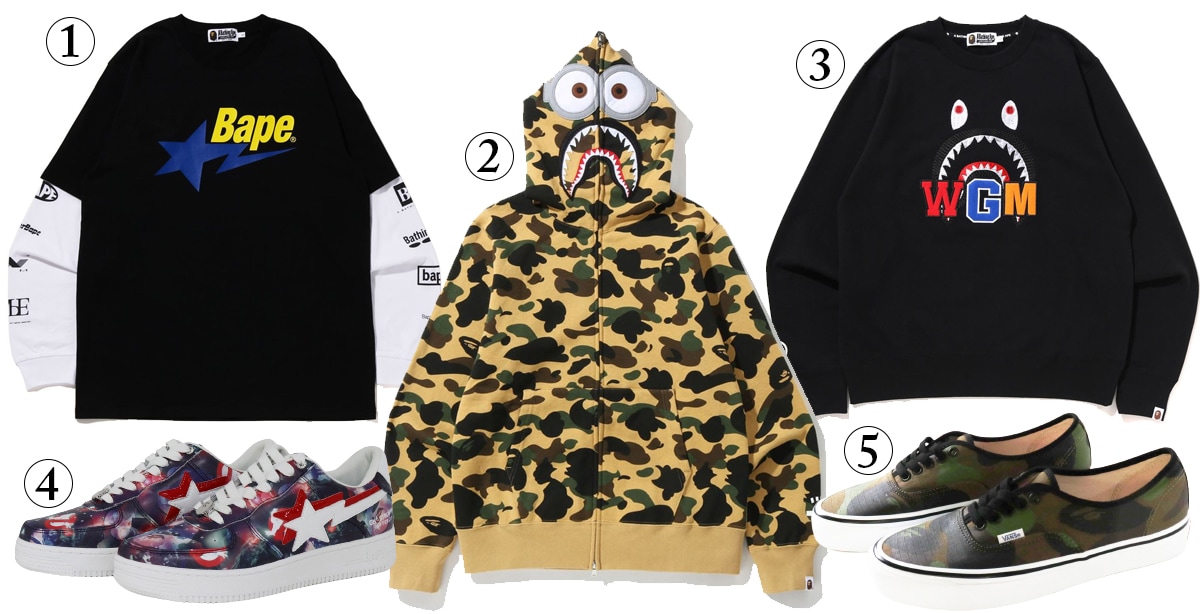 1. BAPE STA Layered L/S Tee, $234; 2. X Minions 1st Camo Minions Shark Full Zip Hoodie, $611; 3. Shark Embroidery Crewneck, $430; 4. X Ghostbusters Camo Baby Milo Double Bape Sta Low Sneakers, $411; 5. Bape X Vans 1st Camo Authentic Sneakers, $106
BAPE sits at a mid-tier luxury price point, making it more accessible than heritage brands while still being an investment. One of BAPE's most sought-after items is the 'BAPE Shark hoodie' that was first released in 2004 and retailed for around $300.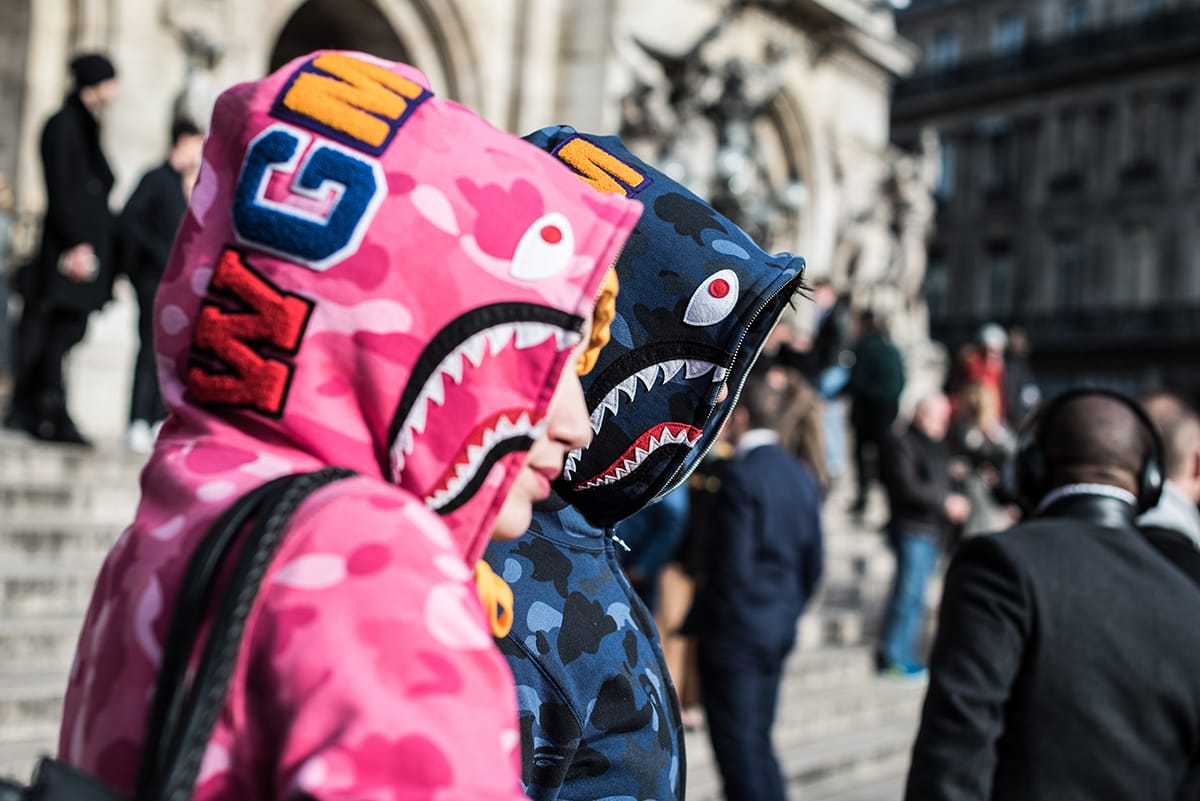 The BAPE Shark hoodie is one of the fashion brand's most sought-after designs (Credit: Runway Manhattan / Cover Images)
Why is BAPE Popular?
BAPE is popular because it seamlessly blends American streetwear with contemporary Japanese fashion. It formed part of the 'Urahara' aesthetic that dominated '90s fashion where today's streetwear has evolved from.
The brand grew a following in Japan, organically growing as fashion fans internationally discovered the brand through trips to Asia and in fashion magazines.
What made BAPE popular in the late '90s was its exclusivity—a hallmark of almost every luxury streetwear brand. BAPE was stocked in 40 stores across Japan before being sold exclusively from its one flagship in Tokyo.
BAPE founder and now Kenzo creative director Nigo with Pharrell Williams at the Los Angeles BAPE store opening in 2008 (Credit: Scott Kirkland / INFphoto)
Pharrell Williams introduced BAPE to an American audience when the small number of US stockists made it feel even more exclusive. The brand became intrinsically linked with rappers, including Kanye West and Soulja Boy.
After struggling in the early 2010s, BAPE was bought by I.T, a Hong Kong fashion conglomerate. It broadened BAPE's audience and removed its scarcity with a focus on heritage and permanent pieces.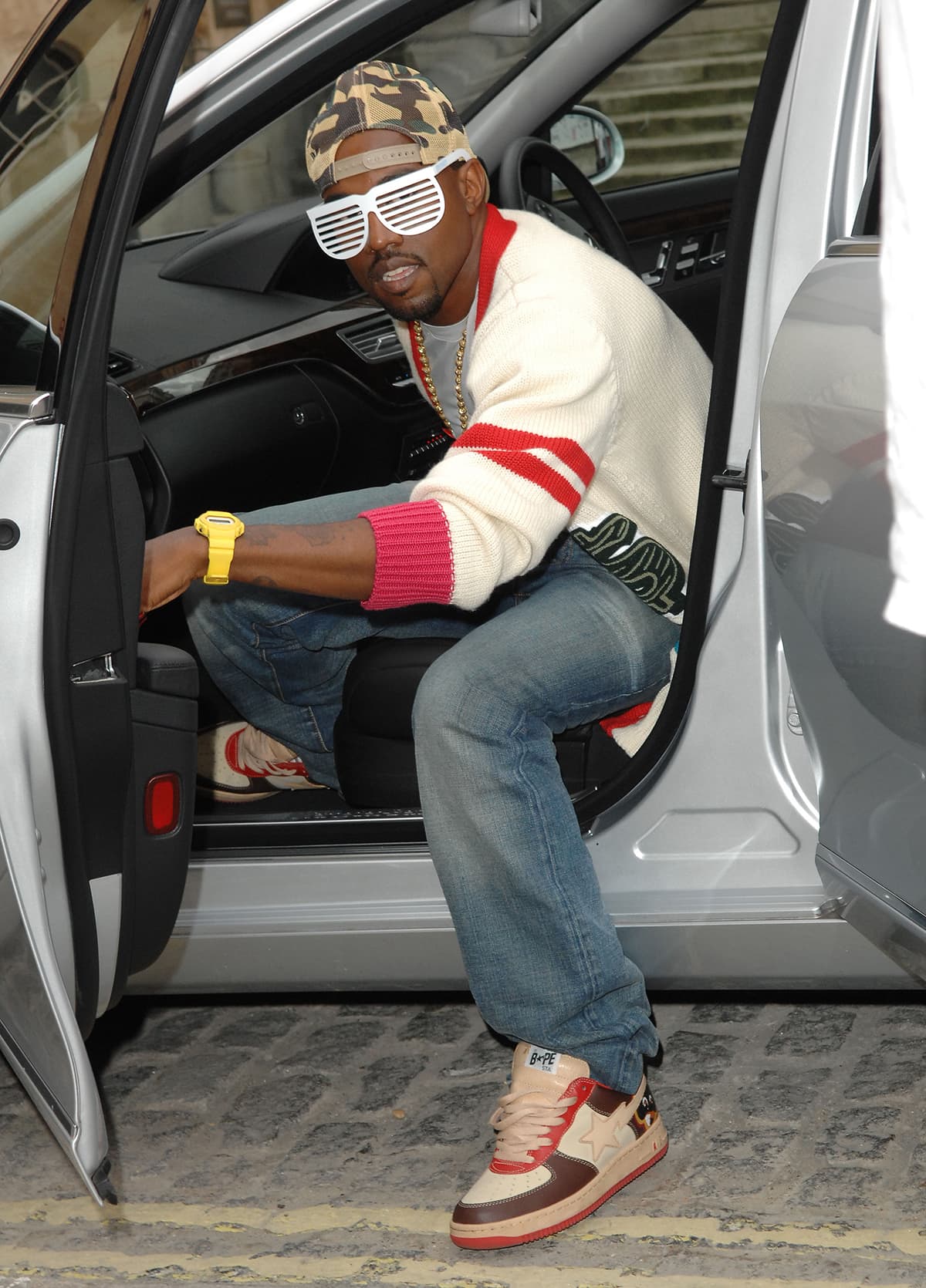 Kanye West wearing BAPE shoes in London in 2007 (Credit: Goff / INFphoto)
Is BAPE a Luxury Brand?
BAPE is a luxury streetwear brand with its origins in Japan, developing to become a global brand. The scarcity and high-price tag of BAPE's clothing are why the brand is a common target for counterfeiters.
It's worth remembering that BAPE is a Japanese company. BAPE follows the tradition of many Japanese companies by creating higher quality products as its domestic audience is more accustomed than Western markets to paying a higher price for well-made items.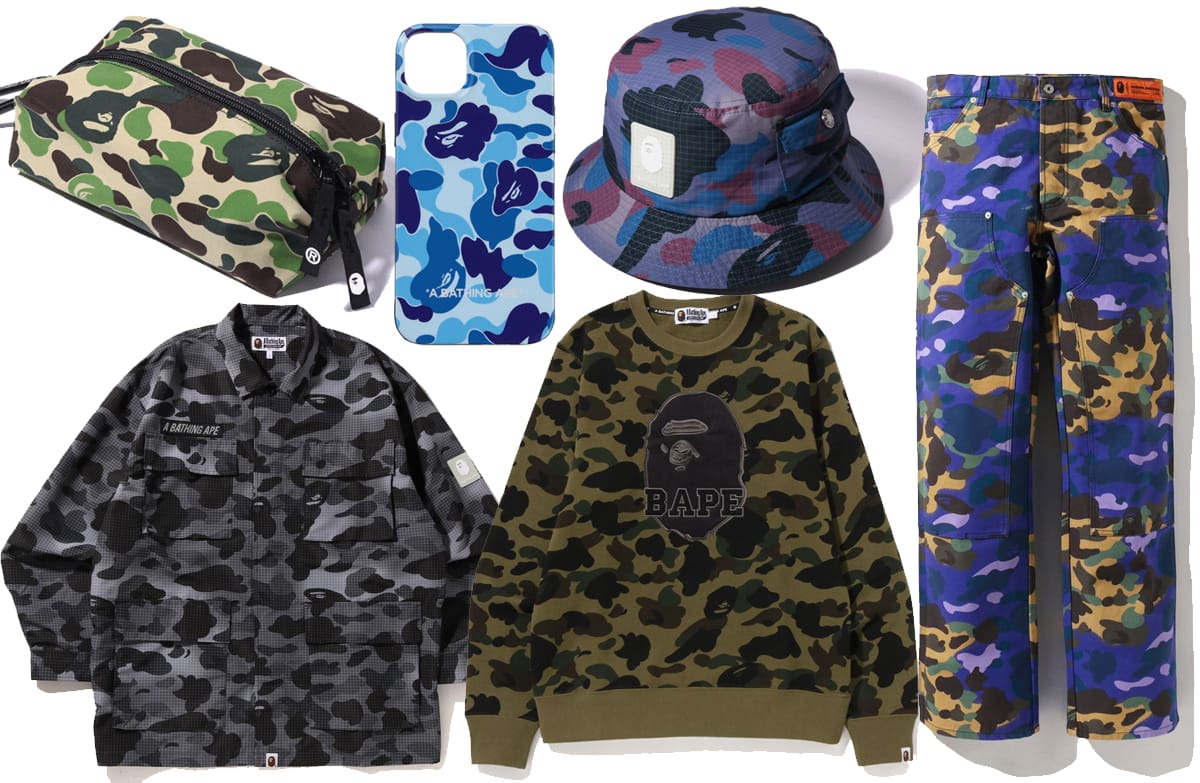 BAPE is known for its prints and patterns, but one of its most recognizable designs is the Cloud Camo
BAPE has a series of prints and patterns that are synonymous with the brand. One of BAPE's most recognizable prints is the BAPE Camo, nicknamed the 'cloud camo.'
Where are BAPE Products Made?
It's easy to assume that BAPE's products must be made in Japan – or even Europe – with its high price tag.
BAPE clothing and accessories are primarily made in China. It's a manufacturing trend that is becoming common amongst mid-tier luxury brands, particularly in streetwear.
Although a Japanese fashion brand, BAPE clothing and accessories are primarily made in China (Credit: Osugi / Shutterstock)
While a "made in China" label is usually a sign of a fake garment, it's not the case with BAPE. The brand has been making its t-shirts and clothing in China since at least 2013.
How to Spot Fake BAPE Clothing
How can you tell if BAPE clothing is fake? There are a few key factors to look out for whether you're shopping for BAPE clothing online or in-store.
Here are a few things you should look out for:
1. The BAPE Label
You'll find a neck label in most BAPE clothing, including its hoodies. The logo printing should be high quality and match the photos you can see on the brand's official website. Using official stock photos is a great way to compare authentic vs. counterfeit BAPE clothing.
Check the neck label and make sure the logo printing and stitching are of high quality
Pay attention to the quality of the stitching. It's one of the easiest ways to spot a fake BAPE hoodie. The stitching should be consistent without any visible flaws.
2. The Golden BAPE Tag
Some of BAPE's most iconic products come with a golden tag, such as the Bape Shark Hoodie. This feature is one of the easiest ways to tell if your BAPE clothing is real or counterfeit.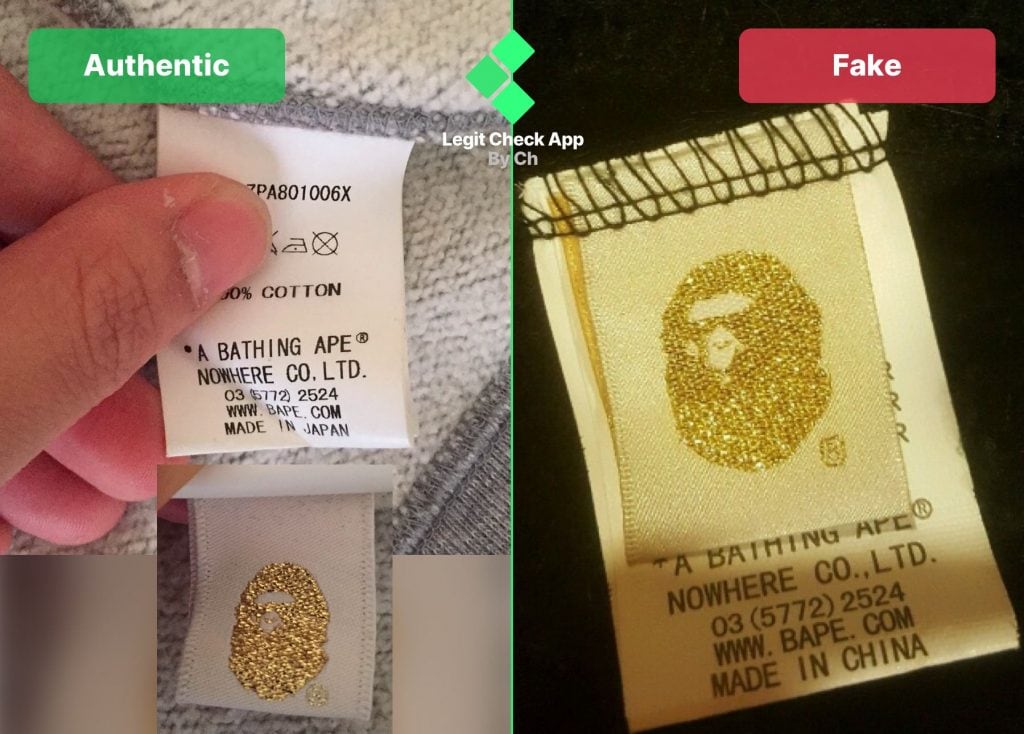 Some BAPE Clothing comes with a golden logo tag with a grainy texture (Credit: u/legitcheckapp / Reddit)
A genuine BAPE sweater will feature a gold tag with a grainy texture that isn't too rough. By comparison, fake BAPE sweaters will have a gold tag that is rough to the touch with aggressive glitter.
3. The BAPE Washing Label
One of the hardest features to authenticate on a BAPE sweater is the washing label. It's easy for counterfeiters to replicate, meaning it's often not worth focusing on when authenticating your BAPE clothing.
However, the stitching on the washing label can help you identify a real vs. fake BAPE garment. Genuine BAPE clothing uses a tight stitch with a criss-cross pattern, while counterfeit garments usually adopt a looser stitch.
BAPE is one of the most recognizable Japanese streetwear brands in the industry. No capsule closet is complete without at least one BAPE hoodie. Whether you're purchasing pre-loved or from an e-commerce store, our tips will help you know how to spot fake BAPE clothing.