Three years ago, Jennifer Lopez launched a luxurious shoe collection with Italian shoe designer Giuseppe Zanotti. This year, she has worked on a much more affordable line of shoes with DSW. Many styles are now on sale!
"We're bringing the downtown street style that represents New York, some old Hollywood glamour, and a vibrancy that's representative of Miami," said Lopez in a release.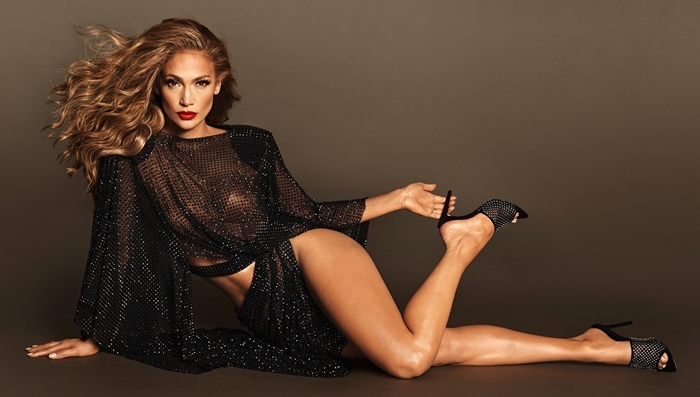 Jennifer Lopez has teamed up with DSW on the JLO Jennifer Lopez shoe collection
"With this collection, it's my hope that people can find and represent multiple sides of themselves, all while remaining true to their most authentic self. We girls really can do it all."
With prices ranging from $45 to $189 at DSW, the shoes represent three cities that have become very important to Ojani Noa's ex-wife.
Jennifer Lopez rocks a leopard print jacket with matching hot pants and lucite ankle-strap Parlata high heels
"There are so many facets to my career, and that's what I wanted to bring to my collection with DSW. This collection represents three cities that have become such an important part of who I am: New York, Los Angeles, and Miami."
Below you'll find our 10 favorite sky-high heels, sneakers, and over-the-knee boots from the footwear collection.
1. Malika Platform Sandals, $59.98
Available in gold snake print, gold/black, and beige/black metallic, this can't-miss pair wraps at the ankle for sultry strapping and is detailed with a circular buckle in matching tones.
I love these shoes, they are high but they have a platform in front so they are super comfortable. They look very elegant, I love them…
2.
Ondina Espadrille Wedge Sandals, $79.99
Touches of metallic add ultra-rich gold to the tan leopard print Ondina sandals. Embellished with braiding, X-straps, and a layered ankle wrap, these iconic wedges zip up the back for easy wear that matches your on-the-move lifestyle.
3. Inez Kitten Heel Sandals, $59.99
Available in leopard print, snake print, and tan cork, these sandals turn up the heat on casual classics by elevating the thong silhouette with a skinny kitten heel and a mix of high-style uppers.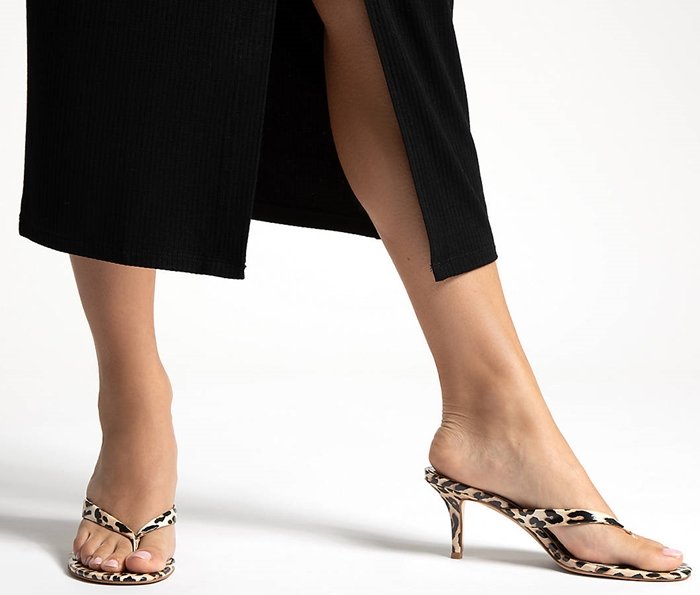 4. Red Patent Sela Platform Pumps, $79.99
Strike a power pose in these red point-toe pumps featuring a statement platform that's matched by an ultra-high stiletto, creating an arched silhouette that lengthens sun-kissed legs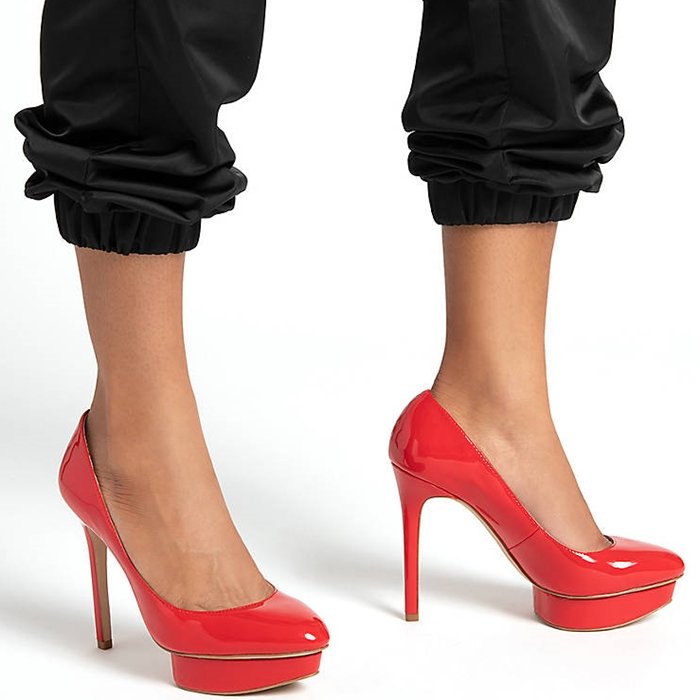 5. Red Croc Embossed Norela Platform Sandals, $99.99
Croco embossing brings untamed texture to the Norela sandals. The ultra-high illusion heel looks modern and blocky from side angles while blurring into a skinny stiletto when viewed from the back angle.
6. Madia Over The Knee Platform Boots, $99.98
The Madia over-the-knee boot slays the style game with a powerful platform heel combo, full-length corset lacing, and see-through mesh that reveals peeks of skin. A back zipper makes this an effortless pair to pull off.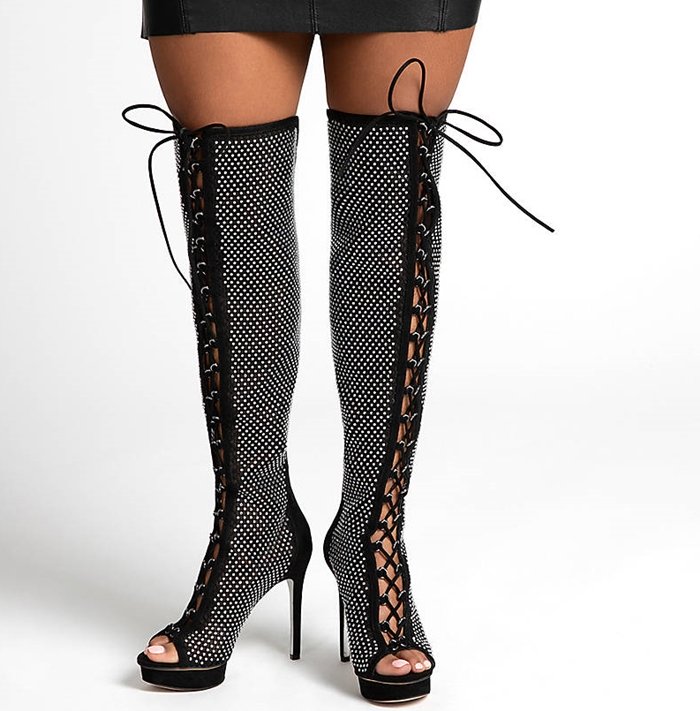 7. Silver Metallic Brita Block Heel Sandals, $69.99
Dazzling rhinestones embellish the Brita sandals that are fitted with two bands to create modern layering. The flared block heel adds geo-chic interest that's new to your closet.
8. Black Fishnet Mesh Fabric Florella Pumps, $44.98
A spiked power heel and skinny ankle straps bring iconic sizzle to the Florella ultra-high pumps. Backless styling reveals plenty of skin while providing just enough coverage at the pointed toe.
9. Yellow Snake Print Larenn Espadrille Platform Slip-On, $59.99
Hot tropical details and beach bomb espadrille make the Larenn a jet-setting dream. This design shows off a sporty, white-bottom sole with sawtooth treads and braided straps that wrap around the ankle.
10. Amitres Platform Wedge Heel Sneakers, $59.99
Styled with a clean and minimal upper, the Amitres sneakers capture iconic fashion. Available in black and white, a wedge heel ups the appeal of these swag-focused sports sneakers, while bold lace hooks provide a glint of metallic shine.