Also known by her nickname J.Lo, she is undoubtedly one of the most influential and powerful Latinas that have maintained a long-lasting successful career in Hollywood.
But prior to achieving her long list of accomplishments, including being the first Latina to earn a million dollars for a movie role, Jennifer Lopez struggled to break through stereotypical roles in her early career.
However, following her lead role in the box-office hit Wedding Planner, J.Lo's acting career took off. And for the past years, she has been starring in movies produced by her own production company, Nuyorican Productions.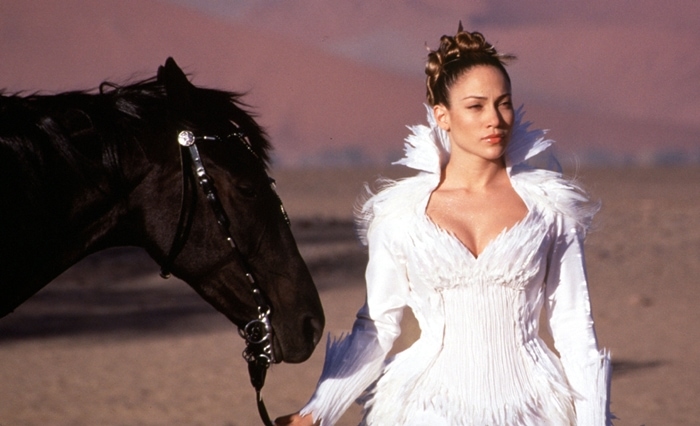 Jennifer Lopez as Dr. Catherine Deane in The Cell, a 2000 science fiction psychological horror film
These films include Bordertown (2006), El Cantante (2006), Feel the Noise (2007), The Boy Next Door (2015), Second Act (2018), Hustlers (2019), and her upcoming rom-com with Owen Wilson, Marry Me.
Looking like the powerful woman that she is, Jennifer Lopez exuded glamour as she was spotted leaving The Soho House in Sunset Boulevard on Friday night.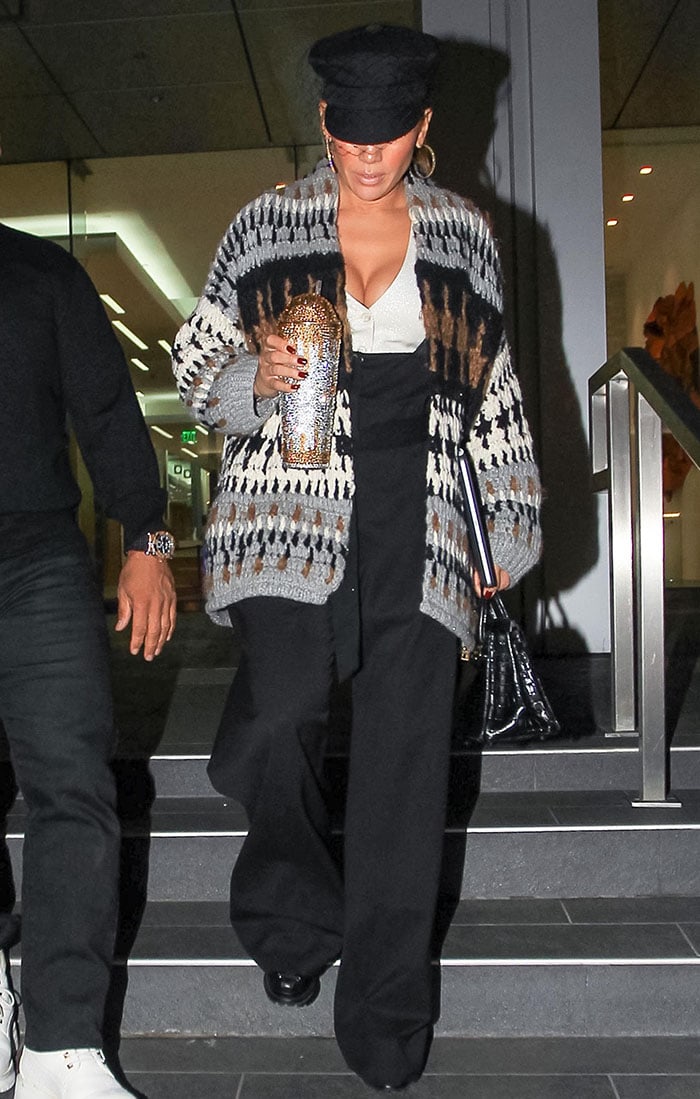 Jennifer Lopez leaving Soho House West Hollywood on October 23, 2020
Not related to George and Mario Lopez, she strutted down the sidewalk in a cleavage-baring low-cut white top tucked into a pair of Brunello Cucinelli Fall 2019 high-waisted black pants.
In an attempt to conceal her famous curves, J.Lo layered the look with a cozy, multicolored sweater, which perfectly matched her glittery TaylorMadeBling gold drip Dsw cup.
Handcrafted from cashmere, mohair, and silk, her cozy, multicolored front-open cardigan features a geometric design, thread embroidery with sequins, and black belt detail.
Jennifer Lopez shows off her cleavage in a low-cut top with Brunello Cucinelli pants and a cardigan
The multi-hyphenate star glammed up further with a pair of Lana Jewelry Flawless diamond-studded hoop earrings and her Vivid Diamonds & Jewelry emerald cut engagement ring.
Injecting some added style to the look, J.Lo hid her ponytail underneath a black Dior Arty cap with a veil detail.
She skipped wearing a face mask and showed off her beautiful features, highlighted with bronzer and nude lipstick.
Jennifer Lopez wears bronzer with nude lip shade and a Dior newsboy cap
For her feet, J.Lo opted for a pair of trendy combat boots from her collaboration with DSW.
She slipped into the Jahliah faux leather combat boots, which feature full-length lacing down the toes and moto buckled ankle straps.
They also have inside zips, round toes, 1-inch platforms, and 5-inch block heels with synthetic lug soles.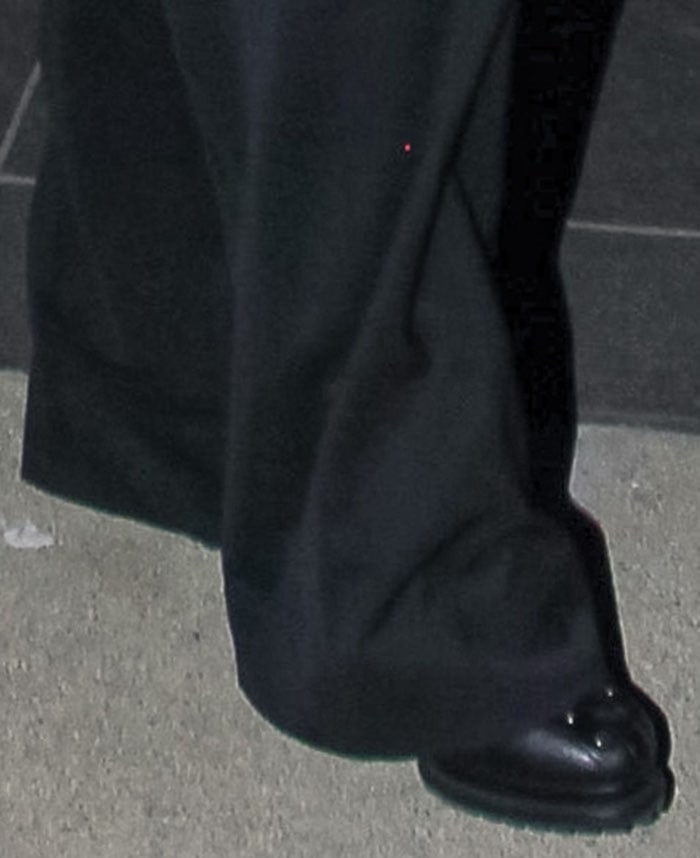 Jennifer Lopez completes her perfect fall outfit with J.Lo x DSW combat boots
J.LO for DSW 'Jahliah' Platform Combat Boots, $149.99 at DSW
The Jahliah booties feature full-length lacing down to the toe and a wrapped moto strap
Who gave Jennifer Lopez her nickname J.Lo?
"J. Lo came from Heavy D," she told fellow World of Dance judges Ne-Yo and Derek Hough during a commercial break on a World of Dance episode that aired on July 21, 2020.
"The rapper. He would come into the studio when I was making my first album, and he would always call me Jenny Lo. And I was dating Puffy at the time, and so, Puffy and Jennifer Lo, or Jenny Lo, was showing up in records. Like, they were talking about us in records and stuff like that."
Jennifer Lopez and Sean "Puffy" Combs during the 1999 MTV Video Music Awards held at Metropolitan Opera House in New York City
Jennifer Lopez and Sean "Diddy" Combs began dating in 1999, one year after her divorce from Cuban waiter Ojani Noa.
They met on the set of a music video for her debut album, On the 6, which was released on June 1, 1999. Combs and Lopez split in February 2001. A year later, she started dating Ben Affleck.
Jennifer Lopez's Struggles in Overcoming Stereotypes as a Latin Artist
At the beginning of her acting career, she always thought of wanting to play the "lead" and not just the typical Latin role of being a cook or a nanny.
"Back then, it was just like, 'How am I going to be an actress?' and in my mind, I was like, 'I want to play the girl, the woman.' Just not the Latin woman in the Latin role where you think I should play the cook or the nanny or something like that," J.Lo told Zane Lowe on Apple Music's At Home With session.
Jennifer Lopez celebrates the release of her debut album in 1999
"I wanted to be the lead. I wanted to just represent for everybody and make everybody see that it didn't matter if you were Latin or black or Asian or whatever. You're a girl, you're a human being. And so there was those challenges of breaking through that."
During Billboard Latin Week, J.Lo said via Hollywood Reporter: "I never wanted to be put in a box. I wanted to always be a person. Look at me like I'm a person. Don't look at me like I'm one of type of person, like I'm just a Latin girl over here and I can only do these things."
"No, I can do anything. You should let me play the president of the United States. I should be able to do that. It's always been my goal with my career to show diversity in the different things and characters that I could play."
Rumored to have undergone plastic surgery, J.Lo was recently featured in Variety's Power of Women Conversations, where she opened up about being stereotyped at auditions.
"When I started, I would always go in for what they would call the maid, the Rosie Perez-type role, the dishwasher. I was like, 'I don't want to do that.' I had to kind of break out of that, and convince somebody to put me in the first romantic comedy, which was The Wedding Planner."
Credits: Instar / WENN / Sidewalk / Marcus Hoffman