Katie Holmes has a new movie coming out, Alone Together. Not only does she star in the film, but she also wrote and directed it!
The film is about two strangers who are double booked in a hotel at the beginning of lockdown, where they are forced to confront their feelings about each other.
The 43-year-old explained how she was inspired by the nostalgic movies she had watched when she was younger during an interview on Late Night with Seth Meyers.
"I went through watching a bunch of movies, and actually during that time, I was watching movies that I grew up on, like Manhattan, Annie Hall, When Harry Met Sally. Like movies that I knew the ending [of], it was comforting, there was joy, and so I thought well, I was reading a lot about couples coming together and falling apart, and I was like, I think the threat of the world ending, let's see a couple come together."
"We shot a year after lockdown, and the movie takes place during lockdown," she added.
"As actors, I think we all went through that moment of, are we ever going to work again? Are we ever going to be on set again? So, it was more about, oh my God, there's tape, there's a mark, we have lines. Wow, we can do it again. So, it actually never gets easier, there's always something to figure out. But it was definitely like thank you God for every moment," she said about going back to work after lockdown.
The star has been a supporter of New York-based fashion brand Chloé for a long time and appeared on the show on July 20th in a black turtle neck top and puzzle-style skirt.
Katie Holmes wears blue jeans with a classic Chloé shirt that features romantic detail in the broderie anglaise collar on July 20, 2022, in New York City (Credit: Roger Wong / INSTARimages / Cover Images)
Before appearing on the show, the actress was spotted in a more casual Chloé outfit. She headed to the interview in a chic white blouse, blue jeans, and gold accented Nama sneakers made from a rich mix of materials, with 40% of its weight made up of recycled debris.
The straight-legged jeans feature large pocket details on the front, and the white long-sleeved blouse features a collar detail.
The Chloé low-impact Nama gold and white sneakers complemented the black handbag the star slung over her shoulder. She styled her brunette hair down, wearing a hint of makeup.
The star also appeared on Good Morning America that same day. The mother of one was again spotted wearing Chloé on her way to the interview, where she promoted her new film.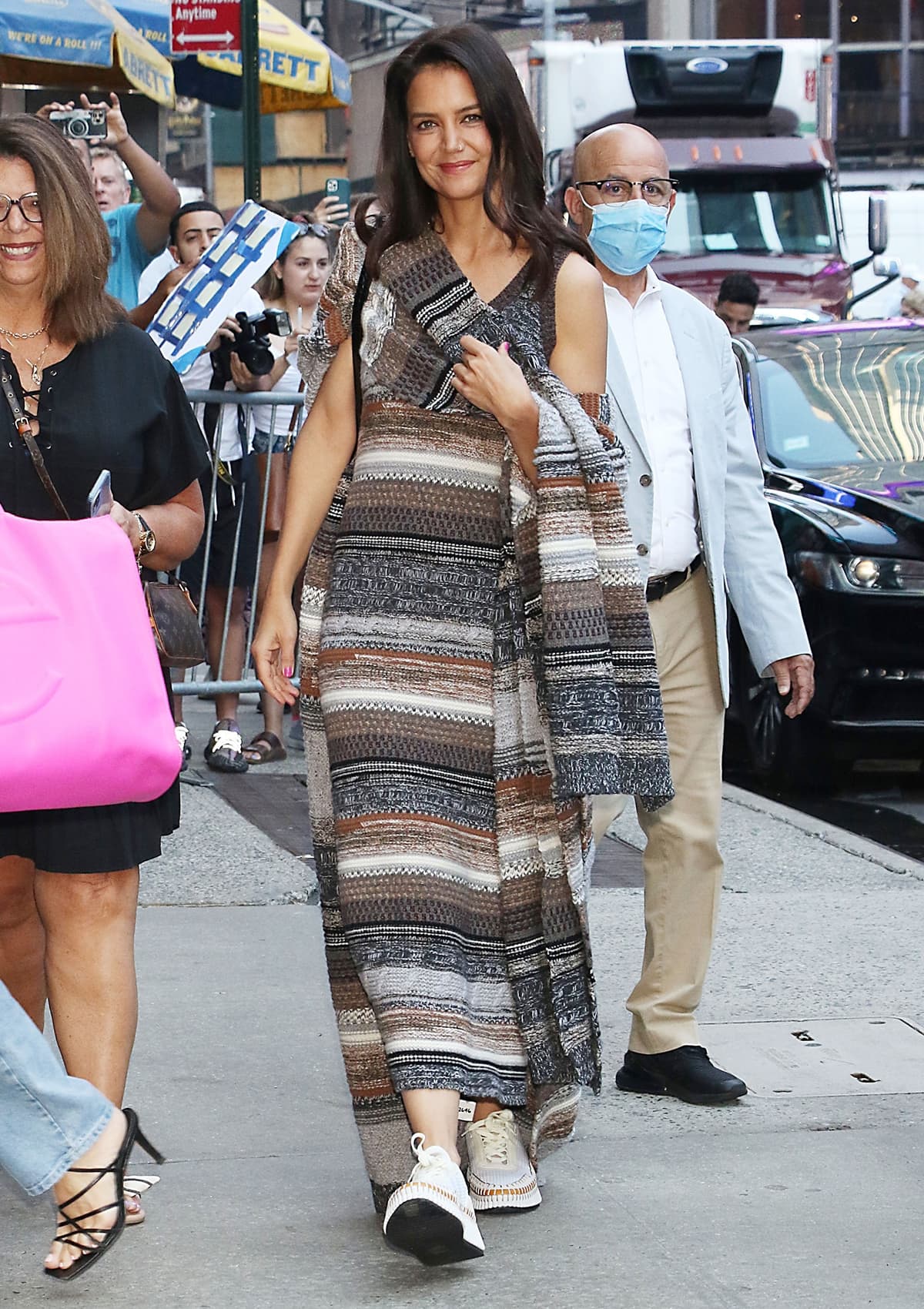 Katie Holmes wears a long Chloe striped poncho with a matching scarf and tank dress on July 20, 2022, in New York City (Credit: Roger Wong / INSTARimages / Cover Images)
She paired the same white and gold sneakers with a multicolored recycled cashmere tank dress from the Chloé Pre-Fall 2022 collection.
The star must not have been feeling the 80-degree heat in New York as she draped the matching long poncho across her shoulders.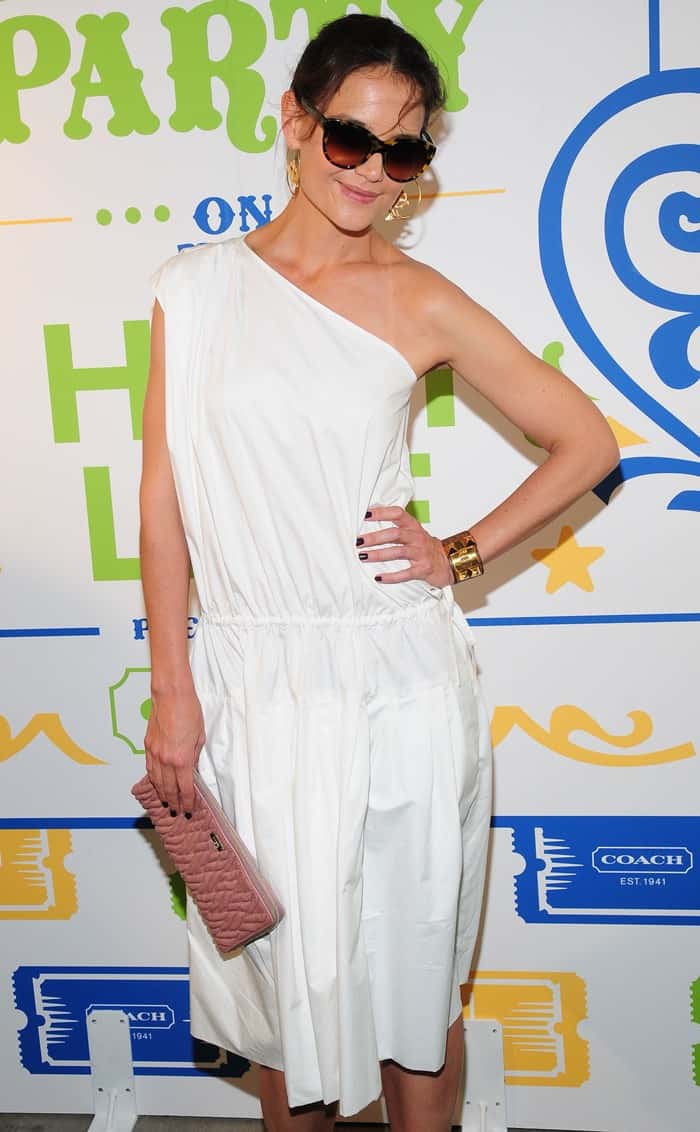 Katie Holmes attends the 3rd Annual "Summer Party On The Highline" Hosted By Coach on June 11, 2013, in New York (Credit: Dan Jackman / WENN)
In June 2013, ladies from the Big Apple gathered to celebrate Coach's Summer Party on the High Line. Some of the celebrities who attended the event were Katie Holmes, Connie Britton, Naomi Watts, and Anna Kendrick.
Coach has remained one of the world's most beloved brands when it comes to style, quality, and affordability.
I myself bought a wallet from Coach a few years ago — and I'm still using it today. I usually wear down my bags and wallets easily due to everyday use, so that's something to say about this brand's quality!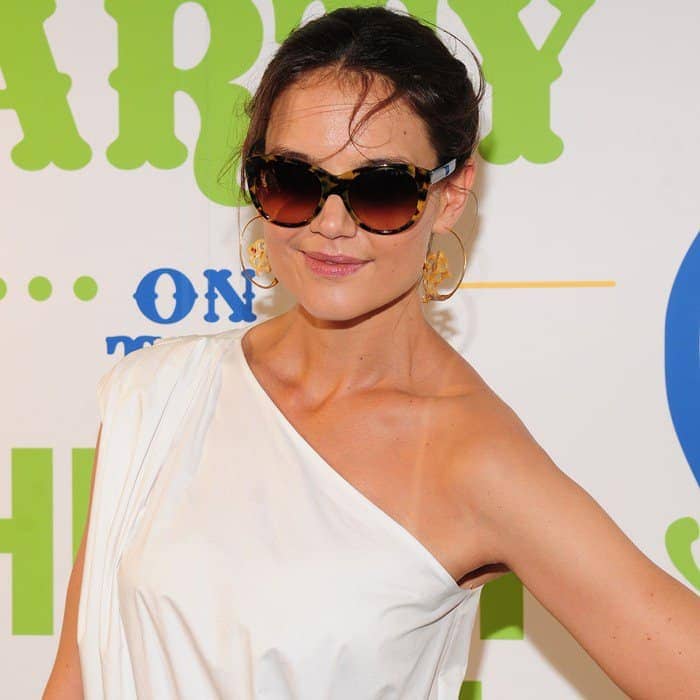 Katie Holmes wears a white Chloe Resort 2013 dress with chic sunglasses (Credit: Dan Jackman / WENN)
During the event, Coach also announced a generous donation for Campaign for the High Line — a drive to keep the Rail Yard Park open and maintained for everyone to enjoy. A good cause! The world needs more parks!
One of the attendees, Katie Holmes, wore a one-shoulder white dress by Chloe paired with Azzedine Alaia heels.
Although I'm not too sure if this dress gives justice to the actress' svelte figure, I am loving her sunnies and her pink Coach clutch.
Katie Holmes totes a Coach Madison gathered leather zip clutch (Credit: Dan Jackman / WENN)