So, you've just been summoned for jury duty – now what?
Although many Americans have a general idea of jury duty, they often don't give the finer details much thought until they receive their summons. The jury selection process involves your district court randomly selecting names from your area's registered voters.
You will receive a questionnaire to assess your qualifications as a potential jury member if chosen. This questionnaire aims to determine your eligibility and suitability for jury service.
There is no strict dress code for jury duty, but it is important to dress in a way that is respectful and professional (Credit: Sirtravelalot / Shutterstock)
If you are chosen after submitting the questionnaire, you will be summoned to appear in court. At this point, an additional screening process will examine potential jurors and attempt to select a diverse group.
During the jury selection process, a judge and the attorneys involved in the case will ask questions to assess your suitability as a potential jury member. This crucial step is known as 'voir dire'.
It serves the purpose of identifying individuals with biases or prejudices that could hinder their ability to decide on the case impartially. The objective is to select a jury that can fairly evaluate the evidence presented and reach a just verdict.
In addition to asking questions, your appearance may be assessed. It's important to note that the clothes you choose to wear can potentially impact the impression you make and even influence selection processes.
What do you wear if you don't want to get picked for jury duty?
Some people are grateful for the opportunity to serve on a jury, while others cringe. If you don't want to be picked, you could wear specific items that deter lawyers from picking you.
Your clothing says a lot; lawyers will make assumptions about you based on your appearance. Here are items you can wear that will help influence lawyers not to pick you:
1. Clothing that displays political or religious affiliations
When lawyers evaluate you and consider whether or not you would be a suitable choice, they want to make sure you don't have any biases that could cloud your judgment and influence you as a juror.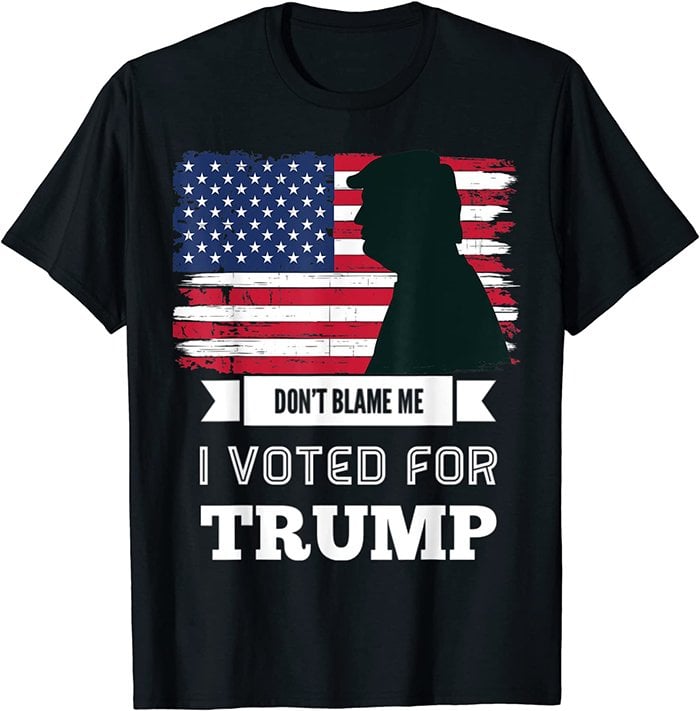 Wearing this pro-Trump tee with Trump's silhouette is one sure way of not getting picked for jury duty
For example, wearing a Biden or Trump baseball cap or t-shirt would display strong political beliefs. Lawyers are looking for neutral individuals.
2. Flip flops or beat-up sneakers
You'll be scrutinized head-to-toe when you step into the courtroom. Choosing casual and unprofessional footwear like flip-flops or beat-up-looking sneakers may stop you from being picked.
Too casual Havaianas rubber flip-flops are not suitable for any jury services
3. Beachwear
Courtrooms tend to be extra cold, so this won't be the most comfortable option, but it could be effective (in not getting you picked!).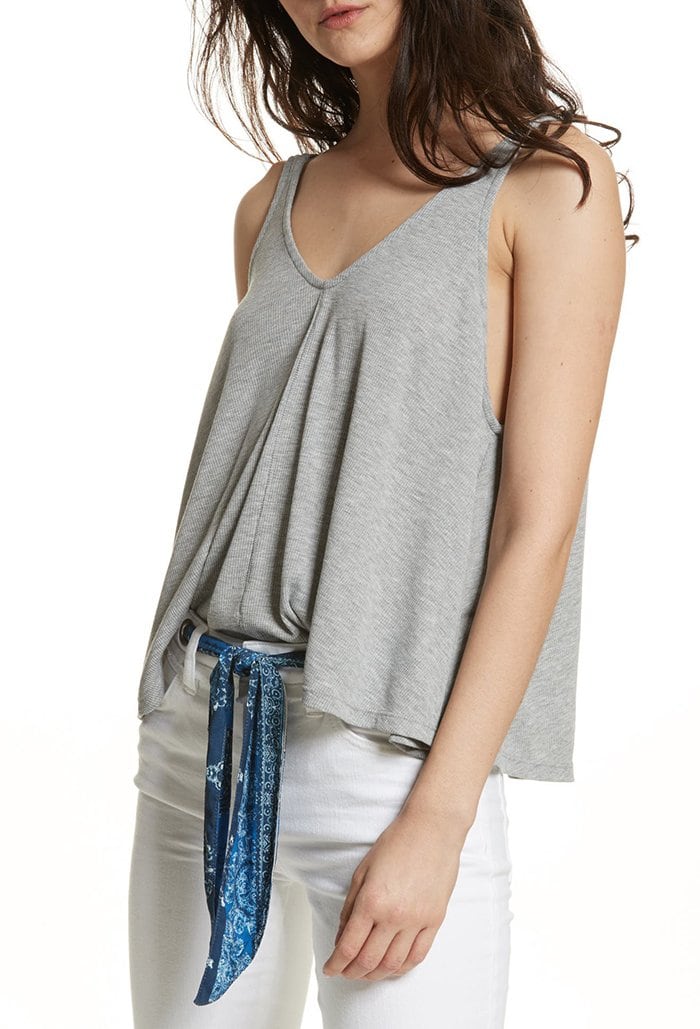 You'll be sent out of the courtroom in this low-cut swing tank top
If you are dressed inappropriately, you may be asked to leave the courtroom, which could be good for you, depending on how you look at it.
Wearing tank tops, shorts, miniskirts, crop tops, or short sundresses will often work.
4. Lots of embellishments, offensive wording, or logos
This is a bolder move, and although you may not want to be picked, you probably don't want to get into trouble, so choose carefully. There is a fine line when it comes to offensive wording.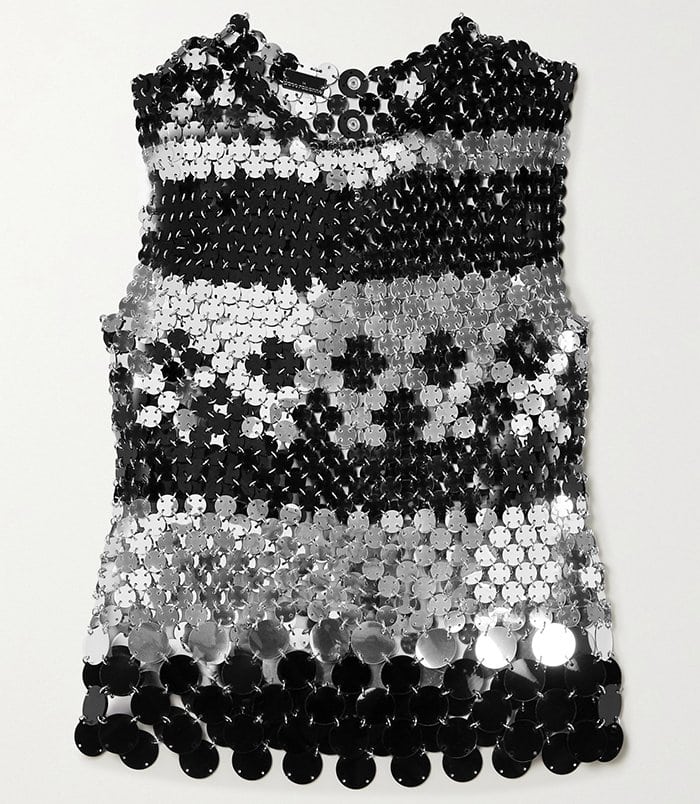 This Paco Rabanne chainmail tank is too bold for the courtroom
If that's too risqué for you, a t-shirt with bright colors, logos, or bedazzling likely won't leave the lawyers with a lot of confidence in your decision-making skills.
5. Casual wear
When stepping into a courtroom, you are expected to be dressed formally. Dressing too casually may be interpreted as disrespect or poor judgment.
No one will pick you if you're wearing this too-casual Adidas tracksuit
Wearing tracksuits, joggers, sweatsuits, or crop tops won't get you picked for jury duty.
What do you wear for jury duty?
Now that you know what to wear if you don't want to get picked, it's time to look at what you should wear to make a good impression.
When on a jury, it's important to note there is a jurors dress code. As it is a formal process, much consideration must be made regarding conduct and attire. When acting as a juror, business attire is strongly recommended.
Those not in business attire or wearing the items mentioned earlier may be sent home. If you are sent home, you could be ordered to return later.
Clothes must be clean and ironed. Even if you have the right pieces, it will not make a good impression if they are dirty or wrinkled. In addition to wearing business attire, you should dress warmly.
Courtrooms can be very cold, so it is best to dress in layers. If you aren't sure what business attire entails, here are some items you should have.
Business attire for women
Business attire for women consists of pants, skirts, or dresses paired with a blazer. Colors are limited, and women should only wear solid colors like black, gray, navy, and white.
Avoid wearing perfume as scents can trigger those with sensitivities, and if you choose to wear nail polish, you should use neutral or clear nail polish.
1. Business professional shirts
A professional business shirt should have a collar and will likely be a button-down. Business attire sticks to neutrals, blue and black.
Look business-ready in a pleated cotton-poplin shirt with chic balloon sleeves
A white or blue shirt, void of patterns or prints, will work well with skirts or pants.
2. Professional footwear
As you can imagine, flip-flops and sneakers are a no-go. Instead, choose closed-toe shoes like heels or flats. If you wear heels, they should be no taller than 3 inches in brown, black, or navy.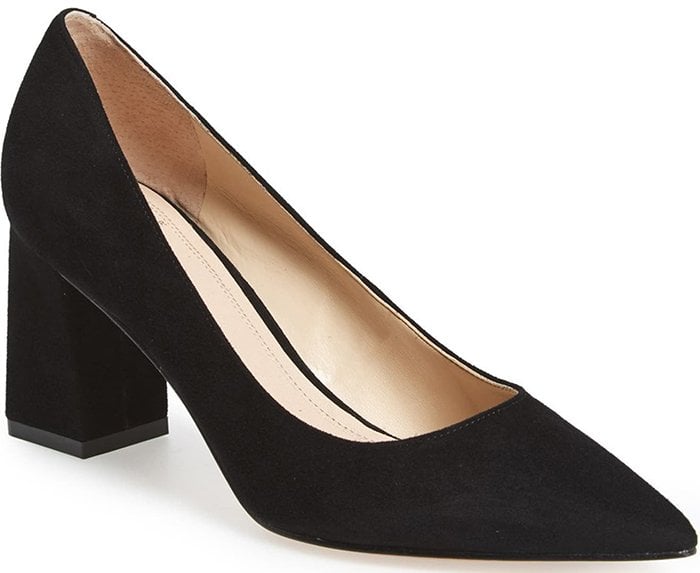 The Marc Fisher Zala is a timeless and versatile pump that's elevated by a structural block heel
Additionally, if your legs are showing, you should wear a pantyhose that matches your skin tone.
3. Accessories
You can wear accessories; however, they should be simple. For earrings, small gold or silver hoops or studs will work.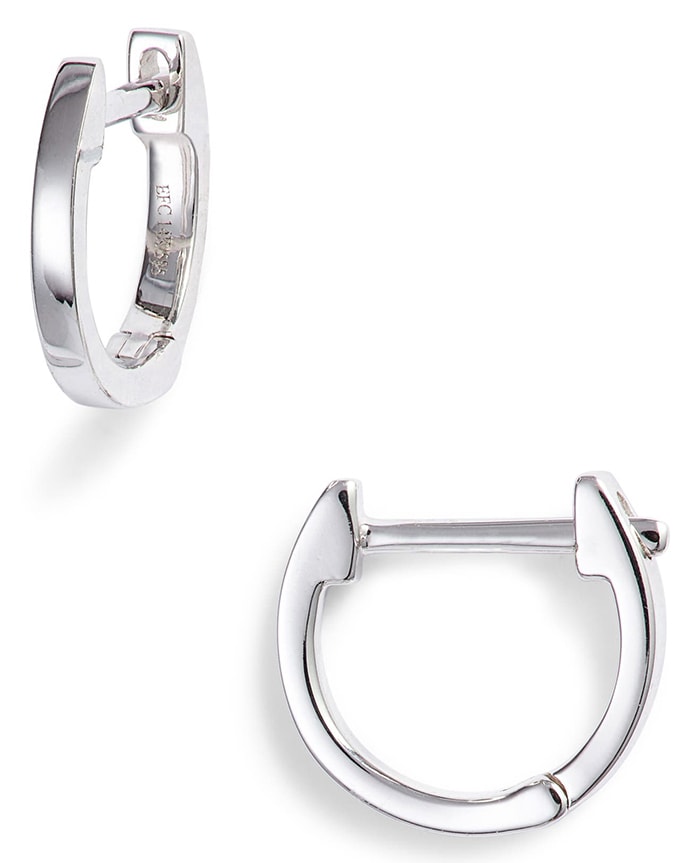 These tiny white gold hoops are enough to add elegance to a simple business look
For rings and necklaces, they should be simple and not distracting, like an elegant gold chain necklace and wedding bands.
A delicate chain necklace with a simple butterfly pendant from British jewelry brand Estella Bartlett
4. Pants or Skirt
A pantsuit with coordinating slacks and a blazer are perfect for jury duty. Look for solid items that are appropriately tailored and not too tight. If you wear a skirt, it should fall below the knee.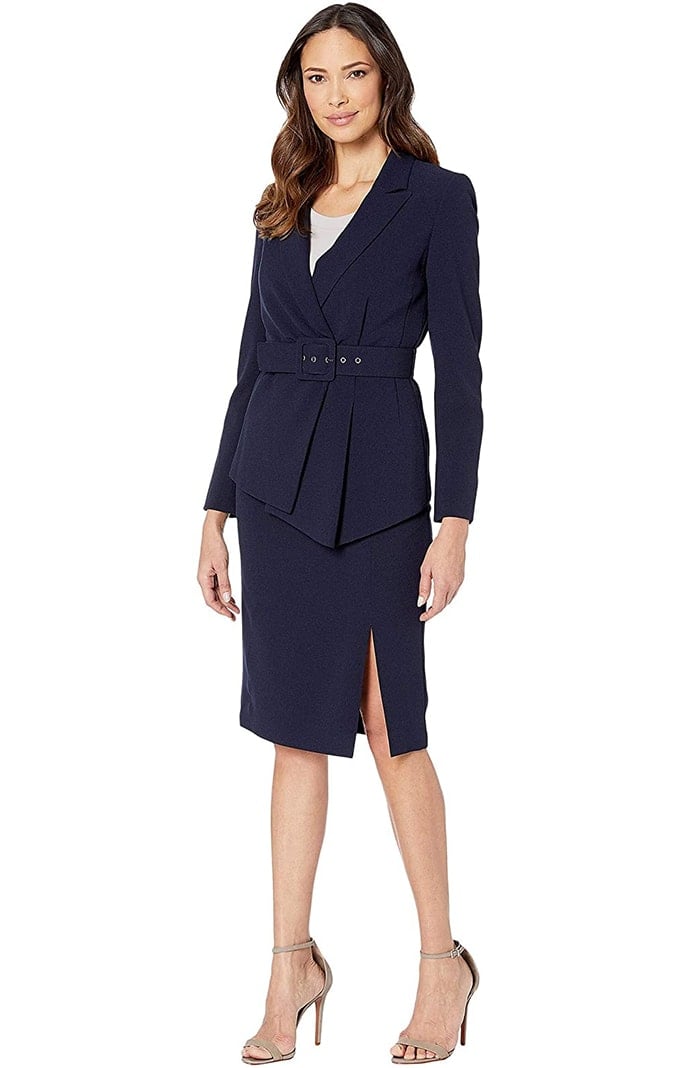 A coordinating skirt suit is perfect for those who want to give off a feminine yet powerful vibe
5. Dresses
Dresses can be worn but should be in darker colors like navy, black, or grey. The hemline should fall below the knee and not be form-fitting.
You will notice that many business professional dresses are sleeveless.
Conservative but chic, this belted denim midi dress has a collar and a modest slit at the knee-grazing hem
This is so wearing them with a blazer will be more comfortable. When in a courtroom, you should always cover your arms.
6. Blazer
A blazer will be structured and tailored to fit. It should be in one of the colors listed above and not have any embellishments like additional pockets, large buttons, or excessive zippers.
A quality blazer will also help keep you warm in a cool courtroom.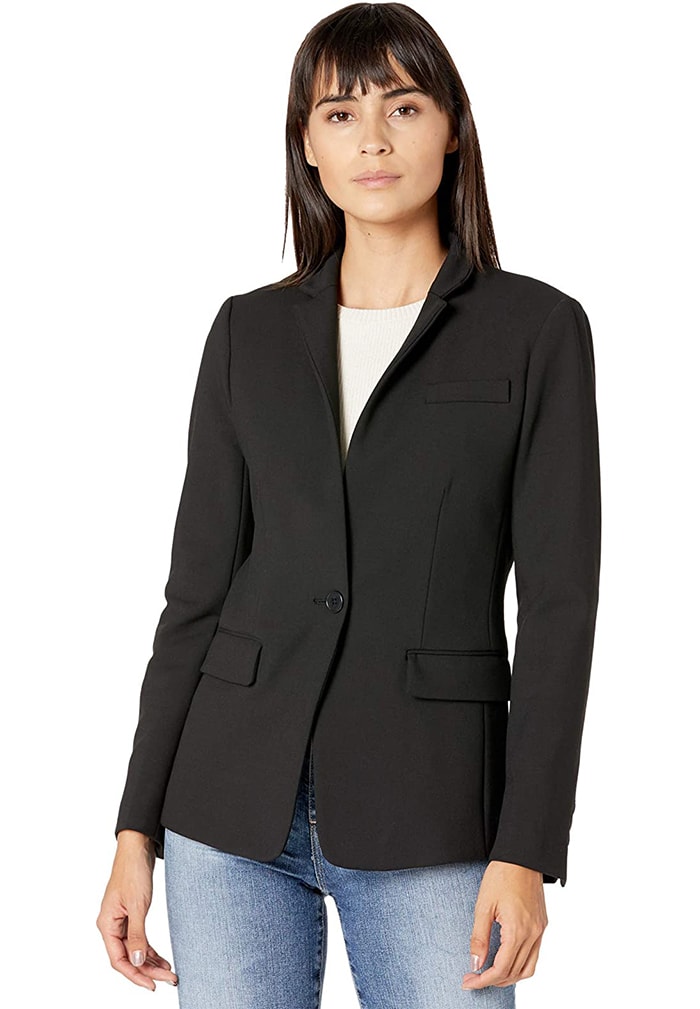 Add a sleek and sophisticated finish to any look with this tailored J. Crew blazer
Business attire for men
The guidelines for men's attire are very similar to women's and consist of suits, slacks, and button-down shirts.
The same color guidelines apply and should consist only of neutrals and solid navy, black, and grey. Patterned ties and shirts are not appropriate for the courtroom.
1. Suits
Suits are the easiest and most common attire for men. Solid or pinstriped suits with notched lapels will work well.
Black is the most formal, and dark grey is often best for winter, while navy is more suitable for summer months.
You'll surely be picked for jury duty in this fashion-forward yet smart Kennet Cole pantsuit
2. Professional footwear
A pair of dark-colored oxfords, loafers, or cap-toed shoes with coordinating laces are best. When wearing dress shoes, make sure you are always wearing dress socks in dark colors.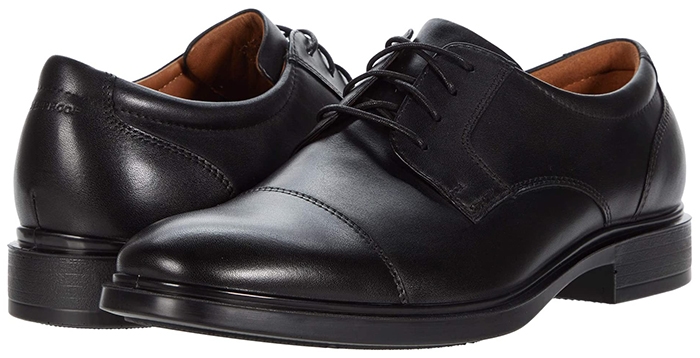 Stay comfy and professional-looking in these Florsheim oxfords
A belt is essential to men's business attire and should match the shoes. For example, if wearing brown leather loafers, you would wear a brown leather belt with them.
Team your black shoes with a black belt like this simple Shinola leather belt
3. Business shirts
Whether wearing a suit jacket or not, you should always wear a white or blue button-down. A professional shirt will have either a barrel or a French cut cuff.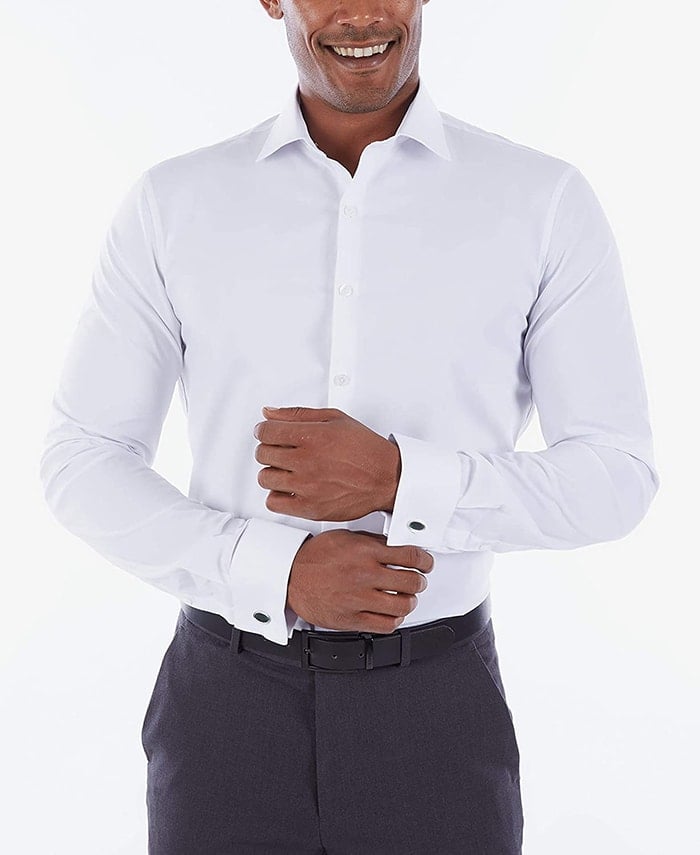 Complete your business look with Kenneth Cole's Technicole white shirt with French cuffs
4. Ties
Ties are preferred and will make your business attire more formal. If wearing a tie, it should be classic and either solid or striped.
Keep your business outfit trendy with Giorgio Armani's striped tie
When dressing for jury duty, it is as if you are dressing for a job interview at a formal institution like a law firm or bank. In addition to your attire, you need to consider your hair, tattoos, and piercings.
Jury duty hair, tattoos, and piercings
1. Hair
Hair should be in natural colors in a professional style. This means no bright green mohawks. That is unless you don't want to be picked!
2. Facial piercings
If you have facial piercings like a nose, eyebrow, lip, or cheek piercing, you should take it out or hide it if you can.
3. Tattoos
Although it won't explicitly be said, the judge and the lawyers may judge you on any visible tattoos you have. If you can hide your tattoos with clothing, you should do so.
Jury duty could last anywhere from one day to several weeks. You won't be able to know how long jury duty will be until you are selected.
If you feel honored to serve as a juror and want to make a positive impression, follow these tips here and get a few key pieces to build your professional business wardrobe.