It's never fun to feel like you're being compared to someone else, and it's no different for 28-year-old actress Keke Palmer when it comes to people comparing her success to Zendaya's.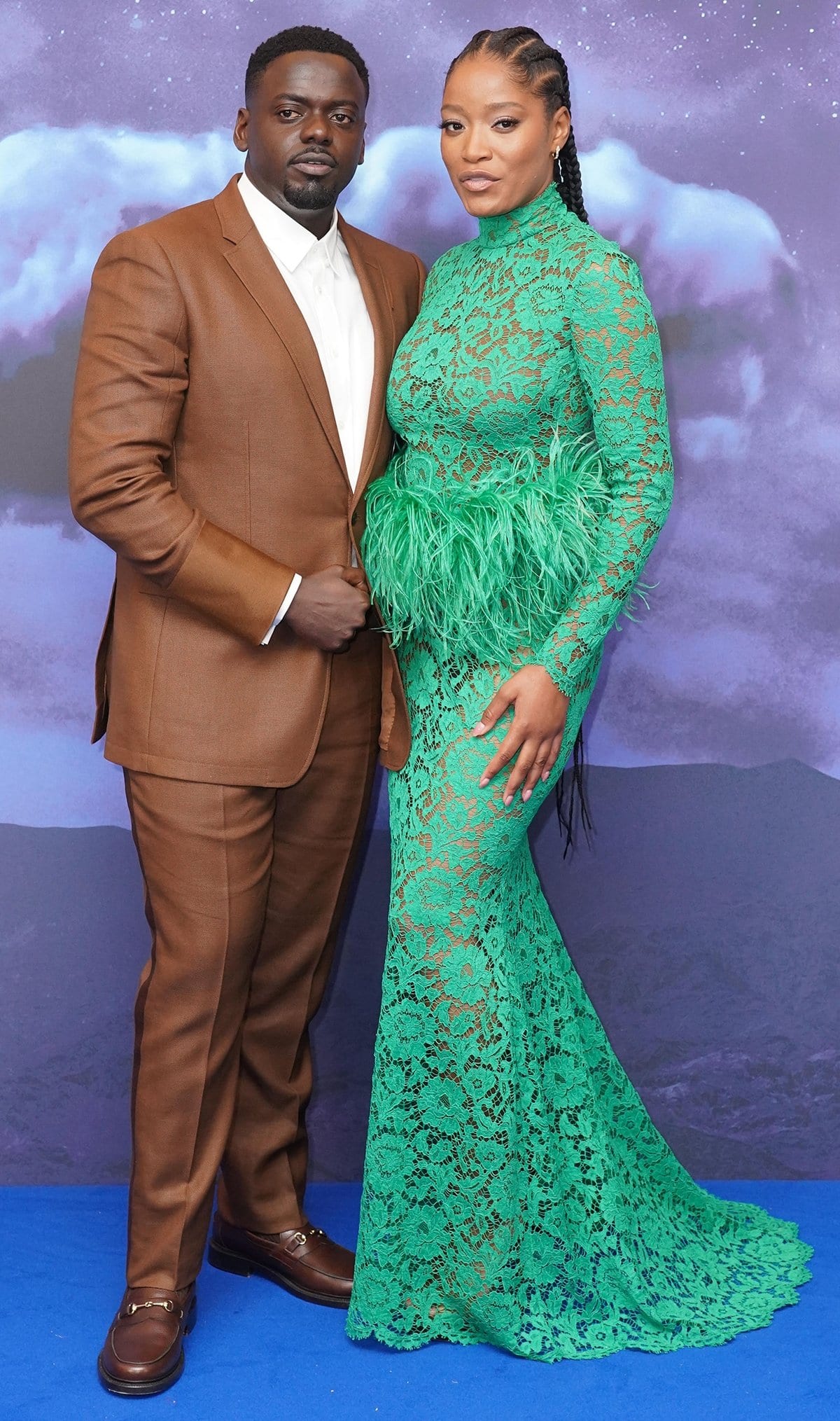 Keke Palmer in a green lace Valentino floor-length dress featuring feather boa waist trim poses with Daniel Kaluuya at the UK Premiere Of "NOPE" at Odeon Luxe Leicester Square on July 28, 2022, in London, England (Credit: Ian West / PA Images / INSTARimages / Cover Images)
A viral tweet argued there is a difference between the success of Palmer and 25-year-old Zendaya, saying that it's "one of the clearest examples of how colorism plays out in Hollywood."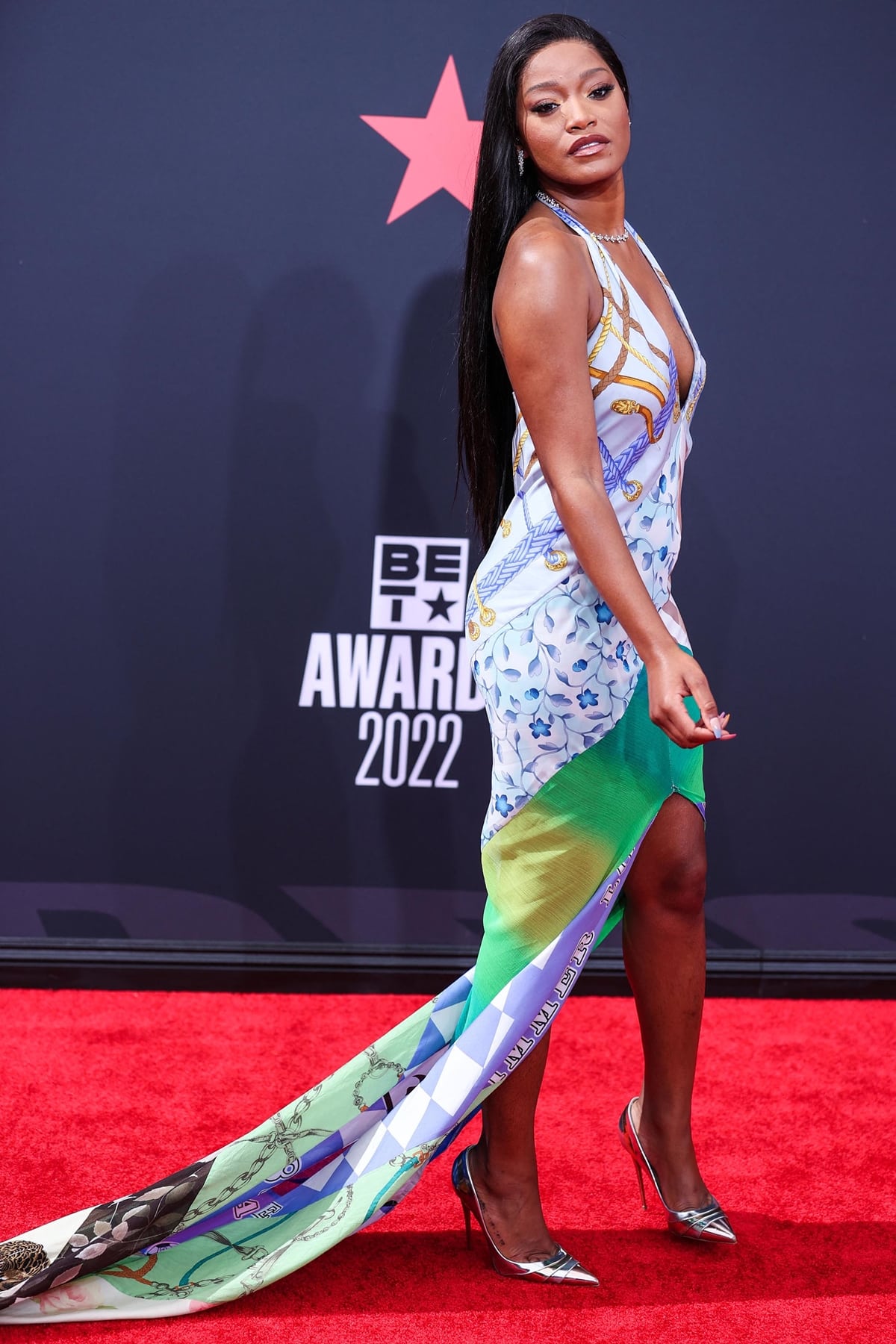 Keke Palmer wears a colorful Conner Ives halter dress with metallic pumps and Tiffany & Co. jewelry at the 2022 BET Awards at Microsoft Theater on June 26, 2022, in Los Angeles, California (Credit: Xavier Collin / ABACA / INSTARimages)
Another tweet also points out how many people consider Palmer's recent project Nope her breakout role, though the actresses were both popular child stars.
Keke Palmer flaunts her legs in a strapless David Koma Pre-Fall 2022 dress paired with crystal-embellished sandals at the "Nope" Premiere at Zoopalast on July 26, 2022, in Berlin, Germany (Credit: Nicole Kubelka / DDP / INSTARimages / Cover Images)
Palmer caught wind of the thread and defended her career in her own series of tweets. She said, " A great example of colorism is to believe I can be compared to anyone. I'm the youngest talk show host ever. The first black woman to star in her own show on Nickelodeon, & the youngest & first black Cinderella on Broadway. I'm an incomparable talent. Baby, THIS, is Keke Palmer."
In another tweet, she said, "I've been a leading lady since I was 11 years old. I have over 100+ credits, and currently starring in an original screenplay that's the number one film at the box office #NOPE. I've had a blessed career thus far, I couldn't ask for more but God continues to surprise me."
Keke Palmer in a yellow satin Prada dress and long gloves on the red carpet of the Italian premiere Nope at The Space Cinema Moderno Roma in Rome, Italy, on July 23, 2022 (Credit: Anna Maria Tinghino / DDP / INSTARim / Cover Images)
Her response was the classiest! She defended her impressive career and didn't tear down Zendaya in the process because there's no need to.
Both women are successful in their own right. Palmer became a household name when she played the titular role on the Nickelodeon show True Jackson, VP. In addition to Nope, she's also starred in movies like Hustlers, The Longshots, and Akeelah and the Bee.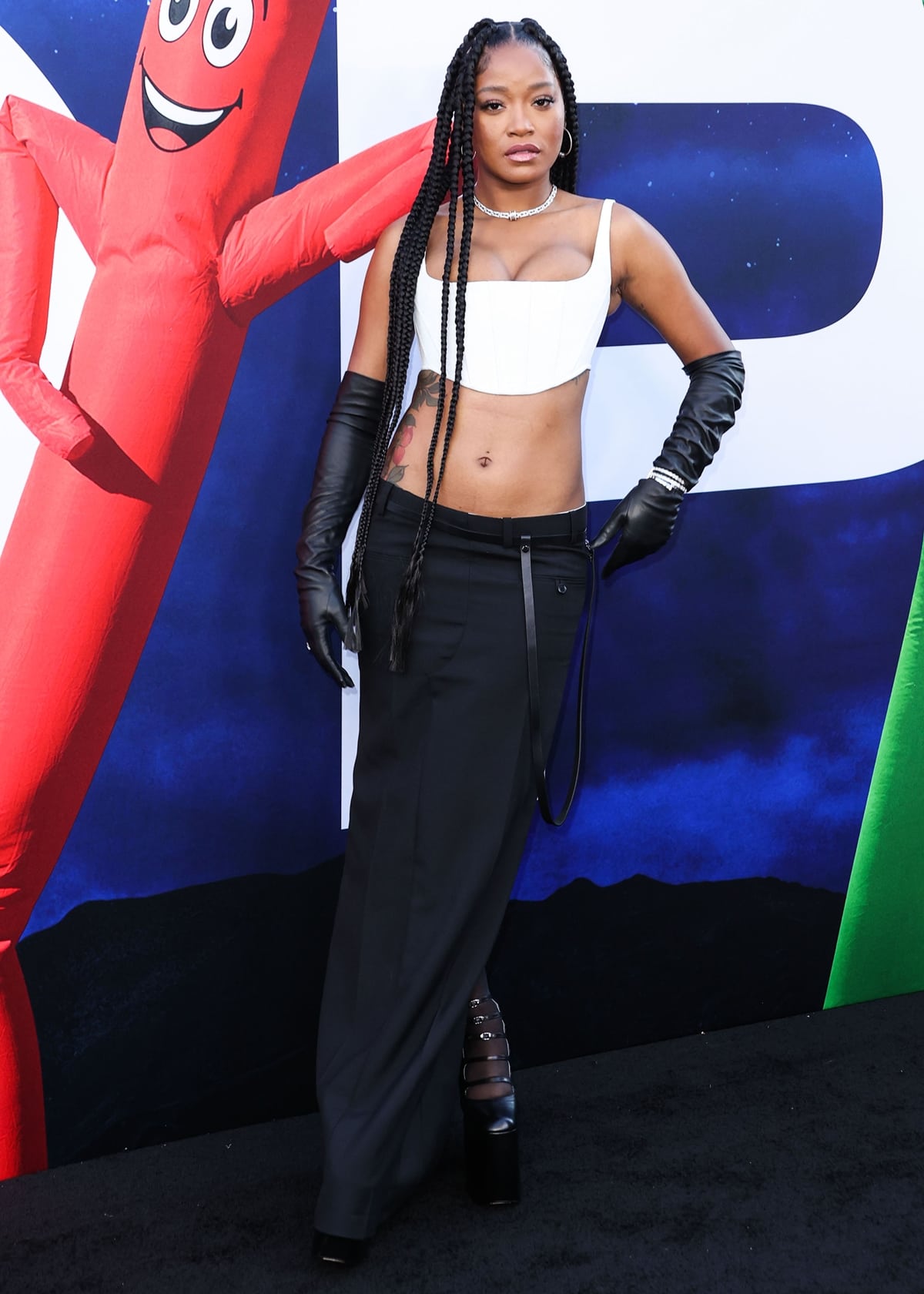 Keke Palmer in a cropped white bandeau top paired with a black maxi skirt from the Marc Jacobs Fall 2022 Collection at the world premiere of "NOPE" at TCL Chinese Theatre on July 18, 2022, in Hollywood, California (Credit: Xavier Collin / ABACA / INSTARimages / Cover Images)
Zendaya has talked about colorism in Hollywood in the past. The Euphoria star was quoted at an event in 2018 saying she tries to use her privilege as a "light-skinned black woman" to highlight different beauty in the African-American community.
Keke Palmer calls comparisons to Zendaya colorism and doesn't want to be compared to anyone (Credit: Xavier Collin / ABACA / INSTARimages / Cover Images / Jennifer Graylock)
"I am Hollywood's, I guess you could say, acceptable version of a black girl and that has to change," she said. "We're vastly too beautiful and too interesting for me to just be the only representation of that."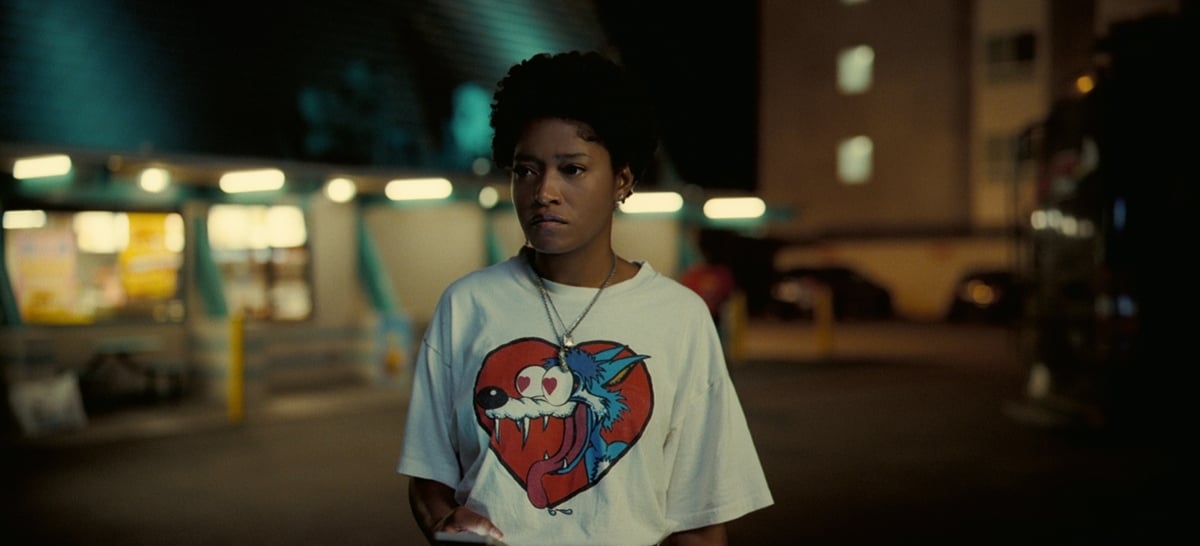 Keke Palmer is being praised for her performance as Emerald "Em" Haywood in the 2022 American science fiction horror film Nope (Credit: Universal Pictures)
It's understandable to want to call out injustices when you notice them, but it's clear that Palmer and Zendaya have equal levels of success regardless of when you believe they both became household names. If nothing else, their IMDb pages speak for themselves.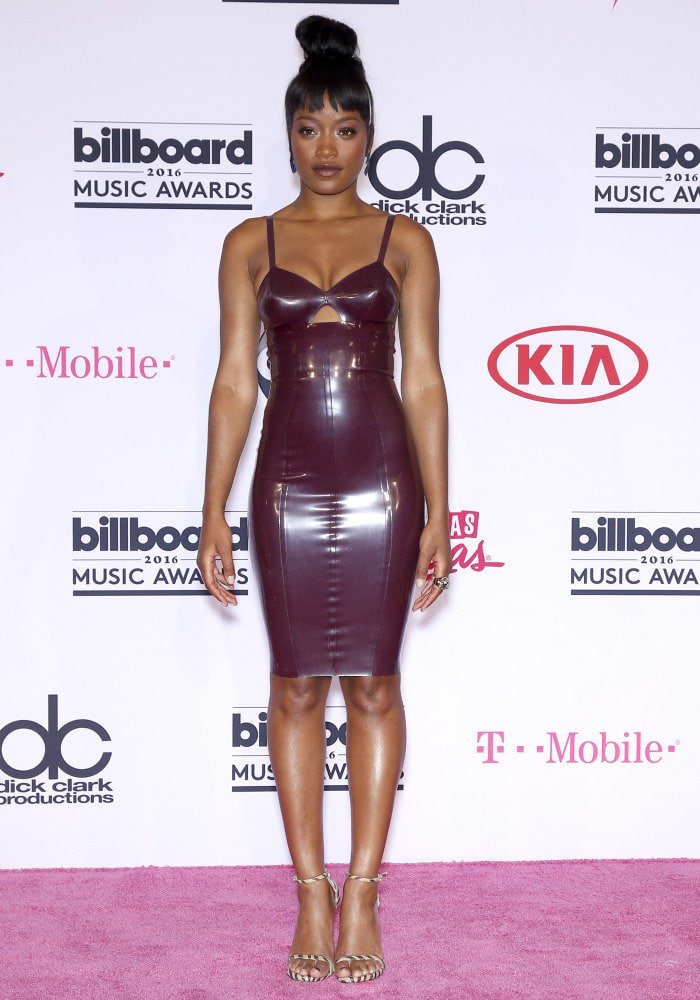 Keke Palmer slays the pink carpet of the 2016 Billboard Music Awards held at the T-Mobile Arena in Las Vegas on May 22, 2016 (Credit: Judy Eddy / WENN)
In May 2016, Keke Palmer demanded attention in a skintight latex dress as she took the stage at the 2016 Billboard Music Awards to introduce Nick Jonas's band, DNCE.
Keke Palmer flaunts her legs in a maroon latex House of Harlow pencil dress (Credit: Judy Eddy / WENN)
She is known for her bold ensembles, and this House of Harlow pencil dress was no exception.
Made of shiny maroon latex material, Keke's dress hugged her curves in all the right ways. Spaghetti straps and a cutout chest detail drew attention to her upper half, while a classy and sexy knee-skimming hemline put her legs on display.
Keke Palmer flaunts her curves and Atelier Swarovski flower leaves drop earrings before the 2016 Billboard Music Awards (Credit: Judy Eddy / WENN)

Keke wore her hair in a sassy topknot complete with choppy fringe and added some sultry matte makeup to her flawless face to play up her fierce ensemble.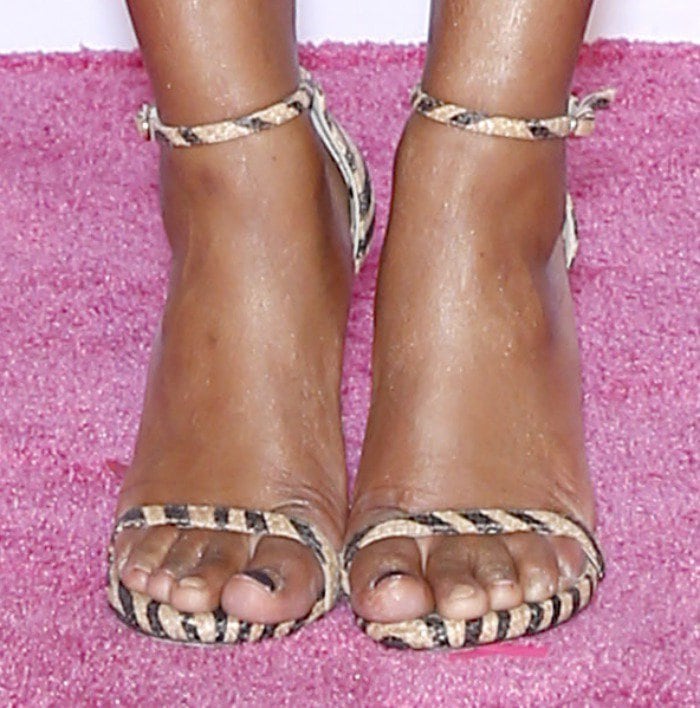 Keke Palmer shows off her feet in Stuart Weitzman Nudist sandals (Credit: Judy Eddy / WENN)
She kept her accessories simple, opting for some St. John statement rings and a pair of sapphire Atelier Swarovski earrings, letting her wild zebra print sandals steal the show!
The "Scream Queens" star showed off her feet in strappy printed Nudist sandals from Stuart Weitzman.
These heels are made of a textured material in beige and black zebra stripes and feature a thin toe strap and adjustable ankle strap. You can check out all the available color hues at Zappos and Nordstrom.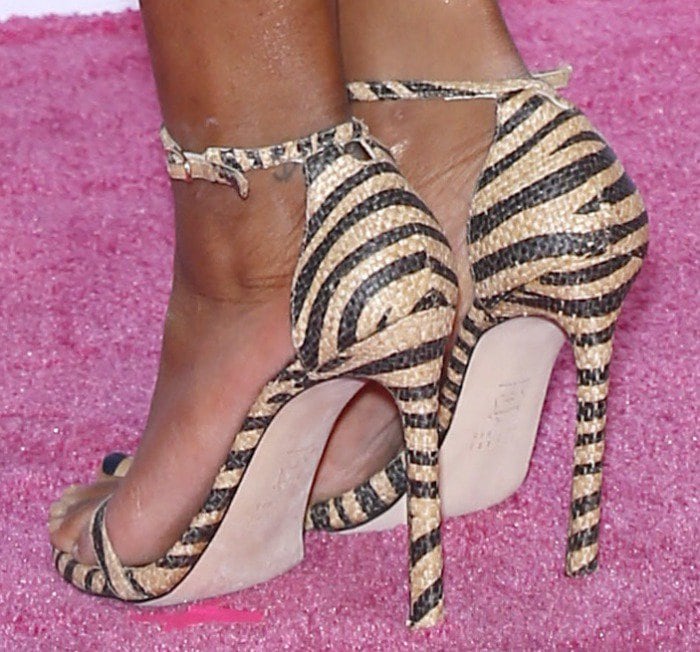 Keke Palmer displays her feet in beige and black zebra high-heel sandals (Credit: Judy Eddy / WENN)