If you've been eyeing that Gucci belt on eBay but you're still unsure of its authenticity, it's time to put an end to your confusion.
There are many ways to determine if your Gucci belt is fake or not (Credit: Olgakimphoto / Shutterstock)
The best way to ensure authenticity is to shop at a reputable retailer, like Nordstrom or Farfetch.
But, if you find a deal elsewhere that seems too good to pass up, the below tips will help you easily distinguish a fake Gucci belt from a real one.
1. Check the packaging
Authentic Gucci boxes are always off-white in color. If your box is looking a little too stark white, you probably purchased a counterfeit.
Fake Gucci boxes will almost always have logos that are fading at the corner. The Gucci logo is very thin and precise, which makes it a little tricky for counterfeiters to knock off.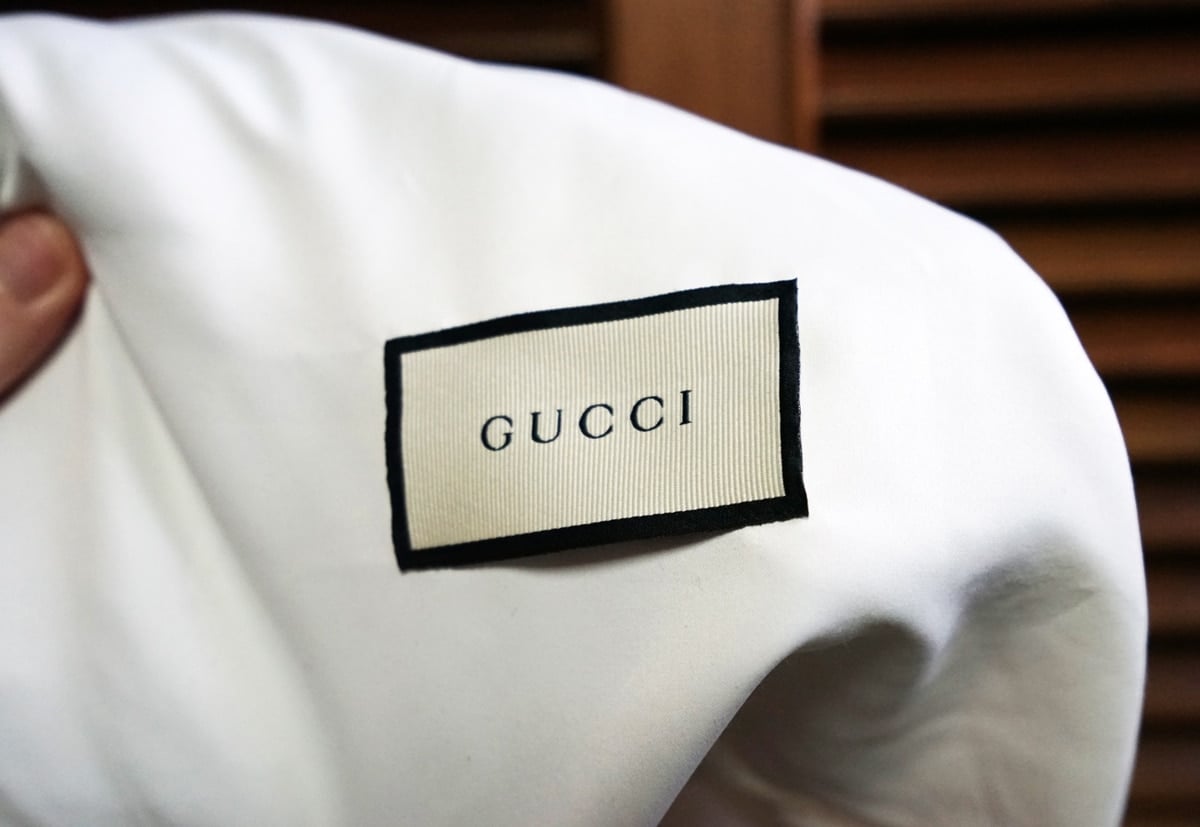 An authentic Gucci logo tag on a real white satin handbag dust cover (Credit: Chettarin / Shutterstock)
The dust bag should have the label stitched only at the four corners, which means you should be able to slide your finger under the label from all sides.
Counterfeit dust bags are usually stitched completely down the sides, making it impossible to put your finger through.
Additionally, the dust bag fabric should be made from silk.
Watch out for unnecessary gaps in your "GG" logo belts (Credit: Creative Lab / Shutterstock)
While newer Gucci products come in the off-white packaging, older dust bags come in classic Gucci brown.
The brand's gold label should be centered perfectly on the bag.
Regardless of how old your Gucci product is, the dust bag drawstring should be positioned in the upper right corner. There should also be a tag inside that says "Gucci made in Italy."
2. Know a quality buckle when you see one
Gucci has taken on a much frivolous direction in more recent years, which means a larger variety of products makes it impossible to list consistent material usage.
So, rather than knowing design trademarks, shoppers should become familiar with brand quality.
Take, for example, Gucci buckles.
For buckles that feature overlapping metal (as in the famed double G belt), the spaces between the pieces should be tight.
Fake and knockoff buckles are usually sloppy with the fit and attachment of the pieces. Watch out for gaps in between the metal where there shouldn't be.
Familiarize yourself with the signature Gucci leather heat stamps (Credit: Andersphoto / Shutterstock)
Quality buckles are heavy and chunky. The design should be clearly defined and precise almost to a fault.
The closure pin on the back of the buckle is usually smaller and more delicate compared to knockoffs. There should be no chipped paint anywhere on the buckle.
3. Scrutinize the textures
Counterfeit belts, like the authentic, also use heat stamps to mark the leather. Genuine Gucci products seem to be more detailed and precise with leather markings.
However, Gucci does also produce belts without markings, as well as quilted and embossed products.
We recommend comparing the belt markings of the model you are looking to purchase with pictures from Gucci's official website.
Model Shanina Shaik wears a Gucci belt with wide-legged pants in West Hollywood on Aug. 17, 2018 (Credit: WENN)
Additionally, Gucci belts are made out of one continuous piece of leather or fabric. Be wary if you find any breaks or stitches in between.
4. Know your serial codes
Counterfeiters used to be a little less scrupulous about faking serial numbers. In the past, fake products would feature the same fake set of numbers, repeated over and over, across every fake Gucci product.
However, counterfeiters have wisened up, and have taken to copying the exact serial numbers of specific products.
Luckily, serial codes can still be used as an indicator of product authenticity.
While the numbers may not be as reliable as before, the way they are stamped on the belt can be a dead giveaway. Fake serial codes are usually more stretched out and placed farther away from the belt loop. The real ones usually look smaller and are placed much closer to the loop.
Stitch perfection: luxury belts such as Gucci's have no room for flaws
Older Gucci belts have serial codes stamped horizontally in the middle. Visit Gucci stores and compare the details on the genuine belt.
5. The stitching should be flawless
Stitch quality is usually a good indicator of authenticity, but given that belts don't typically include a lot of stitching, it can be a little tricker to judge counterfeiting.
But, the trace amount of stitching can still be analyzed. Genuine Gucci belts have shorter, even stitches, while fakes use longer ones that don't look as snug. Also, real products typically use thicker and sturdier thread.
The stitches are typically placed close to the edges. There should be no fraying on any part of the belt.
Kate Moss leaves a London clinic wearing a Gucci belt on March 31, 2009 (Credit: WENN)
6. Don't be fooled by the price
We know how exciting it is to see a Gucci belt for only a fraction of the cost. Before you convince yourself that the seller has valid reasons for selling a $500 product for $30, heed our advice: click the "x" mark on your browser tab.
Gucci respects their leather – there will be no holes punched in where they are not necessary
Stay away from Gucci belts that are ridiculously cheap. Period. Watch out for high inventory products as well.
7. Be wary of screws
Gucci has the utmost respect for quality leather. Genuine Gucci designs don't feature punch marks in the leather unless it's absolutely necessary.
That means that belt loops aren't hastily punched, stapled or screwed: Genuine Gucci belts typically have the loops sewn in, which entails a lot more work and a trained hand.
Most counterfeiters simplify and cheapen the process by using screws to attach the loops to the body.
All Gucci designs are uploaded in HD photos online
8. Compare, compare, compare
Gucci is pretty generous when it comes to uploading HD photos on its website. This is great for third-party purchasers: Zoom in as close as possible to analyze every aspect of the genuine products posted on the Gucci site prior to buying from an unauthorized retailer.
We do still recommend using your other senses to familiarize yourself with luxury goods. Knowing the smell and feel of genuine products is a huge advantage over just looking at them on the internet.
9. Be vigilant
Choose your sellers wisely – read up on reviews, ask for referrals from friends, rely on trusted fashion bloggers, etc. If you can ask the sellers questions directly, ask as many as you can.
Of course, nothing beats purchasing straight from Gucci and other fully authorized stores.
But, if you're adamant about scoring real Gucci products for a smaller dent in your wallet, follow our tips, and you'll grow your authentic Gucci collection in no time.