She became a quinquagenarian last year, but Jennifer Lopez, 50, is showing no signs of slowing down. Ben Affleck's ex-girlfriend has definitely come a long way since she debuted as a Fly Girl dancer on the sketch comedy TV series, In Living Colors, in 1991.
From a simple girl from the Bronx, J.Lo has transformed herself into a successful multi-hyphenate star. In her nearly 30 years in the entertainment industry, she has dominated not just the stage and the movie screens but also the fashion world. Three years ago, she even partnered with Italian shoe designer Giuseppe Zanotti to create a capsule footwear and accessories collection.
To support frontline healthcare workers and the COVID-19 Solidarity Response Fund for the World Health Organization, Jennifer Lopez performs during "One World: Together At Home" presented by Global Citizen on April 18, 2020
Aside from gaining her status as a triple threat performer, with success in dancing, singing, and acting, J.Lo is also considered a fashion trailblazer. She has been setting trends for over a decade. Last year, the Council of Fashion Designers of America (CFDA) honored Jennifer Lopez with its 2019 Fashion Icon award.
Early this year, J.Lo was in the spotlight for getting notably snubbed for her performance in Hustlers from the Oscars. Although disappointed, the singer didn't let a little Oscar snub stop her from hustling.
Jennifer Lopez for Guess Spring 2020 Campaign
Just a day after she was shut out of the Best Supporting Actress nomination, J.Lo made a comeback as the global face of American label, Guess.
J.Lo rejoined the company as the star of its Spring/Summer 2020 campaign for both Guess and Marciano. The news came two years after she headlined the brand's Spring 2018 campaign.
Jennifer Lopez returns as the face of Guess Spring/Summer 2020 campaign
The latest ad campaign, shot in Santa Monica and Pasadena, was directed by Guess co-founder Paul Marciano, who resigned as the company's executive chairman after sexual misconduct allegations in June 2018.
Six months later, in January 2019, Guess?, Inc. announced that Paul will remain as a chief creative officer with his employment "at will."
The images from the ad campaign are said to "embody a classic Hollywood lifestyle with tousled hair and confident poses juxtaposed against California's serene palm trees and beaches in the background."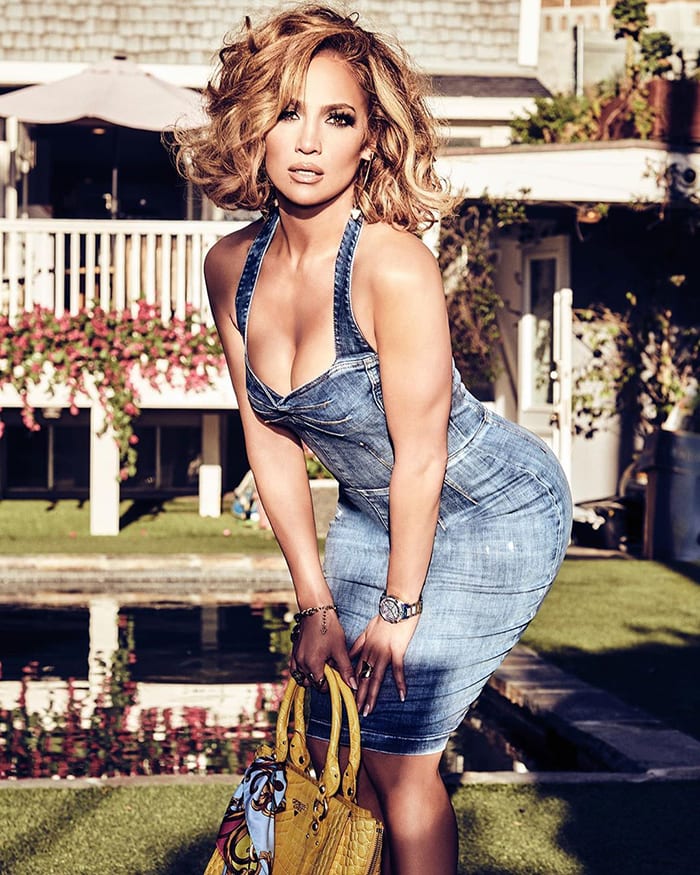 Jennifer Lopez shows off her curves in a Guess denim blue mini dress
In a statement, Paul said: "I am thrilled to welcome Jennifer back for a second campaign with Guess and Marciano."
He added: "Jennifer continues to push boundaries in the music, fashion, and film industries and represents everything a Guess Girl is — confident, sensual and adventurous. This campaign shines a spotlight on Jennifer's natural beauty and showcases exactly why she is celebrated as a true icon."
Jennifer Lopez in Guess Evolette twisted tie top and midi skirt
J.Lo said of her latest venture: "Whenever I do a collaboration, I always think of a character that I can play and be and we had a lot of fun doing that with this campaign. The vibe this time was a mix between an Italian film star from the '60s, mixed with Madonna from the '80s, mixed with Sophia Loren. It's so much fun to get into the character and to make that happen. The clothes and setting of the shoot really worked well together to make this campaign come to life."
Guess Spring/Summer 2020 Collection
Guess' Spring/Summer 2020 collection includes everything from rompers and jumpsuits to sexy dresses and tops. There are also several interesting skirts, pants, and accessories. These pieces come in fresh vibrant colors, eclectic design prints, and flattering silhouettes.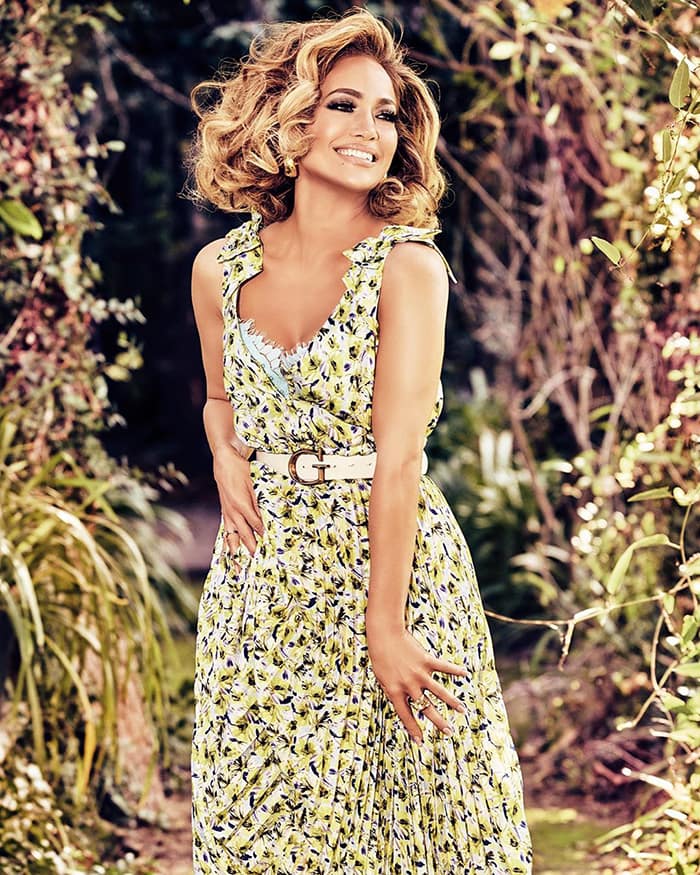 Jennifer Lopez in Guess Eco Honey pleated dress
Guess has us covered from head-to-toe as they included a selection of shoes in their latest collection. There are strappy heels, platform sandals, and pumps that are all perfect for the season.
Guess 'Tecru' T-Strap Stilettos, $73.50 from $105 at Guess
We especially love their "Tecru" style. It has a sexy silhouette and an eye-catching vibrant yellow color that will leave no one guessing which season you are dressed for.
Made from genuine leather, these stilettos feature open toes with T-straps that are connected to the ankle straps. They also have buckle fastenings, 4.5-inch stiletto heels, and the G metal logo at the back of the heel cups.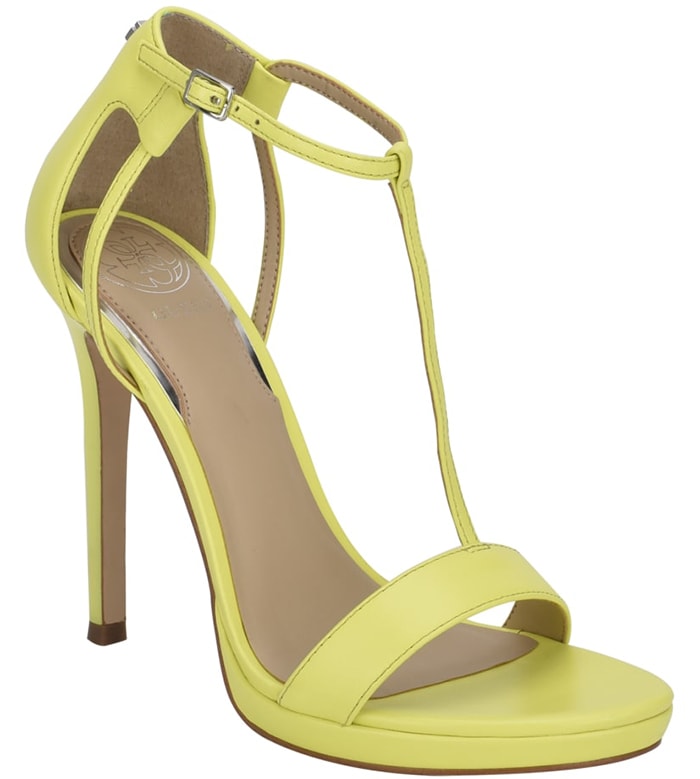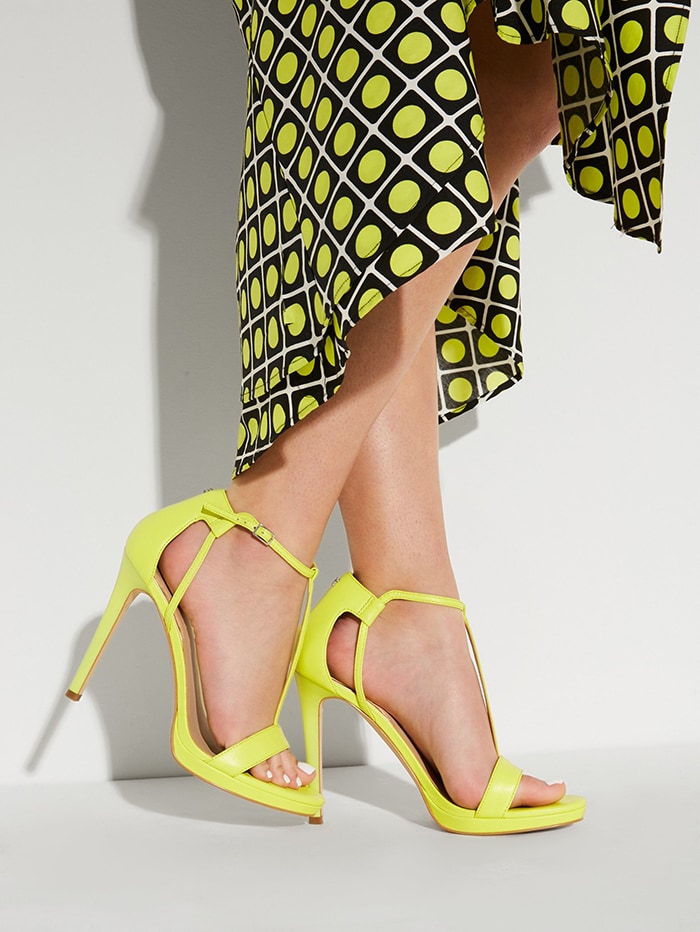 Guess 'Eleri' Strappy Platform Stilettos, $69.30 from $99 at Guess
Here's another sexy shoe style from the collection. The "Eleri" features a strappy upper made from faux leather material. They also have buckled ankle straps, logo emblems, about 1.25-inch platforms, and 5.5-inch towering stiletto heels.
Guess 'Jolley' Strappy Blonde Wooden Heels, $69.30 from $99 at Guess
Whether with dresses or pants, the "Jolley" platform sandals are guaranteed to elevate your look.
These sandals feature blonde faux-wooden heels and platforms that measure about 5-inch and 1.75-inch, respectively. We love the thick straps that make up the chic cage upper design. They come complete with buckled straps and metal G logo emblem.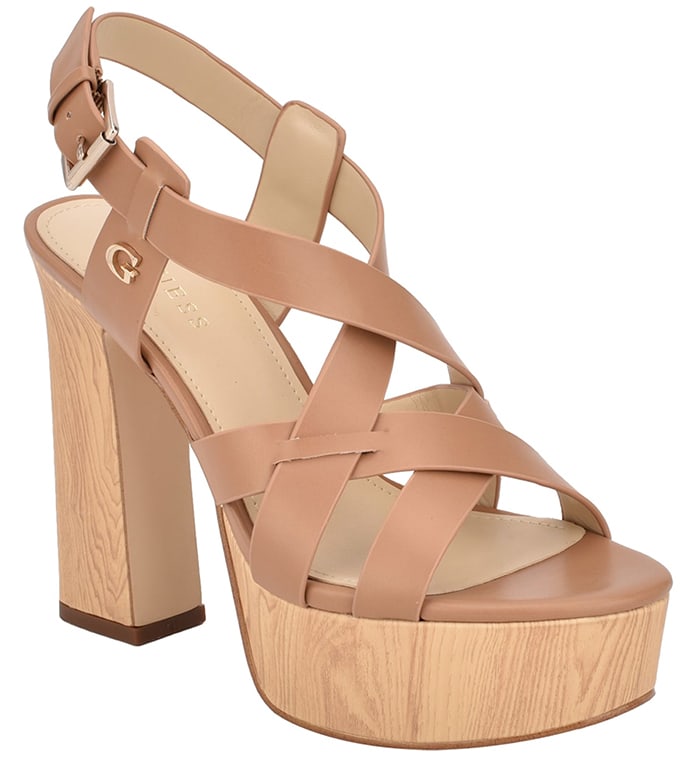 Guess 'Heartbreaker' Croc-Embossed D'Orsay Pumps, $168 at Guess
The "Heartbreaker" pumps are a must-have! Everything about this style is sexy, from the bold d'Orsay silhouette to the leather croc-embossed design.
The 4-inch stiletto heels in contrasting black color amp up the modern flair of this pair.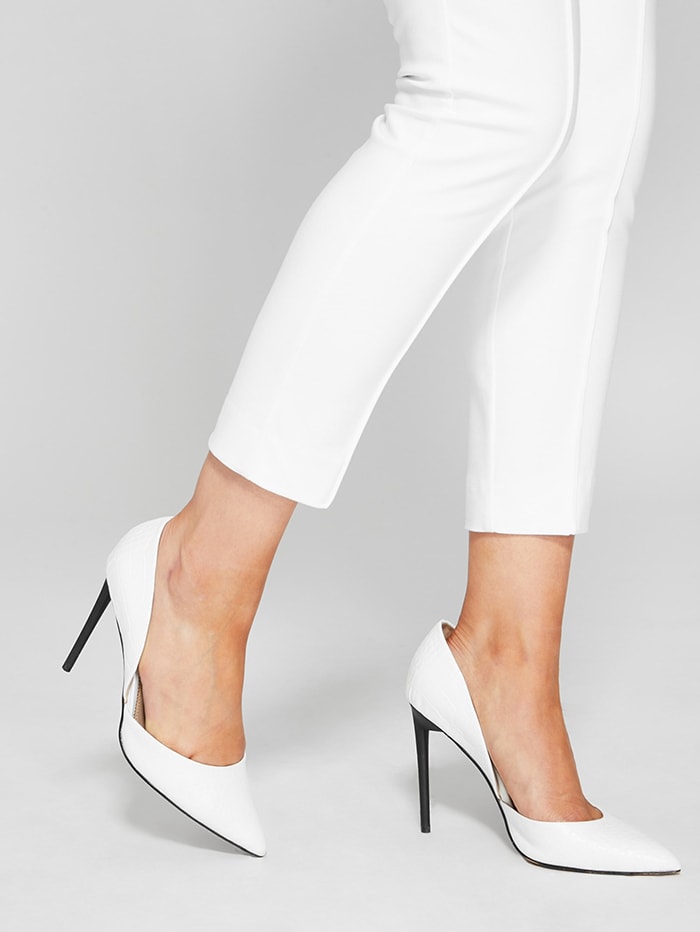 Aside from Guess and Marciano, Jennifer Lopez also fronts two other well-known Spring and Summer 2020 campaigns, including that of upscale label Coach and luxury fashion house Versace.