A few months ago, we talked about a new technology in manufacturing shoes — 3D printing. Back then, it was nothing more than a cool new concept that was slowly being developed.
But we have discovered that haute couture designer Iris van Herpen has actually executed it in her recent collections shown at Paris Haute Couture Fashion Week.
The Dutch designer is already known for her 3D experiments on exotic and innovative dresses, but in her last two shows, "Voltage" and "Wilderness Embodied," displaying her spring-summer 2013 and autumn-winter 2013/14 collections, respectively, she also played with 3D-printed shoes.
If those credentials don't impress you, maybe the fact that she has designed outfits for avant-garde singer Lady Gaga and fashion icon Daphne Guinness might do the trick. So, don't be surprised if you see Lady Gaga in some 3D-printed footwear in the near future.
They'll probably look something like the shoes below.
Voltage (Spring/Summer 2013) Collection
For the Voltage Collection, van Herpen developed one style of 3D shoes in two different colors — black and beige. It was an edgy, glossy pair of platform boots that we could easily picture Lady Gaga wearing in concert (only she could pull off such a funky pair). What do you think?
Iris van Herpen's "Voltage" Collection showcased at Paris Haute Couture Fashion Week held in Paris, France, on January 21, 2013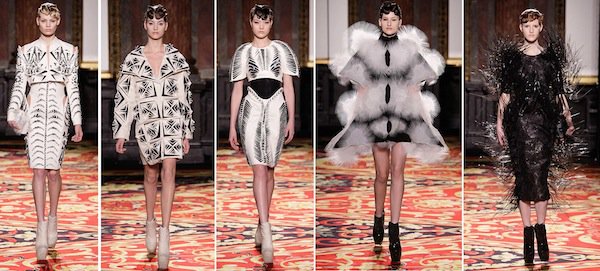 The haute couture creations of Iris van Herpen for the "Voltage" Collection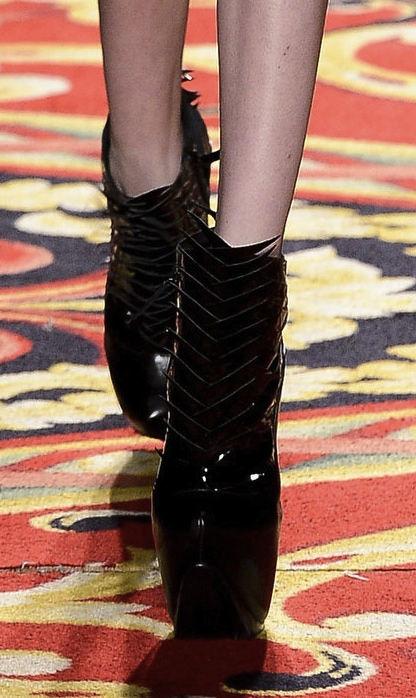 Funky 3D-printed shoes by van Herpen for "Voltage"
Wilderness Embodied (Autumn/Winter 2013/14) Collection
For her autumn-winter collection, Iris goes for another pair of boots. It is definitely edgier and more unique than the above pair, plus it looks harder to walk in.
We can still picture Lady Gaga rocking them, though. She (and only she) can work them in our opinion. Can you think of any other celebrity who would do these chic shoes justice?
Iris van Herpen's "Wilderness Embodied" Collection presented at Paris Haute Couture Fashion Week in Paris, France, on July 1, 2013
The Autumn/Winter 2013/14 collection by Iris van Herpen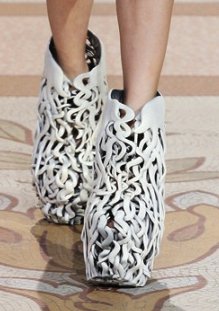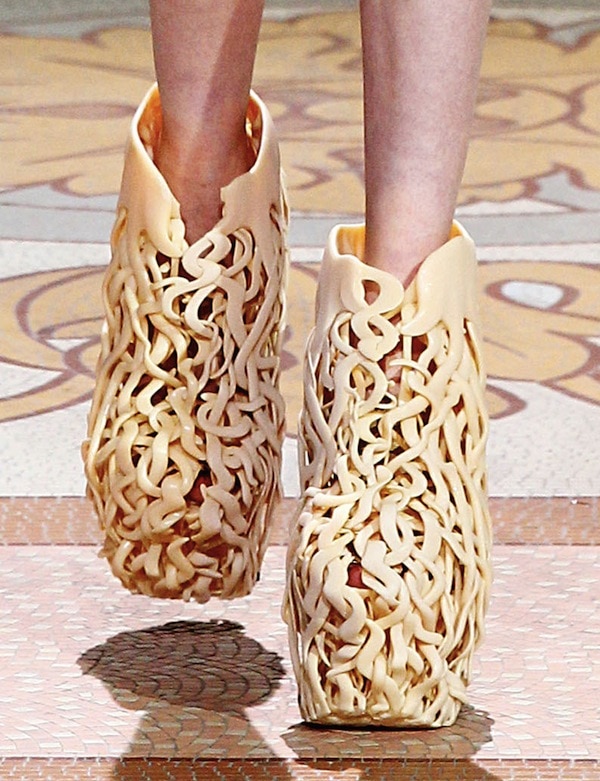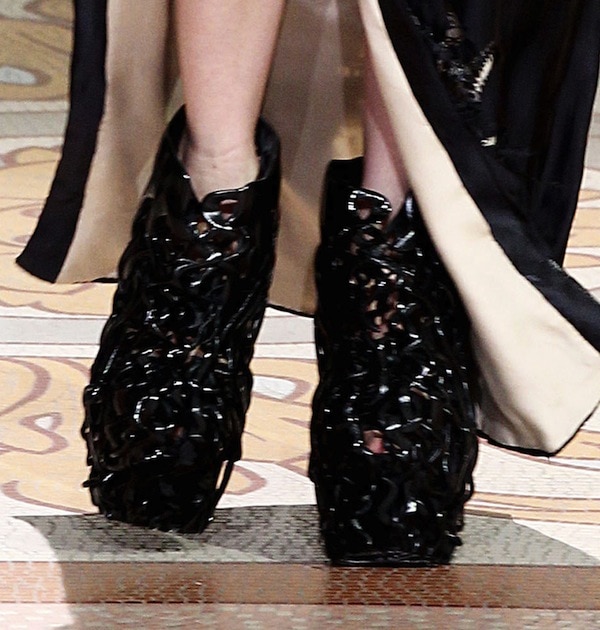 Unique boots fit for an avant-garde singer like Lady Gaga
What do you think of these funky 3D-printed shoes? Aren't they perfect for Lady Gaga?
Credit: Iris van Hepren Official Website & Visual / Marcio Madeira / News Pictures / WENN