We were thrilled when Butter London released its "Boho Rock" nail lacquer at Nordstrom over the holidays. Suddenly, we had visions of ourselves (in the midst of the cold no less) at Coachella and other outdoor festivals, with nails glittering and in our hippie chic outfits and strappy flat sandals. When is spring going to get here, we wonder?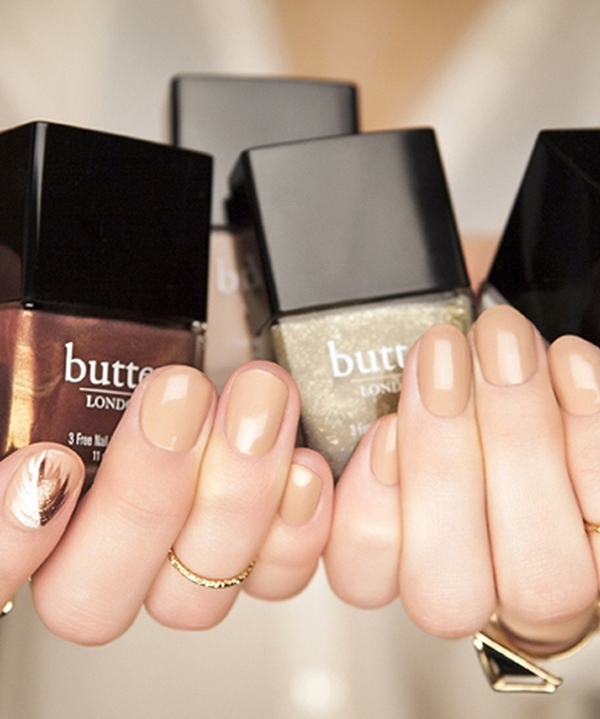 Butter London's "Boho Rock" nail lacquer set
To amuse ourselves, we played around with the very glamorous nail polish options and matched them with some of our favorite sandals, just to see which metallic shade will be striking with what footwear. We can't wait to liberate these freezing toes from months of socks and boots.
Combo 1: Nicholas Kirkwood Studded Flat Sandals, $595, and Lucy in the Sky, $15
This first combination of multicolored glitter polish and the sleek studded straps of these Nicholas Kirkwood sandals is a great indication of parties and festivities in the warmer days to come.
Combo 2: DV by Dolce Vita "Daffodil" Sandals, $68.95, and Keen, $15
A creamy pink hue brings a dainty touch to the dark silver straps of these Grecian-inspired sandals from Dolce Vita.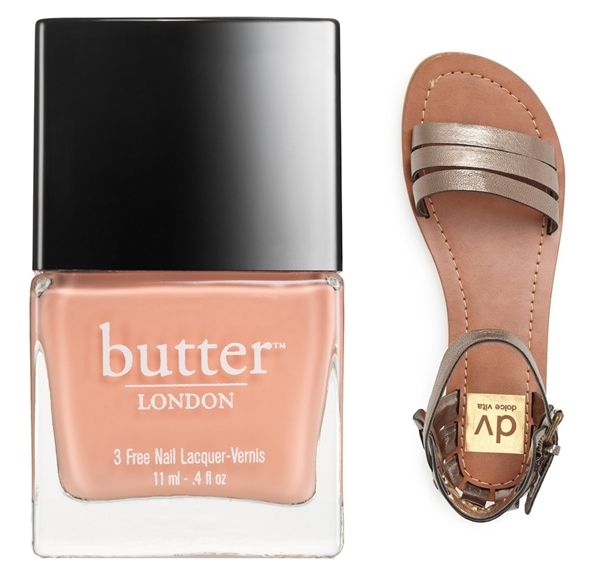 Combo 3: Naot "Dorit" Sandals, $136.95, and Goss, $15
We love how this mocha shade looks right underneath the sun, a perfect match to this comfy Brazilian strappy sandals.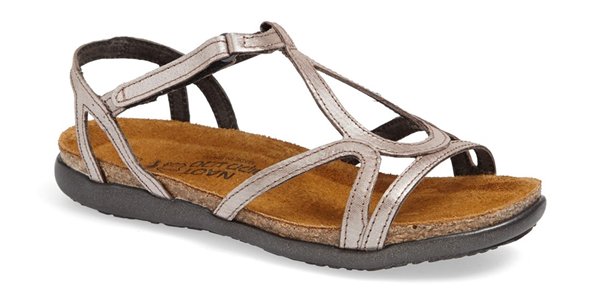 Combo 4: Steve Madden "Kroatia" Leather Sandals, $49.95, and Trifle, $15
The multimedia metallic straps of these minimalist Steve Madden sandals is a great partner to the rich dark bronze shade of Trifle.
Combo 5: Kenneth Cole New York "Exchange" Sandals, $139.95, and Lushington, $15
More glitter! This golden, glittery shade called Lushington looks downright posh with the biker-style straps of these Kenneth Cole sandals. Now, that's hard-core glam.
Combo 6: Marni Strappy Sandals, $620, and Trollop, $15
Another pair of golden Greek sandals meets its perfect match with Trollop, an almost nude hue that also makes a great mixer in case you want to do some boho nail art.