She has been very hands-on throughout the making of her new business venture 818 Tequila. Announced in February, Kendall Jenner's tequila brand has been in the works for four years.
"For almost 4 years I've been on a journey to create the best tasting tequila. After dozens of blind taste tests, trips to our distillery, entering into world tasting competitions anonymously and WINNING.. 3.5 years later I think we've done it! This is all we've been drinking for the last year and I can't wait for everyone else to get their hands on this to enjoy it as much as we do!"
View this post on Instagram
On Monday, the 25-year-old model surprised her fans as she got behind the wheel to personally deliver her tequila brand around Los Angeles as part of her promotional strategy.
818 Tequila costs around $59.99 per bottle and is only available in California at BevMo, Target, Total Wine and More, Ralph's, and Mel and Rose.
Earlier this month, her liquor brand signed a US distribution deal with Southern Glazer's Wine and Spirits. All three variations, 818 Tequila Blanco, 818 Tequila Reposado, and 818 Tequila Añejo, will become available in states across the US over the summer.
Kendall Jenner drives her branded 818 Tequila truck as part of her promotional strategy for her tequila brand on May 17, 2021 (Credit: Instar / WENN)
Driving a custom truck with the text "Kenny's Tequila Delivery Service" written on the sides, Kendall stopped by different stores, including Mel & Rose wine store, BevMo!, and one of Ralph's grocery store locations.
Kendall Jenner personally delivers her 818 Tequila brand to different stores in California (Credit: Instar / WENN)
Proving she's a dedicated businesswoman, Kendall wore a complete delivery driver look with an 818-tagged navy vest that has a Kenny name patch.
She layered the delivery man vest over a white sweater, which she tucked into a pair of belted Style Addict Core straight leg white jeans.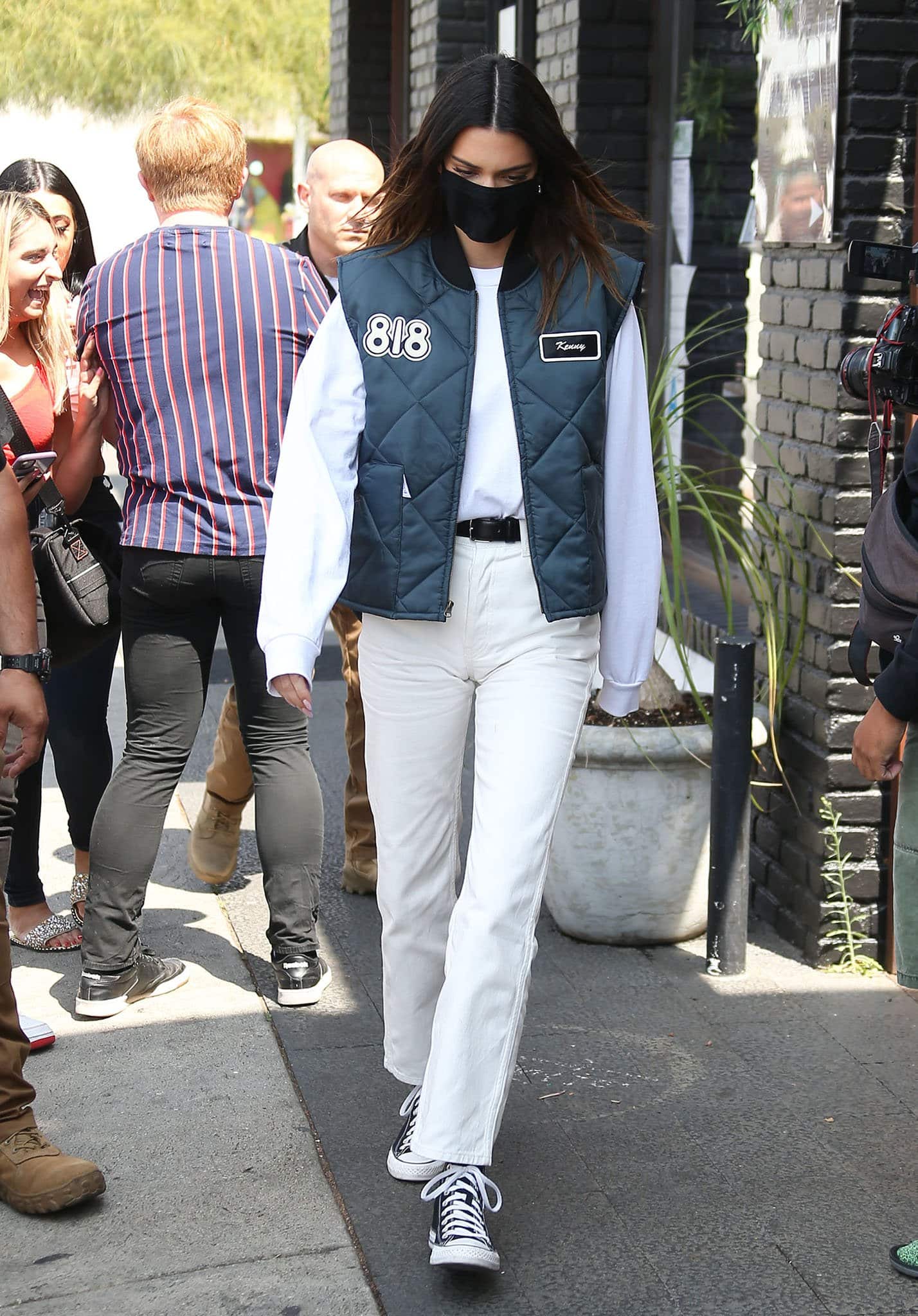 Kendall Jenner goes for a delivery driver look in an 818-tagged vest with a white sweater and a pair of Style Addict pants (Credit: Instar / WENN)
Wearing her brunette tresses down with a center parting, the KUWTK star simply styled her look with silver hoop earrings.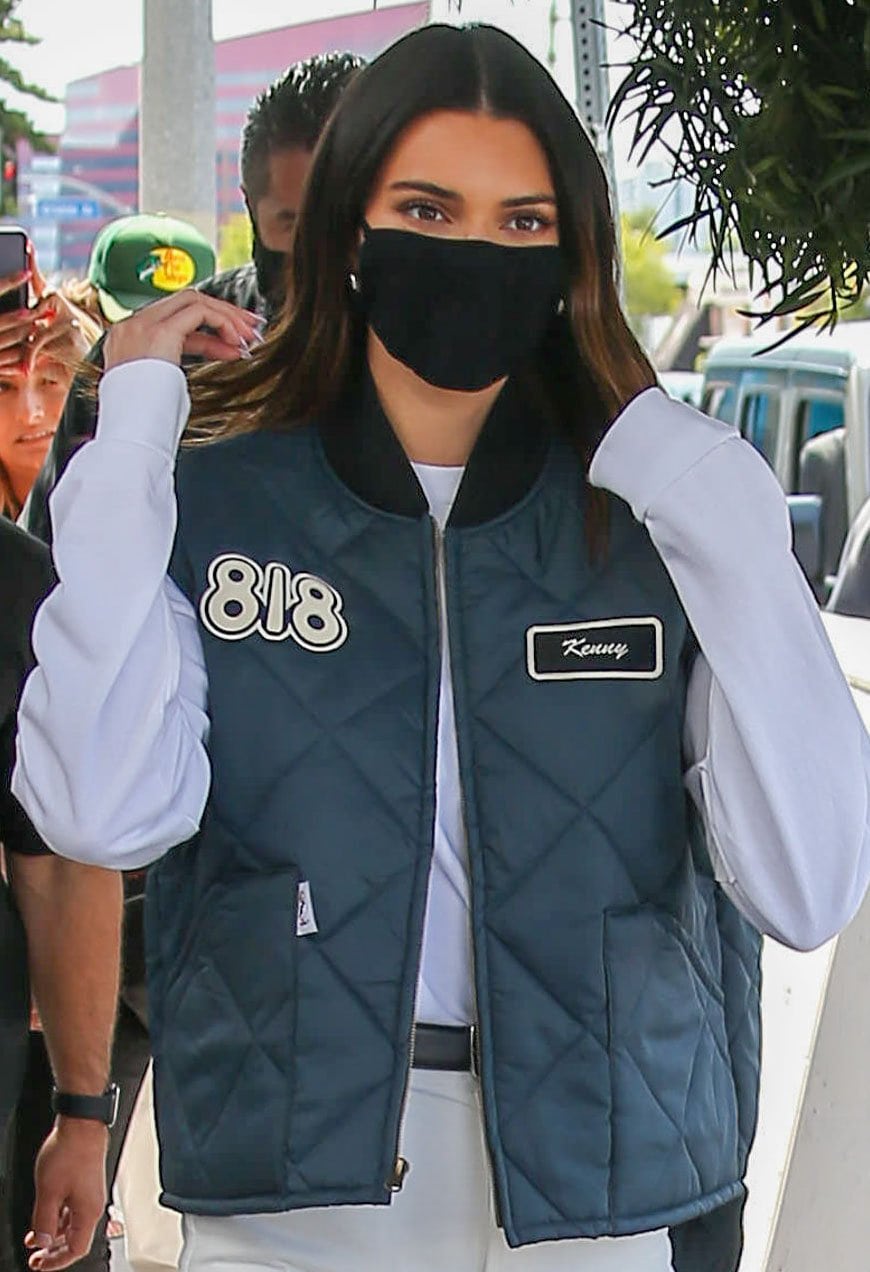 Kendall Jenner glams up with a center-parted loose hairstyle and subtle smokey eye-makeup (Credit: Instar / WENN)
She stayed safe with a Skims black face mask and continued the comfy vibe of the look with a pair of Converse Chuck Taylor All-Star sneakers in a black-and-white colorway introduced in 1949.
Debuted in the 1920s as a basketball shoe, the Chuck Taylor remains one of the most popular and iconic shoe silhouettes of all time.
Kendall Jenner stays comfy with a pair of Converse Chuck Taylor Hi sneakers (Credit: Instar / WENN)
Converse Chuck Taylor All-Star Core Hi, $59.95 at Zappos
The Converse Chucks Hi features a canvas upper with rubber toe caps and outsoles
NBA player Devin Booker's girlfriend celebrated the launch of her tequila brand amid backlash and cultural appropriation accusations over her new ad campaign.
Shot from an agave farm in Jalisco, Mexico, Kendall can be seen riding a horse through an agave field and drinking her tequila on the back of a pickup truck.
Dressed in jeans and a loose cotton shirt layered over a white crop top, she accessorized with a cowboy hat and braided pigtails—a look that some referred to as "tone-deaf" and "migrant chic."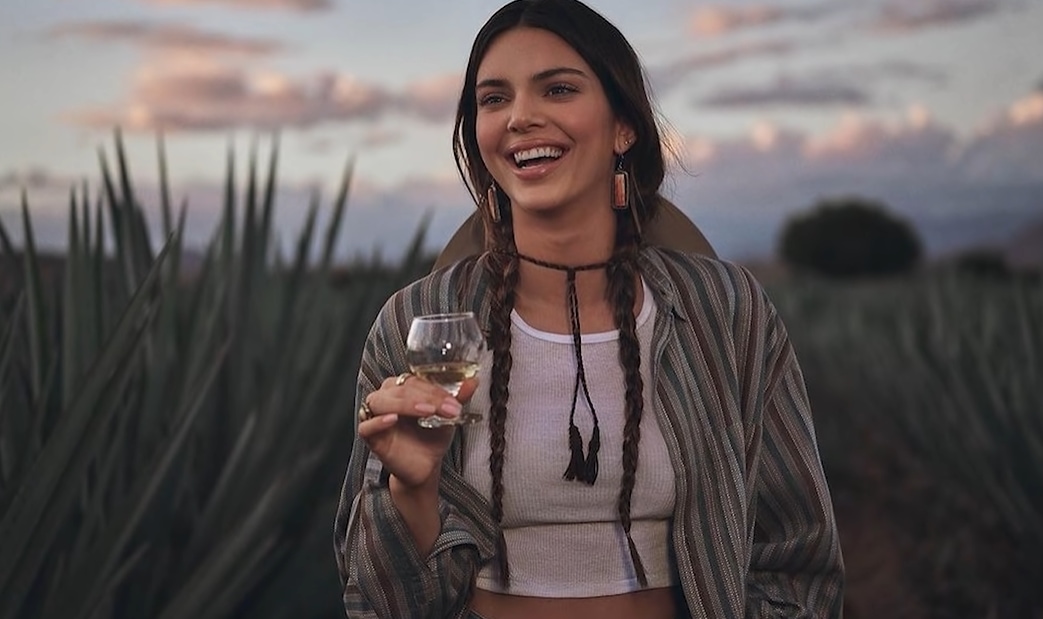 Kendall Jenner's tequila campaign is being criticized for cultural appropriation (Credit: 818 Tequila)
The California native was accused of capitalizing on stereotypes that are usually associated with Mexican farmers.
Kendall has not responded to any of the criticisms. She has also turned off the comments on her Instagram since the backlash.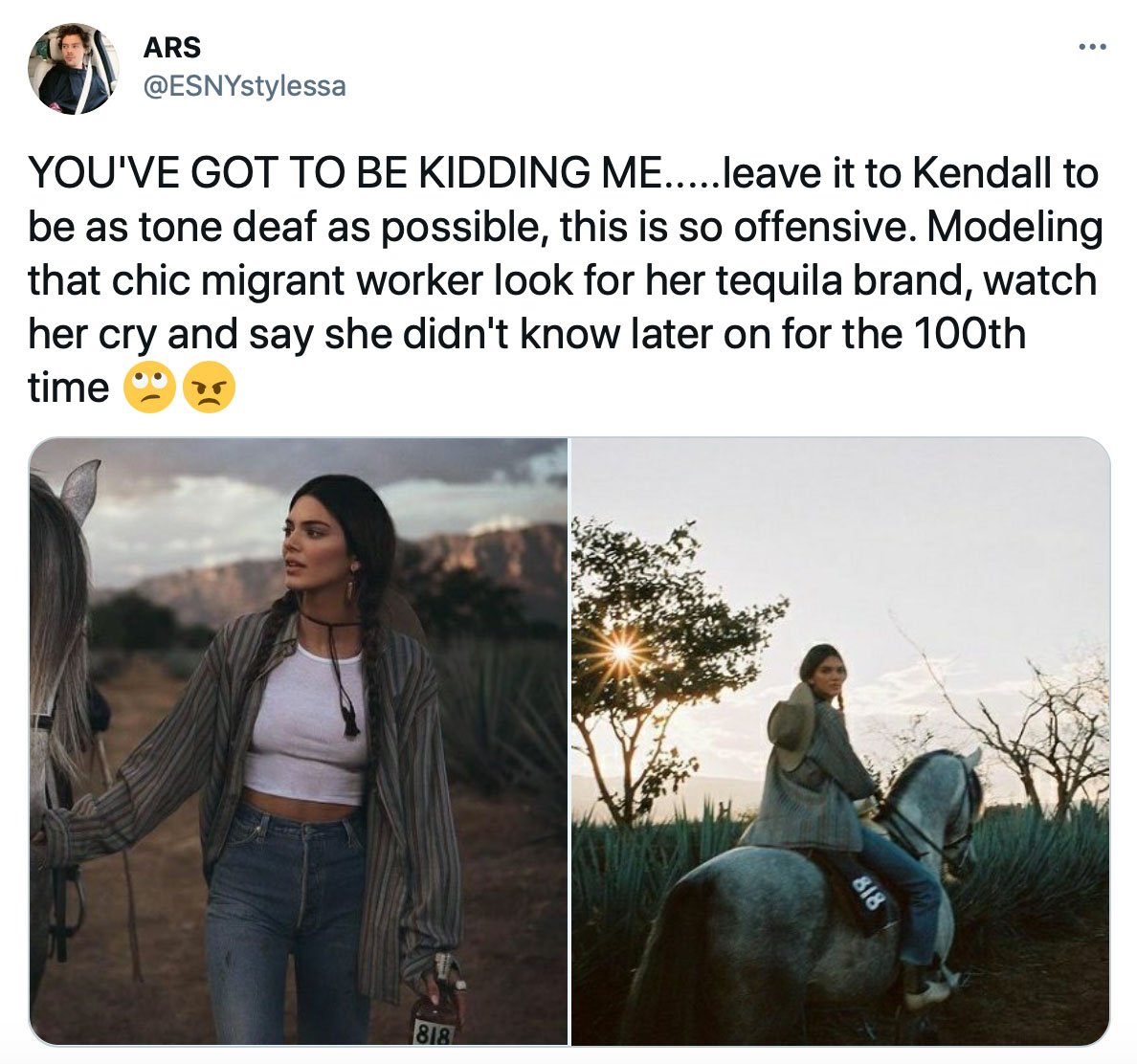 Kendall Jenner is being criticized for migrant chic cultural appropriation in new tequila ad
Named after the area code that covers the San Fernando Valley region where Kendall grew up, 818 Tequila is made from 100% Weber Blue agaves in a distillery in Jalisco, Mexico.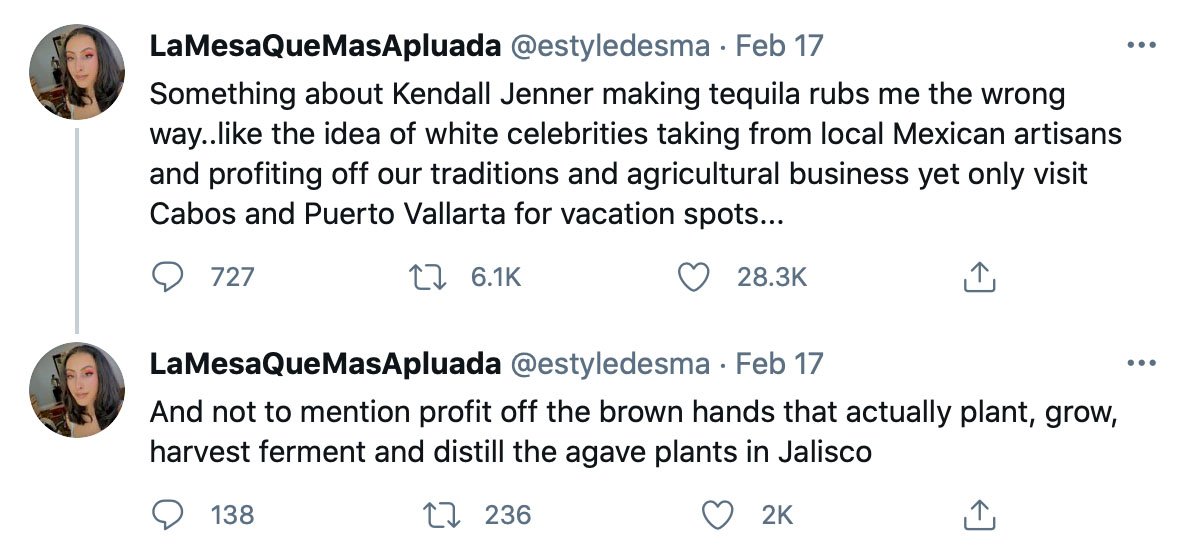 Kendall Jenner faces backlash on social media over her 818 Tequila business venture
It has three variations, including Blanco, Reposado, and Añejo, and is now available only in California.