Lori Harvey has been making waves in the media by dating super fine men and because of her amazing work promoting body positivity and self-love.
A newer face in the celebrity world, many are left wondering who she is, why she's doing what she does, and how she's making a difference.
What is Body Positivity
Before we dive into the life, struggles, and history of Ms. Lori Harvey, let's talk about body positivity.
If you've never heard the term before, you're probably wondering what we're even talking about.
Body positivity is a social movement that promotes self-love and acceptance across all body types, shapes, and sizes. It aims to promote that change within individuals and within society as a whole.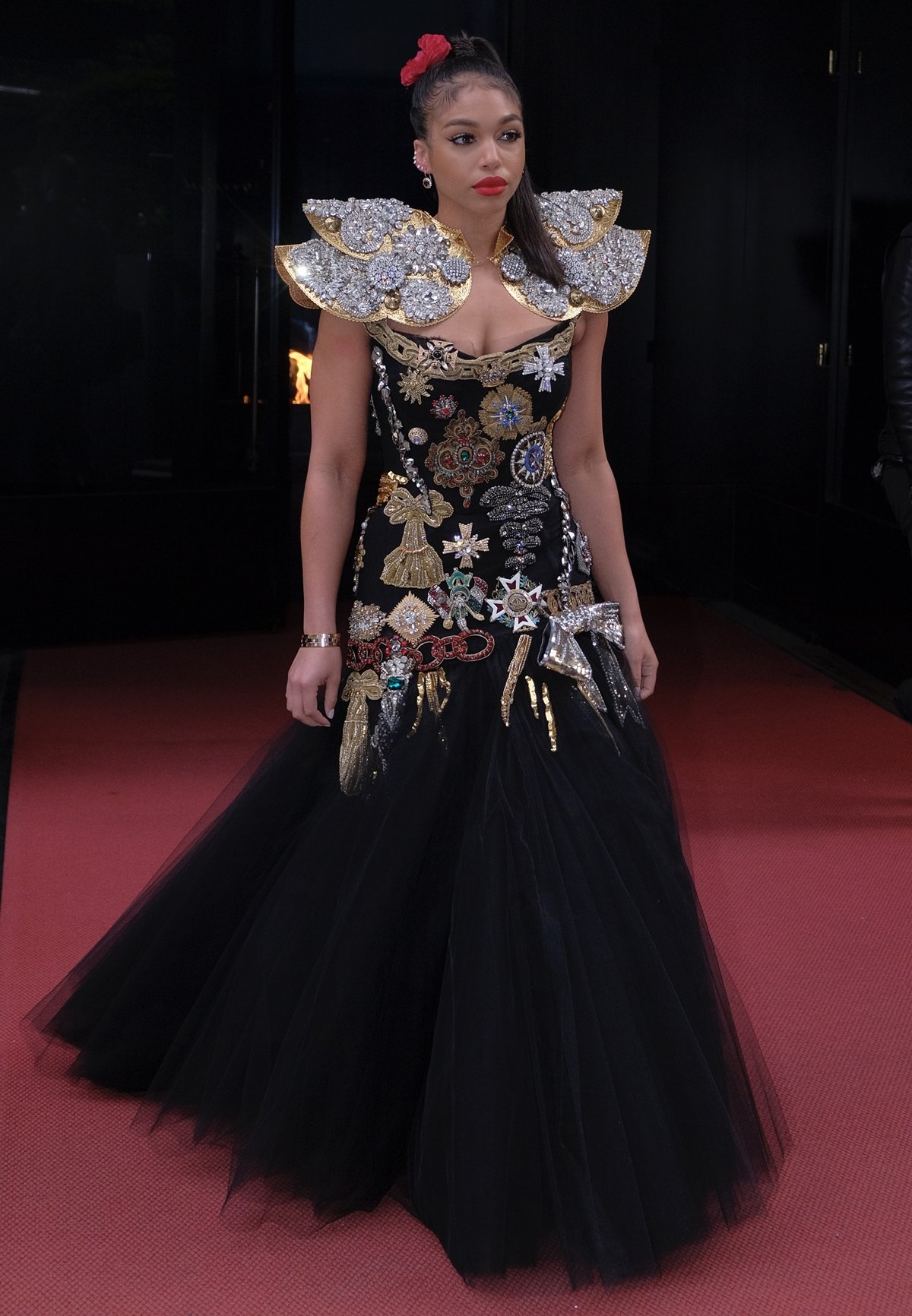 Lori Harvey in a custom embellished Dolce & Gabanna dress at the 2017 Met Gala held at the Metropolitan Museum of Art on May 1, 2017, in New York City (Credit: TNYF / WENN)
Body positivity says, "Hey, you're beautiful exactly how you are."
Society's beauty standards for women are notoriously hard and body positivity aims to relieve a lot of that by promoting inclusive styles, sizing, and options that are flattering for every body type.
Who is Lori Harvey?
Early Life
Lori was born in Memphis Tennessee on January 13, 1997. Yes, our girl is a Capricorn!
She was raised going back and forth between Atlanta and Chicago.
Parents
Lori's backstory is a bit of a complicated one.
Though her biological mother is well known and active in her life, there is a lot of speculation around who her real father is. Her social media posts lovingly refer to her stepfather Steve Harvey, host of Family Feud among many others, as "dad".
And why shouldn't she? He stepped up and adopted her as soon as he married her mother and has been a father to her from a very young age. The winner of numerous television awards, he has a net worth of $200 million.
The question still stands though, who is Lori's biological father?
Her mother, Marjorie Elaine Harvey, was married to Jim Townsend before Lori was born. Jim was notoriously sentenced to life in prison for buying 40 kilos of coke to distribute and was then pardoned by the Obama administration in 2017.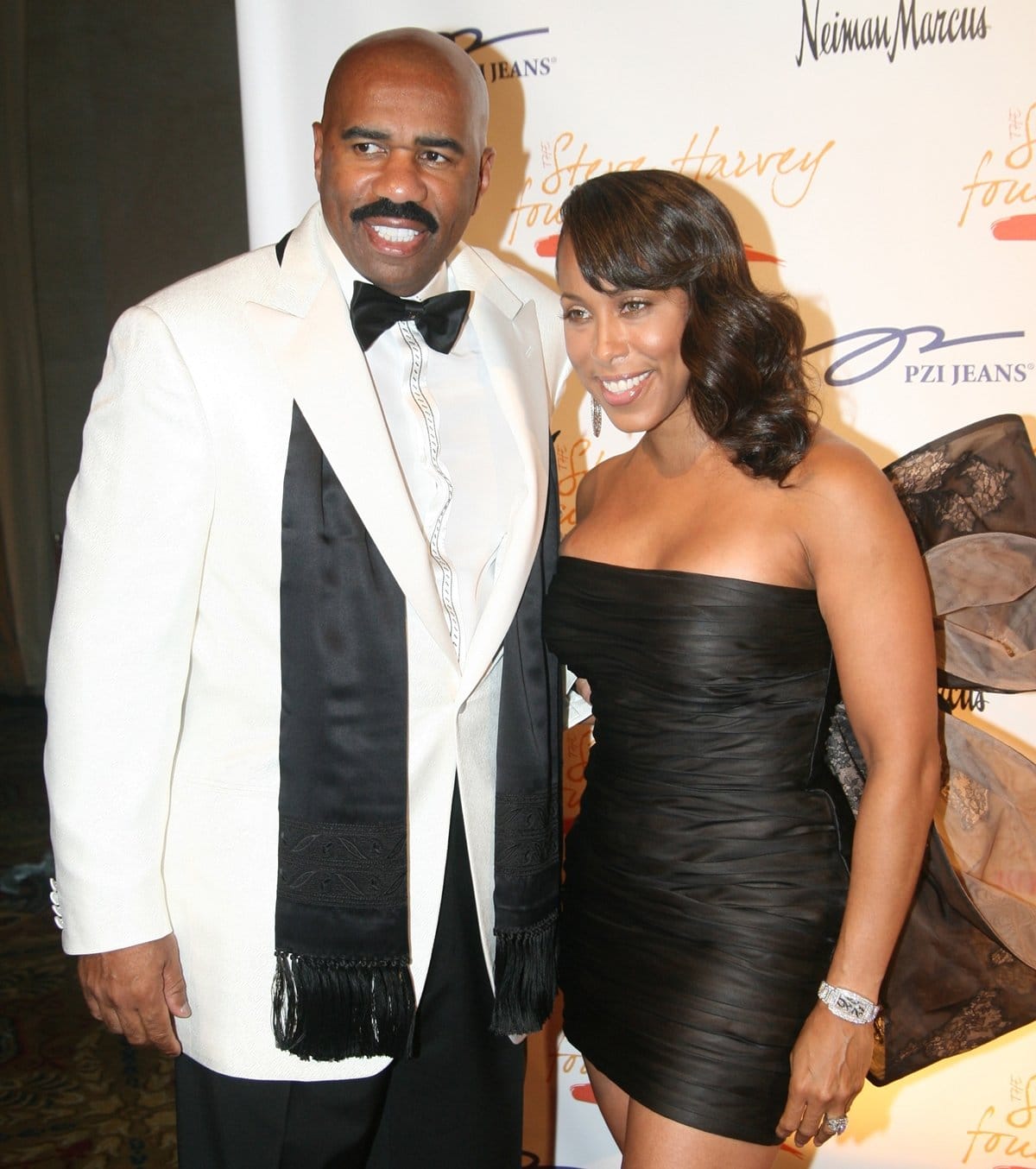 Marjorie Elaine Harvey (formerly Marjorie Bridges) is Steve Harvey's third wife and they married in 2007 (Credit: WENN)
The FBI and DEA have looked into Marjorie for her link to the drug ring because Jim quite literally threw her into the fire in the book that he wrote about his life, but she has never been charged.
A lot of people believe that Jim is Lori's father, but the problem is that Jim was sentenced in 1992 and Lori was born in 1997. While people certainly do impregnate others while they're in prison, it's not super likely that this was the case.
Lori Harvey, Marjorie Elaine Harvey, Steve Harvey, Wynton Harvey, Brandi Harvey, Karli Harvey, Jason Harvey, and Broderick Harvey Jr. attend the ceremony honoring him with a Star on The Hollywood Walk of Fame held on May 13, 2013, in Hollywood, California (Credit: FayesVision / WENN)
There was another man, Donnell Woods, that Marjorie was with right after Jim. He was involved in the same operation as Jim and was a drug pinking.
Marjorie is an extremely private woman, so most of the publicly known information about their relationship is speculation. It is rumored that they were married, but that hasn't been confirmed.
Without actual evidence of how long they were together, it's hard to determine if Donnell is Lori's father.
Marjorie is the only person out there who most likely knows the identity of Lori's father.
Either way, Lori has found an awesome father in Steve Harvey and for that, we are extremely happy for her!
Relationships
Lori has picked up a lot of attention in the media for her relationships.
She was engaged to a Dutch soccer player named Memphis Depay from 2017 until 2018. She had a thing for musicians, dating both Future and Trey Songz.
Lori Harvey and Dutch soccer player Memphis Depay began dating in 2016 and ended things in 2018 (Credit: WENN)
One of her most scandalous relationships, however, was her father-son love triangle. Lori was in a relationship with Justin Combs, the son of Sean "Diddy" Combs for a while.
When they broke up, she started dating his father, Mr. Sean "Diddy" Combs himself!
What other 24-year-old can say that they've dated some of the biggest names out there AND their fathers?
Currently, Ms. Lori Harvey is dating 33-year-old Michael B. Jordan and every woman in the world is jealous. What an icon!
Career
Lori Harvey has been a model since she was three years old. She is signed to LA Models and Select Models agencies and has worked with huge names like Calvin Klein, Chanel, and Dolce & Gabbana.
Growing up, her dream was to compete in the Olympics as an equestrian. She won a lot of awards riding horses throughout her life and would probably still be doing it today if she could.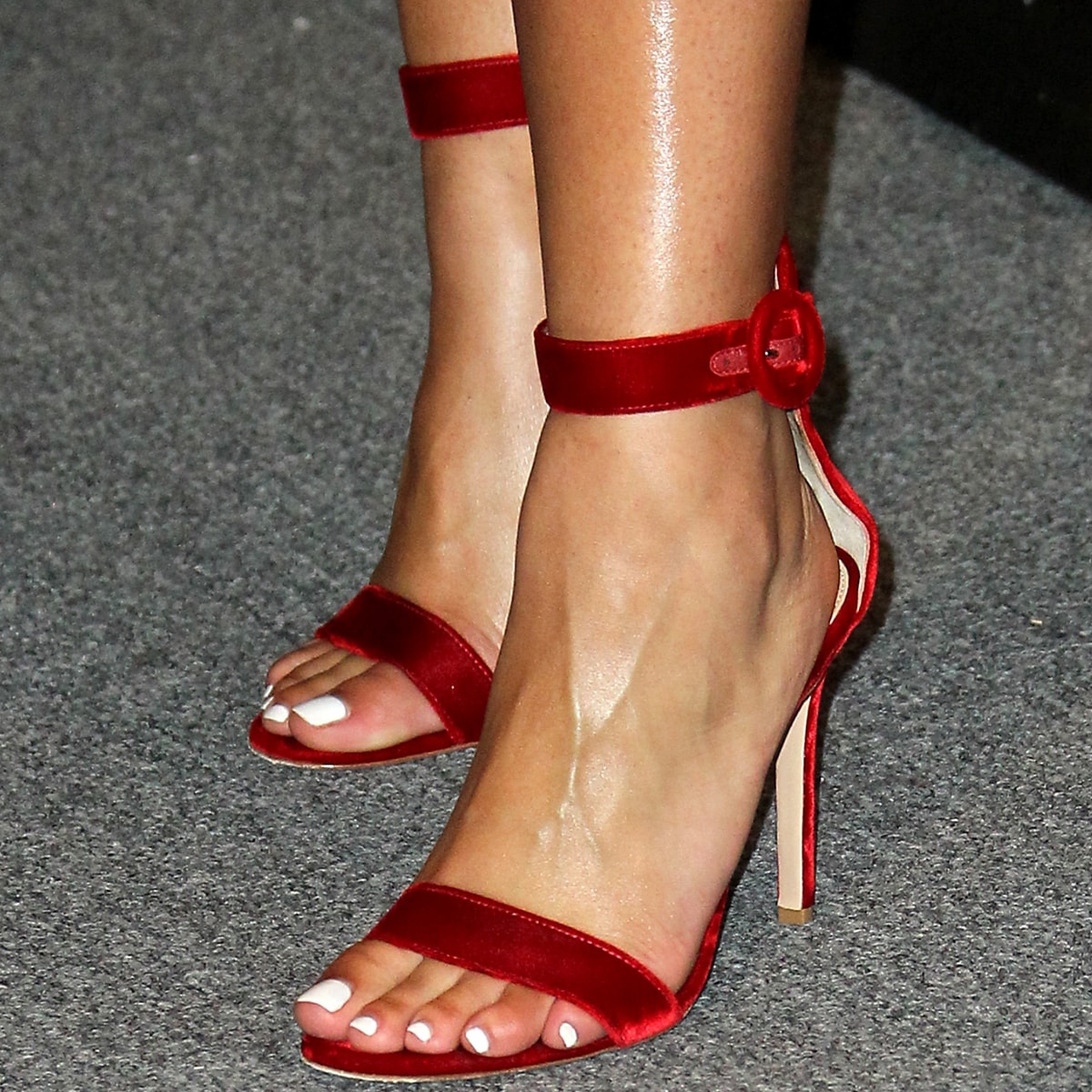 Lori Harvey shows off her size 6 (US) feet in stiletto sandals at the 45th annual Daytime Emmy Awards at the Pasadena Civic Center on Sunday, April 29, 2018, in Pasadena, California (Credit: Adriana M. Barraza / WENN)
Unfortunately, she tore her medial collateral ligament (MCL) and broke her back, which forced her to leave the sport competitively.
Lori has 3.6 million followers on Instagram as I am typing these words.
Why She's Awesome
No one is permanently defined by their family or the people that they associate themselves with. Lori has never been one to shy away from the limelight and has been pushing forward since she was young to make a name for herself.
As previously mentioned, Lori has been modeling since she was super young.
Though the world is a bit more progressive now, during the time period that Lori grew up the fashion industry was starving. The beauty standard was tall and white with an eating disorder.
That's the sad reality of it and so much harm came from this period that is still being undone today.
As a 5'3 black woman, Lori has always stood out in the industry and has no doubt received some pushback.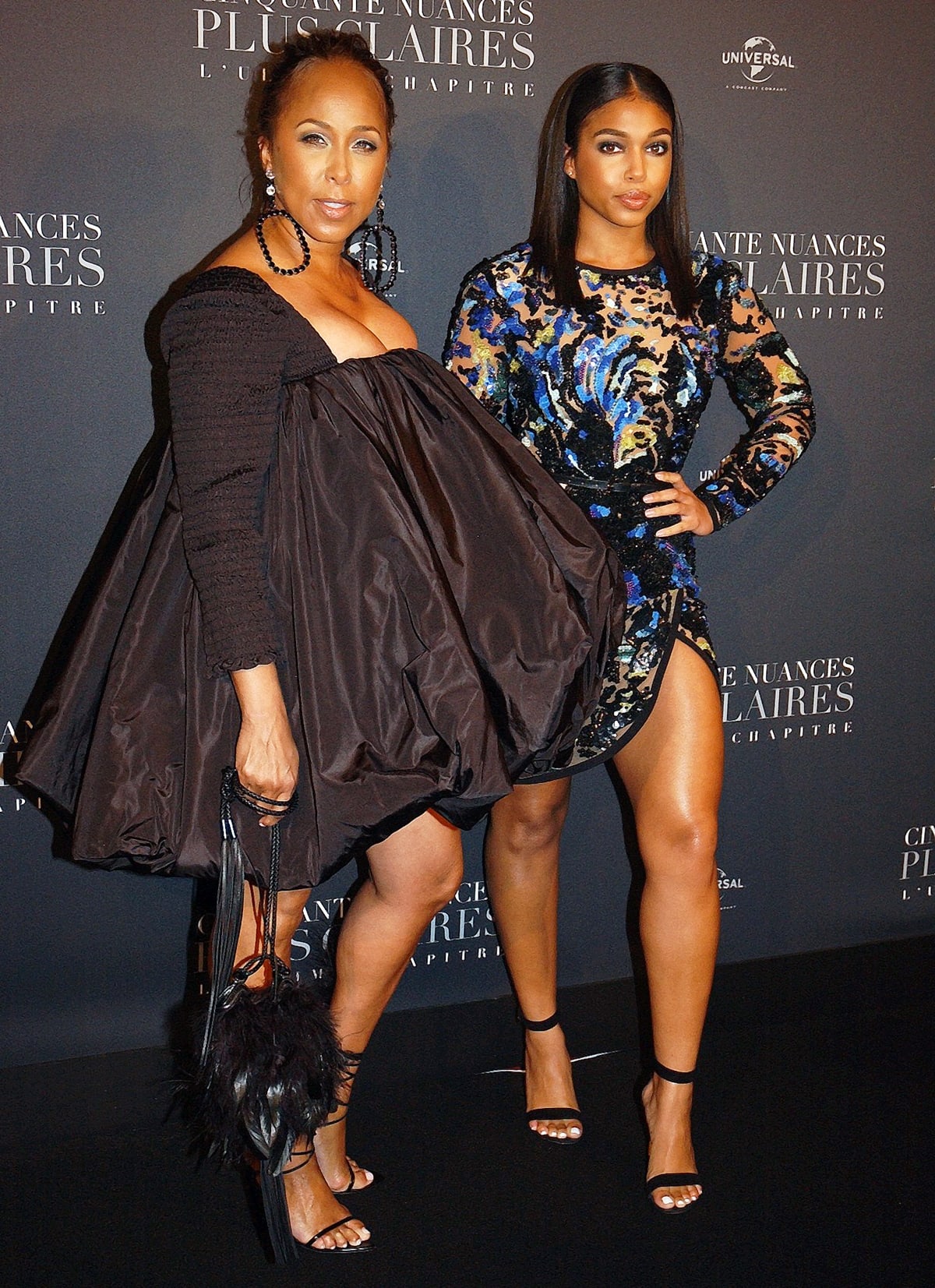 Marjorie Elaine Harvey and her daughter Lori Harvey attend the "Fifty Shades Freed – 50 Nuances Plus Clair" Paris Premiere at Salle Pleyel on February 6, 2018, in Paris, France (Credit: WENN)
In countless interviews, she has talked about how she was often the only woman of color in the room and how important it is to her to make sure that there is adequate representation.
It is so important for young girls growing up to see themselves represented in the media. When you see models, actresses, and other famous people that look like you, you grow up feeling like you can do anything.
Unfortunately, the lack of representation has caused many to grow up without this. Little girls of different races and those with different body types don't see themselves on TV.
Teenagers and adults that can't fit into a size 0 are starving themselves because of it.
Lori Harvey shows off her sensational body at the launch of the boohoo spring collection and the Zendaya Edit at The Highlight Room at the Dream Hollywood on March 21, 2018, in Hollywood, California (Credit: Adriana M. Barraza / WENN)
There has even been an influx of body image issues coming from women who want to be bigger, as big names like the Kardashians have popularized the curvy but skinny body type.
Everywhere you look, you're told that you're not good enough. Young impressionable minds are taught that unless they look like these photoshopped people who have filters on their skin to make them look whiter and blemish-free, they're never going to amount to anything.
Women like Lori Harvey have had enough. She has spoken out countless times about these issues and the clothing that she wears furthers the cause!
Lori Harvey goes grocery shopping in Alo Yoga's black NY Amp It Up crop tee and a pale purple sports bra at Bristol Farms in West Hollywood, California, on May 17, 2021 (Credit: Instar / WENN)
Toting a quilted black Chanel fanny pack featuring the iconic COCO logo on the front in pink lettering, Lori was spotted at the grocery store looking comfy and sexy in this cute but casual outfit!
No bra and mixing loose and tight clothing, Ms. Harvey is giving us so many casually confident vibes.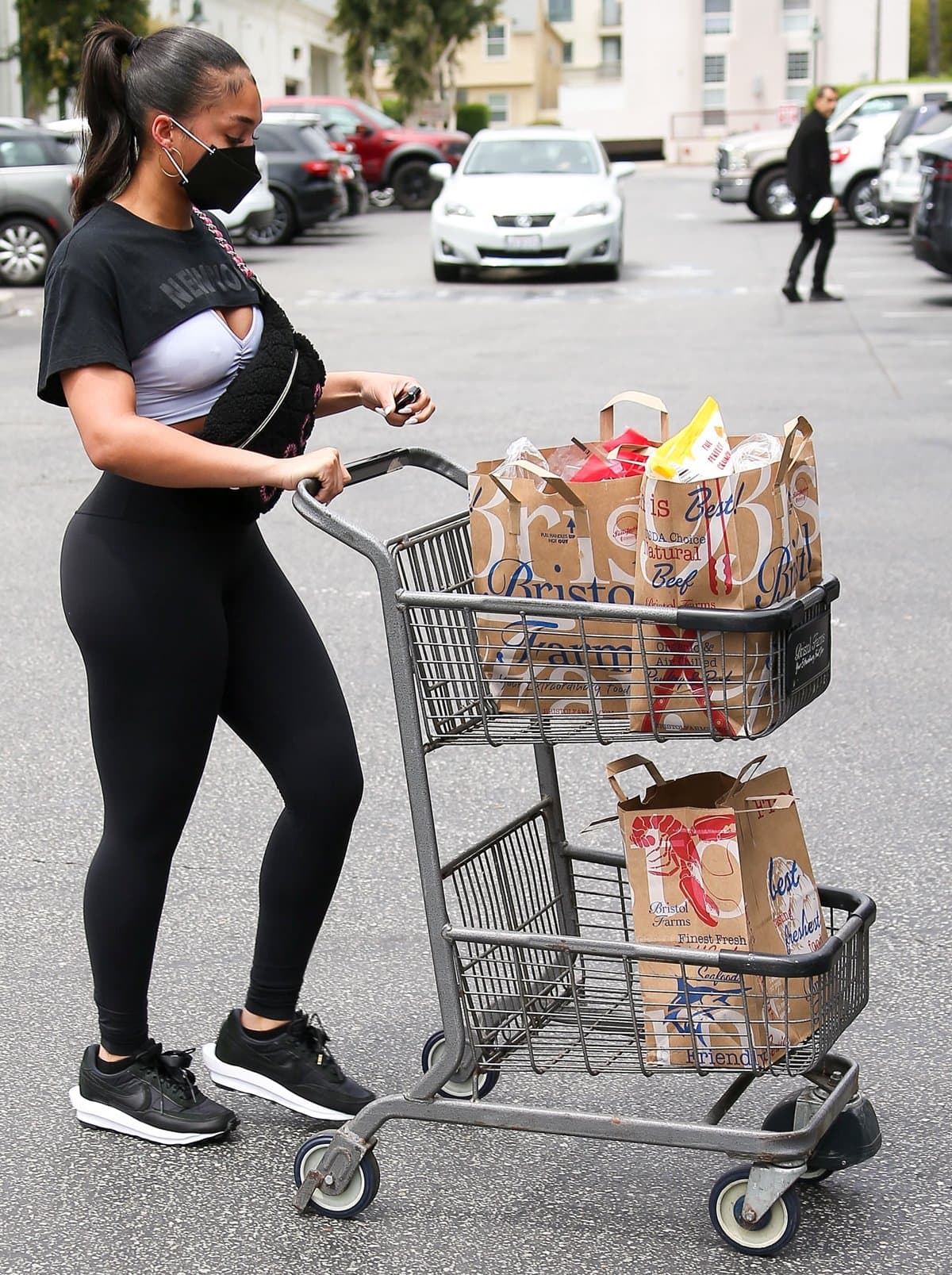 Lori Harvey styled her black high-rise Lululemon leggings with black nylon Sacai x Nike LD Waffle sneakers (Credit: Instar / WENN)
On the same note, she was also spotted wearing this cute casual get-up consisting of a sexy tied white T-shirt, a crossbody bag, high-waisted black leggings, and brown rubber Adidas x Yeezy slides that you can buy for $560 at Farfetch.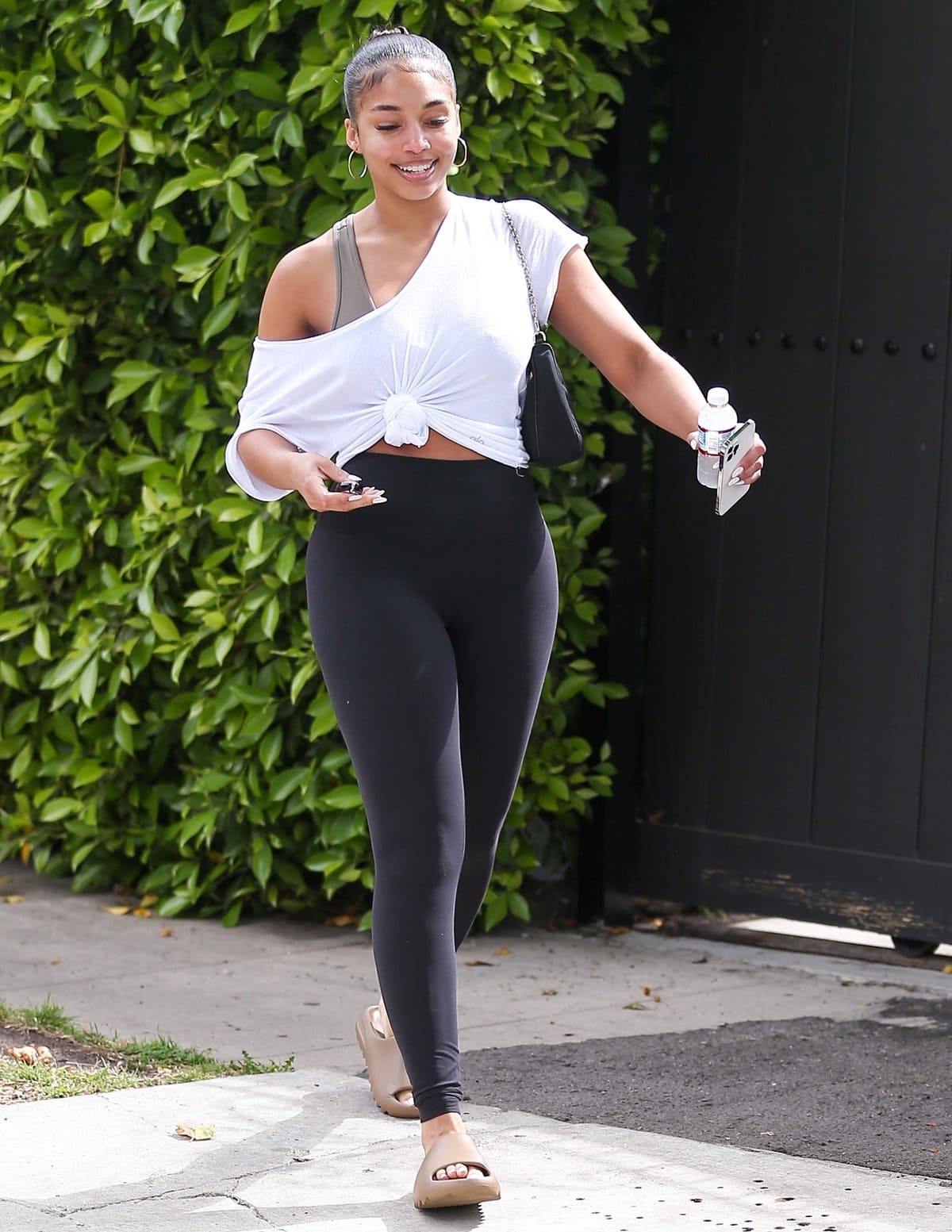 Lori Harvey paired high-waist leggings with brown rubber Adidas x Yeezy slides and a tied white T-shirt while heading to Pilates class on May 14, 2021, in Los Angeles (Credit: Instar / WENN)
As you can tell, Lori is all about making comfortable clothes cute.
You don't have to wear a mini skirt everywhere you go to be confident. A cropped sweatshirt and yoga pants can be just as powerful!
LH x Naked Wardrobe
To further her belief in loving yourself for all that you are, Lori launched a body positive clothing collection in collaboration with Naked Wardrobe.
The collection is called LH x Naked Wardrobe and includes sizes XXs to 3XL. This inclusive sizing is something that was really important to Lori.
She said in a statement about her new collection, "For the past six months, I wanted to focus on creating items that would motivate women to be comfortable in their skin. This inspired me to create a line of neutral signature color crop tops and joggers. During the process, the designs of the crop tops and the joggers were tailored to complement all shapes. We also chose a comfortable fabric to enhance the feel of the mood while wearing the line. These items are your everyday "go-to" that will make you feel good and look good."
Steve Harvey, Lori Harvey, and Broderick Harvey Jr. during an appearance on ABC's Celebrity Family Feud in June 2017 (Credit: ABC)
The owners of Naked Wardrobe stated, "Lori has been a long-time friend and champion of Naked Wardrobe. She came to us with the idea, and our shared sensibilities and values, particularly the importance of inclusivity, body positivity, and empowering strong women, made this partnership authentic and quite frankly, a no-brainer."
And the clothes look AMAZING! Combining casual, comfortable, and sexy is something that is rarely done in the fashion industry.
We have our frumpy Sunday jogging suit and then we have our cute running errands outfits. But why can't these be the same thing?
Lori Harvey is an icon and though she has had the media buzzing for her relationships and family history, she is SO much more than that.
This woman is 24 years old and is redefining loungewear, and she's doing it all while making sure EVERY shape/size is included in the process.
More great things are to come from this incredible, strong woman!