In the 2000s, big-budget action movies became more and more popular, with the movie-going public gobbling up every explosive moment en masse.
Older properties were ripe for blockbuster adaptations, with films like Michael Bay's Transformers and the gritty return of Batman in The Dark Knight being standouts in the decade.
Dirk Benedict as Templeton Arthur Peck, Dwight Schultz as 'Howling Mad' Murdock, George Peppard as John 'Hannibal' Smith, and Mr. T as B. A. Baracus in the American action-adventure television series The A-Team (Credit: NBC)
As 2010 rolled around, the time seemed right for The A-Team to finally hit theaters, a film that contained both nostalgia for the 1980s and major explosive fun.
Despite its appropriately A-list cast and impressive effects, The A-Team will likely never receive a sequel. Let's dig into why this supposedly sure-fire hit failed to meet expectations and what it means for the future of the franchise!
From TV to the Big Screen
Before it was a major motion picture, The A-Team started as an underdog network television show that became a surprise hit.
While television executives doubted the popularity of the show, which was a quirky tale of a team of special forces trying to clear their name, it quickly became an audience favorite during its initial season.
From 1983 to 1987, the show enjoyed significant success early on but had a ratings fall-off late in its life. Eventually, nearly 15 years after the conclusion of the original show, an A-Team movie made its way to theaters.
Airing on NBC from 1983 to 1987, The A-Team features former members of a fictitious United States Army Special Forces unit (Credit: NBC)
The A-Team was directed by Joe Carnahan, who had previously worked on action films like 2002's Narc and 2006's Smokin' Aces. However, the film had been in the works for quite some time, with several changes in the creative team.
Work on The A-Team movie began way back in the mid-1990s, as 20th Century Fox struggled to get the project off its feet.
Jessica Biel in a white Emilio Pucci Fall 2010 Grecian lace inset dress with Vhernier jewelry and Sergio Rossi pumps at the premiere of The A-Team (Credit: Tinseltown / Shutterstock)
After decades of delays and a few problems with previous directors, The A-Team finally wrapped up filming in late 2009. With a budget of over $100 million, Fox and the rest of the producers hoped for a huge success.
The A-Team's Explosive Adventure
Set in the 2000s, the movie follows the eponymous "A-Team", an elite squad of soldiers led by the deadly Hannibal (played by Liam Neeson).
The group is composed of several intriguing characters, including the suave "Face" (played by Bradley Cooper), the wild pilot "Murdock" (played by Sharlto Copley), and the mo-hawk donning driver B.A. Baracus (played by Quinton Jackson).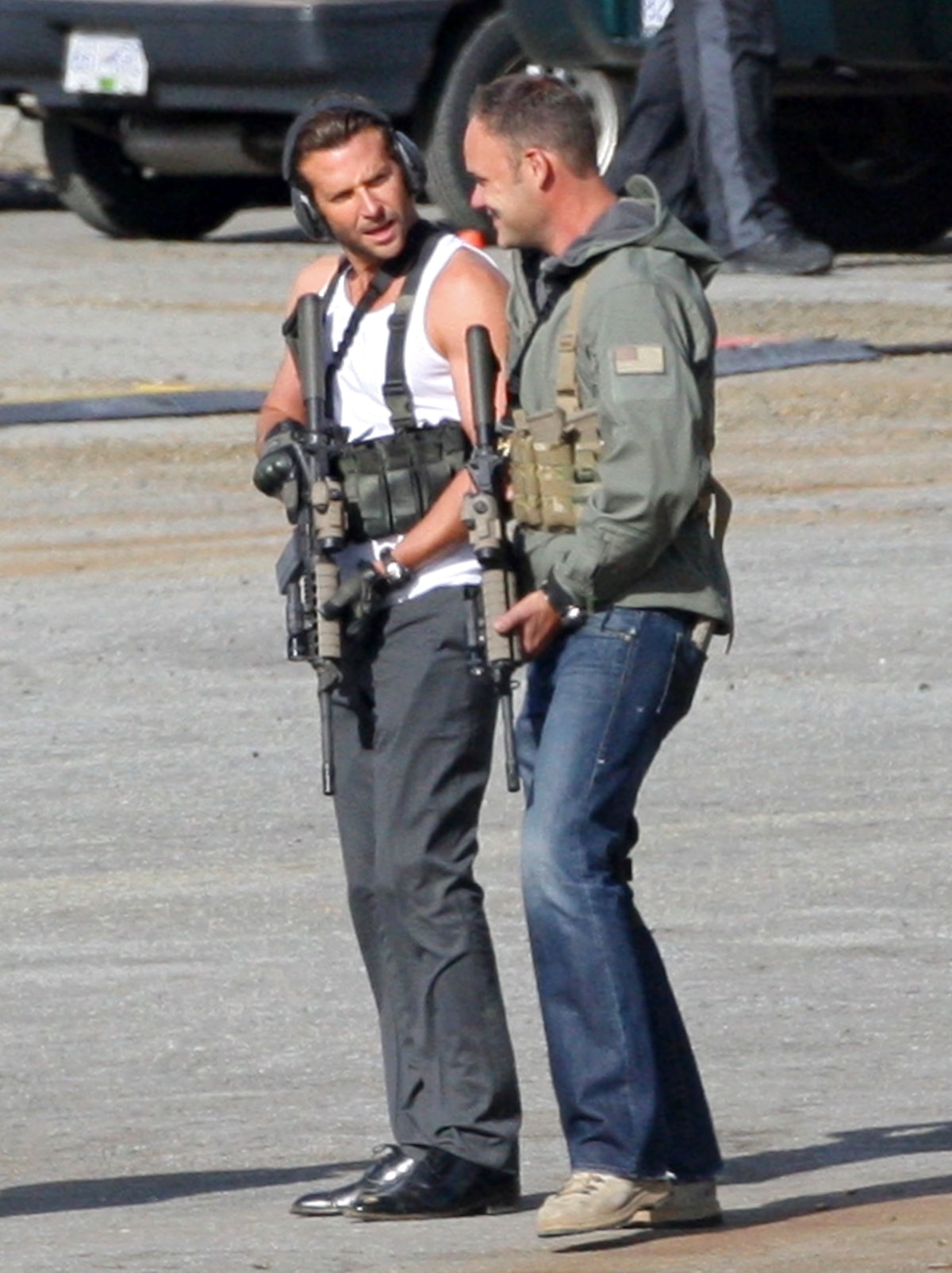 Bradley Cooper as Templeton "Face" Peck shoots a scene for The A-Team in Vancouver, Canada, on September 30, 2009 (Credit: INFphoto)
When the team takes on a secretive operation during the Iraq War, they are framed for a terrible crime and sentenced to years in prison. However, when a chance to clear their name reveals itself, the team breaks out of jail and carries out their own form of justice.
When compared to the original show, The A-Team movie is far more serious and rarely played for laughs, losing a bit of the charm along the way. That said, the film is still packed with moments of exceptional action, fun set-pieces, and some engaging performances.
The all-star cast is great to watch, especially Jessica Biel in the role of Charissa Sosa, Face's ex-girlfriend, and a DCIS captain.
Jessica Biel as Charissa Sosa in the 2010 American action thriller film The A-Team (Credit: 20th Century Fox)
Biel provides some charisma and allure, but still demands a level of respect alongside the rest of the crazy crew.
As one of the only female characters in the film, Biel steps up to bat and delivers a great performance as she ruthlessly tracks the A-Team at their every move.
Overall, The A-Team might not be the best action film of all time, but it's still an explosive adventure with some exceptionally exciting scenes. Whenever the plot starts to falter, a huge set-piece of carnage swoops in to save the day.
Liam Neeson, Quinton Jackson, Sharlto Copley, Jessica Biel, and Bradley Cooper at the Los Angeles premiere of 'The A-Team' held at the Grauman's Chinese Theater in Hollywood on June 3, 2010 (Credit: Tinseltown / Shutterstock)
For all intents and purposes, The A-Team is two hours of glorious action, with a handful of betrayals and plot twists for good measure.
No Plans for an A-Team Sequel
Unfortunately, at the end of its run in cinemas, the movie only managed to drum up $170 million at the box office.
While this far exceeded its production cost, this final haul was seen as a disappointment to the studio, causing any plans for a sequel to be shelved.
Liam Neeson as John "Hannibal" Smith, Bradley Cooper as Templeton "Face" Peck, Quinton "Rampage" Jackson as Bosco "B.A." Baracus, and Sharlto Copley as H.M. "Howling Mad" Murdock in the 2010 American action thriller film The A-Team (Credit: 20th Century Fox)
As the landscape of the genre has changed over the past decade, with superhero films becoming more popular than your average action flick, it's highly unlikely we'll ever see a sequel to The A-Team.
However, if you're looking for a movie with plenty of action and you're not extremely nostalgic for the original show, The A-Team is still worth checking out.
Jessica Biel center parts her hair at the 2016 Tribeca Film Festival's premiere of "The Devil and the Deep Blue Sea" held on April 14, 2016, at the BMCC Tribeca Performing Arts Center's John Zuccotti Theater in New York City (Credit: Andres Otero / WENN)
Jessica Biel and Justin Timberlake collaborated on the 2016 American drama film The Book of Love which premiered under its original title The Devil and the Deep Blue Sea at the Tribeca Film Festival on April 14, 2016.
The then 34-year-old actress produced and also starred in the drama film, while her then 35-year-old husband composed and served as music supervisor for the movie's soundtrack.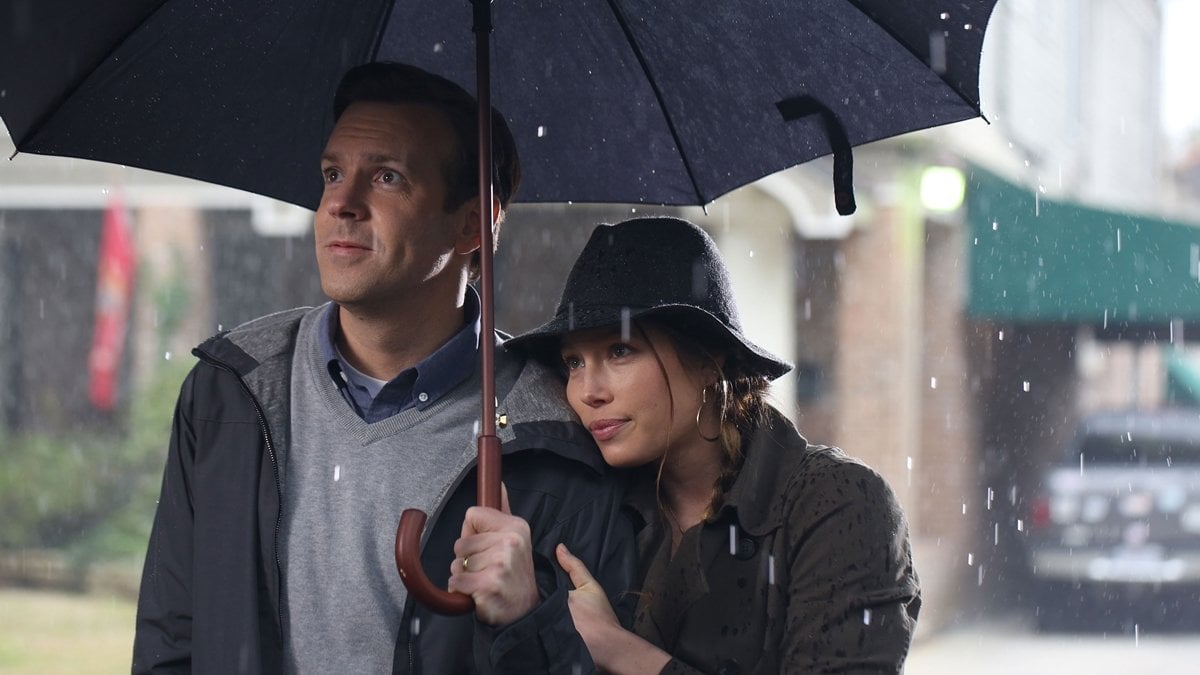 Jason Sudeikis as Henry and Jessica Biel as Penny in the 2016 American drama film The Book of Love (Credit: Electric Entertainment)
The couple looked close as they attended the Tribeca Film Festival premiere of their movie held at BMCC John Zuccotti Theater.
Justin was dapper, as always, in a button-up shirt, a dark-colored tuxedo coat, and a pair of jeans as he wrapped his arm around his wife's waist.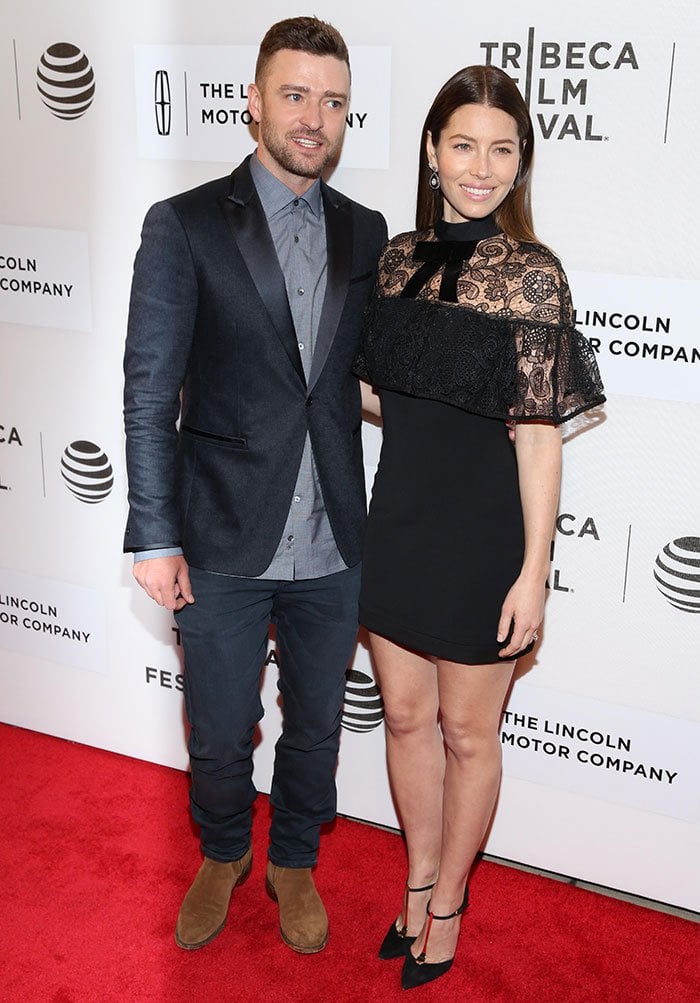 Justin Timberlake and Jessica Biel pose for photos on the red carpet (Credit: Andres Otero / WENN)
Jessica stunned in a simple yet dramatic black frock.
The "7th Heaven" star wore a little black dress from Self Portrait's Fall 2016 collection, which put her toned legs on display.
Jessica Biel wears a thigh-skimming black lace Self Portrait dress on the red carpet (Credit: Andres Otero / WENN)
It featured a sheer lace panel with ruffle detail, a velvet bow at the neck, and a thigh-grazing hemline.
Jessica Biel shows off her legs at the 2016 Tribeca Film Festival's premiere of "The Devil and the Deep Blue Sea" (Credit: Andres Otero / WENN)
She kept the look classy with only a pair of teardrop earrings by Lorraine Schwartz and black heels by Brian Atwood.
She wore her glossy tresses center-parted and straight and rounded out her look with minimal makeup.
Jessica Biel wears a black lacy Self Portrait dress (Credit: Andres Otero / WENN)
Jessica accentuated her legs with a pair of black suede Brian Atwood "Astral" pumps.
These pumps feature gold-tone metal T-straps, pointed toes, adjustable ankle straps, and 4.25-inch heels.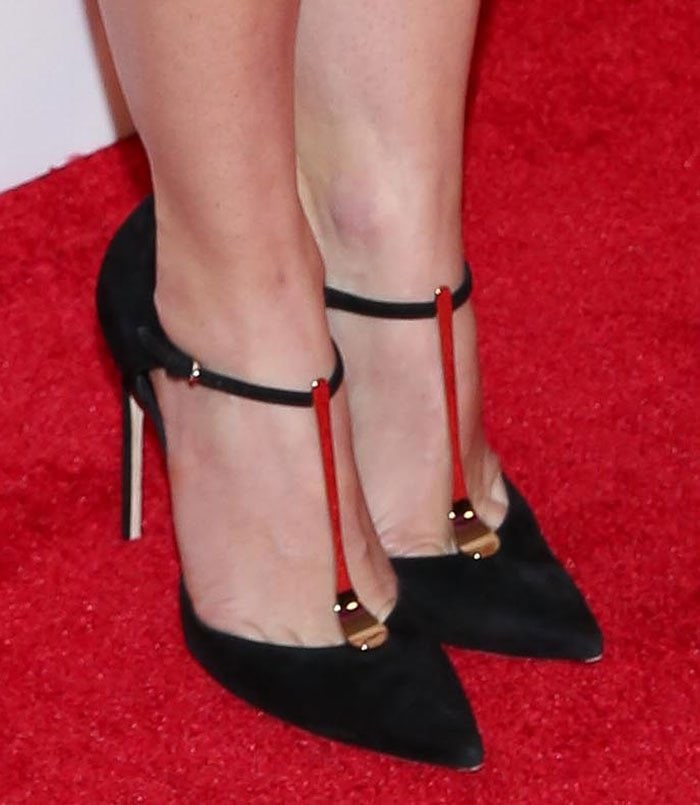 Jessica Biel's feet in black suede Brian Atwood pumps (Credit: Andres Otero / WENN)
These Brian Atwood pumps were also available in a Bordeaux color version but are no longer available online.
Bordeaux Brian Atwood "Astral" Metal T-Strap Pointy-Toe Pumps, $895