Gear, an American men's magazine that closed in 2003 after publishing since 1998, featured a pictorial of a topless 17-year-old Jessica Biel in the March 2000 issue. At the time, she was appearing on the family drama 7th Heaven as Mary Camden.
During an interview on the Awards Chatter podcast in 2018, she reflected on the scantily clad images that were released on her 18th birthday. You can still buy copies of Gear Magazine's March 2000 issue on eBay.
"I think I definitely sort of butted up against those limitations and those boundaries for a multitude of reasons. Because, yeah you know, you can only do so much with a particular character specifically on a show like that," she explained about the limitations of starring as the relatively conservative Mary Camden throughout nine seasons of the American family drama television series.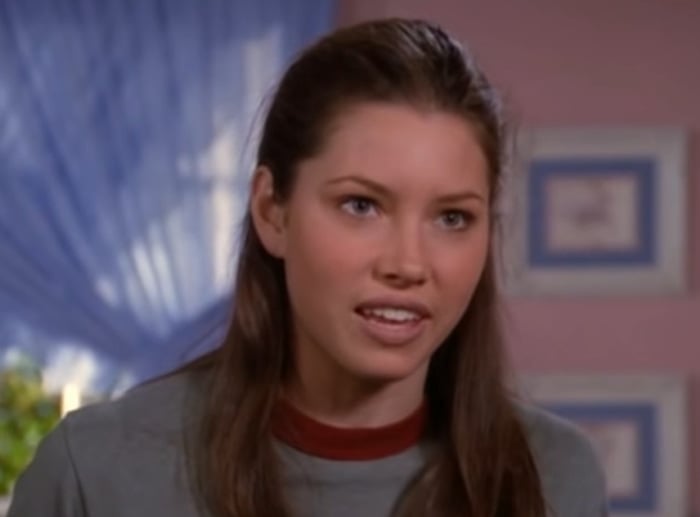 Jessica Biel became a star as Mary Camden in the family drama series 7th Heaven (1996–2006)
"We really had to sort of stay in the boundaries of a somewhat religious family and teaching lessons, and when ya know you're 16, 14, 15, 16, you get to a point when you're like oh man, I just want to do something different. I just want to cut my hair, and I just want to dye it a different color and I can't do all these things because I have this contract."
"I did cut my hair and I got in a lot of trouble for that," Biel recalled in the interview. "I had to apologize to everybody, which is sort of the theme of my experience on 7th Heaven. I was always apologizing."
Topless Jessica Biel in the March 2000 issue of Gear Magazine
"I certainly had to apologize to Aaron Spelling. I think my entire crew and cast were, needless to say, shocked," she added.
"It definitely wasn't a calculated move on my part. I was not that smart to be making these calculated moves," Jessica said jokingly.
"The worst part was I had to go back to work. The thing comes out and literally I had to go back to work that next morning. Everybody was… they didn't know if they should look me in the eye and I was just a mess. I didn't…you're young. You don't mean to hurt people. You don't mean to do this."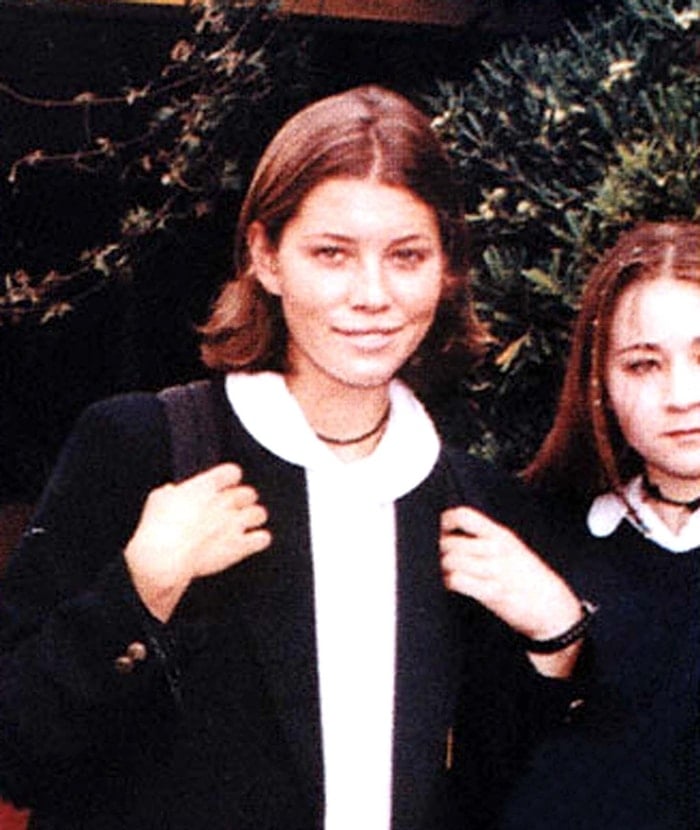 Jessica Biel rocking her school uniform before she became famous (Credit: Jessica Biel Instagram)
In December 2011, Jessica Biel was making the promotional rounds for her new movie, "New Year's Eve."
One of those promotional appearances was a stop at the Ed Sullivan Theater in New York, where the actress was scheduled to make an appearance on the "Late Show with David Letterman."
Jessica Biel wears her hair down for an appearance on "Late Show with David Letterman" as she arrives at the Ed Sullivan Theater in New York City on December 7, 2011
For her TV appearance, Jessica kept it all-business from the ankles up. She wore a demure figure-flattering white dress with three-quarter-length sleeves and a knee-length hem.
However, on her feet? Jessica opted for an interesting pair of peep-toe zebra print booties from Blonde Ambition.
Jessica Biel looks classy in a demure white dress
These "Reve" booties are made of printed haircalf material and feature a cutout detail near the cuff, a raised seam at the center of the vamp, and an exposed zipper on the back.
Jessica Biel's feet in Blonde Ambition booties
If you're digging these unique booties, you can get your own pair at Shopbop.
If the brown-and-white animal print is a little too much, don't worry — there's a black animal print version available as well.
Blonde Ambition Reve Open Toe Cutout Booties, $220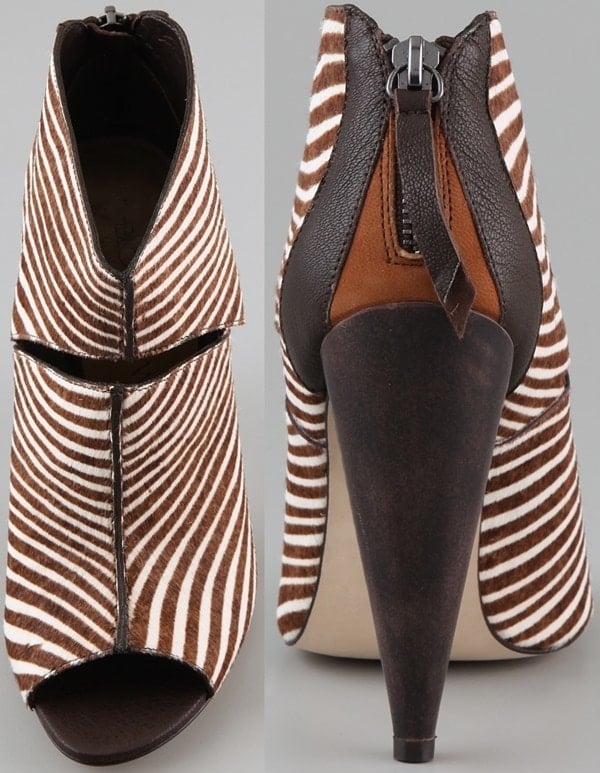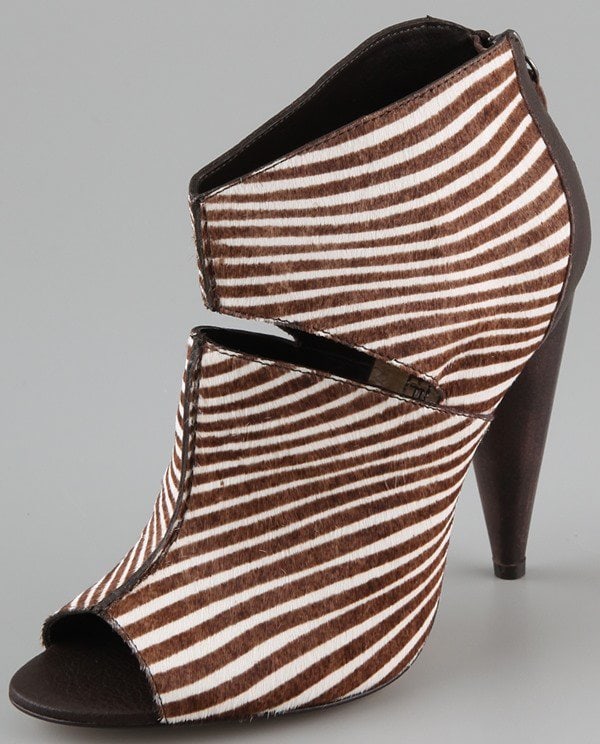 These zebra-print haircalf booties feature an open toe and an exposed back zip
Blonde Ambition Reve in Black, $220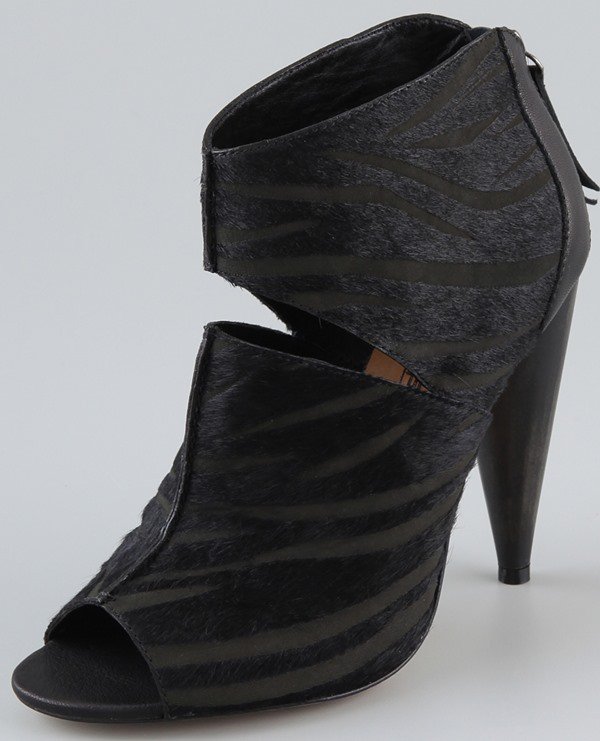 These black zebra-print haircalf booties feature an open toe and exposed back zip
Credit: Mr Blue / WENN