Who is Aaron Phypers really? Most of us know him from the Real Housewives of Beverly Hills where he featured alongside his wife, actress Denise Richards.
Denise Richards and Aaron Phypers met at his holistic non-invasive wellness center, Quantum 360 (Credit: Eugene Powers / Shutterstock)
Aaron is also an actor although his acting career never really took off and some people have felt his best performance was during the RHOBH show. But more about that later.
His short and sweet acting career
He debuted in the 2009 documentary series Air Emergency and also starred in the drama The Curiosity of Penny Parker in the same year.
And he also appeared in a short movie, The Leap, shot in 2011. None of these performances were noteworthy and he gave up his acting career to start a light and sound healing center called Quantum 360 located in Malibu.
Aaron Phypers and Nicollette Sheridan married in December 2015, separated six months later, and finalized their divorce in August 2018 (Credit: Kathy Hutchins / Shutterstock)
During his short and sweet acting career, he met his first wife, actress Nicollette Sheridan. We loved her in Desperate Housewives.
The couple was married in December 2015 but six months later Nicollette filed for divorce, citing irreconcilable differences. Their divorce was finalized in 2018 taking longer to finalize than they were actually married!
Frequency healing??
According to their website, Quantum 360 "is a state-of-the-art healing center designed to foster optimal health in mind, body, and spirit."
But Denise gave a slightly different description on The Real Housewives of Beverly Hills After Show, saying "It's light and sound therapy. How he described what is going on is Ella Fitzgerald sings and breaks glass, right? The frequency breaks that. So, frequency can also break down different things going on. It's not cuckoo weird s–t; it's like been around for hundreds of years, holistic medicine, all over the world. It's different for every person." Well, we hope that cleared it up for you.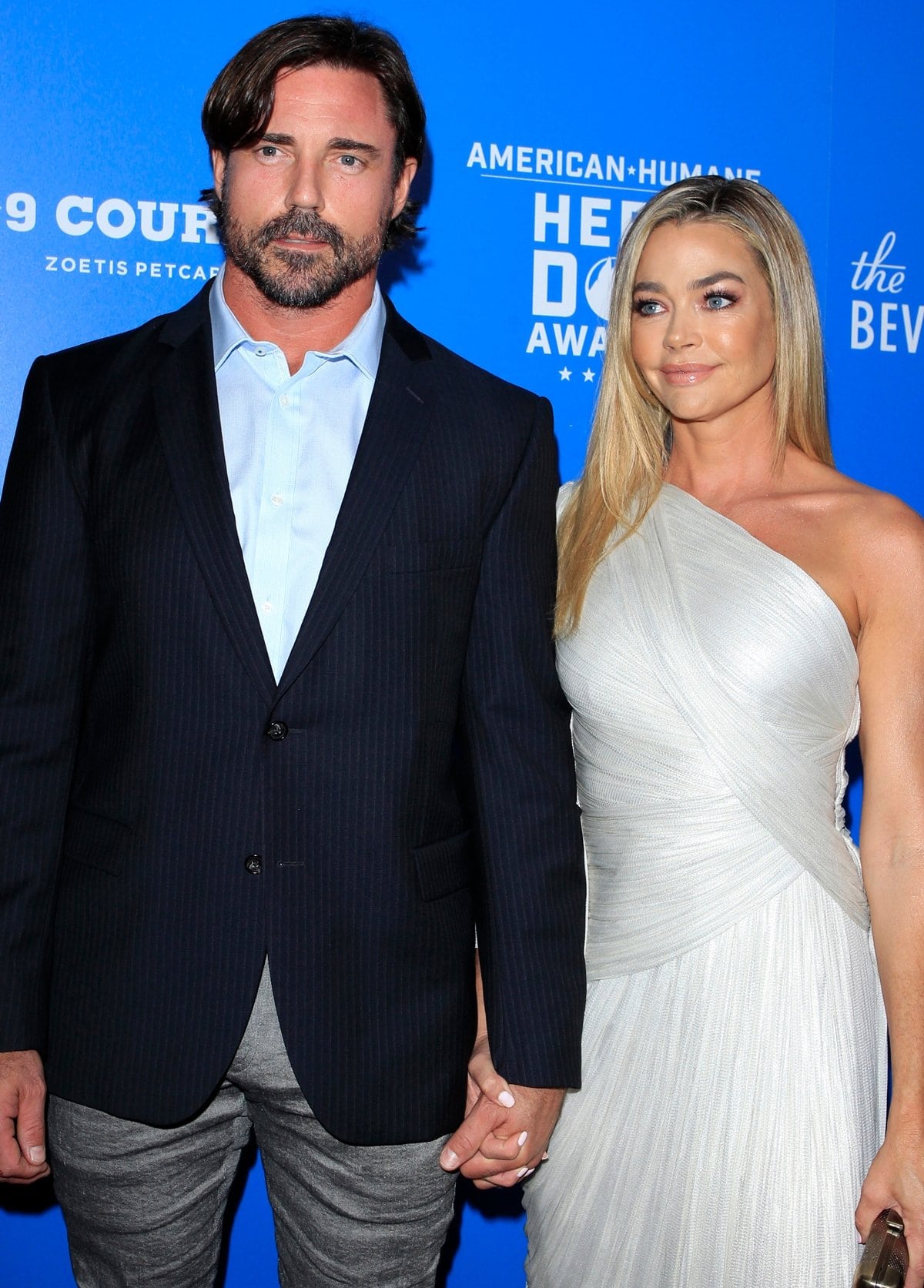 Aaron Phypers and Nicollette Sheridan married one month after his divorce from Nicollette Sheridan was finalized (Credit: Kathy Hutchins / Shutterstock)
Denise met Aaron when she went to his clinic reportedly for DNA repair and anti-aging. We are still trying to figure out the whole frequency thing.
Not known for being subtle, Denise shared during a February 2019 episode of the RHOBH, "So, I met him at his center doing DNA repair, anti-aging, and that sort of thing. Then, one time we had sex in one of his rooms. We've been inseparable ever since."
Denise Richards shows off her size 8 (US) Feet in strappy metallic sandals (Credit: Eugene Powers / Shutterstock)
Apparently, it was love at first sight and a beautiful Malibu beach wedding was held in September 2018, a mere month after Aaron's divorce was finalized. Aaron was 46 at the time and Denise was a year older.
Happy Families
Denise's ex-husband is none other than Charlie Sheen. The couple was married for 4 years and divorced in November 2006. They share 2 children, Sam and Lola. Denise has another daughter Eloise whom she adopted in 2011.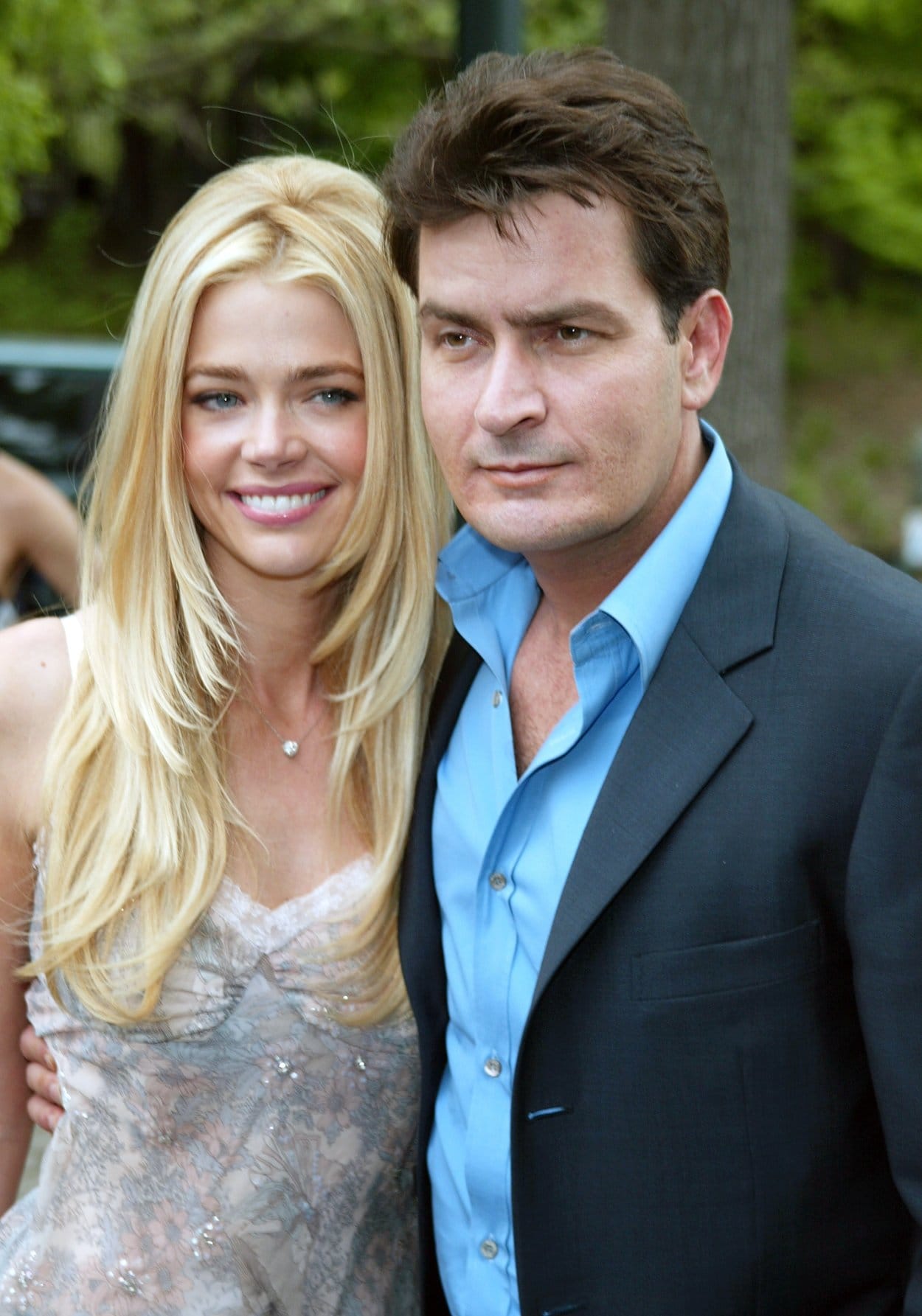 Charlie Sheen and Denise Richards met on the set of the 2001 film Good Advice and were married from 2002 until 2006 (Credit: Walter McBride / INFphoto)
In an interview with SheKnows back in 2019, Denise shared "He and I are definitely great partners with the kids and we're definitely on the same page, which makes it so much easier."
"We have a strong family unit, we're very secure and I'm so happy that Eloise has such a wonderful dad, and my girls have a great stepdad."
That crushing moment and open-marriage rumors
Being part of a reality series is definitely not something we would ever wish to be part of – especially when those OMG moments hit the screen. And as you probably know, there have been quite a few.
Aaron certainly didn't cover himself in any glory during one of the episodes where he said to Denise, "Don't tell me what to say. I'm going to crush your f—— hand. Stop it."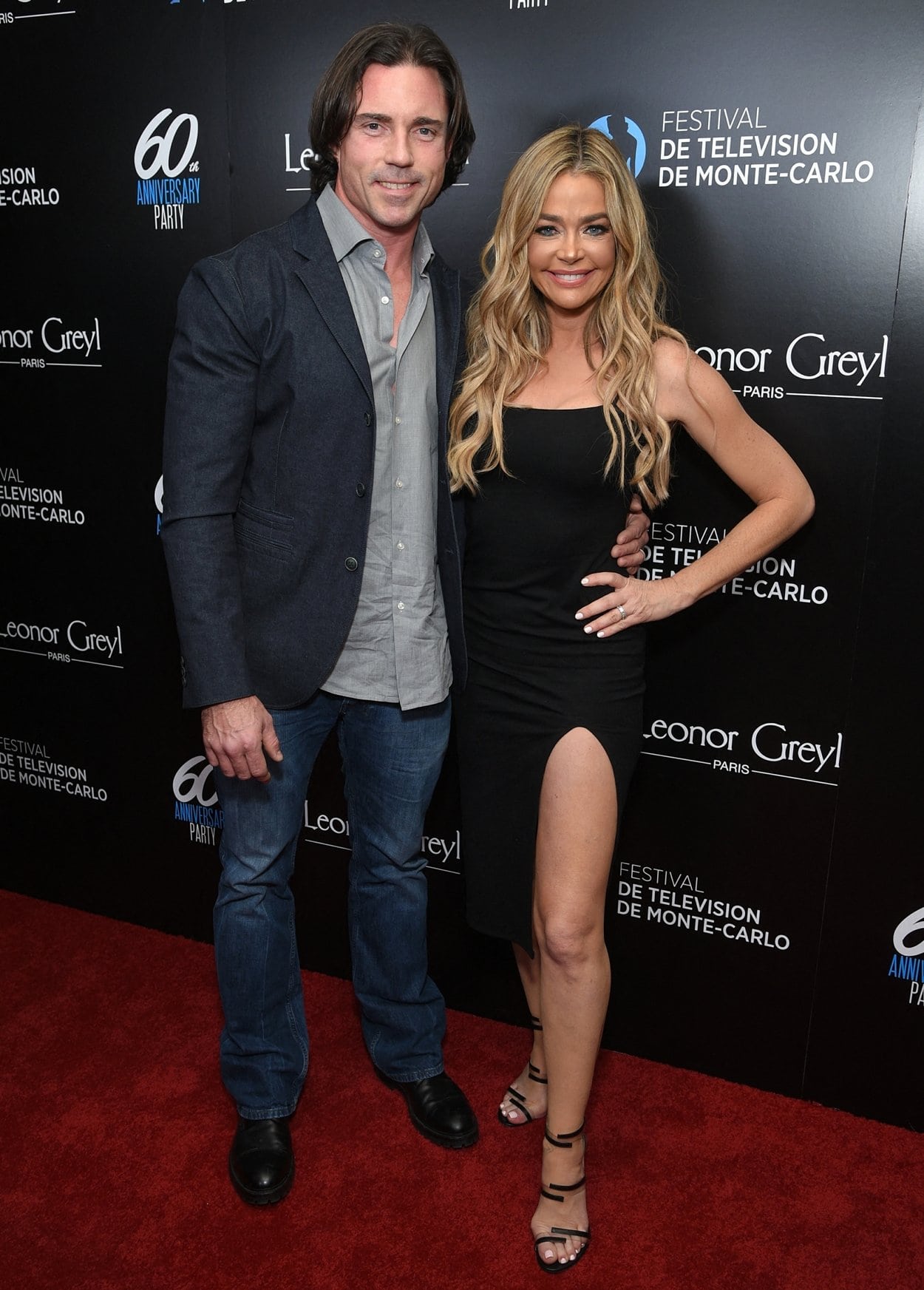 Denise Richards and her husband Aaron Phypers attend the 60th Anniversary Party For The Monte-Carlo TV Festival at Sunset Tower Hotel on February 5, 2020, in West Hollywood, California (Credit: Hahn Lionel / ABACA USA / INSTARimages)
Not his classiest moment. This happened after the couple heatedly left Kyle Richards' family barbecue after a somewhat tense dinner table discussion. Denise did warn Aaron saying," "Don't say a word. We're on camera." But he couldn't help himself.
During a reunion episode, host Andy Cohen asked, "Denise, what was going on there? I believe he said he was going to crush your hand," Denise replied, "Yeah, he was going to crush my hand."
But continued, "I did, um, because I didn't even know that either, and I played it for him and he said, 'I don't even remember saying that. I don't know why I would say that because I'm afraid of you."
Denise Richards and Aaron Phypers are seen on August 13, 2019, in Los Angeles (Credit: BauerGriffin / INSTARimages)
Well, we're not sure why he is afraid of her and when asked, Denise said it's in a joking way. Perhaps the fact that her net worth is approximately 6 times that of his may play a minor role.
Back in July 2020 during one of the RHOBH episodes, Brandi Glanville shared, "I saw her in April and then I didn't see her again until your party and some s—t went down over those nine months that was — it's really f—king bad. I had been out with her, and Aaron and I knew that they have, like, an understanding, like she could be with girls if she wanted to. … The first night we met, something happened."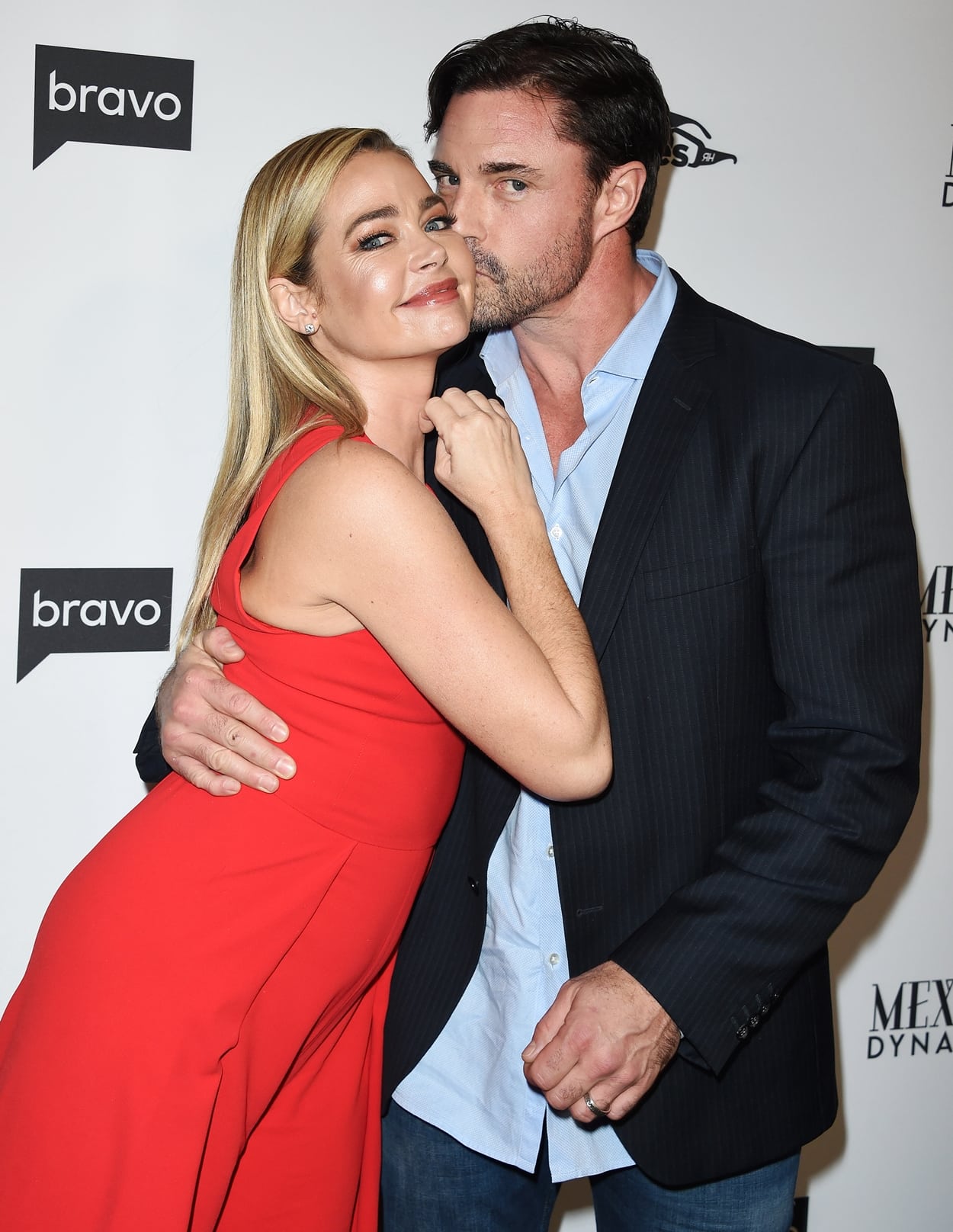 Denise Richards in a red Alice + Olivia 'Bret' crepe jumpsuit and Aaron Phypers attend Bravo's Premiere Party For 'The Real Housewives Of Beverly Hills' Season 9 And 'Mexican Dynasties'at Gracias Madre on February 12, 2019, in West Hollywood, California (Credit: Vince Flores / startraksphoto)
Denise denied all the allegations saying that she and Aaron are 100% monogamous.
After the reunion show, Denise and Aaron didn't continue with the series and although we won't get the juicy stuff via the reality tv scene, we don't think this is the last we'll hear from them!
In April 2013, Charlie Sheen promoted his new TV show, Anger Management, on Twitter and paid his ex-wife, Denise Richards, a compliment in the process.
Tune in tonight & check out my favorite ex-wife on Anger Management FX @9pShe rocks. She's smoking hot. Come on guys it's @deniserichards!— Charlie Sheen (@charliesheen), April 5, 2013
It was not the first time that Charlie Sheen had expressed his admiration for his ex-wife. In an interview with Rolling Stones, he also paid Richards a compliment and told the magazine that the actress still looks great.
Denise Richards portrays Karen Desai, the devoted mother of Danny (Avan Jogia), in the American teen drama mystery-thriller television series Twisted (Credit: WENN)
"She still looks f–cking great," Sheen said in a June 2012 issue of Rolling Stone. "Do I want to [have sex with her]? Yeah! Does she? Don't know."
Denise Richards shows how to wear a blue sleeveless dress with black boots (Credit: WENN)
Aside from her Anger Management guest appearance, Denise Richards was busy filming a pilot for the American teen drama mystery-thriller television series Twisted.
She was photographed filming in a blue sleeveless dress and black boots.
While ABC Family picked up for a full season of 19 episodes, Twisted was not renewed for a second season.
Denise Richards filming the pilot for Twisted in Los Angeles on April 5, 2013 (Credit: Shinn / JFX Images / WENN)