The moment you catch a glimpse of Aleksandra Boyarova, you will instantly recognize that this young lady has the makings of a fashion style icon.
Fashion blogger Aleksandra Boyarova of Jeliza Rose
From fabulous classy to a look that's rock-chic, Aleksandra gets it fashionably right.
Aleksandra Boyarova has the makings of a fashion style icon
This stylish gal is a model and an Art History student in London. She describes her fashion style as varied, ranging from the elegant classy to the total rock.
Lucky for us, she documents her style experiments in her fashion blog, Jeliza Rose, where we can pick up several ideas on how to style our very own selves. Read on as Aleksandra opens up about her blog, her shoe loves, and more.
1. Please tell me a little about your blog and its focus
It's been a year since I started my blog and I keep becoming more and more attached to it with each day. It's amazing how your style can develop with something as simple as taking photos of your outfits.
I'm pretty sure blogging has changed the way I look and dress during this year.The main focus of my blog was always on my outfits and photo shoots.
Being a model I am absolutely crazy about photo shoots and style experiments. You might have noticed my outfits can change dramatically from an elegant classy dress to a total rock look.
Aleksandra Boyarova is crazy about photo shoots and style experiments
2. What's the favorite pair of shoes you own right now?
I have a feeling that my followers might be a bit tired of me posting outfits with the same shoes too often 🙂 It's just I can buy a pair of shoes and fall in love with them for a good couple of weeks.
During this time I usually try to match them to most of my outfits and wear them aaall the time 🙂 At the moment I'm pretty crazy about Topshop ankle boots with flared heels. They are super comfy, quite high and look equally good with leggings, skirt or a dress.
Her favorite Topshop ankle boots with flared heels
3. What is the next pair of shoes you are hoping to buy?
For winter I am hoping to get myself a sexy pair of over-the-knee suede boots. And by sexy I don't mean killer heels, but definitely skin-tight.
They should be comfy enough to wear every day with a flared skirt or jeans. I already have an idea where to get one of these so stick around for an update on my blog 😛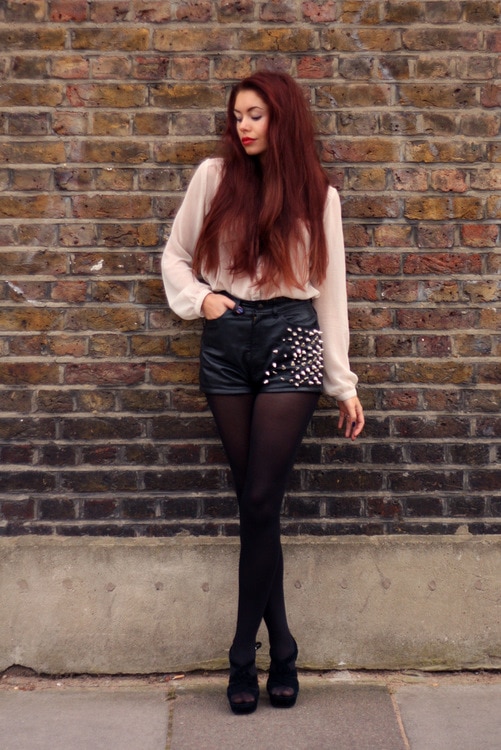 Aleksandra Boyarova flaunts her incredibly long legs
4. Which shoe trends do you love and why?
I read the question about current shoe trends and realised that I don't even know anything about it 🙂 So I googled it quickly to see what's in to form my opinion.
The thing is, I am not that concerned about trends at all. If I stumble upon something and I like it, there's not much chance I'd be thinking whether it's trendy or not.
On the other hand, the fashion market is built the way that you like and buy trendy clothes and shoes unintentionally without even knowing it. So again, it's difficult to be objective here. But I have to say, I do like spikes and flared heels of this A/W trend so I'm not that bad at this after all 🙂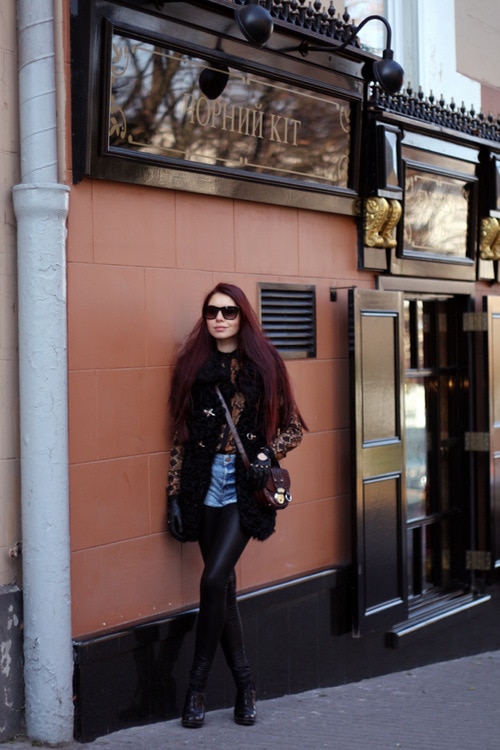 Aleksandra Boyarova shows off another chic outfit
5. Who are your style inspirations and why do you love their style?
Right. Style inspirations. It has always been difficult for me when people ask this question. I am not a big fan of celebrities so there's no one I look up to.
However, my 90-year-old granny is still really concerned about her style and the way she looks. Now that's what I call a real style devotion! So I guess I could totally have her as my style icon 🙂