My, my. Looks like these Disney-grown gals really have a penchant for bad boys.
After having the biggest heartbreak of her life witnessed by the entire world and her personal life strewn about on social media, Selena Gomez may be headed towards another chaotic tangle with bad boy number two (because let's face it – Selena's recent ex Zedd always looks like he's about to be blown away by a gust of wind).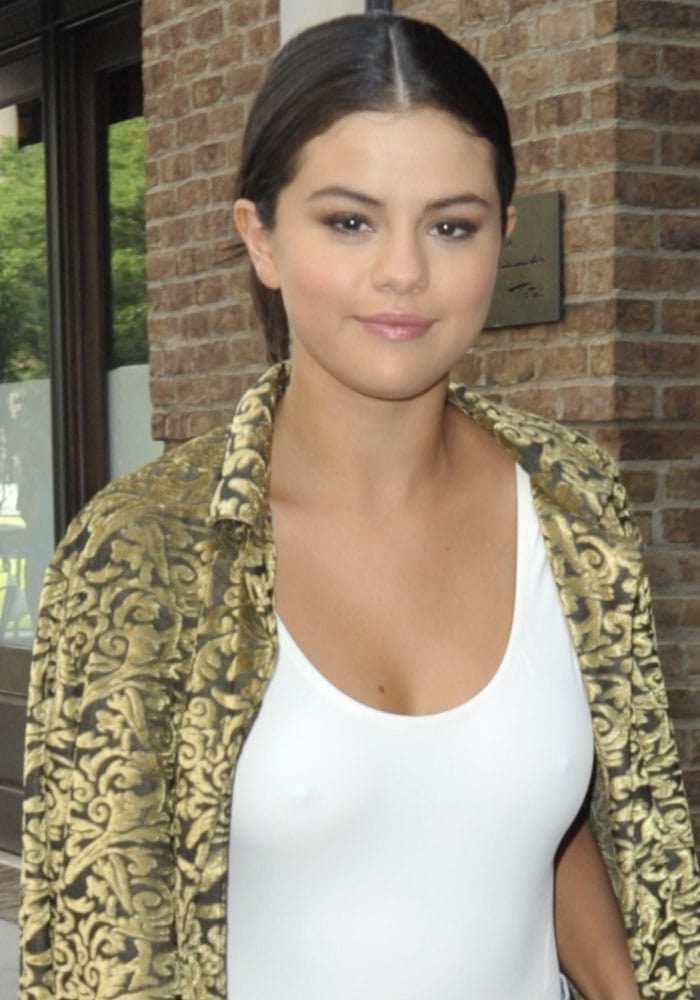 Selena Gomez's middle-parted sleek hairstyle
The 22-year-old was seen partying out with The Cab's frontman Alexander DeLeon, sparking rumors of a possible budding romance between the two.
Selena Gomez's white Anne Marie one piece is made in Sri Lanka
However, Selena was quick to point out that while the two may be close, but their closeness is nothing of the romantic sort. Phew. You can breathe now, Selena fans.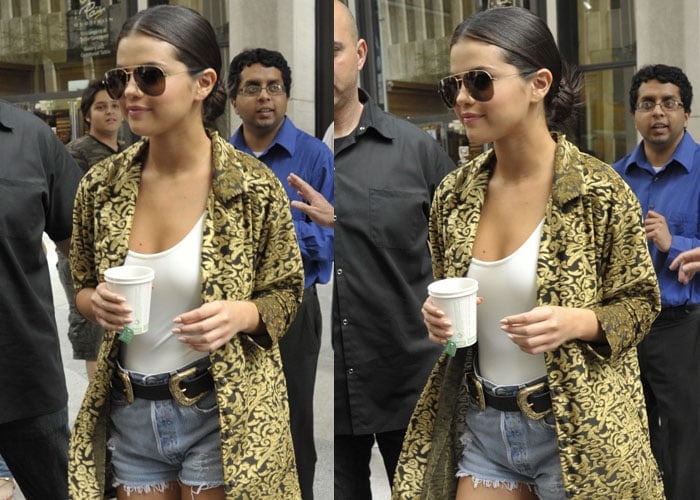 Selena Gomez wore a 'Bri Bri' waist belt by B-low the Belt
Selena was spotted the morning after looking fresh, well-rested, and pretty happy.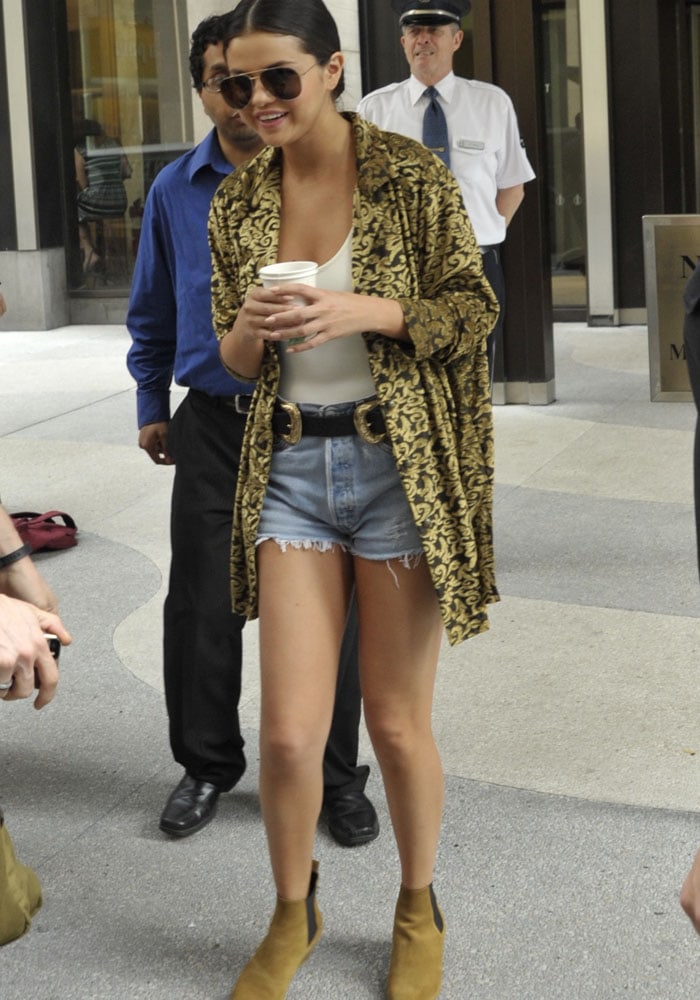 Selena Gomez shows off her long, lean legs
The actress-turned-singer even gave the paparazzi and a few awaiting fans outside her hotel a chance to take a few good snaps of her.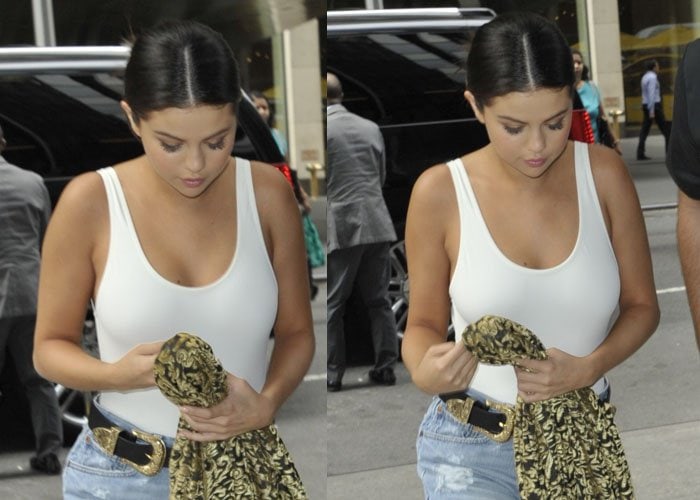 Selena Gomez wore a white Solid & Striped classic one-piece with tank-style straps
Selena stepped out of her New York hotel and into an awaiting vehicle wearing denim cutoffs, a low necklined one-piece from Solid & Striped, a patterned jacket, and a belt from B-Low.
Selena Gomez styled denim cutoffs with a low necklined one-piece
The Disney star completed her looks with a middle-parted sleek hairstyle, a Gucci bag, and Saint Laurent Chelsea ankle boots.
Selena Gomez completed her look with Saint Laurent Chelsea ankle boots
Selena Gomez looked fresh, well-rested, and pretty happy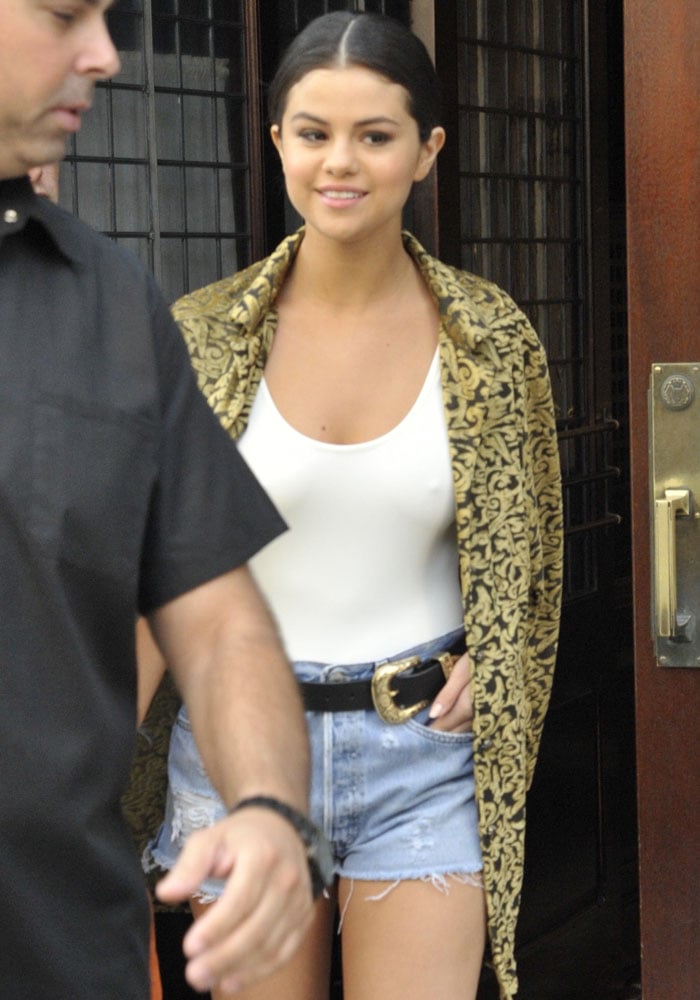 Selena Gomez went braless with a black waist belt with ornate double buckles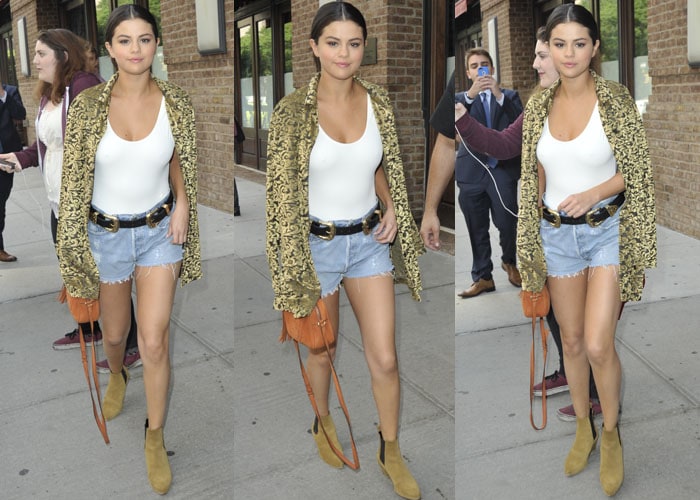 Selena Gomez paraded her sexy legs in denim cutoffs
Selena Gomez toted an orange suede Gucci Soho Disco bag
Selena Gomez takes photos with fans after leaving her hotel in New York on June 23, 2015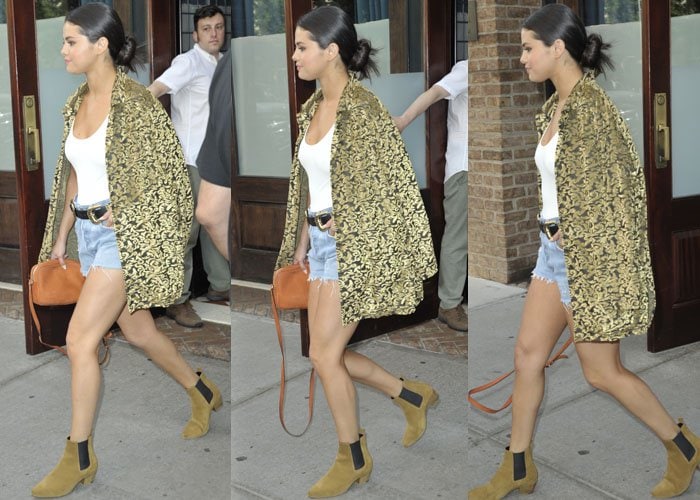 Selena Gomez flaunts her legs in a long patterned jacket
Get her Saint Laurent Chelsea boots over at Farfetch or Nordstrom.
Selena Gomez wears Saint Laurent Chelsea ankle boots
Alexander DeLeon, best known for being the lead singer for the band The Cab, has a net worth of $2 million.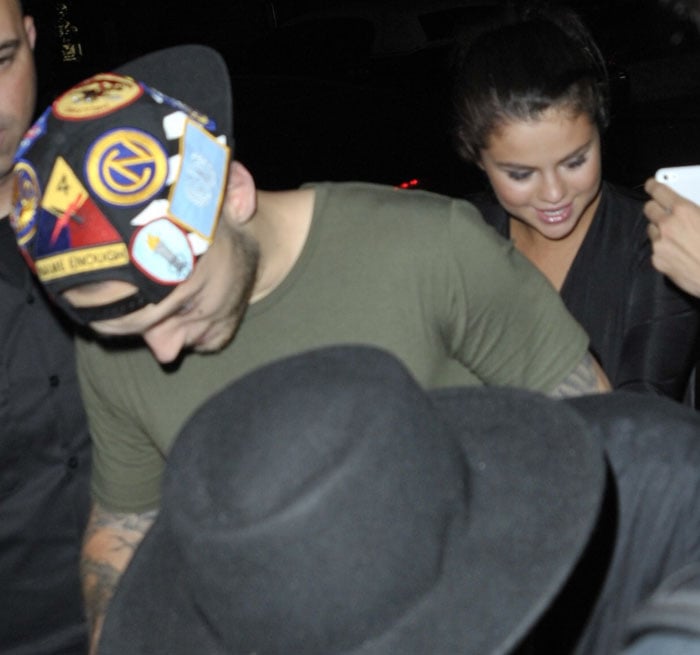 Selena Gomez out on a possible date with The Cab's Alexander DeLeon
We think this outfit is a vast improvement from her recent mishaps. These suede beauties only testify further that Selena's style is starting to get back on track.
Saint Laurent Wyatt Suede Chelsea Boots, $995
Credit: TNYF / WENN