Saoirse Ronan recently revealed how to pronounce her name, and now, Alicia Vikander is doing the same.
The Swedish actress taking the awards season by storm stopped by the ABC Studios to school Jimmy Kimmel on how to properly pronounce her name.
Alicia Vikander wears her hair down as she arrives at ABC studios for an appearance on "Jimmy Kimmel Live!" on February 9, 2016, in Los Angeles
The Ex Machina actress wore a black dress underneath a Ragdoll LA silk kimono, which she paired with a lace choker from the same brand.
Alicia Vikander wears a black dress and a Ragdoll LA silk kimono as she arrives at ABC Studios
She also sported rings by TWELVEoTWO by The 9th Muse and Cynthia Rybakoff, bracelets by BECK Jewels, and showed off her feet in Louis Vuitton's "Artful" sandals.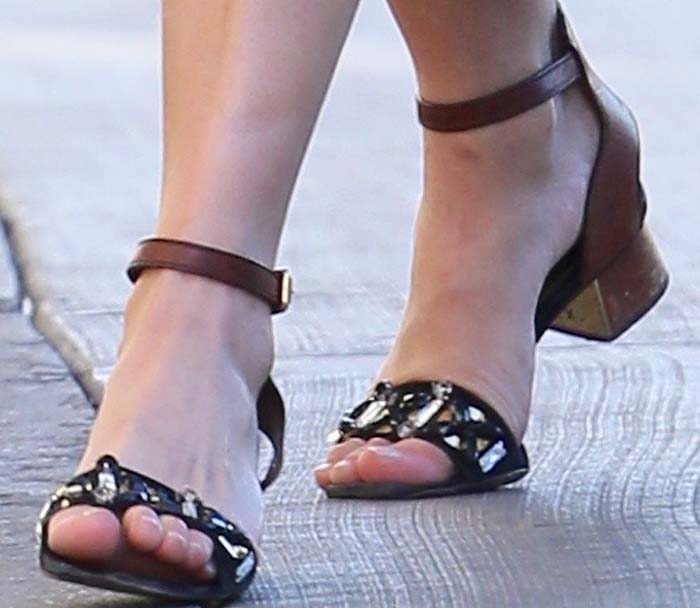 Alicia Vikander's feet in embellished Louis Vuitton sandals
So, the pronunciation of Alicia's name? Jimmy Kimmel still didn't get it right — even after Alicia's lessons.
"At the Oscars, if like, John Travolta has to introduce your category, God help him, it's gonna be a disaster," joked Kimmel. A bonus to Vikander's Oscar nomination, he added, is people are getting more accustomed to saying her name.
Oh, good luck trying to figure out what the Swedish pronunciation of Alicia's name is.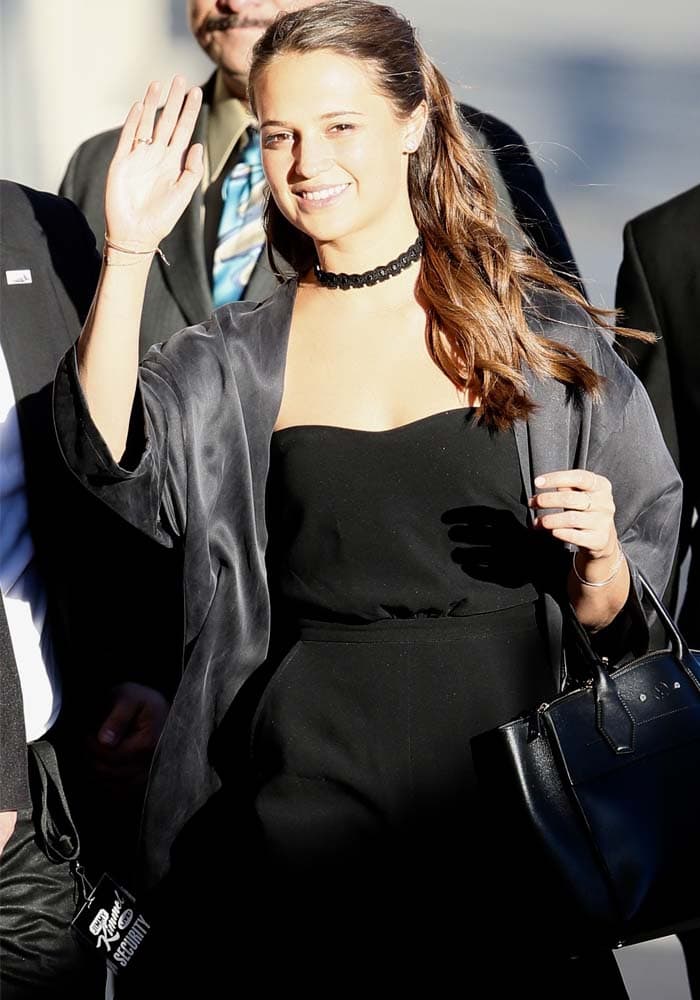 Alicia Vikander told Jimmy Kimmel her name is pronounced ah-liss-ee-ah vic-and-er
"What is the Swedish version of your name?" Kimmel asked. According to the Swedish actress, her name is pronounced "ah-liss-ee-ah vic-and-er." Kimmel tried to mimic her and said, "Forget that."
"I remember when I finally came to the age my mom would let me set the alarm clock and get up at 2 a.m. and sit by the TV," Vikander added about watching the Oscars ceremony when growing up in Gothenburg, the second-largest city in Sweden.
"Later on I even had sleepovers with friends, we stayed up in pajamas and ate popcorn and watched the Oscars and talked about all the dresses."
The good news, however, is that you don't have to pronounce Alicia's name correctly to get your hands on her sandals if you're able to visit a Louis Vuitton store and have a small fortune to spend on a new pair of shoes.
Louis Vuitton 'Artful' Sandals, $1,140
Credit: Michael Wright / WENN