We all have mental health. And just like our physical health, ups and downs in our mental health are normal.
Many people experience mental health concerns every now and then. However, a mental health issue can develop into mental illness when ongoing signs and symptoms affect your ability to function.
Today, as the coronavirus pandemic sweeps the world, it is causing a steep rise in rates of psychological distress, anxiety, stress, depression, and other mental health problems.
According to the American Psychiatric Association, nearly one in five US adults experience some form of mental illness. The Anxiety and Depression Association of America reports that anxiety disorders are the most common mental illness in the United States, affecting 40 million adults or 18.1% of the population each year.
Mental illness does not discriminate, and even celebrities are not immune. Recently, GLOW star Alison Brie candidly talked about her struggles with mental health in Women's Health Magazine's May 2020 issue.
Alison Brie Struggles with Depression and Body Dysmorphia
The 37-year-old actress opened up about how she deals with her mental illness. She shared that depression and body dysmorphia are things that she will be struggling with throughout her life.
People with body dysmorphic disorder spend a lot of time worrying about their physical flaws that are often unnoticeable to others.
Alison Brie flaunts her curves in a Miu Miu gown at the 2020 Critics' Choice Awards on January 12, 2020
When asked whether she still struggles with body dysmorphia, Alison said: "Oh definitely. Still do! I go back to red carpet photos where I thought I looked so horrible, and there are some where I now think, God, I looked beautiful. And I'll remember: An hour before that I was in tears; I thought I was so disgusting. I think it's something I'll probably be working through my whole life. And depression too."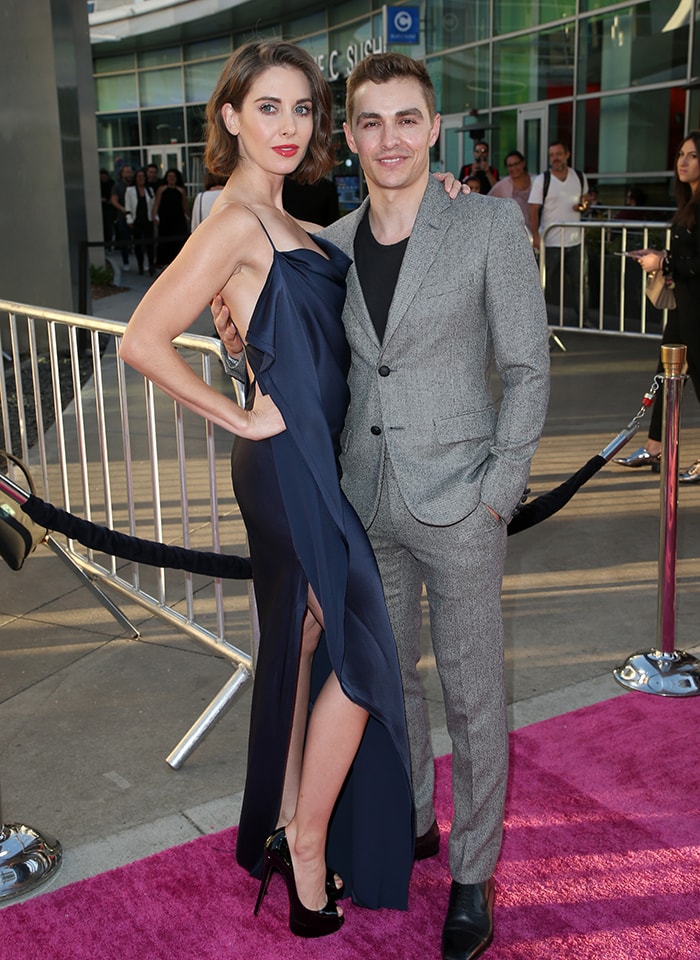 Alison Brie with husband Dave Franco at the premiere of Netflix's series GLOW on June 22, 2017
One of her worst episodes of depression happened before they started writing Netflix's psychological drama Horse Girl, released last February.
She told The Guardian: "Right before we started writing the movie, I went through a deep depression unlike any I had experienced. I would just sit there sobbing, even though everything was fine. Nothing had happened."
It was supposed to be the happiest time of her life as she had just married actor Dave Franco and had just wrapped up the second season of her series, GLOW.
She said her depression came out of nowhere. "That's when I started to get irrationally angry at my own DNA, and started to think, 'This is just in me, I can't even control this. This is brain chemistry,'" she added.
How Alison Brie Got Her Mental Illness
According to the Mayo Clinic, mental illnesses are thought to be caused by a variety of genetic and environmental factors. It can be inherited or caused by impaired neurotransmitters in the brain. It can also be caused by exposure to environmental stressors, toxins, alcohol, or drugs while in the mother's womb.
In Alison Brie's case, mental illness runs in her family. Her maternal grandmother had schizophrenia that led to periods of homelessness.
"The rest of my family then dealt with the trickle-down effects of trauma, and that meant depression more than anything," she said.
How Alison Brie Fights Her Mental Illness
While her family members go to therapy and rely on anti-depressants, Alison resists medication but does take therapy. She also says that being active helps her fight depression.
Alison Brie walks around her neighborhood amid COVID-19 pandemic in Los Angeles on May 11, 2020
"When I've been in a really serious depression, I'll drag myself to a yoga class – even if I don't want to be around people – tears streaming down my face. But, get in class, get out of your head, get blood flowing. It ends up helping eventually," she said.
The Mad Men actress also mentioned working out six days a week, with sessions of Peloton bike and hikes.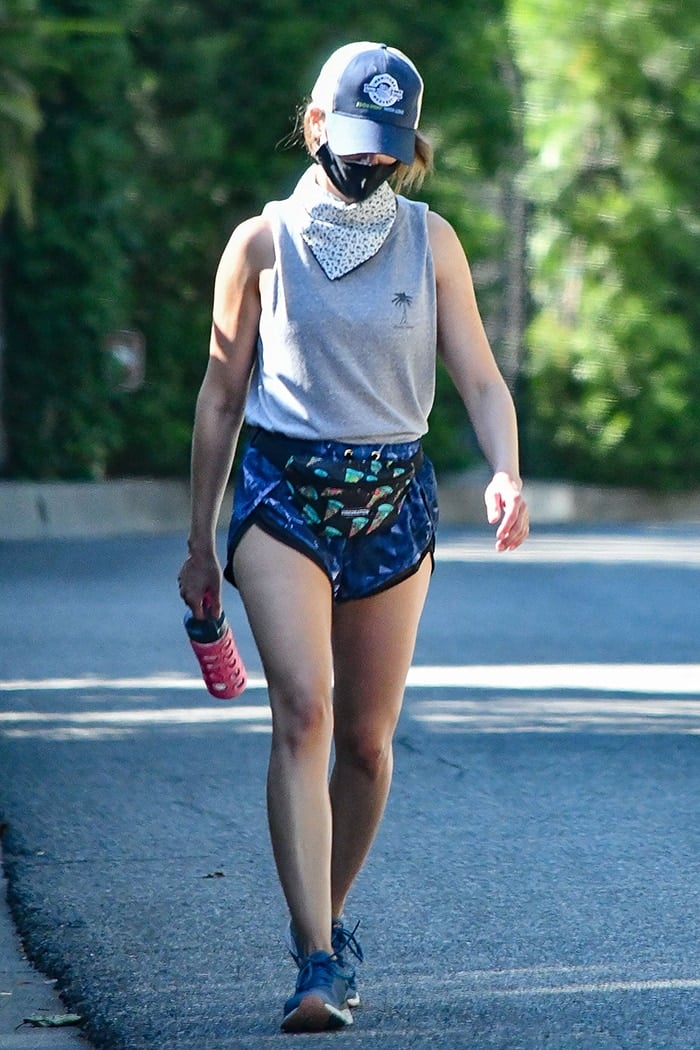 Alison Brie shows off her toned arms and legs in athletic shorts, gray sleeveless top, and running shoes
She also credits her husband, Dave Franco, for helping her through her mental illness.
"I'm so lucky I'm married to a really wonderful, open person. We have great lines of communication, and I can talk often about my feelings." "It's been funny talking to him about it," she added.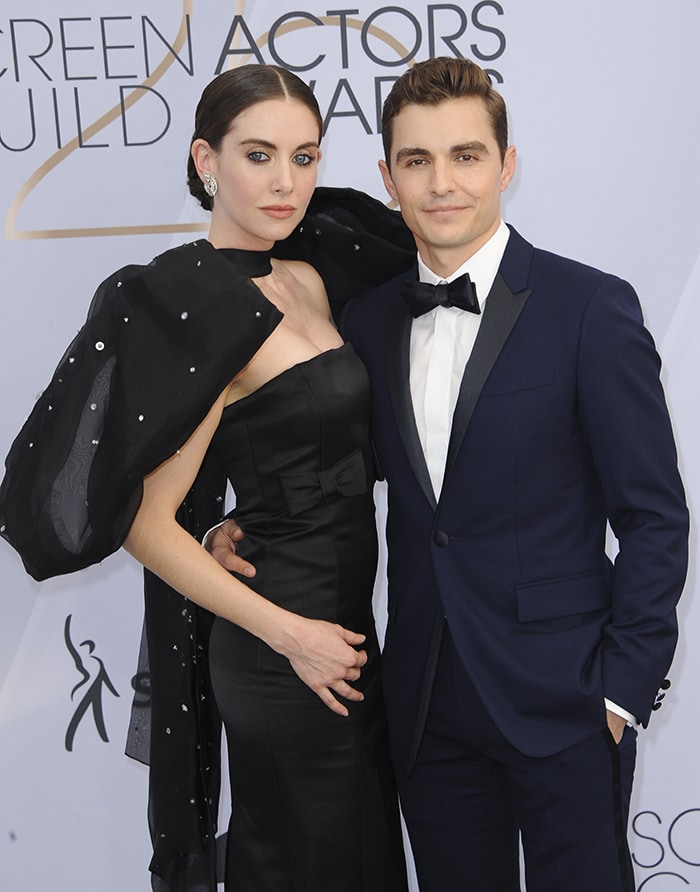 Alison Brie and Dave Franco at the 25th Screen Actors Guild Awards on January 27, 2019
How Her Role in GLOW Helped Her Embrace Her Body
Alison stars as female wrestler Ruth "Zoya the Destroya" Wilder in GLOW, which is a story of the 1980's women's professional wrestling circuit, Gorgeous Ladies of Wrestling, hence the title. The comedy-drama is about women's bodies, embracing their physical strength, and showing what they can do with their bodies.
GLOW co-creator Liz Flahive told Hollywood Reporter: "We knew from the beginning GLOW was a show about bodies and women using their bodies in different ways that they hadn't used them before, and using bodies in ways that we as an audience haven't seen before. It felt pretty important that, to honestly tell that story, we should show you the women's real bodies going through this experience."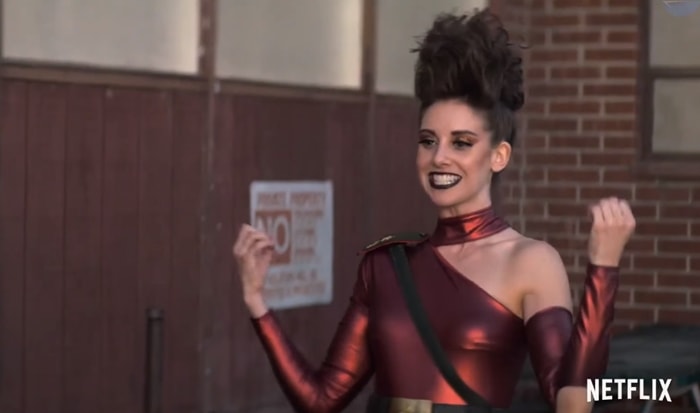 Ruth "Zoya the Destroya" Wilder, one of the main characters of GLOW, portrayed by Alison Brie
Although she struggles with body dysmorphia, Alison said that she finds the nudity in the series to be empowering.
She told People in September last year: "Even the nudity on the show, to me, has been very empowering. It kind of reminding myself that I love my body and I'm not ashamed to share it in a non-sexual way on a show…To show nudity as a representation of female friendship and their closeness and their intimacy, was very exciting to me and very true to who I am. I feel a little bit more like myself every year of the show."
Getting in shape for the series also helped Alison embrace her body. She had to do intense training to develop muscles, and that made a huge difference in the way she sees her body.
"It helped me with my relationship to my body times a million." "Before I always felt at odds with it; I wanted it to be something it wasn't. But I didn't have the tools to do that in a healthy way," she added.
Credit: Apega / Adriana M. Barraza / FayesVision / Instar / WENN