Real Women Have Curves was released on January 13, 2002. It features Ugly Betty actress America Ferrera as 18-year-old Ana García – a high school student in Beverly Hills who has to choose between her ambition of going to college and her mother's wishes to get married, have children, and take over the family business.
When the film producers put out a casting call for girls who were "fat" or "overweight," thousands of girls who did not fit this description turned up but believed that they did.
America Ferrera was born on April 18, 1984, which made her 17 years old when the movie was released and earned praise for her film debut performance.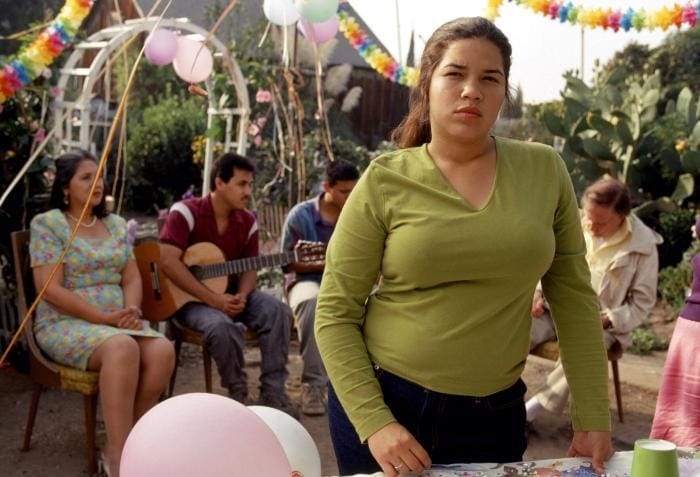 The 2002 American comedy-drama film Real Women Have Curves stars America Ferrera as Ana Garcia, a Mexican-American teenager from East Los Angeles who struggles with her cultural identity and body image while working in her sister's garment factory (Credit: HBO Films / Newmarket Films)
In 2019, the film was selected for preservation in the United States National Film Registry by the Library of Congress as being "culturally, historically, or aesthetically significant."
It is the first Latina-directed film to be inducted into the National Registry. Real Women Have Curves became popular after winning the Audience Award for best dramatic film, as well as the Special Jury Prize for acting at the 2002 Sundance Film Festival.
It also received the Youth Jury Award at the San Sebastian International Film Festival, the Imagen Award, the Humanitas Prize, and a Special Recognition from the National Board of Review.
George Lopez as Mr. Guzman and America Ferrera in her film debut as Ana García in Real Women Have Curves (Credit: HBO Films / Newmarket Films)
In October 2017, American Ferrera discussed her casting in an interview with EW.
I'd just shot a Disney Channel Original Movie called Gotta Kick It Up; that was the first time I'd booked a paying job. With my first check, I bought a car and paid for a summer drama program at Northwestern University before my senior year of high school. I was away at drama camp [when] I got a call from my manager that HBO was casting for a character I fit the bill for. They wanted me to come back and audition, but I was so set on drama camp that I refused. I said, "I'm going to finish drama camp, and in six weeks if they haven't' found someone, I'll go in." That was a bold thing to do for a 17-year-old with no credits to her name. Six weeks later, they [still] wanted to see me.
I was excited that there was a with a Latin-American girl in the lead, one who came from a background that felt similar to mine. I'd never seen a movie like it, and I'd never seen a character like this portrayed in film before… What's special about the film is that so many people can watch it and see in themselves and the dream they have for themselves that their parents, family, or friends didn't see for them. The specificity of it made it feel universal.
I was 17 years old, and it was only my second job. I'd never had to take my clothes off in front of a 200-person crew — most of them men. I'm sure I was incredibly intimidated by that. I remember wearing a robe between takes, and as the day went on, it was too much of a hassle to get the robe on and off between takes, so I was like, whatever, I'll stand here without the robe!
America Ferrera curls her hair for the 2016 Stand for Kids Gala held on June 18, 2016, at the 20th Century Fox back lot in Century City, California (Credit: Nicky Nelson / WENN)
In June 2016, The Sisterhood of the Traveling Pants actress hit the red carpet at the 2016 Stand for Kids Gala held at the 20th Century Fox back lot in Century City, California.
Together with some of her former Ugly Betty co-stars, she helped raise more than $10 million for UCLA's Orthopaedic Institute for Children through a silent auction at the benefit.
The then-32-year-old actress smiled to the cameras in a chic little black dress that flaunted her curves.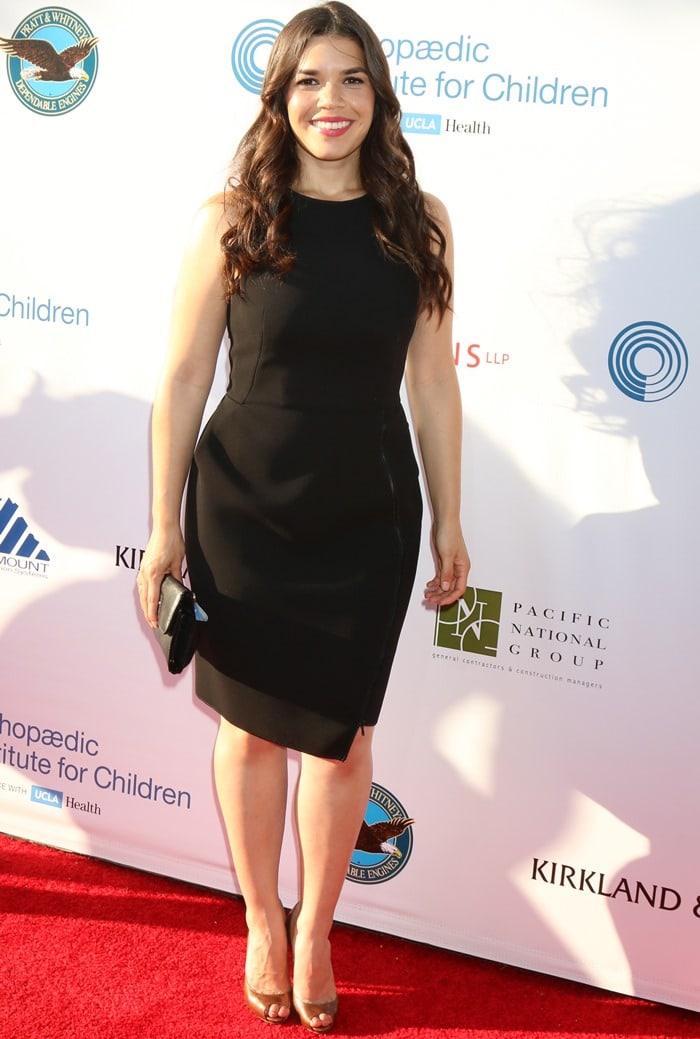 America Ferrera wears a sleeveless little black dress on the red carpet of the Stand for Kids Gala (Credit: Nicky Nelson / WENN)
She styled the sleeveless knee-length frock with glittering gold earrings and a pair of Champagne-toned Christian Louboutin "Flo" peep-toe pumps.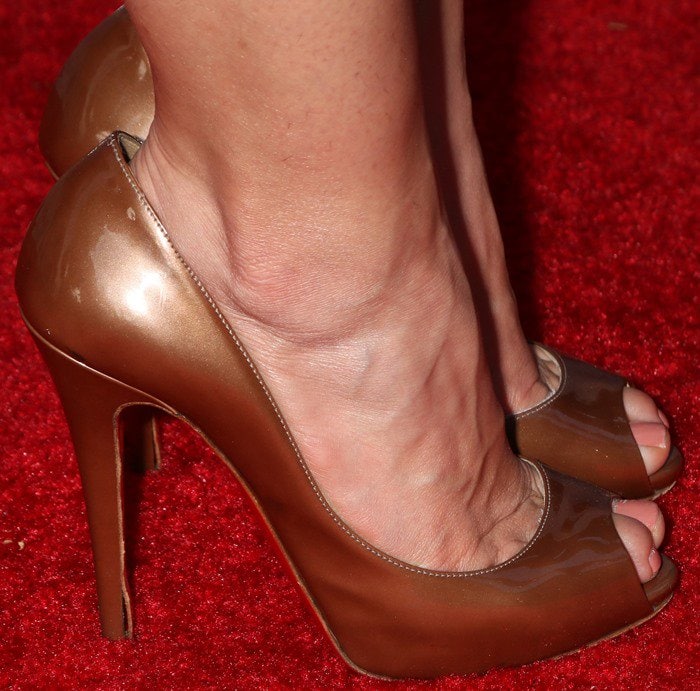 America Ferrera's feet in Champagne-toned Christian Louboutin pumps (Credit: Nicky Nelson / WENN)
America's patent leather peep-toe pumps are from Christian Louboutin's 2013 Spring collection.
They are, unfortunately, no longer available online. However, recent shoe releases from the French shoe maestro can be found at Nordstrom and Mytheresa.