Paris Hilton and her husband Carter Reum are now parents to a baby boy, born via surrogate, according to People. This is the first child for the couple.
Paris shared in a statement to the outlet, "It's always been my dream to be a mother and I'm so happy that Carter and I found each other. We are so excited to start our family together and our hearts are exploding with love for our baby boy."
She also shared the big new son her Instagram, writing, "You are already loved beyond words 💙." The photo shows a close-up of her son holding onto her thumb.
View this post on Instagram
"We just wanted to really enjoy our first year of marriage together as a couple, and we were always planning on 2023," she told E! one month earlier.
"And we've just, you know, getting the eggs all ready. They're all ready and they're all waiting and excited for them."
Paris Hilton announced that she and her husband, Carter Reum, had begun the new year by becoming parents for the first time with the arrival of their surrogate baby (Credit: Axelle Woussen / BauerGriffin / INST / Cover Images)
She added, "I've always wanted to be a mom since I was a little girl. I always loved kids, but I just never found the person that I could trust to do that with. But now that I did, I just can't wait, and he's gonna be the best father and we're just gonna have the most magical life together."
Kim Kardashian, Chrissy Teigen, Demi Lovato, and Lindsay Lohan are just some of the celebrities who've congratulated Paris Hilton on social media.
Paris Hilton flaunts her legs in a white Alice + Olivia Joanna midi skirt paired with a matching Alice + Olivia Abbi crop top (Credit: WENN)
In January 2016, it seemed like everyone's favorite heiress had forgotten what season it was. Paris Hilton was spotted arriving at LAX after a long flight from Switzerland in a white ensemble fit for a summer afternoon tea party.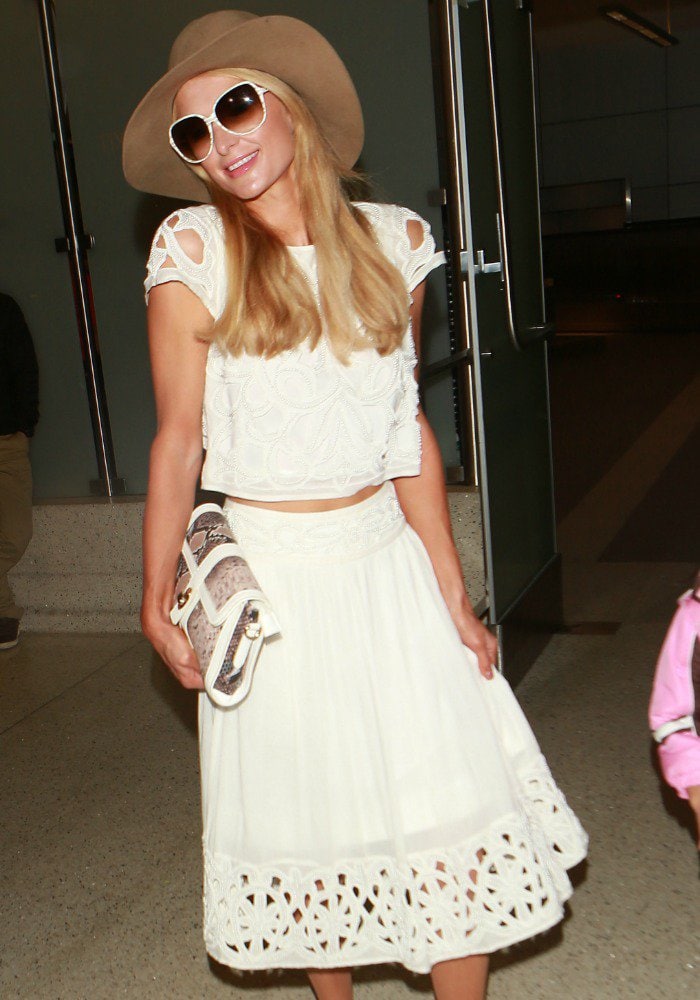 Paris Hilton shows that a white crop top and white midi skirt can be a fresh and clean look for the warmer months (Credit: WENN)
The then-34-year-old socialite covered up in only a white cut-out crop top and matching skirt in defense against the below-freezing chill in Los Angeles.
Her metallic Marc Jacobs pumps, beige sun hat, and large signature sunglasses proved she only thought one thing when she saw the weather report in L.A.: "that's hot."
Paris Hilton added a pop of color to her white outfit with metallic Marc Jacobs pumps at the Los Angeles International Airport on January 6, 2016 (Credit: WENN)
The frequent-flying DJ didn't seem the least concerned about the cold as she smiled and greeted fans while strolling through arrivals. Hilton chose an Alice & Olivia white crop top and a matching midi skirt from the same brand.
She kept her blonde locks long and natural and adorned her head with a wide-brimmed fedora hat.
Ditching the large luggage the rest of us might be accustomed to for an international flight, Paris opted instead for a small snakeskin and white leather clutch.
Paris Hilton shows off her feet in Marc by Marc Jacobs metallic gold pumps (Credit: WENN)
To complete her summery get-up, Hilton chose a pair of Marc by Marc Jacobs metallic gold pumps.
Though we're concerned and confused by her superhuman ability to maintain a smiling disposition while bearing that much skin in the cold, we also can't deny that the heiress looked flawless. Hilton achieved one of her ultimate goals: everyone's attention. And we have to hand it to her. She did it with style.
What's your opinion of the blonde TV personality's clothing choice? Are you all for the mixing of seasons, or does this fashion stunt make it to the top of your 'do not repeat' list?
The exact pumps Hilton wore are currently unavailable, unfortunately, but you can shop for these similar style metallic floral print pumps on Amazon and Farfetch.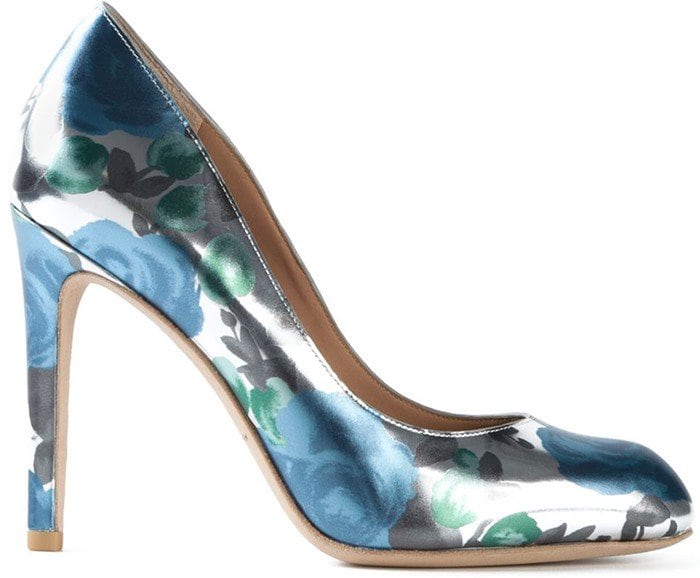 Blue Sky Marc By Marc Jacobs 'Jerrie Rose' Floral Pumps, $159.00-$320.00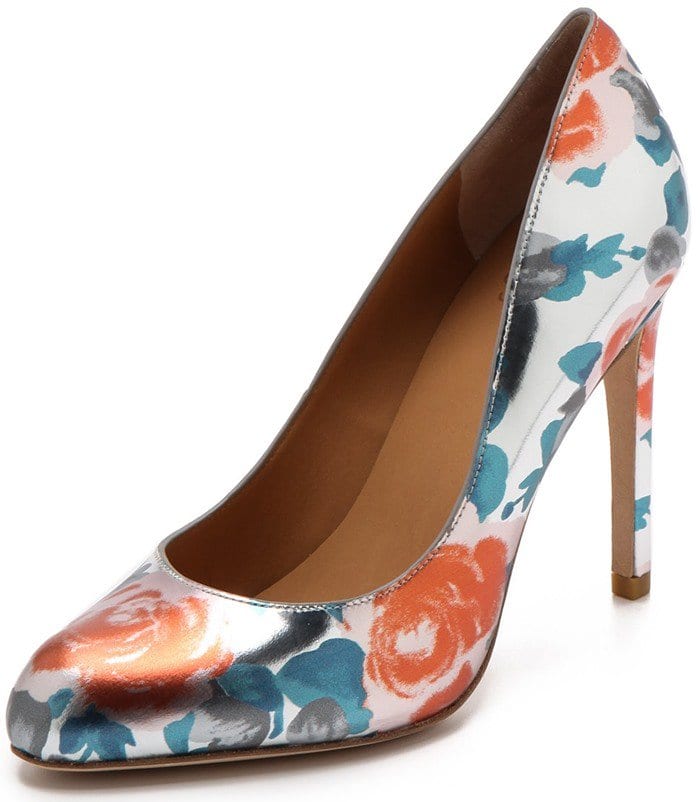 Marc by Marc Jacobs 'Jerrie Rose' Metallic Floral Pumps, $159.00 – $320.00